Simplify dinner with one or more of these 5 ingredient meals. I wanted to create a list of affordable and few ingredient recipes, for those who don't want to do too much to get dinner on the table.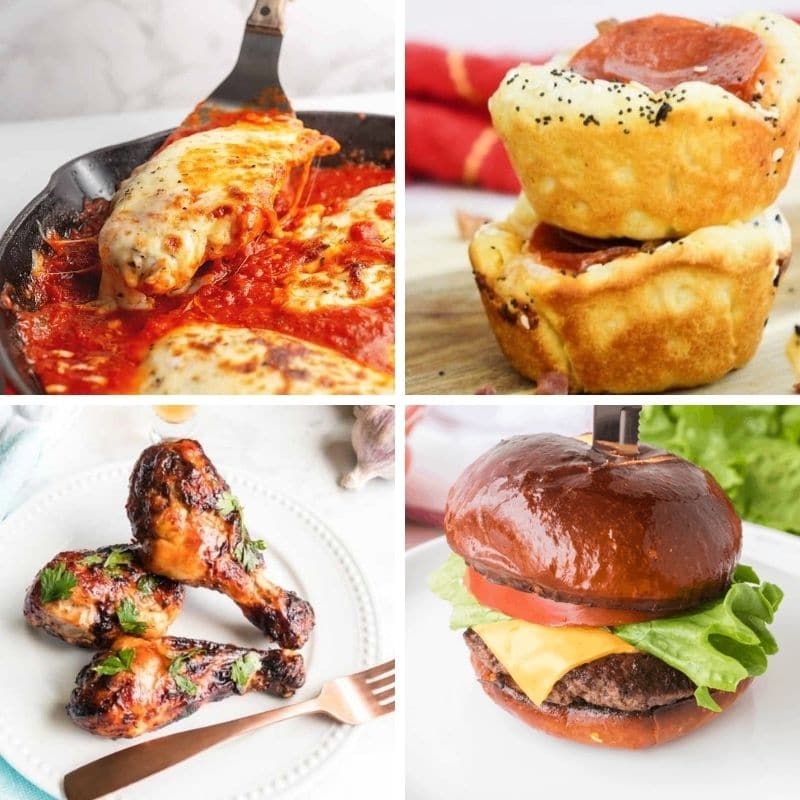 While these are 5 ingredient dinners, don't be fooled. They are still tasty, and delicious comfort food recipes. Simple recipes that provide incredible flavor.
From slow cooker, to oven baked, and all thing in between. Easy 5 ingredient recipes are awaiting to consider making. Recipes that taste great.
Why Make a 5 Ingredient Meal…
Minimal prep
Simple ingredients
Tastes good
Great for busy weeknights
Budget friendly recipes
Easy 5 Ingredient Dinners
5 Ingredient Chicken Recipes
Search through these 5 ingredient chicken recipes to consider for dinner this week. From boneless chicken to chicken thighs and all things in between.
5 Ingredient Beef Recipes
5 Ingredient Beef Recipes are great if you tend to use a lot of beef in your recipes. We eat a lot of beef so beef recipes with few ingredients are always helpful in the kitchen.
5 Ingredient Pork Recipes
Check out one or more of these pork five-ingredient recipes. If you enjoy pork chops, roast, etc. this list might be a perfect fit for you. Pork dinner recipes that don't disappoint.
Celebrate the holidays with this Bourbon Glazed Ham! A brown sugar glazed ham with a kick of bourbon that helps elevate the flavor. This bourbon ham takes just 5 ingredients to make.
Grab some bratwurst and whip them up and toss on the grill or air fryer. Juicy, flavorful brats that are soaked with beer.
Photo Credit: apressurecooker.com
Here is a delicious way to make an egg roll in a bowl. Use pork, beef, or any type of ground meat. Tasty cabbage in each bite.
More Five Ingredient Or Less Dinners
Before I go here are more More Five Ingredient Or Less Dinners to add into your dinner rotation! You can even use leftovers to meal prep for dinners or lunches for the week.
Let me know which of these 5 ingredient or less dinners you might want to try out first! I am excited for that smash burger recipe!
Common Five Ingredient Recipes FAQs
Tips For Saving Money On Meat
Meat can add up a lot when you are shopping for groceries. Here are a few helpful tips I use when it comes time to grocery shop.
Look for meat that is one sale. Each week the meat sales will rotate. Create a meal plan that goes around the meats that are on sale.
Buy bulk packages of meat. If you have a huge pack of chicken drumsticks on sale, buy them up and portion them into single servings when you get home. Then you can get 5 packs of chicken for a lower price than say buying individual packages more.
Buy one get one free. My Kroger store has buy one get one free sales on meat often. Make sure to take advantage, especially items like roast that are pricey. Then freeze them, until you are ready to use.
How to Create A Meal Plan You Stick With
Grab my FREE Printable for Weekly Meal planning. You can write out what days you are serving what. This eliminates struggling what to make. I also find it is helpful of keeping you from ordering takeout.
You plan ahead and know what you will eat, so set the meat out, and tackle dinner one meal at a time.
More Ways To Meal Prep and Plan