Simplify dinner with one or more of these 5 ingredient meals. I wanted to create a list of affordable and few ingredient recipes, for those who don't want to do too much to get dinner on the table.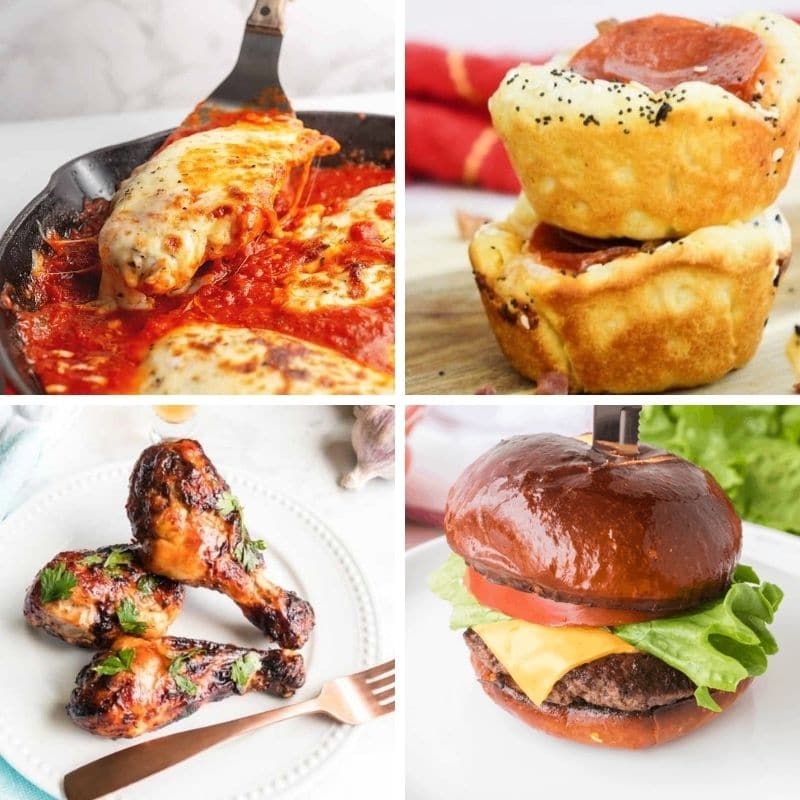 While these are 5 ingredient dinners, don't be fooled. They are still tasty, and delicious comfort food recipes. Simple recipes that provide incredible flavor.
From slow cooker, to oven baked, and all thing in between. Easy 5 ingredient recipes are awaiting to consider making. Recipes that taste great.
Why Make a 5 Ingredient Meal…
Minimal prep
Simple ingredients
Tastes good
Great for busy weeknights
Budget friendly recipes
Easy 5 Ingredient Dinners
5 Ingredient Chicken Recipes
Search through these 5 ingredient chicken recipes to consider for dinner this week. From boneless chicken to chicken thighs and all things in between.
Whiskey BBQ Air Fryer Chicken Legs is a simple and delicious chicken leg recipe. Season and air fry these chicken drumsticks and serve with your favorite sides. A 30-minute air fryer chicken recipe.
Photo Credit: savorandsavvy.com
3 Ingredients is all it takes to make this salsa chicken. Pile on a tortilla, opt for a bed of rice, etc.
Photo Credit: jenniferbanz.com
Easy Chicken Mozzarella (5 Ingredients!)
Chicken Mozzarella...an easy one skillet meal loaded with Italian flavor! The trick to this quick 1 skillet weeknight meal is using my favorite jarred marinara sauce and I show you how to keep the chicken juicy!
Whip up these Peach BBQ Chicken Thighs for an easy and quick chicken recipe for dinner tonight. A peach preserve marinade that is a homerun on flavor. I made these thighs on my Ninja Foodi Grill, but you can use any grill to cook this chicken.
Buffalo beer can cornish hen recipe that is great for weeknight dinner. This beer can chicken is a mini version.
Photo Credit: www.wholefoodbellies.com
Simple, quick and delicious. Make these 4 Ingredient Teriyaki Chicken Skewers for your next weeknight meal and you will not be disappointed. I promise! Serve with a salad, some brown rice, some simple sesame egg noodles or in a buddha bowl with pineapple, spring onions, and cucumber. The options are limitless.
Photo Credit: mooreorlesscooking.com
Slow Cooker Ranch Crack Chicken is incredibly delicious filled with favorites like bacon, chicken, and gooey cheese! So easy to make with only 5 ingredients is Low Carb/Keto friendly!
Photo Credit: www.masalaherb.com
You will need 4 ingredients to make these oven roasted chicken thighs. They are juicy on the inside and crisp on the outside.
Air Fryer Sweet and Spicy Chicken Tenders are the ultimate air fryer chicken strip recipe. Whip these up for an easy chicken meal any day of the week.
Photo Credit: hungryhobby.net
This easy one-pan dinner is made with just four ingredients, staring Trader Joe's Cauliflower Gnocchi. Tender, juicy sausage, crispy gnocchi, & crispy broccoli!
Photo Credit: theschmidtywife.com
This delicious Pesto Chicken Bake is easy to make, throw in the oven for a fresh weeknight family meal! Made up of healthy protein packed chicken breasts, garlic, pesto, tomatoes, and mozzarella cheese this dinner with be a breeze!
5 Ingredient Beef Recipes
5 Ingredient Beef Recipes are great if you tend to use a lot of beef in your recipes. We eat a lot of beef so beef recipes with few ingredients are always helpful in the kitchen.
Here is a delicious corned beef reuben sandwich. Use leftover corned beef or opt for lunch meat. Either way, this is my favorite sandwich recipe.
Chili Cheese Fries Pizza is one of our favorites. A pizza crust loaded up with chili, french fries, cheese, and your favorite toppings. Try this chili cheese fry pizza recipe!
4 Ingredient Instant Pot Corned Beef that is so delicious. This instapot corned beef is so easy to whip up, and fall-apart tender. A pressure cooker corned beef that does not disappoint. Whip this up for dinner tonight to pair with your favorite sides.
Photo Credit: homefreshideas.com
If you own a Blackstone griddle, here is one incredible weeknight dinner to whip up. Pair with some fries, a side of coleslaw, etc.
Green Chile Beef Enchiladas are a delicious and easy dinner for you to whip up. This beef enchilada recipe is freezer friendly as well.
3 packet roast is an easy and delicious pot roast with gravy you can make in the Instant Pot, slow cooker, or dutch oven. Give this three packet roast a try for dinner. If you leave out the veggies this can be a 5 ingredient recipe.
Photo Credit: thehelpfulgf.com
This recipe for steak marinade is a simple and easy dinner recipe with less than 5 ingredients you already have in your pantry!
Photo Credit: saltandbaker.com
 With just 3 ingredients, these BBQ pineapple meatballs come together in no time! It's a quick and easy weeknight meal that cooks in the slow cooker, making putting dinner on the table a breeze.
5 Ingredient Pork Recipes
Check out one or more of these pork five-ingredient recipes. If you enjoy pork chops, roast, etc. this list might be a perfect fit for you. Pork dinner recipes that don't disappoint.
Celebrate the holidays with this Bourbon Glazed Ham! A brown sugar glazed ham with a kick of bourbon that helps elevate the flavor. This bourbon ham takes just 5 ingredients to make.
Grab some bratwurst and whip them up and toss on the grill or air fryer. Juicy, flavorful brats that are soaked with beer.
Photo Credit: apressurecooker.com
Here is a delicious way to make an egg roll in a bowl. Use pork, beef, or any type of ground meat. Tasty cabbage in each bite.
More Five Ingredient Or Less Dinners
Before I go here are more More Five Ingredient Or Less Dinners to add into your dinner rotation! You can even use leftovers to meal prep for dinners or lunches for the week.
Let me know which of these 5 ingredient or less dinners you might want to try out first! I am excited for that smash burger recipe!
Common Five Ingredient Recipes FAQs
Tips For Saving Money On Meat
Meat can add up a lot when you are shopping for groceries. Here are a few helpful tips I use when it comes time to grocery shop.
Look for meat that is one sale. Each week the meat sales will rotate. Create a meal plan that goes around the meats that are on sale.
Buy bulk packages of meat. If you have a huge pack of chicken drumsticks on sale, buy them up and portion them into single servings when you get home. Then you can get 5 packs of chicken for a lower price than say buying individual packages more.
Buy one get one free. My Kroger store has buy one get one free sales on meat often. Make sure to take advantage, especially items like roast that are pricey. Then freeze them, until you are ready to use.
How to Create A Meal Plan You Stick With
Grab my FREE Printable for Weekly Meal planning. You can write out what days you are serving what. This eliminates struggling what to make. I also find it is helpful of keeping you from ordering takeout.
You plan ahead and know what you will eat, so set the meat out, and tackle dinner one meal at a time.
More Ways To Meal Prep and Plan