Air Fryer Pizza Egg Rolls is an easy lunch or appetizer to serve up. Loaded with sauce, cheese, and peperoni in every bite. Air fryer egg rolls that will please a crowd.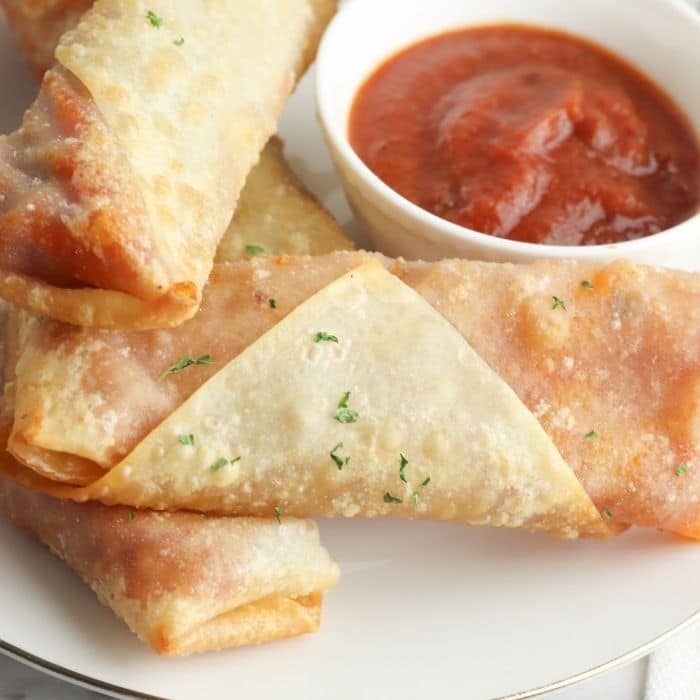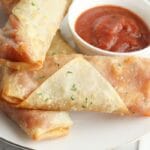 Whip up these quick and easy air fryer pizza egg rolls. A kid-friendly lunch idea or air fryer appetizer to serve up a crowd. Crispy egg rolls that are filled with pizza sauce, cheese, and pepperoni.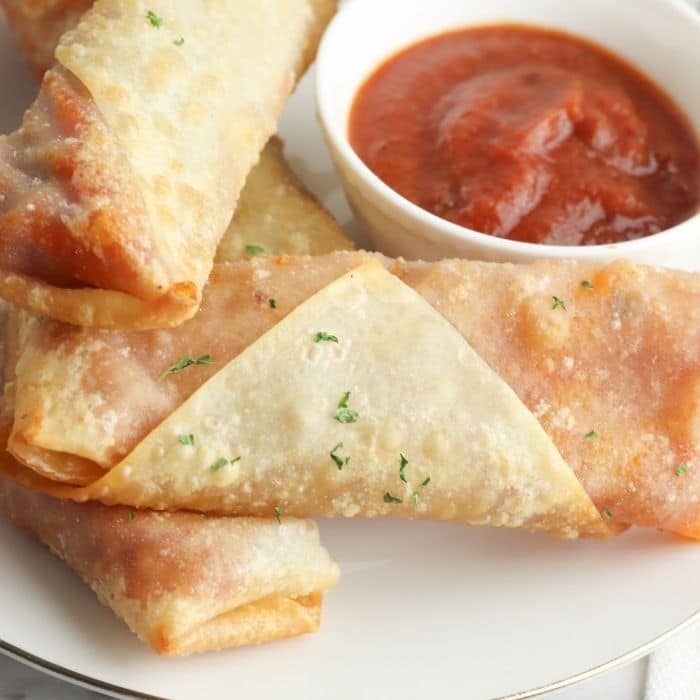 This is a fun egg roll wrapper idea. I also have made egg roll stuffed pickles! Give this egg roll recipe in air fryer a try. Dip in marinara sauce, ranch, etc.
Give this loaded pizza egg roll a try. You will enjoy this fun twist to air fryer pizza any day of the week.
🍕 Why Make This Recipe
4 ingredients
quick cook time
can pan fry if you don't want to air fry
easy prep
fun lunch or appetizer recipe
🍄Ingredients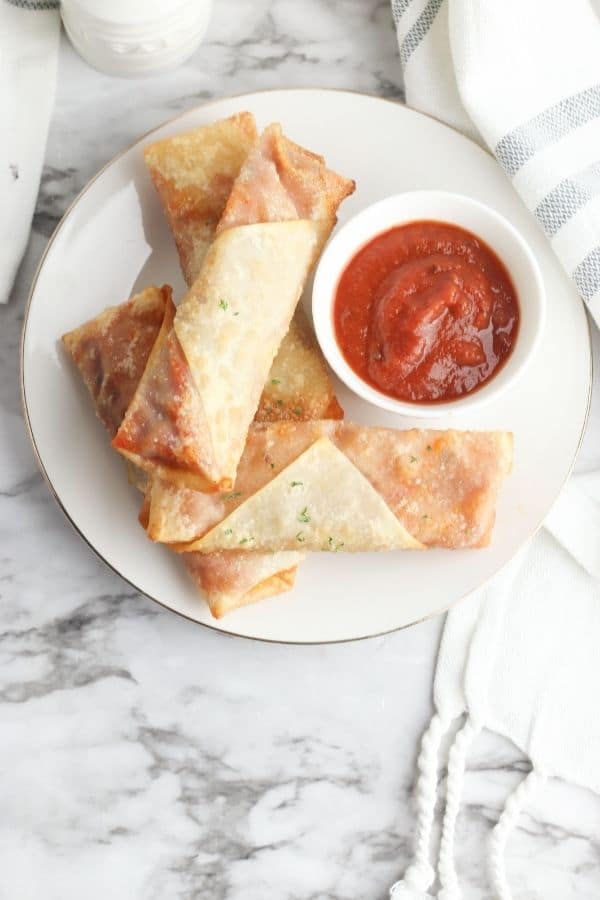 Egg roll wrappers
Pepperoni
Cheese
Pizza Sauce
You can always add in other ingredients or meats and veggies if you want to add flavor to these egg rolls.
🍕How to Make
Lay out egg roll wrapper.
Fill with sauce, cheese, pepperoni.
Wrap.
Air Fry to golden perfection.
🍅How to Wrap An Egg Roll
Learn how to wrap an egg roll! This is simple to do, don't be scared. Once you do a couple you will become a pro!
Lay out your egg roll, and then fill with sauce, cheese, and pepperoni.
Fold the egg roll in half, you will see you want to leave one edge shorter than the other.
Next fold in the two edges, like you are folding a letter.
Begin to fold and wrap your egg roll. Fold tightly to ensure the egg roll holds the shape.
You can use water to brush around the edge of the egg roll. It will act like the glue to help keep your egg roll nice and tight.
🌶️ What To Dip Air Fryer Pepperoni Pizza Egg Rolls In
Ranch Dressing
Marinara Sauce
Etc
👩‍🍳 Can I Deep Fry Egg Rolls Instead of Air Frying
If you prefer to deep fry instead of air fry these egg rolls go right ahead. Peanut oil is great for frying, it allows you to heat the oil without smoke and will provide a beautiful golden color.
Use a deep fryer for egg rolls or a pan with some oil, and then flip them half way through cooking.
🔪 Filling Ideas for Air Fryer Egg Rolls
Vegetables | If you want to do filling besides pepperoni and cheese, go ahead. When you do vegetables dice small and I recommend sauteing in a pan for a few minutes to help soften. Otherwise, the vegetables will be crunchy.
Meats | Canadian Bacon, Italian sausage, ground beef, etc are all great options. Just use pre-cooked meat in the wrappers.
Sauce | Buy store-bought sauce or make homemade. Either route, the wrappers will taste great. These air fryer rolls are great either route.
Recipe FAQs
Where do you find egg roll wrappers?
You can find egg roll wrappers in the produce section at your local grocery store. They tend to be by salads, dressings, dips.
How to get golden color on egg rolls in air fryer?
Use an oil mister to spritz your egg rolls. This will help allow your egg rolls to crisp up and told a golden color.
Can you use cooking spray in air fryer?
It is not recommended to use a cooking spray in the air fryer. It can eat and ruin the lining in your basket or air fryer trays. Use an oil mister instead. Or brush the food with oil lightly.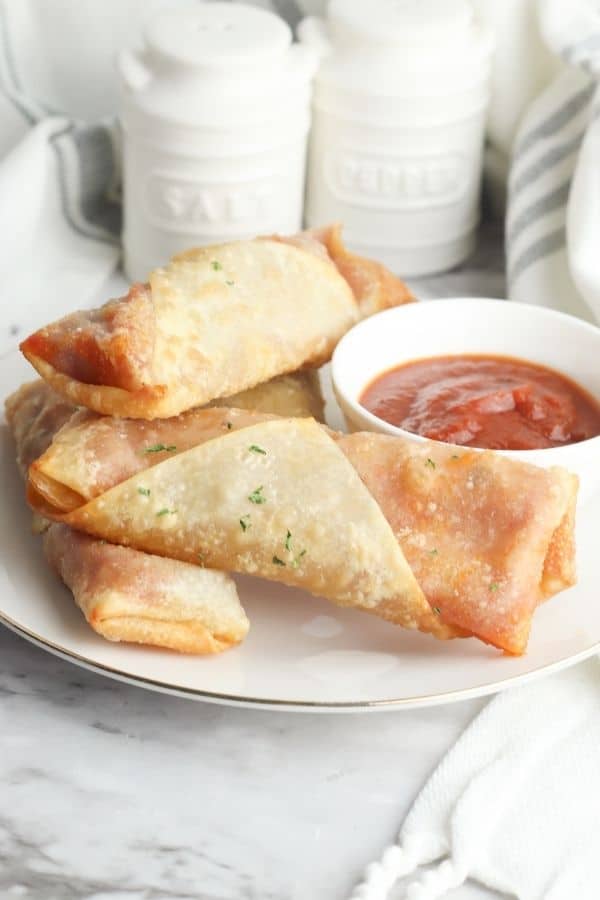 Pizza Recipes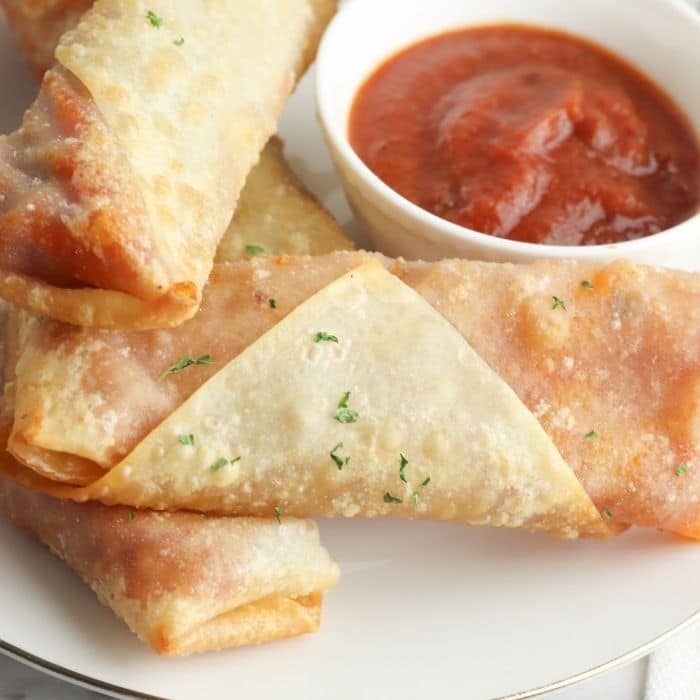 Air Fryer Pizza Egg Rolls
Servings 20 egg rolls
Air Fryer Pizza Egg Rolls is an easy lunch or appetizer to serve up. Loaded with sauce, cheese, and peperoni in every bite. Air fryer egg rolls that will please a crowd.
Ingredients
1 package of egg roll wrappers 16 ounces
1- 6 ounce package pepperoni cut in half
10 pieces of string cheese sliced lengthwise in half
14 ounce jar pizza sauce
Oil spritzer
Instructions
Start by preheating your air fryer to 350 degrees. If your air fryer doesn't require preheating skip this step.

Lay out your egg roll wrapper, and place around a teaspoon to tablespoon of sauce in the center of the egg roll.

Add in some pepperoni and half of the sliced string cheese. You can use shredded cheese too.

Line the edge of egg roll with water. Just dip finger in water, and add a little around the edges to act like glue.

Now you will fold the egg rol in half, then fold in each side of the corners. Then slowly begin to roll up the egg roll.

Place egg rolls in the air fryer basket or on the trays, and spritz with oil lightly.

Cook for 5 minutes, and then open and flip egg rolls over. Spritz again with the oil. Cook another 3-5 minutes or until the egg roll wrapper is golden brown.

Remove once pizza egg rolls are cooked. Let cool a few minutes then serve with more marinara sauce or any other dipper.
Notes
For deep frying just heat the peanut oil in pan for a bit until it gets nice and hot. Then drop in your egg rolls, flipping as needed. Cook until the egg rolls are golden brown all around. Place egg rolls on paper towel to soak up any excess oil. You can double recipe you just need to batch cook. Make sure there is space between each egg roll. Otherwise, it will not crisp up properly.
Nutrition
Serving: 2egg rollsCalories: 216kcalCarbohydrates: 6gProtein: 11gFat: 16gSaturated Fat: 7gPolyunsaturated Fat: 8gCholesterol: 39mgSodium: 617mgFiber: 1gSugar: 2g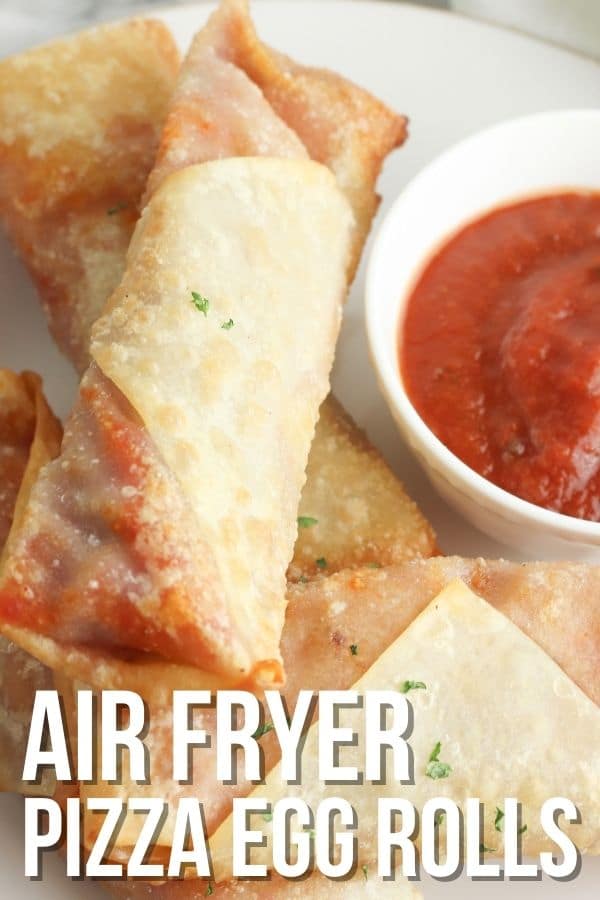 Reader Interactions