Egg Roll Pickles are a pimento stuffed pickle, wrapped in an egg roll wrapper and fried. The ultimate game day appetizer, holiday food, or even side dish for pickle lovers.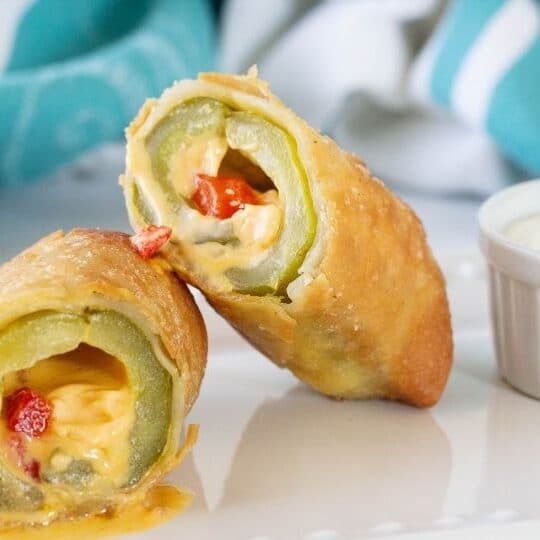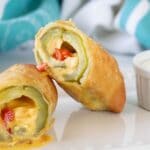 Pimento Cheese Pickle Egg Rolls just might be my new favorite obsession. You have a pickle stuffed with pimento cheese, wrapped in an egg roll wrapper and deep-fried to crunchy perfection.
These pickle egg rolls are a must! A side dish or party appetizer everyone will talk about.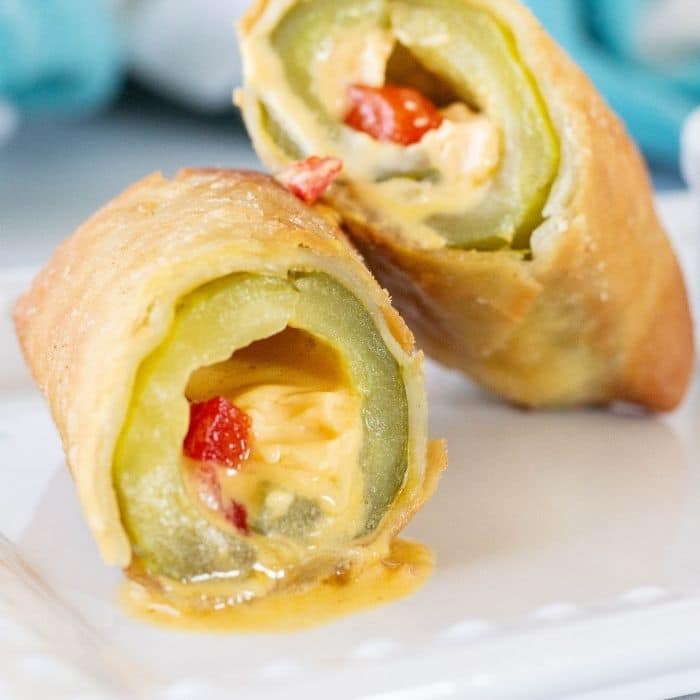 Craving more fun and fried recipes? Check out our Beer Battered Fried Stuffed Pickles Recipe and our Crispy Air Fryer Fried Green Tomatoes. So good and crispy!
These pickle egg rolls are literally crazy good. They're packed with flavor and are made with just 3 simple ingredients. It doesn't get much better than that!
To me, these simple pimento-stuffed pickle poppers are a great starter to any meal. There's just something crazy good about the combination of pimento cheese with the saltiness of the dill pickles. I literally can't stop at one. (and don't really want to!)
Ingredients And Variations
Whole Dill Pickles – You will want whole dill pickles, as you will slice and core out the centers.
Pimento Cheese – Feel free to swap the pimento cheese if you are not a big fan. Even cream cheese would be delicious.
Egg Roll Wrappers – You can find these in the produce section at your grocery store. If you used a smaller sized pickle you could use a won-ton wrapper if you couldn't find egg roll wrappers.
Oil – I recommend peanut oil or even a vegetable or canola oil. You want something that can handle higher heat. For example, olive oil will smoke too much, and is not a good oil to fry in.
How To Make
Full directions on how to make egg roll pickles, is in the printable recipe card below.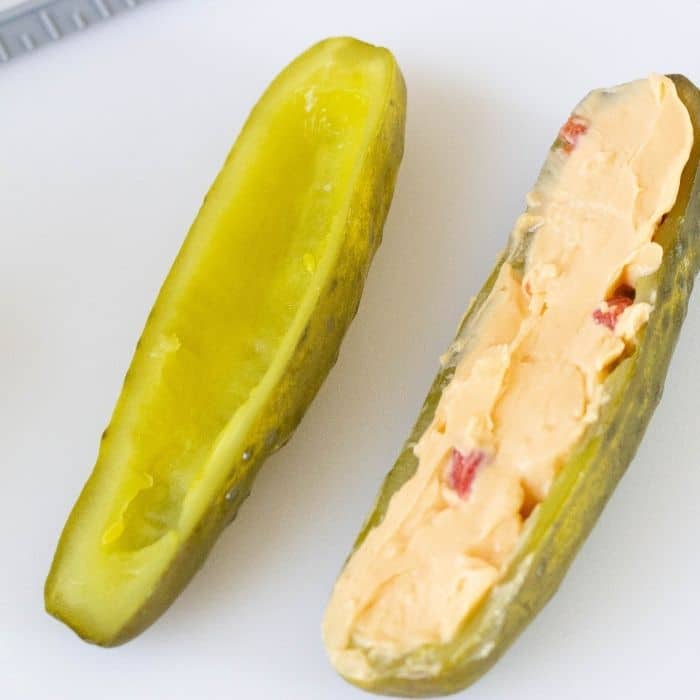 Step 1: Cut and pickles in half, spoon out the center of pickles. Add some pimento cheese in, put pickle back together.
Or you can even fill with cream cheese for a different type of filling.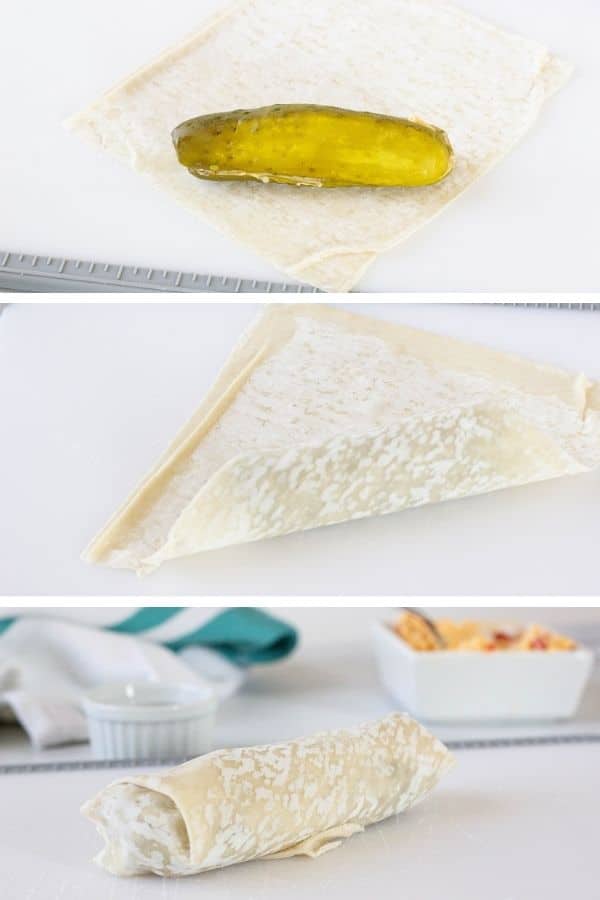 Step 2: Wrap in egg roll wrappers, then deep fry. I used a cast-iron skillet with oil.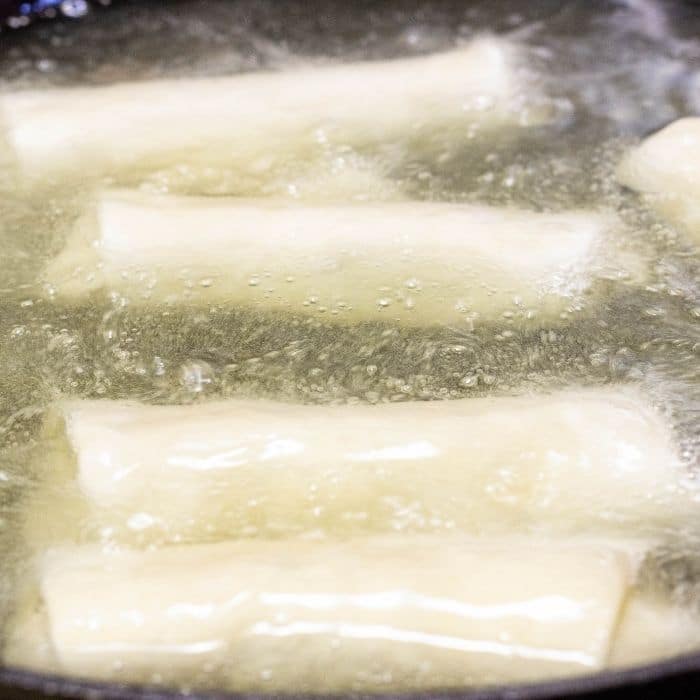 You want the oil to be 375 degrees. Fry until golden brown on the outside.
Step 3: Allow to cool down a bit then serve with ranch or any other dipping sauce.
Storing Leftovers
Since these are fried, they're going to have the best taste and texture if they're eaten right away. However, if you have leftovers, you can still enjoy them, too.Just store them in an airtight container and place them in the fridge for later. You can easily heat them up in the microwave or low and slower in your toaster oven to enjoy again. The low and slow method is going to be the easiest way to give them a bit of that crunch bag. The microwave option will get them hot but not crispy.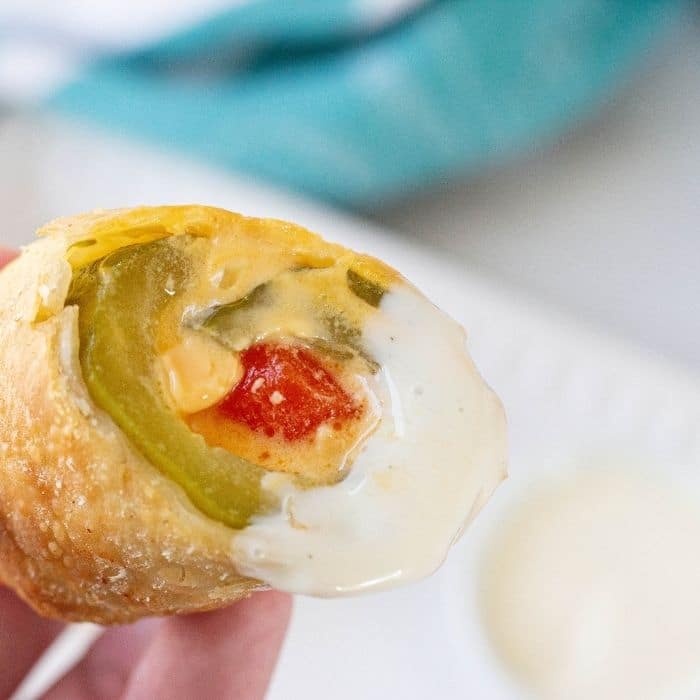 Dipping Options
Dipping food items are so much fun! I love to dip these in ranch once they're cooked but again, you can vary this dish up any way that you want.
These would taste great dipped in blue cheese dressing, honey mustard, or even a spicy dip option, too.
I like to make up a "dip bar" where I have varied dips set out and let everyone choose their own want. Just watch out for those double-dippers…they're out there!
FAQs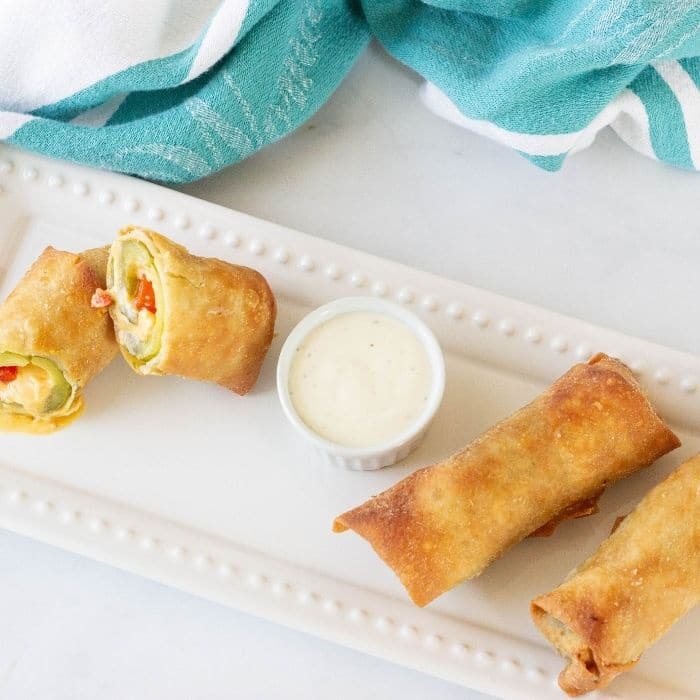 More Appetizer Style Recipes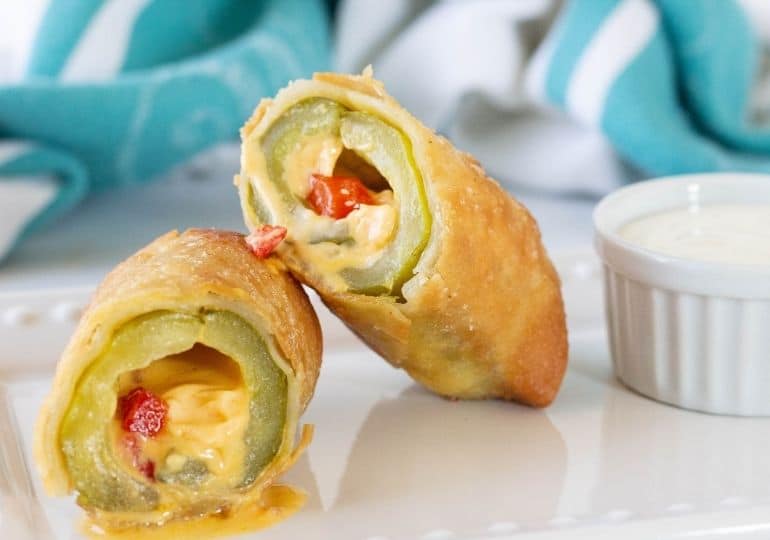 Egg Roll Pickles
Servings 12
Egg Roll Pickles are a pimento stuffed pickle, wrapped in an egg roll wrapper and fried. The ultimate game day appetizer, holiday food, or even side dish for pickle lovers.
Ingredients
12 egg roll wrappers plus water for sealing edges
12 whole pickles I used dill
1 cup Pimento Cheese
Oil For Frying
Instructions
Start by removing pickles from the jar and placing them on a paper towel. Allow the juice to drain off the pickles.

Slice pickles in half lengthwise and scoop out the center of each pickle.

Pat dry with a paper towel and place a tablespoon or so of pimento cheese on one of the pickles. Then push pickle back together.

Place the stuffed pickle on an edge of an egg roll wrapper. Fold up one edge on the pickle (picture in the post). Then use a little water to rub around the edges of the wrapper to act as the glue.

Roll it up like you would a burrito pulling the edges in tight, and then making sure to wrap tight.

Get your oil heating on the stove or in the deep fryer. You want the oil to be 375 degrees. Place stuffed wrapped pickles in hot oil and fry for 2 minutes or so on each side.

The egg roll pickles are done when the outside is golden brown. Remove and place on a paper towel to remove excess grease, then serve up the egg roll pickles.
Notes
You can stuff the pickles with cream cheese or any other cheese style filling if you don't want pimento.
AIR FRYER DIRECTIONS
Make accordingly and then do 390 degrees for 5 minutes or until the egg roll wrappers are cooked through.
Nutrition
Serving: 1gCalories: 194kcalCarbohydrates: 20gProtein: 6gFat: 10gSaturated Fat: 3gPolyunsaturated Fat: 7gCholesterol: 15mgSodium: 574mgFiber: 1gSugar: 1g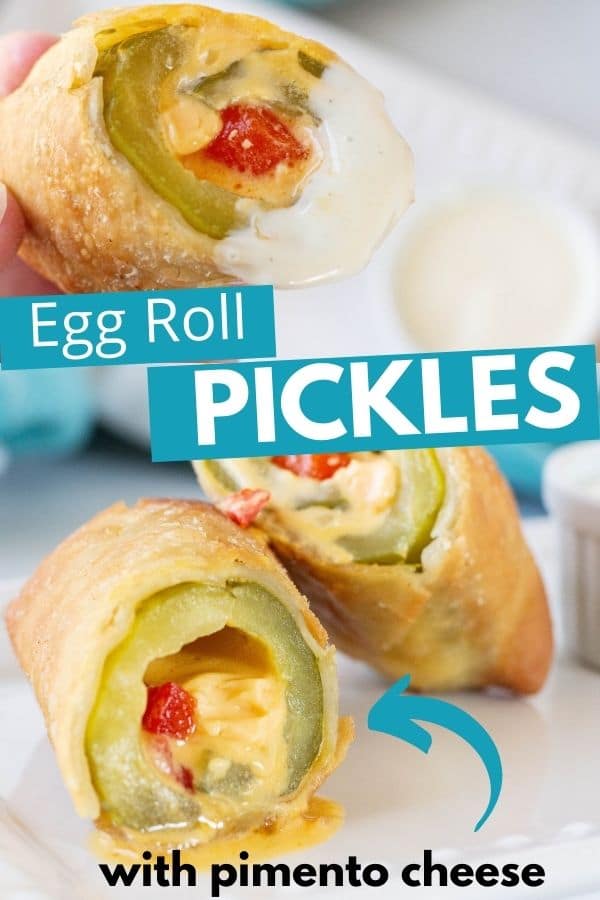 Are you excited to make this Pimento Pickle recipe?
Reader Interactions