Beer Battered Fried Stuffed Pickles makes a fun side dish or appetizer to serve up your family. A cream cheese stuffed pickle dip in a homemade beer batter and fried.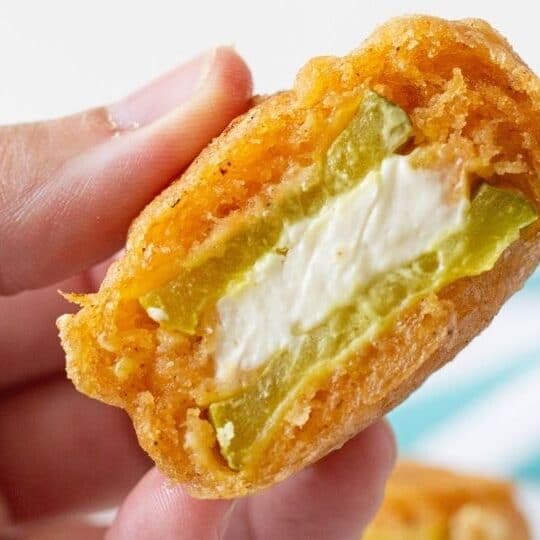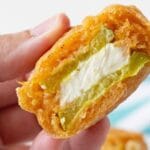 Fried stuffed pickles are one of our favorites. Add a beer batter to it, and it becomes epic. A pickle stuffed with cream cheese and battered with a light and flavorful beer batter that is fried to perfection.
Check out my bacon-wrapped stuffed pickles, chili cheese fries pizza, or my bloody mary. All of these are such great recipes to try out!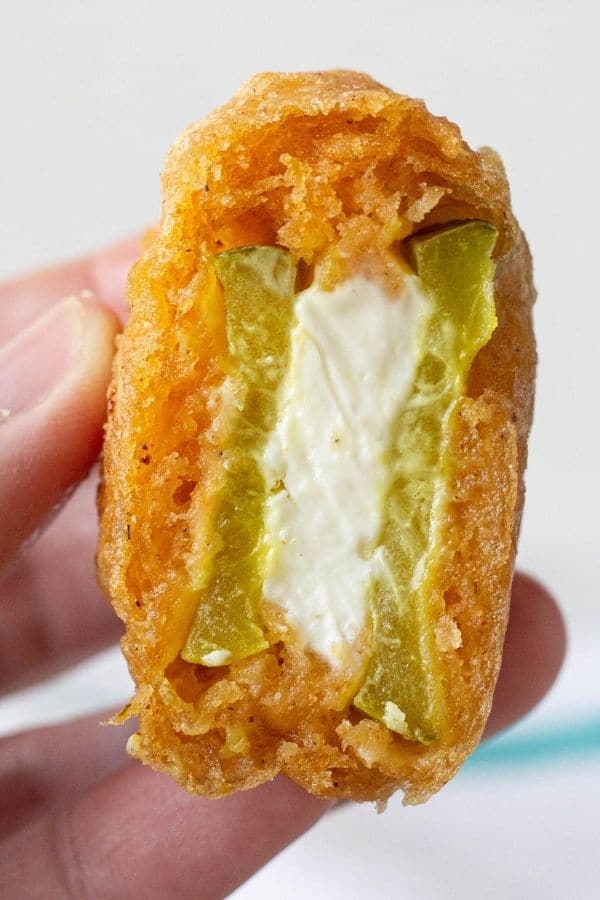 These stuffed pickles are a great appetizer, game-day food, or side dish to pair with a juicy burger. Also my 3 ingredient pickle roll ups are a hit!
These fried pickles were like heaven! It tasted totally like fair food, so it curb that craving for us missing the fair. The beer batter would also taste amazing on any fish, shrimp, or even chicken battered.
Ingredients
Pickles
Beer
Flour
Cornstarch
Paprika
Onion Powder
Pepper
Cream Cheese
Oil
How to Make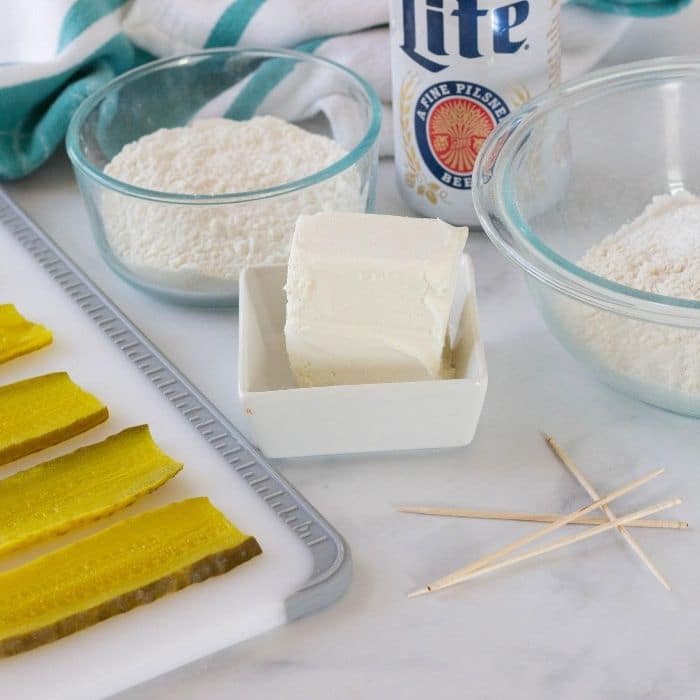 Step 1: Start by drying off your pickles. I removed them from the jar and laid them out on paper towels.
You need to remove as much liquid as you can, so the cream cheese and batter holds to the pickle.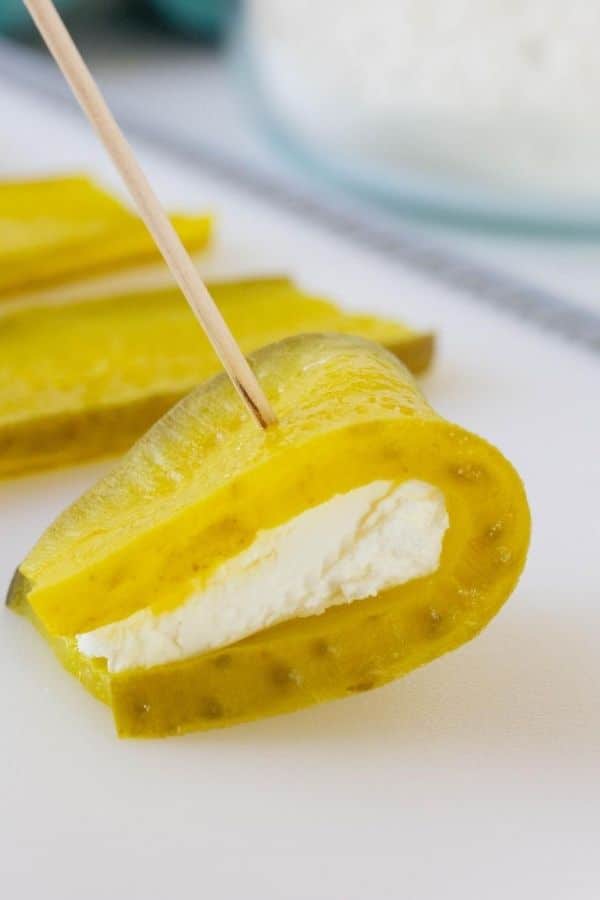 Step 2: Now you will put cream cheese on half of the sliced pickle. I just did a bit, and didn't really measure.
Then fold the other end of the pickle over, and secure it with a toothpick.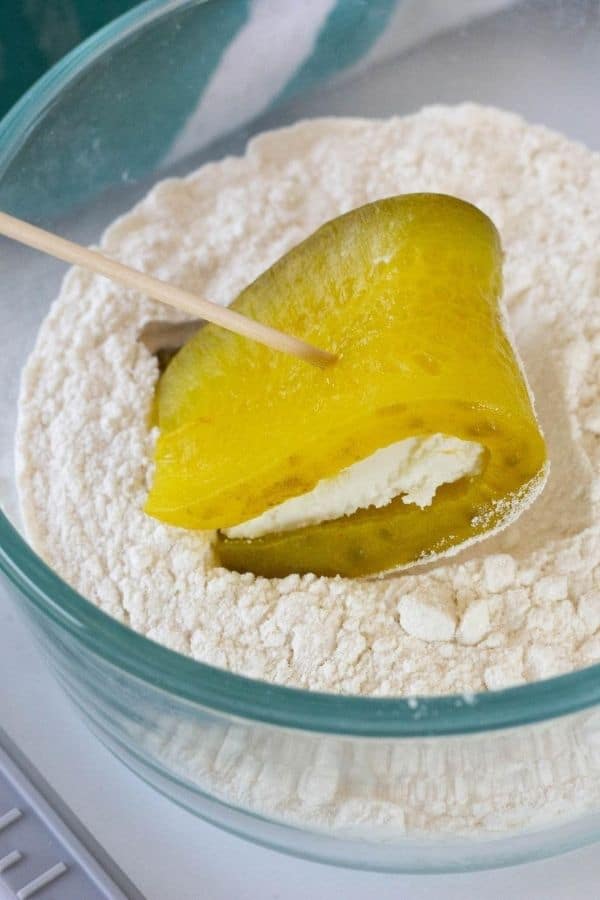 Step 3: Dip it in plain flour and make sure it coats it, then shake off excess. This flour is going to help the wet batter stick to it.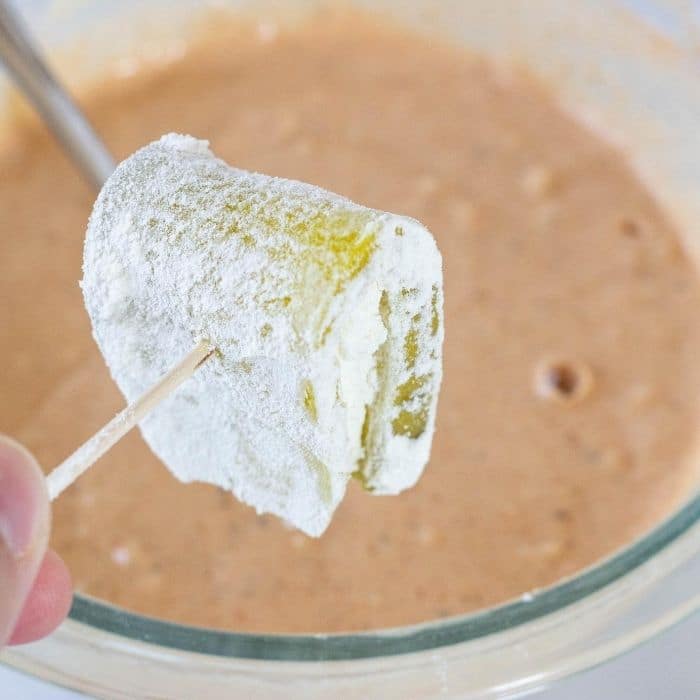 Step 4: Now comes the time where you dip the stuffed pickle into your beer batter. In a bowl, you will mix your other part of the flour, cornstarch, beer, seasonings, and stir until it is a thicker batter.
Dip the pickle and coat, and shake off excess. Then place in a hot skillet of hot oil that is 375 degrees.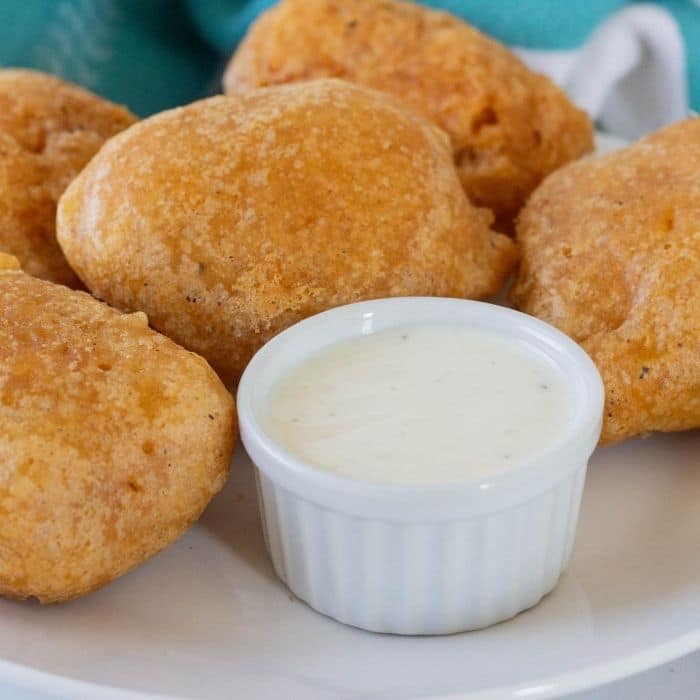 Step 5: Fry up the beer battered pickles for 3-4 minutes or until the batter firms up and becomes golden brown! Then when done remove carefully and place on a paper towel-lined plate!
These deep fried pickles are great alone or pair with your favorite dipping sauce. Ranch, fry sauce, etc. They are all great dipping sauces to pair with this deep fried pickles recipe!
Can I Use Hamburger Pickles
If you want use hamburger pickles to make a stuffed pickle. You would then just put cream cheese on one and then top with the other like a cookie sandwich. Then toothpick them together.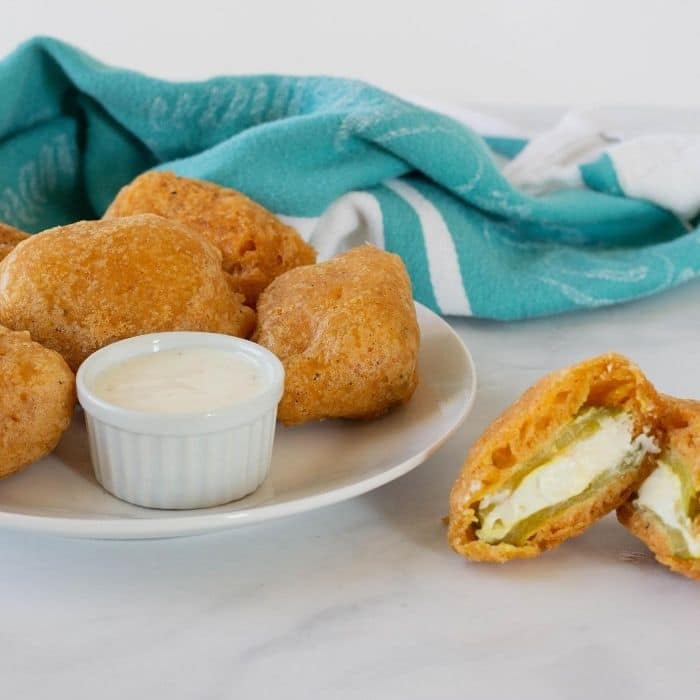 Tip For Making Fried Pickles
The oil needs to be 375 degrees or right around that. Use a thermometer to check the oil temperature if you need it.
Use a toothpick to hold the pickles together. Then when you drop in the oil, you can leave the toothpick or carefully remove it. I removed mine.
Make sure your beer batter is thick. If your batter is too thin it will runoff. Add more flour to get a thick consistency.
Don't let the pickles touch each other when they are frying. The batter will stick and cause a mess.
Flip the pickles halfway through the cooking process. I fried mine up in a cast-iron skillet. You could use a deep fryer if you own one.
Use tongs or a slotted spoon to remove your hot pickles out of the oil and to flip them.
We love fried pickles, when you add in cream cheese it is a home run!
Variations To The Stuffed Pickles Recipe
Use a piece of block cheese like pepper jack, sharp, or even mozzarella in replace of cream cheese
Skip the creole seasoning and use Italian seasoning for a different flavor
Add a splash of cayenne pepper to the batter for added heat or a splash of hot sauce
I used dill pickles but you could use another type of pickle you enjoy
Recipe FAQs
Check out a Few More Recipes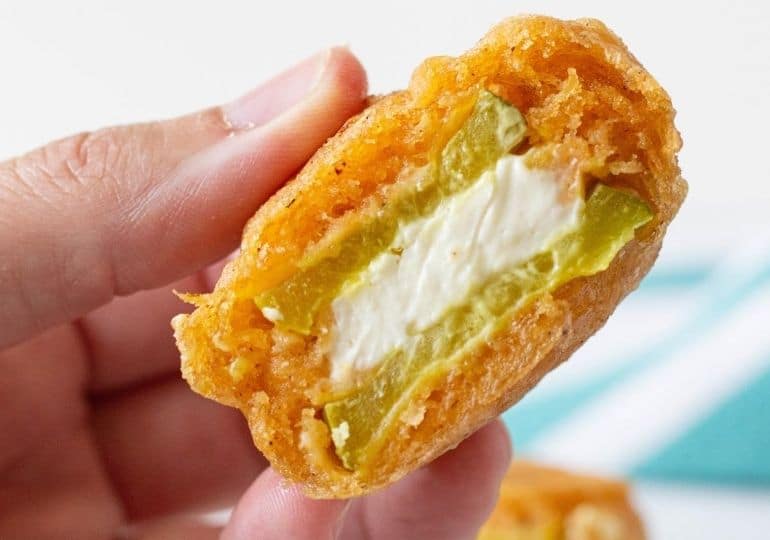 Beer Battered Fried Stuffed Pickles
Servings 16 pickles
Beer Battered Fried Stuffed Pickles makes a fun side dish or appetizer to serve up your family. A cream cheese stuffed pickle dip in a homemade beer batter and fried.
Ingredients
16 stacker pickles drained on a paper towel and patted dry
1 1/2 cups all purpose flour divided
1 teaspoon corn starch
1 teaspoon creole seasoning
1/2 teaspoon paprika
1/4 teaspoon onion powder
1/4 teaspoon garlic
1/4 teaspoon pepper
1 1/4 cup Miller Lite or other light beer
4-6 ounces cream cheese
Oil for frying
Instructions
Start by taking your stacker pickles and laying them on some paper towels to soak up any juice. I let them sit while I work on the beer batter. Also, get your oil heating up in a deep fryer or pan on the stove. You want the oil to be 375 degrees.

In one bowl you will add 1/2 cup of the all-purpose flour. Then set that aside to dip in.

Grab another bowl and add in the remaining flour (1 cup) cornstarch, pepper, onion powder, garlic powder, paprika, creole, and the beer. Stir until lumps are removed. It will be a thicker batter.

Take your dried pickle and slice off some cream cheese and set on half of the pickle. Fold the pickle over and secure it with a toothpick.

Now dip the pickle in the plain flour to coat it, Shake off excess.

Then dip into the wet beer batter and shake off the excess as well. Place in the hot oil and fry for 3-5 minutes, flipping once. You will cook until the batter is golden brown and cooked through.

Use tongs or a slotted spoon to remove from the oil, and place on a paper towel-lined plate to cool.

Serve these deep-fried stuffed pickles with your favorite dipping sauce or eat alone.
Nutrition
Serving: 1gCalories: 217kcalCarbohydrates: 13gProtein: 4gFat: 16gSaturated Fat: 9gPolyunsaturated Fat: 5gCholesterol: 43mgSodium: 486mgFiber: 1gSugar: 2g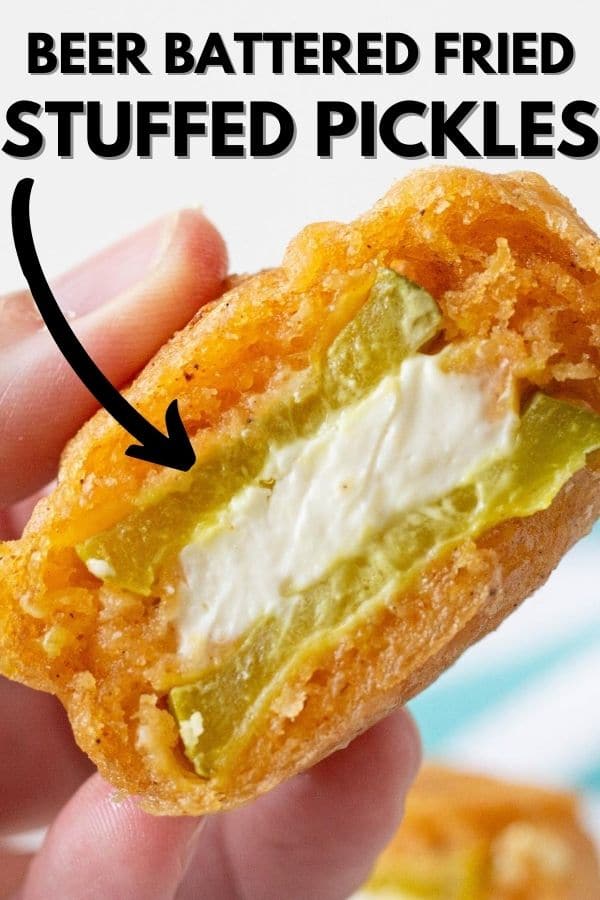 Reader Interactions