Air Fryer Potatoes Wedges that are cripsy, with a fluffy potato center. Seasoned with a homemade bbq blend, and air fried perfectly. Whip up these homemade potato wedges today.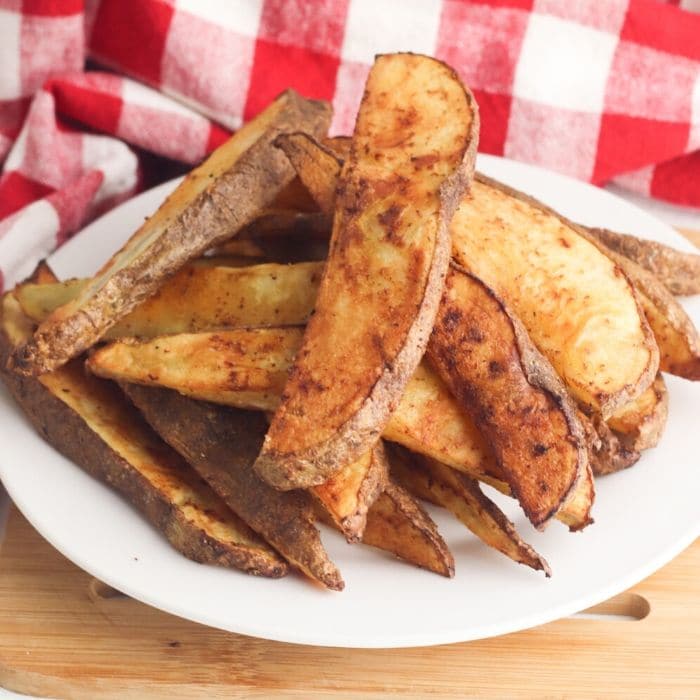 Whip up these Air Fryer Potato Wedges as your side dish for dinner or 2 pm pick me up snack! This is my favorite potato wedges recipe that I make all the time. Crispy outside potato wedges with fluffy potato inside, and seasoned to perfection.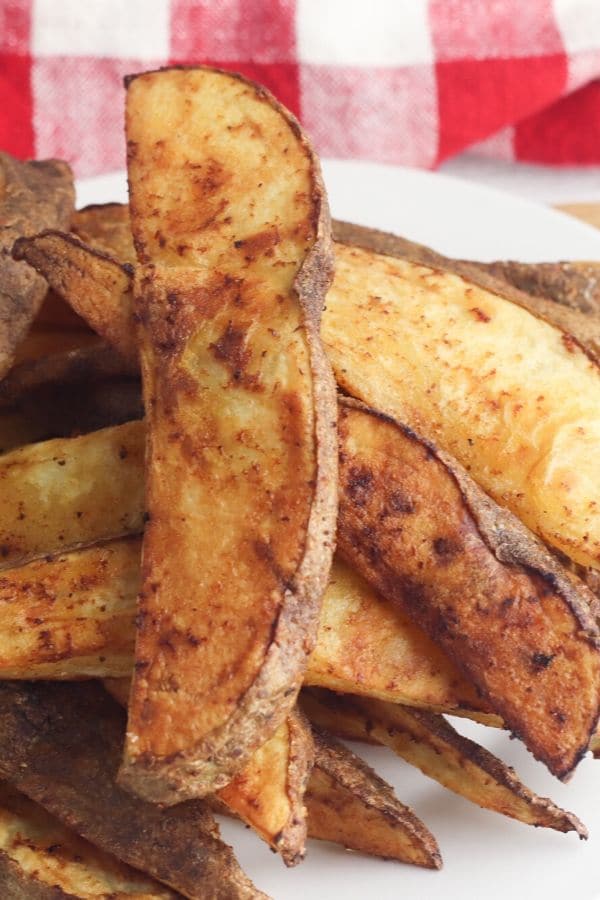 Looking for more satisfying air fryer recipes? Check out my air fryer pigs in a blanket, Hasselback sweet potatoes, Loaded potatoes in air fryer, or my Air Fryer Churros for a sweet twist!
Air Fryer Potato Wedges
I used a homemade season blend to season my potato wedges. But this recipe is versatile, so feel free to season your wedges how you would like.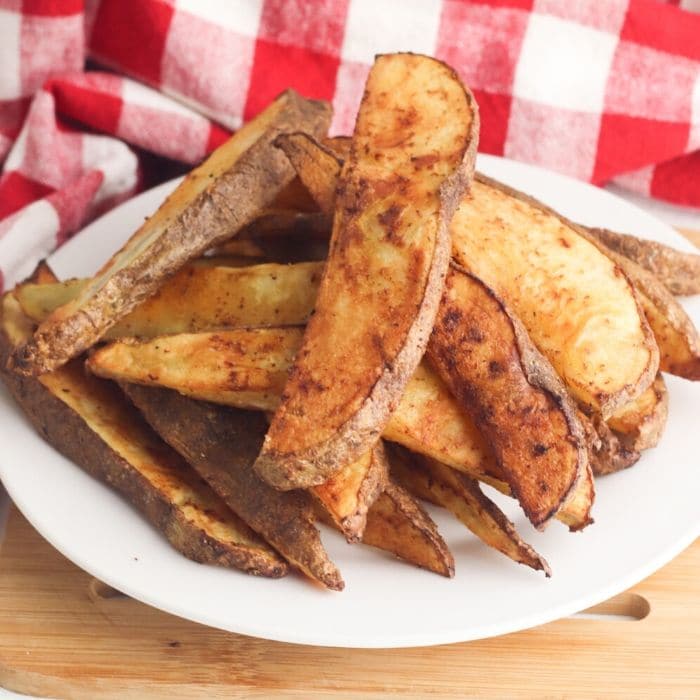 Are Potato Wedges and JoJo Fries the Same Thing
While potato wedges and Jojo fries look similar, they essentially are. But, Jojo fries are fried in the same oil you would cook fried chicken. So it takes on some chicken flavoring.
While these potato wedges are air fried. They are similar but slightly different in taste and cooking methods.
How To Make Potato Wedges in Air Fryer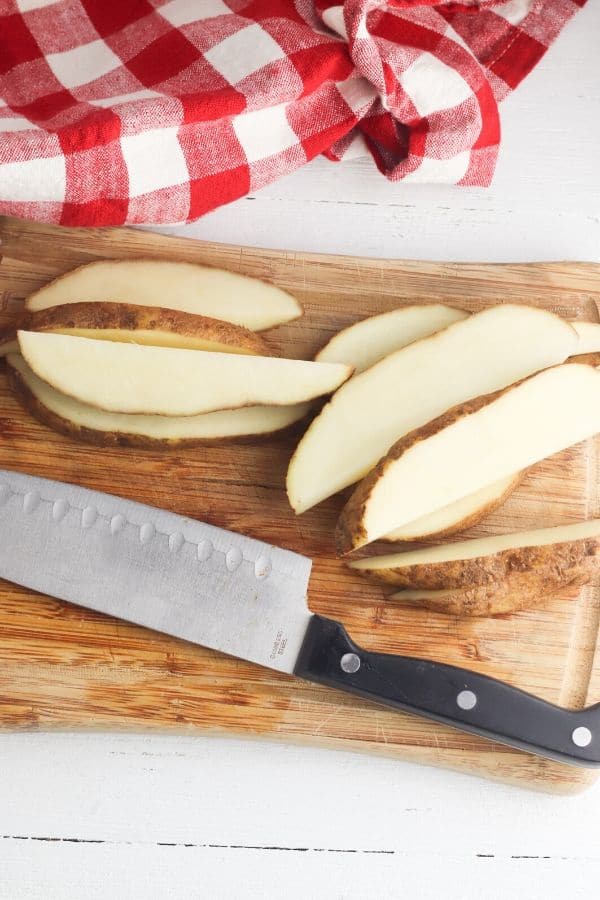 Step 1: Start by slicing your potatoes into wedges. Each potato on a medium to large potatoes around 6-8 wedges.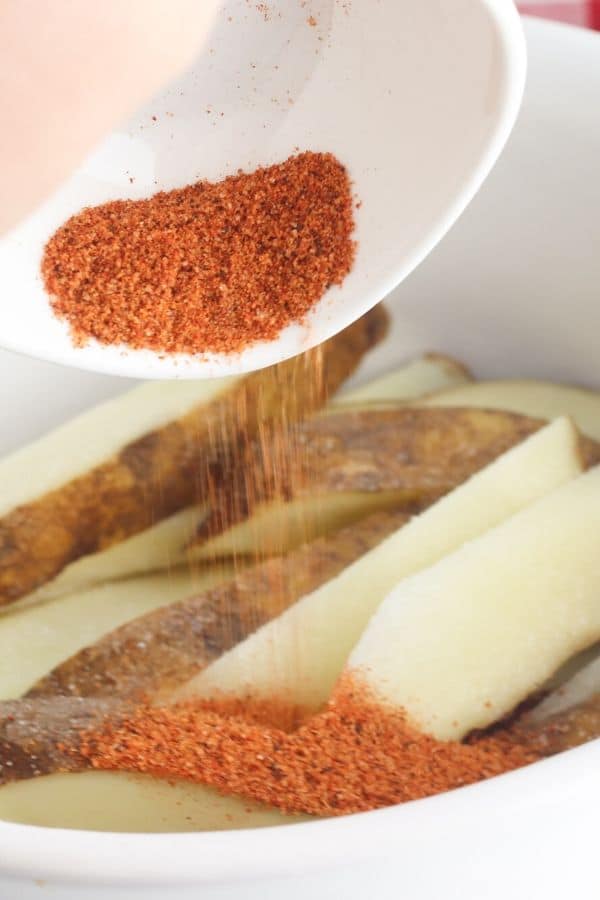 Step 2: Toss your wedged potatoes in a bowl. Then you will add in all your seasonings and oil.
Step 3: Toss your potatoes in the mixture. I spritz my air fryer trays with oil to help prevent sticking.
Then I lay out my wedges in a single layer making sure there is room between each potato.
Step 4: Spritz the wedges again with oil if you would like to help get that deep golden brown texture. Then cook at 385 degrees for around 12-15 minutes. Depending on thickness will vary in how long to cook.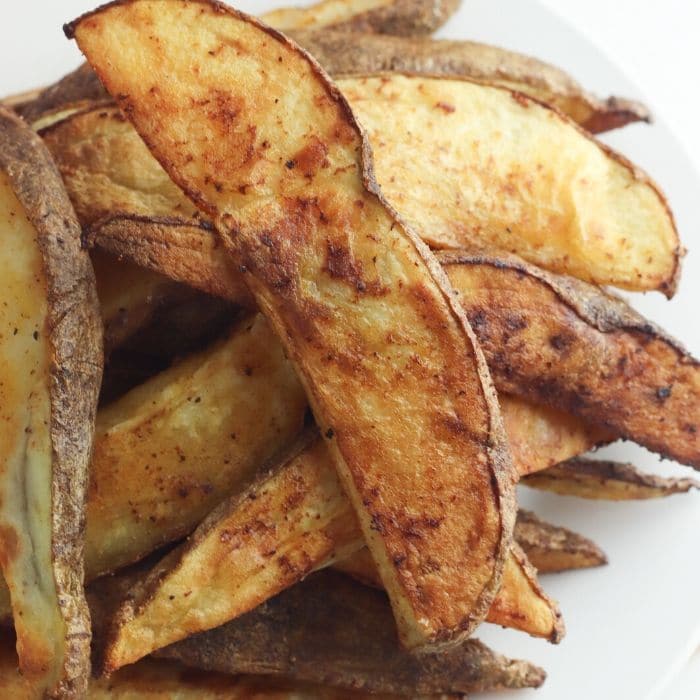 Then the last 2-3 minutes I bump up the air fryer to 400 degrees to get the outside even more crispy. This is optional.
Step 5: Remove wedges from the air fryer and serve with your favorite dips!
Full directions and ingredients are in the printable recipe card below!
Can I Bake These In The Oven
Yes! You can make these in the oven! I will share how to make them in the oven. The cooking method is a bit different.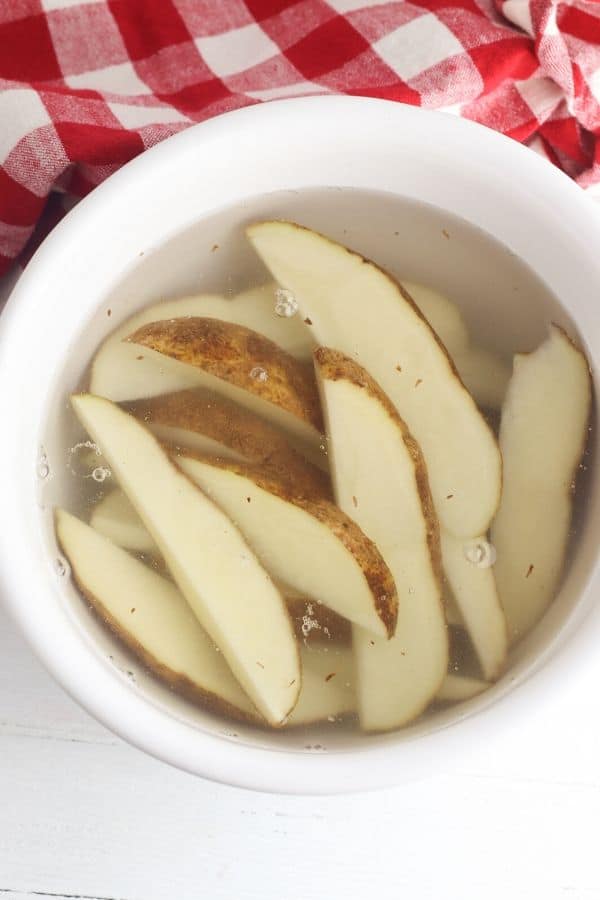 You will need to soak your potatoes in water for around 10 minutes. This is going to help remove some of the excess starches from the potatoes.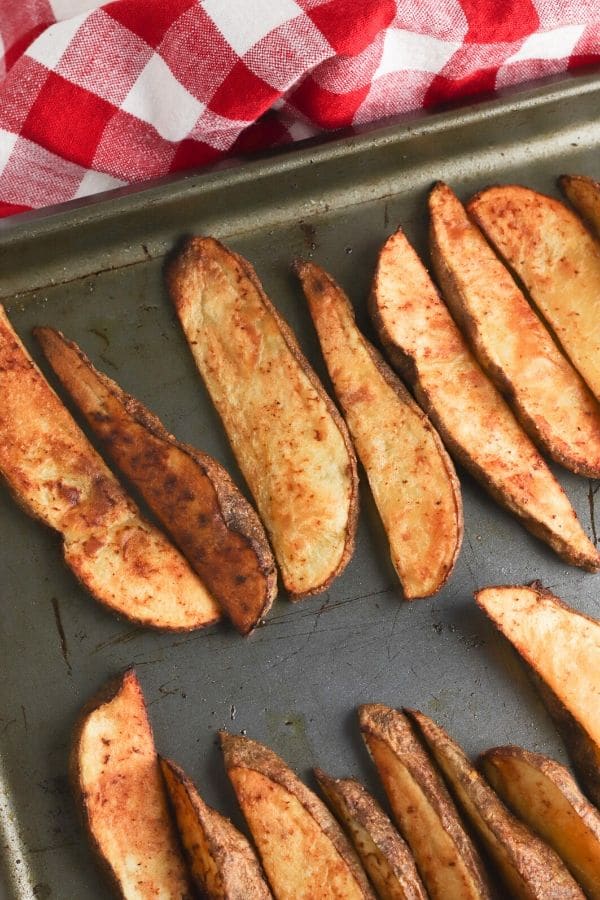 Then you will drain and pat dry, then season and cook at 400-425 degrees in the oven. Make sure to flip over your potatoes half-way through.
I have cooked these potatoes in my air fryer and made my potato wedges in the oven! They are fantastic either way.
Ways To Dip These Potato Wedges
Barbeque sauce of your choice
Mix Ketchup and Mayo together for a dip
Mix BBQ Sauce and Mayo together for dip
Eat plain
Dip in Ranch
Etc
We always mix it up. But feel free to eat your seasoned potato wedges however you choose!
Can I Double Recipe
Absolutely! Just batch cook your potato wedges so they all have room in the air fryer. Then place on a baking sheet and keep warm in the oven at 200 degrees until you are ready to serve.
Keep them in a single layer or they will sog up as they sit.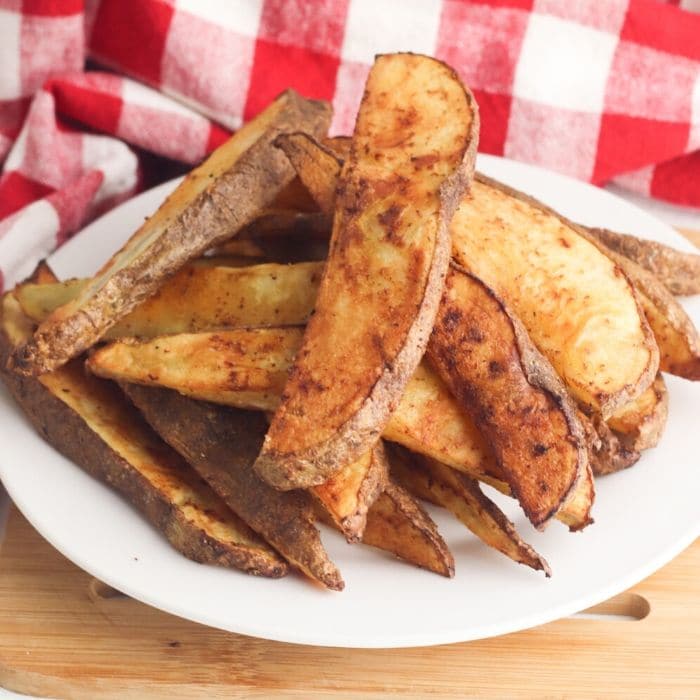 BBQ Air Fryer Potato Wedges
Servings 24 -32 potato wedges
Air Fryer Potatoes Wedges that are cripsy, with a fluffy potato center. Seasoned with a homemade bbq blend, and air fried perfectly. Whip up these homemade potato wedges today.
Ingredients
4 large potatoes cut into wedges
½ tablespoon oil of your choice
½ teaspoon paprika
½ teaspoon salt
¼ teaspoon sugar
¼ teaspoon mustard powder
¼ teaspoon chili powder
¼ teaspoon black pepper
¼ teaspoon garlic powder
Instructions
Start by washing all your potatoes. Then you will cut your potatoes in half, then start to cut into wedges. Each large potato makes anywhere from 6-8 wedges depending on the thickness.

Now in a bowl you will add in your diced potatoes, all your seasonings, and the oil. Give a good toss till the potatoes are evenly coated.

Now you will spray your air fryer basket or trays, whichever air fyer you use. Lay out your wedges in an even layer.

Turn your air fryer to 385 degrees and cook for around 12-15 minutes. You will cook until they are close to done.

The last few mintues I turn the heat up to 400 degrees to give them an extra crispy outside. This is optional.

Once bbq air fryer potato wedges are done, remove and serve immediately.
Notes
Depending on thickness of your wedges will depend on cook time. So use this as a guide. You can also make these in the oven. Start by soaking the potato wedges for 10 minutes in cold water to remove excess starch. Then pat dry, mix with oil and seasonings. Bake just the same but adjust cook time until your wedges are done.
Nutrition
Serving: 1gCalories: 198kcalCarbohydrates: 43gProtein: 5gFat: 2gPolyunsaturated Fat: 1gSodium: 200mgFiber: 5gSugar: 3g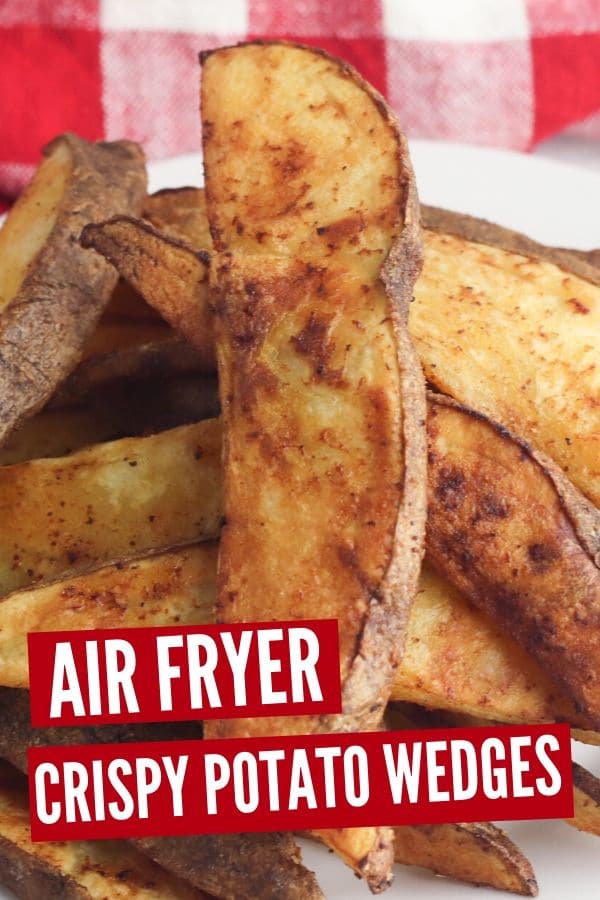 Have you made air fryer potato wedges yet?
Reader Interactions