Give this Blackstone Brats with Peppers and Onions a try! This is a delicious and easy dinner idea for any night of the week. Sauteed peppers and onions will transform this brats recipe into a whole new world. Give this brats on Blackstone griddle recipe a try.
I got a Blackstone Griddle for my birthday, and let me just say I am in love. I am having a blast trying out new flat top grill recipes for my family. If you are looking for easy recipes. This sausage and peppers was a hit, and we will for sure make this again.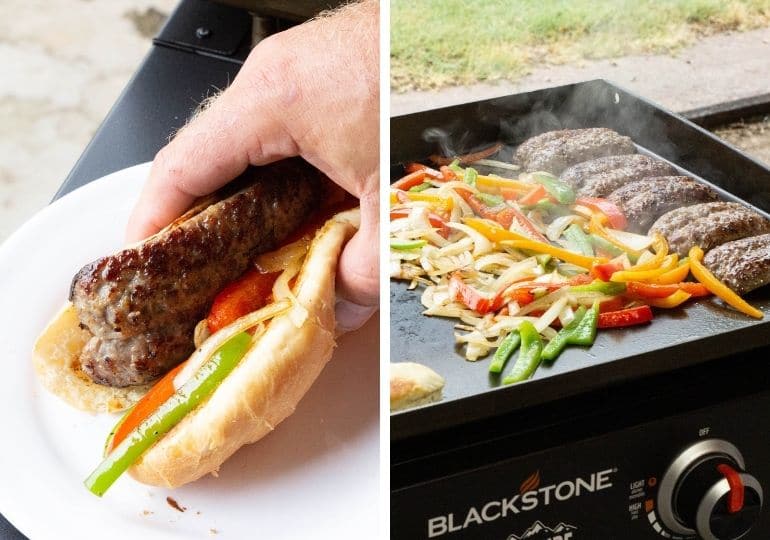 Table of contents
This brats recipe is also a great easy camping meal as well. Even if you have a pellet grill, propane, or other type of grill you can cook this brautwurst recipe on other devices. Pair these brats with my smash potatoes!
Why This Recipe Is So Popular
Simple Prep – I literally chopped veggies and sliced the brats in under 10 minutes. It was very little prep, and let me just say, it was so delicious.
Flat Top Griddle – I love the flat top griddle my Blackstone has. A clean smooth cooktop that the more you cook on your griddle the more flavor your food has.
Italian Sausage Recipe – I used bratwurst to make this recipe, but you are more than welcome to swap with Italian sausage or even a hot sausage.
An Easy Weeknight Dinner Idea – No matter if you are looking for a meal for your family or hosting a party or gathering with guests, this recipe is easy. Plus it is affordable as it uses simple ingredients.
Want another bratwurst recipe to try? Check out my Bratwurst in Beer on the Grill recipe for a tasty dinner idea as well.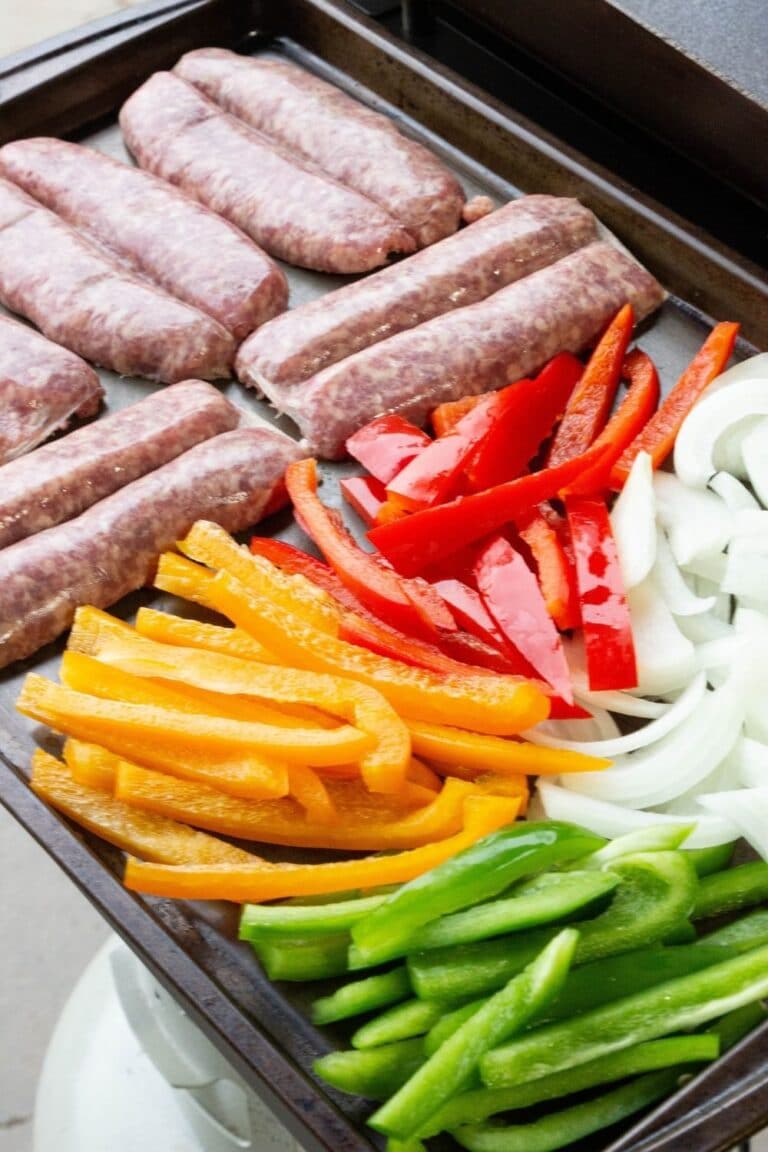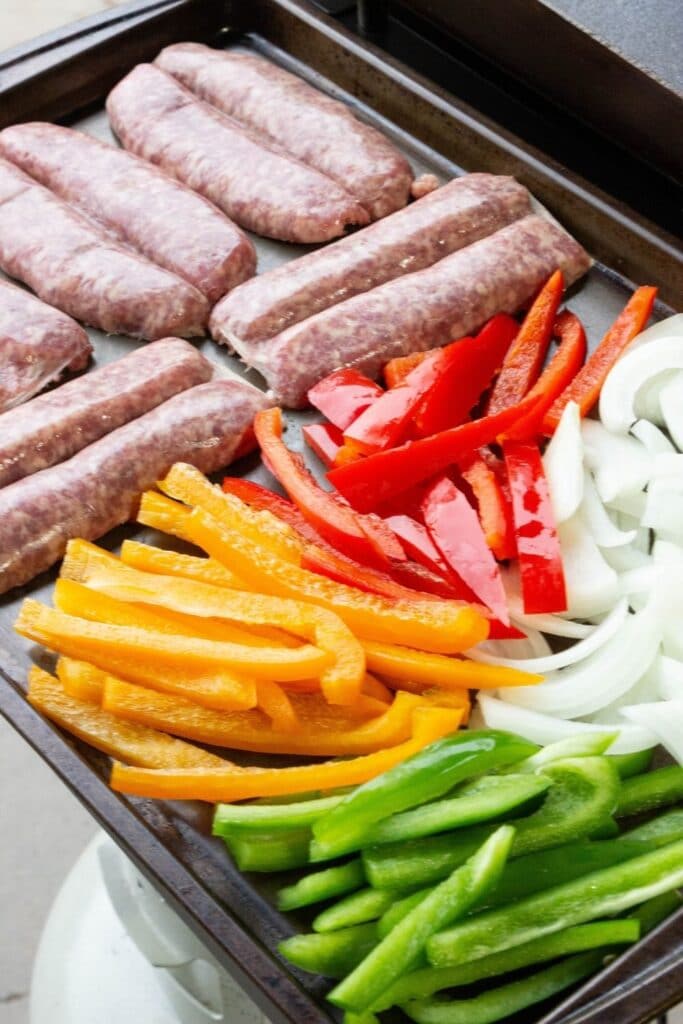 Ingredients Needed
Bratwurst – I used beer Bratwurst, but any flavor or brand of brats work. Or swap with Italian sausage if you would prefer that.
Onions – I used a sweet yellow onion. I would recommend to use a yellow or white onion for this recipe.
Peppers – Red, orange, and a green bell pepper are what I reached for. Any colors work, and I love the variety all the peppers add.
Salt and Pepper – Season with salt and pepper on the veggies. It is simple but all you want is to enhance the natural flavors of the veggies.
Hoagie Rolls – Any style of hoagie roll or even a hot dog but works. Or you can opt to serve without a bun for a lower carb option.
Oil – You will use whatever oil you prefer using on your Blackstone flat top grill. I used Canola oil, but feel free to reach for what you prefer. Do not use olive oil as it smokes quite a bit.
How to Make
Step 1: First you will want to wash your peppers, slice into long strips, and slice up your onion as well. Then for the bratwurst you will want to butterfly cut your brats. To do this, slice down the center, just not cutting all the way through.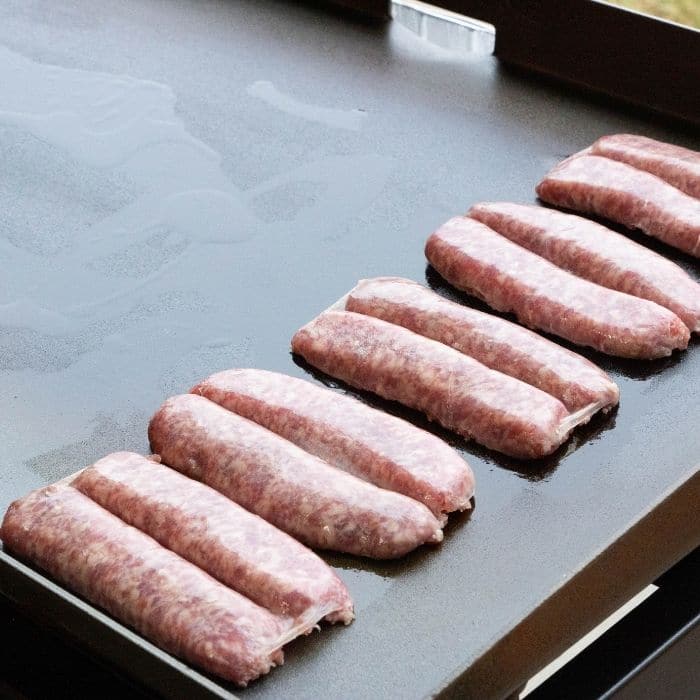 Step 2: Now you will want to turn your grill on, on high. Then clean your grill, and then add a bit of oil down. Place your bratwurst with the sliced side facing down on your griddle.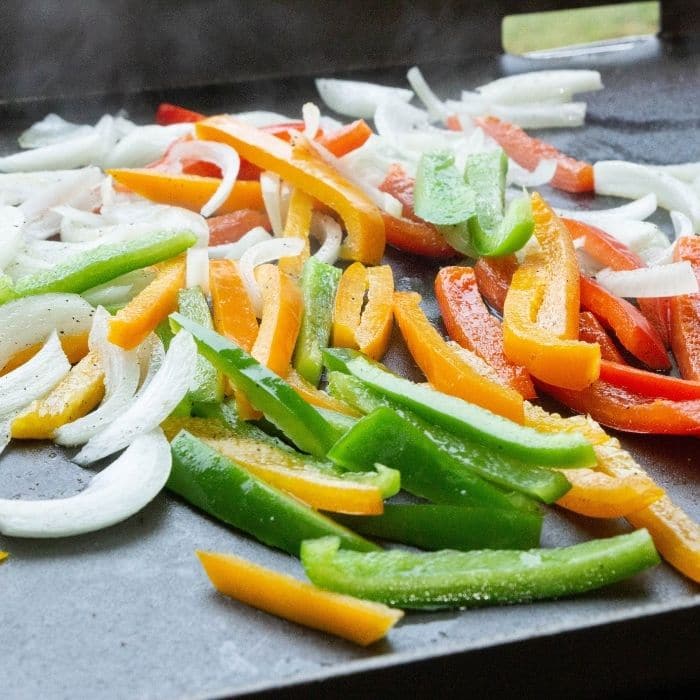 Step 3: On the other side of your grill squirt on a bit more oil, and toss on your peppers and onions. Squirt a little water, and season with salt and pepper.
Step 4: Now you will cook your brats until nice and golden in color, then flip to the other side. I cooked my brats for around 5-7 minutes on each side.
Step 5: For the peppers and onions you will just move them around to prevent the mix form burning. I cooked until softened, and some had some charring on it.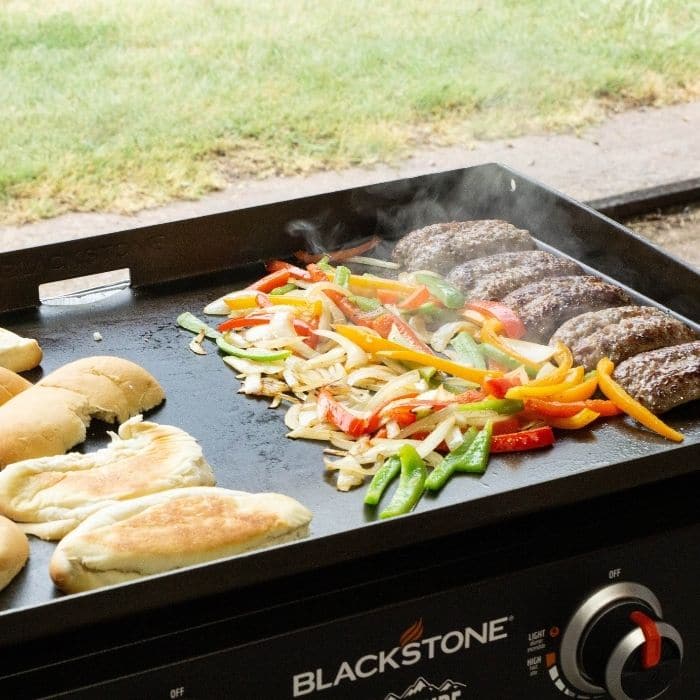 Step 6: When the brats and pepper mixture are close to done, move over the pepper mixture. Butter or squirt on more oil and then lay your hoagie rolls onto the grill to toast the buns a bit.
Step 7: Once all the items are done, place your hoagie on a plate. Top with a butterfly cut cooked brat, and peppers and onions. Then serve up the mixture!
Expert Tips and Variations
Butterfly cutting brats helps to speed up the cook time, and works great for tossing in a bun.
Add in some mushrooms for added flavor to your veggies.
Sprinkle or top with mozzarella, pepper jack or other cheese if you want a cheesy loaded brat.
Season your veggies as you would like. Garlic salt, creole seasoning, etc. would all be tasty.
Carmelize your onions if you would like, this will just take longer to do, but the flavor will be incredible.
FAQs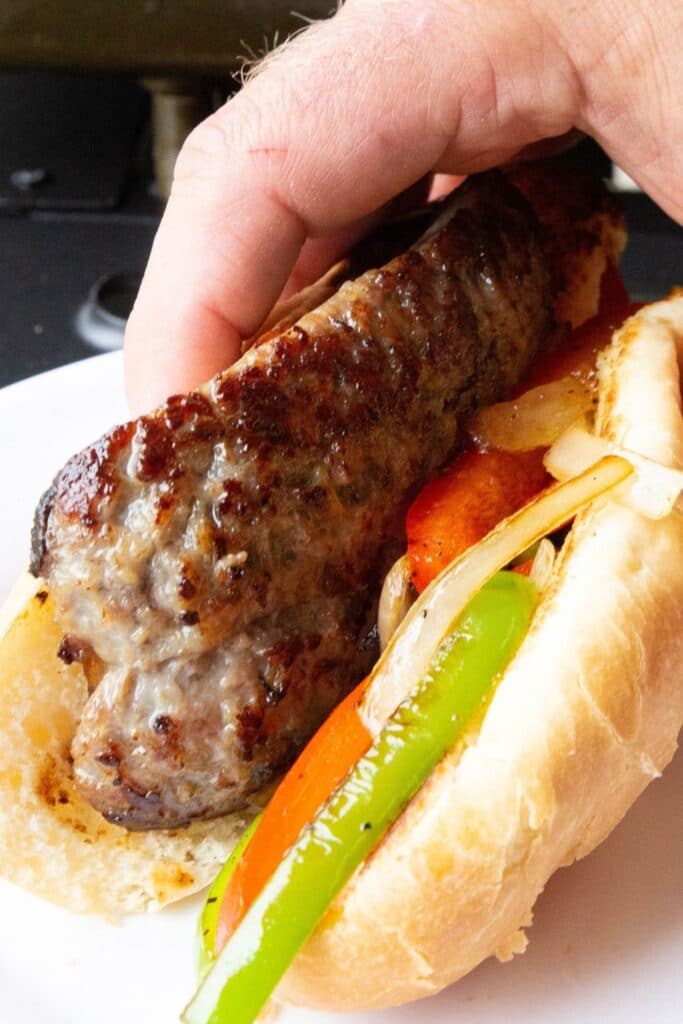 Related Recipes
Blackstone Brats with Peppers and Onions
Servings 5
Blackstone Brats with Peppers and Onions is a delicious and easy bratwurst recipe on your Blackstone Griddle grill. A butterflied brat that is seared and topped with peppers and onions on a hoagie bun. A simple weeknight dinner idea.
Ingredients
1 Package of Bratwurst I used Beer Brats, Johnsonville)
1 green bell pepper sliced into strips
1 red bell pepper sliced into strips
1 orange bell pepper sliced into strips
1 yellow onion sliced into strips
5 hoagie rolls
2-3 tablespoons oil
Salt and Pepper
Instructions
Start by washing and slicing up your peppers and onions. I did long strips for the peppers and onions, like you would for a fajita mixture.

Then you will take your bratwurst and slice lengthwise without cutting all the way through. That way you can open up the brat to make it into a butterfly cut.

Turn your Blackstone Grill on high, and then add on some oil. Place your brats cut side down on your grill.

Then add more oil on the other side of your flat top grill and then pour on your peppers and onions.

Add a squirt of water, and season with salt and pepper.

You will cook your brats for around 5 minutes, and then flip them over once they are golden in color. Cook on the other side until the brats are fully cooked. You want the internal temperature to read 160 degrees.

Saute the veggies until softened and a little charred in spots.

When the brats are close to done, you will add a little oil to an open area on the grill and place your sliced hoagie rolls. Toast them so they are golden brown on one side.

To assemble place a brat on a bun, and then add your onion and peppers on. Serve and enjoy this brats with peppers and onions with your favorite sides!
Notes
Italian Sausage – Instead of brats you can use Italian sausage. It will change the flavor a but still be delicious. Hot or Mild – You can pick whatever flavor of brat or sausage you want. We did beer brats which are mild but you could do hot brats if you want. Veggies – You could add in mushrooms to the mix if you want added flavor.
Nutrition
Serving: 1gCalories: 303kcalCarbohydrates: 18gProtein: 10gFat: 22gSaturated Fat: 5gPolyunsaturated Fat: 16gCholesterol: 34mgSodium: 566mgFiber: 2gSugar: 5g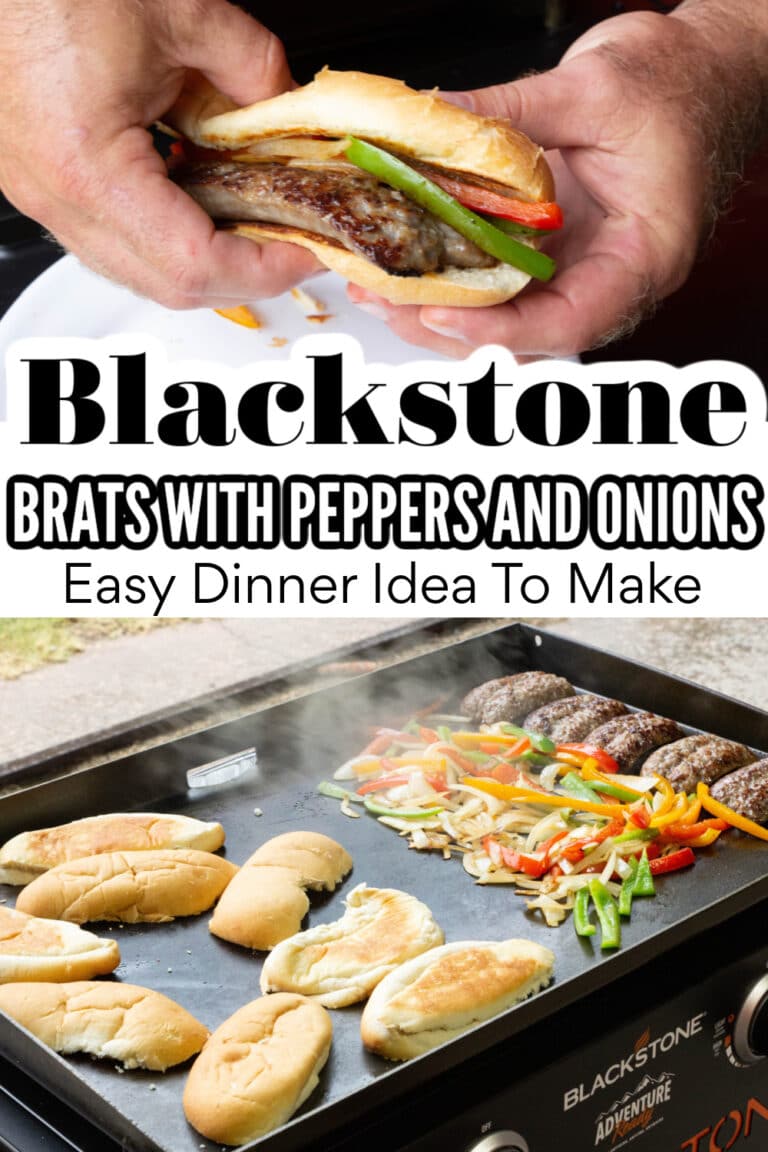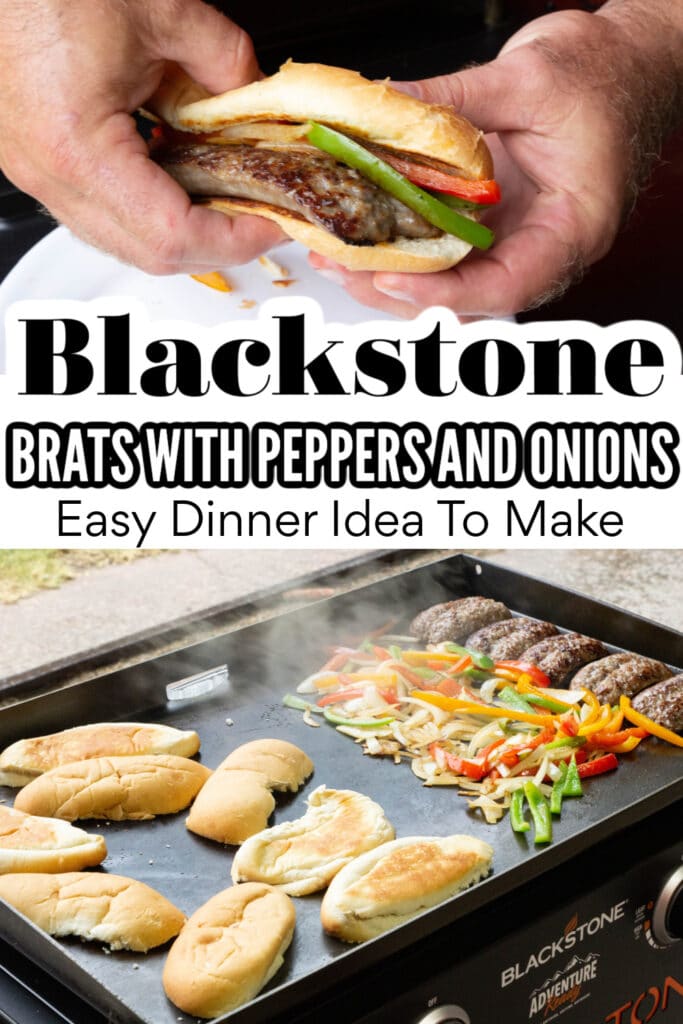 Reader Interactions