Beer Bratwurst on the grill are one of our favorites. A beer-boiled brat paired with onions or sauerkraut is always a hit in our home! Learn how to cook bratwurst perfectly.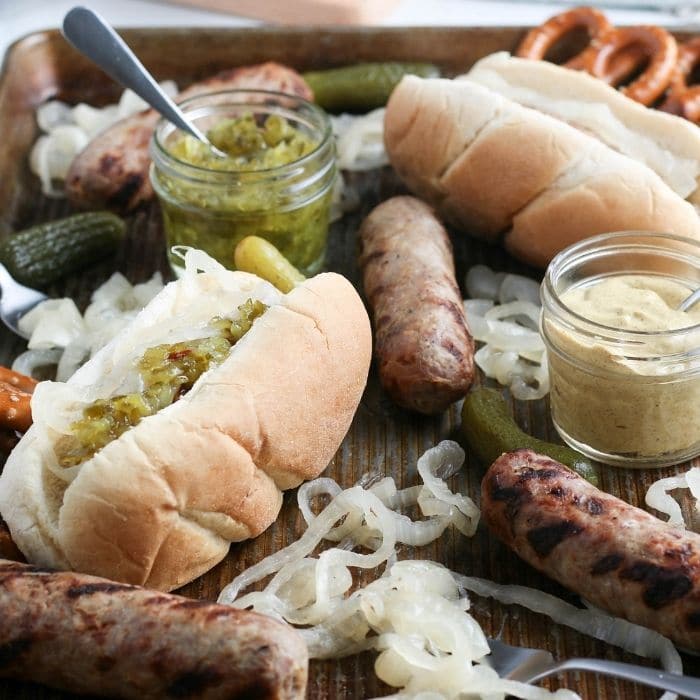 Grilled beer bratwurst are something my husband loves to cook. Quite frankly, he does a perfect job. You get that flavorful beer brat that gets crispy grilled skin.
Pile your bratwurst on a bun with onions and a drizzle of spicy mustard and dive in. For instance, whether it's a weeknight dinner or summer cookout. This beer brats with onion recipe never disappoint.
This bratwurst recipe is…
Delicious because cooking brats in beer adds so much flavor
Grilling brats helps give a crispy texture to the skin while being juicy on the inside
Flavorful
Easy to cook
Great for making large batches for a crowd
Crave-worthy
Great on a charcoal grill, pellet, or even an indoor grill!
In addition, there are so many reasons to love these brats. Therefore, dive in and give it a go.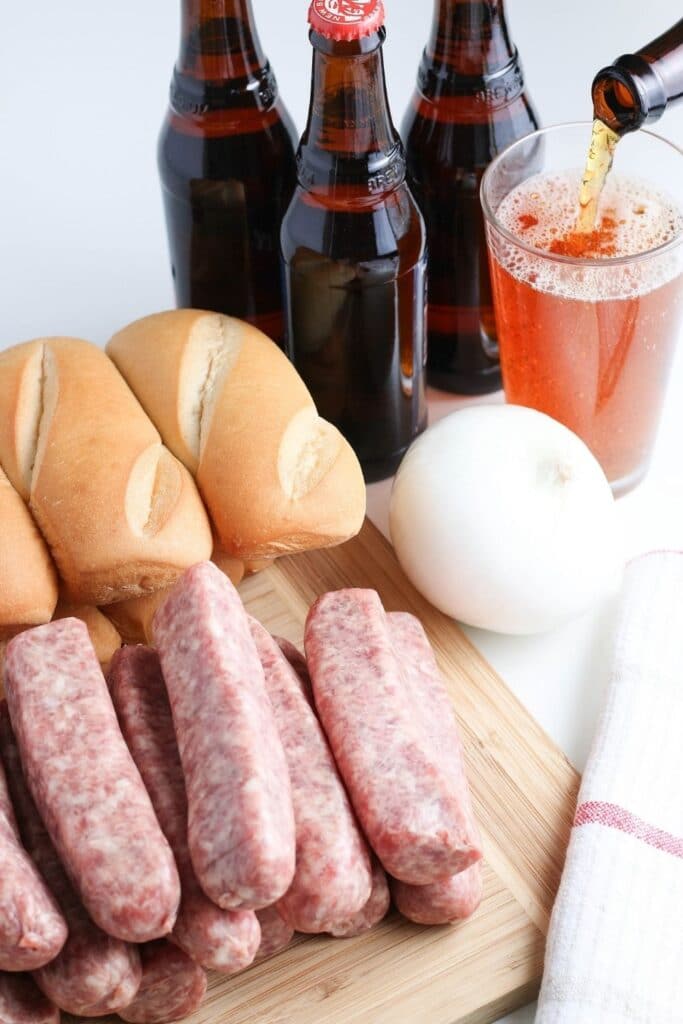 Ingredients
Bratwurst – We love Johnsonville Beer Brat or Original
Lighter Ale Beer
Onions
Buns
Toppings (optional)
How to Make Bratwurst on Grill
Toss your brats on a charcoal grill or pellet grill. Whatever you want works, for a game day dinner, or if you are like us, we eat beer bratwurst all year round!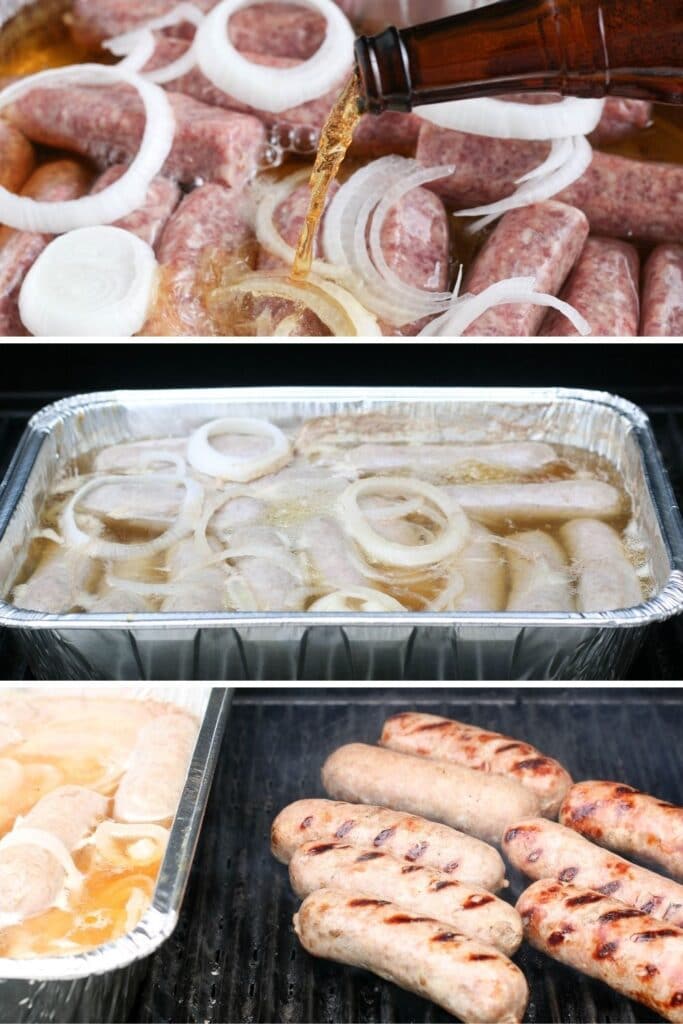 Step 1: First, start by slicing onions and place them in an aluminum pan. Top with the brats, and pour on the beer.
Step 2: Next, put the aluminum pan with beer brats on the grill. Make sure there is enough beer to cover the brats.
Step 3: Finally, once brats are cooked completely on the grill, remove and top with your favorite toppings. Enjoy.
In conclusion, this is a very straightforward recipe! It is so simple to make, and it is my go-to brats on grill method of grilling.
Expert Tips
Grilling brats isn't hard but you do need to make certain that they're cooled all the way through before eating them. Brats are not like hot dogs in the fact that they're already cooked – they're not. They are raw and need to be thoroughly cooked.
You may notice that your brats start to split a bit while cooking. This is actually a good sign that they're getting cooked well as it's showing the heat on the inside is trying to come out. You're going to want to watch them make certain that they don't split too much but it's not anything to be overly concerned about.
These are just a few tips that we've learned from our many years of grilling. Brats are a simple way to enjoy a nice BBQ fast!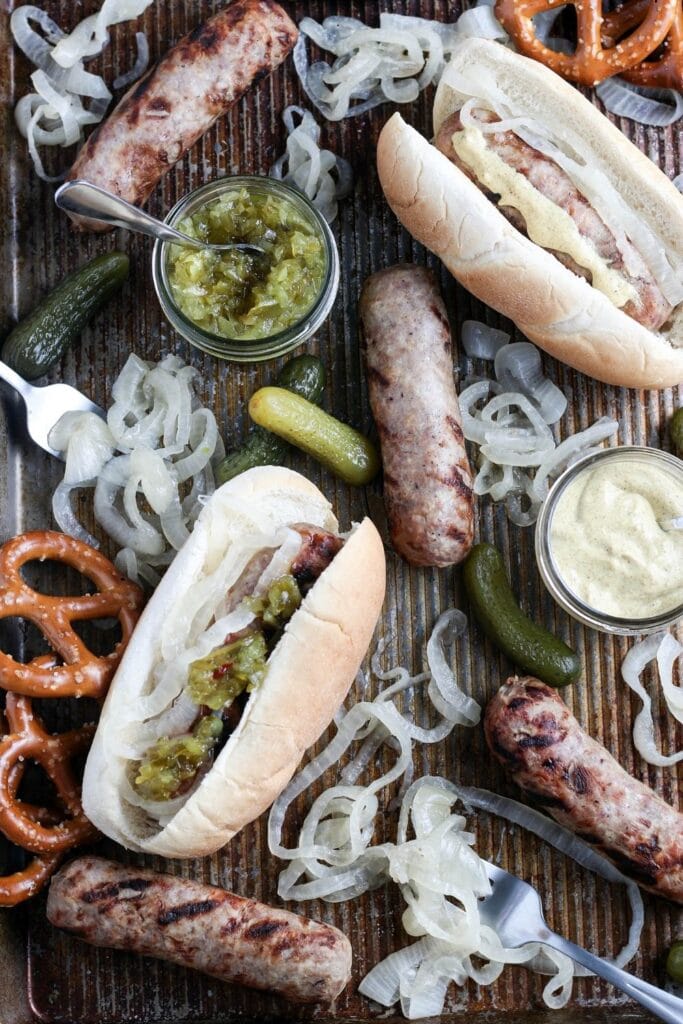 Variations to Recipe
Aboveall, this recipe is very easily swapped around. Here are some of my favorite variations.
However, you can make exactly how I did in the recipe card, and it will be just as tasty.
Firstly you can easily change up the toppings! Fresh jalapenos and salsa are another fun way that you can get a ton of flavor from your brat fast.
The beer mixture adds tons of flavor. Swap onions with sauerkraut if you want. Same cooking method, just different flavor.
You can cook onions in with the beer brats as well but just be aware that the onions are going to really taste like beer! (Some people love them though and they make a pretty delicious topping, too!) Sear the onions on the grates for added flavor.
If you can tell the difference between flavors of beer, change up the type of beer that you're grilling with. This is a simple way to change up the flavors without having to alter anything else.
Cooking on the grates offers a golden brown perfectly cooked bratwurst that offers a crispy skin and juicy meaty center.
Once cooked they are ready to serve with your favorite condiments.
Recipe FAQs For Wisconsin Beer Brats
More Grilling Recipes
Tried this recipe? Make sure to rate ⭐️⭐️⭐️⭐️⭐️ and leave a comment to let me know how you like it! Plus get more Instant Pot Recipes or Home Cooked Recipes Facebook Page on my Facebook. Stay up to date and Follow Me On Pinterest!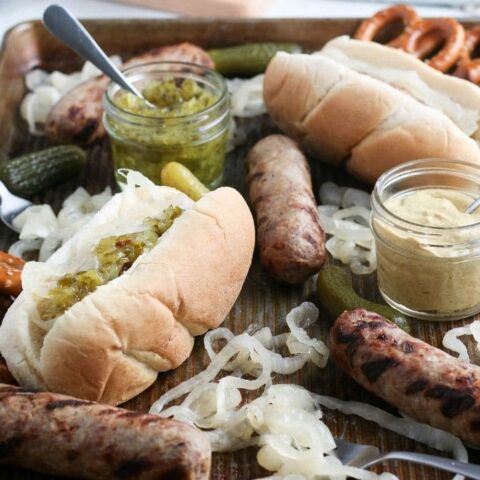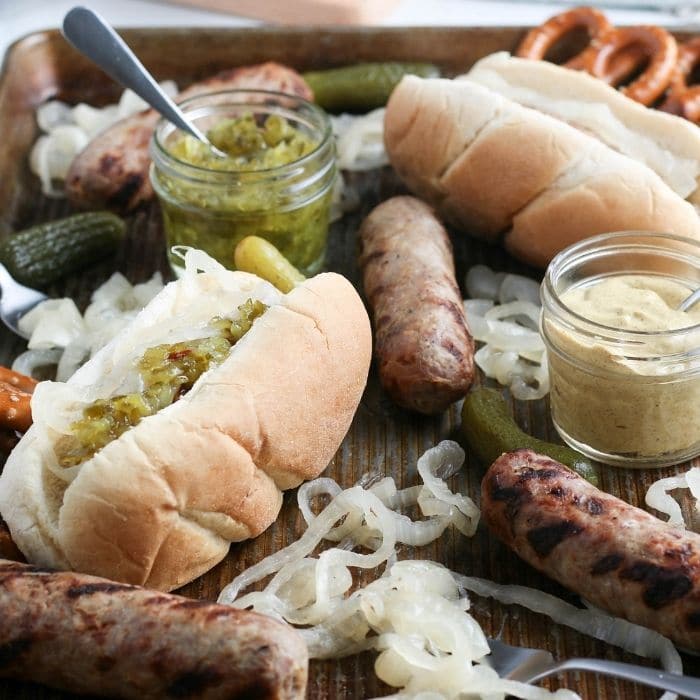 Bratwurst
Total Time:
1 hour
10 minutes
Whip up a batch of these bratwurst made on the grill. Beer brats on the grill are loaded with flavor and top with onions, sauerkraut, ground mustard, and more. Learn how to grill brats.
Ingredients
12-14 Bratwurst
2 sweet onion
Brat Length Buns (optional)
2 (12 oz) Pale Ale or Lager Beers
Toppings
Ketchup
Relish
Sauerkraut
Grilled Onions
Mustard
Instructions
Start by slicing your onions thin, and place a layer on the bottom of you 9x13 pan. I used an aluminum foil throw away pan.
Place your raw brats on top of onions, and top with the remaining onions.
Pour your beer over the brats, covering the bratwurst in the liquid.
Cover with aluminum foil and place on the grill at 400 degrees.
Bring the beer mixture to a boil, and then lower heat to aroud 300 and let it simmer for 20-30 minutes. This will help infuse flavor.
Pull your bratwurst from the beer mixture and place directly on the grill grates. Cook for 5-10 minutes flipping part way through.
You want to make sure the bratwurst fully cook. Once done, remove and alllow to rest 3-5 minutes. Then serve with a bun and your favorite toppings.
Notes
Cook Beer Brats In Air Fryer -
Take your brats and place in an airtight bag with onions and beer. Let it marinate for 20-30 minutes.
Take your onions out and brats. Place your brats in a preheated air fryer at 355 degrees. Allow your brats to cook for 10 minutes, flipping halfway through. You can toss your onions in the air fryer to brown up as well or discard them.
Cook your brats till they are golden brown and fully cooked.
You can swap the onions with sauerkraut instead and mix with the beer for another pairing. We do that a lot.
I prefer to use a sweet onion but you can swap it out if you want.
If you are not a fan of beer you can swap with a stock instead, it will alter the flavor.
You can toss the onions on the grill grates as well to allow them to char up a bit instead of being soft.
Make as many brats as you would like.
Nutrition Information:
Yield:

12
Serving Size:

1
Amount Per Serving:
Calories:

430
Total Fat:

32g
Saturated Fat:

11g
Trans Fat:

0g
Unsaturated Fat:

20g
Cholesterol:

79mg
Sodium:

1030mg
Carbohydrates:

14g
Fiber:

1g
Sugar:

5g
Protein:

16g
This information is automatically calculated by third-party software, including but not limited to the Create or Bake Me Some Sugar. For accurate nutrition, I suggest running the ingredients in your own system to get a more accurate reading. Nutritional information is approximate and automatically calculated, and should only be viewed as an indication.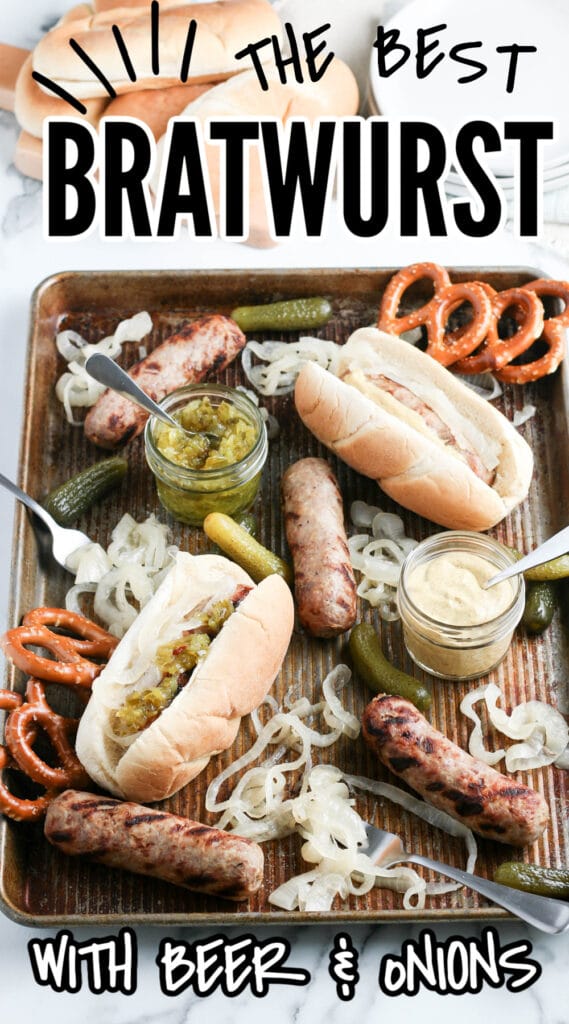 In conclusion, I hope you all enjoy this recipe. It is one of my favorites, and I hope you find it tasty.
Above all thanks for stopping by!