Ninja Foodi Grill Steak Kabobs is the perfect way to make your favorite kabobs in literally no-time! A summer kabob recipe that is loaded with a juicy steak, veggies.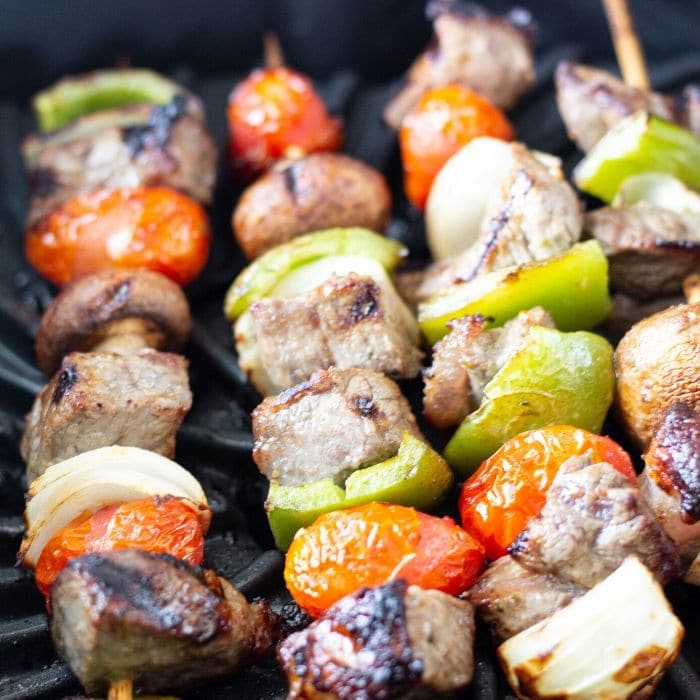 Ninja Foodi Grill Steak Kabobs
So, I got a new Ninja Foodi Grill! It is an indoor grill that you can use as an air fryer and even dehydrate. It is a multi-purpose kitchen accessory that is pretty neat.
Try my Texas Roadhouse Steaks as well cooked on the Ninja Foodi Grill for another awesome steak recipe.
Beef Skewers With Vegetables
Beef skewers with vegetables are one of our favorites in our home. When my husband grills on our pellet grill this is our go-to. Since I got the Ninja Foodi Grill it has me experimenting.
Add any of your favorite vegetables, slice your favorite slice of steak, and slide on metal or wood skewers.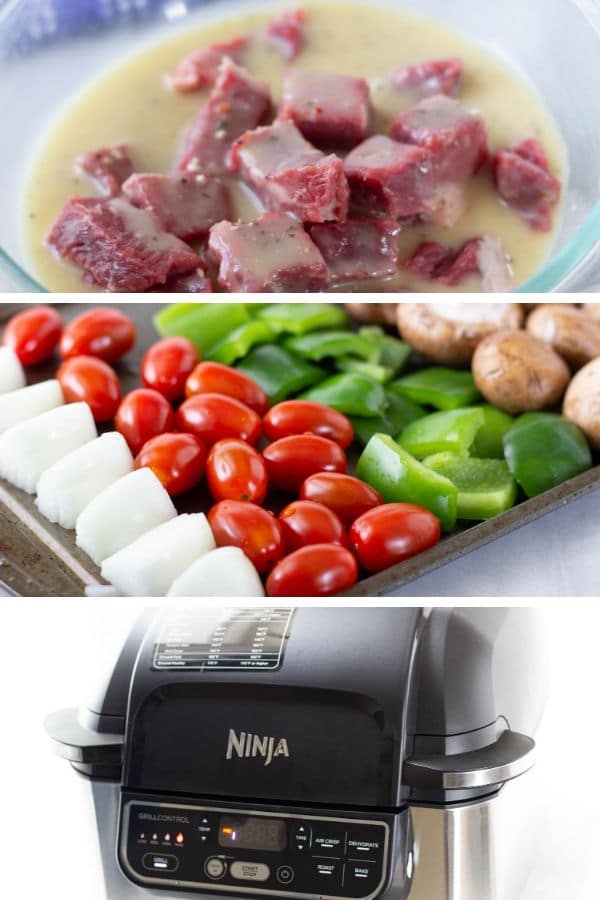 How To Make Ninja Foodi Grill Steak Kabobs
Start by prepping your steak and vegetables. You want to cut them all in a similar size, so they cook evenly.
Marinade your steak in whatever marinade of your choice.
Once all vegetables are chopped, begin skewering your vegetables and steak.
Pour the leftover marinade over all the skewers, and then cover and store in the fridge for 3-4 hours.
Preheat your Ninja Foodi Grill, and then cook flipping once.
Slide off skewers and serve!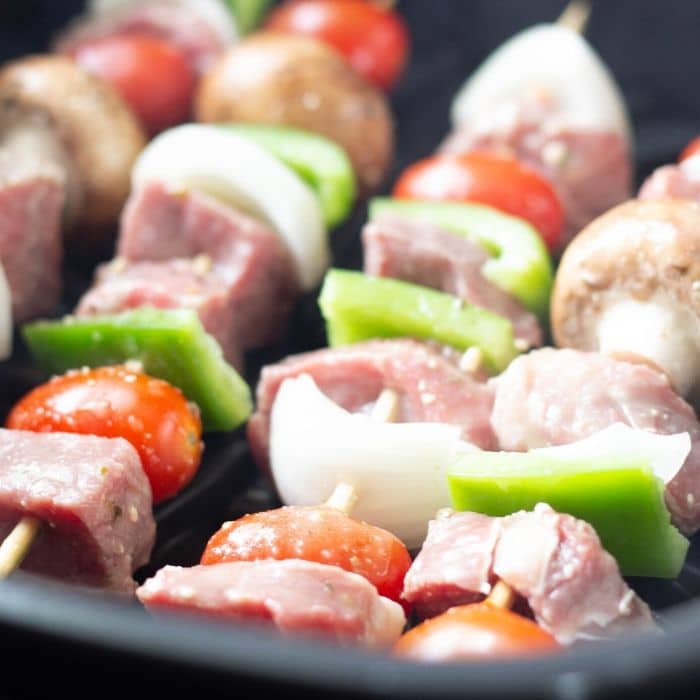 How Thick To Cut Steak and Vegetables For Skewers
You will want to aim to cut the steak and the vegetables around an inch thick. The key is just trying to get them similar and size.
That way it all fits nicely on the skewers and each piece of food can cook evenly. It is okay if items are a little different in size, just do your best.
These Ninja Foodi Grill Steak Skewers are versatile so add on what you want, and cook away.
What To Use To Marinade Steak and Vegetables
So I took the easy way out and reached for an Italian Dressing. Now, you can use a homemade marinade if you would like. I personally love the flavor of Italian dressing next to vegetables and steak.
The dressing helps to tenderize the meat as well. But, if you have a favorite homemade marinade go right ahead. This recipe can be adapted to whatever you prefer.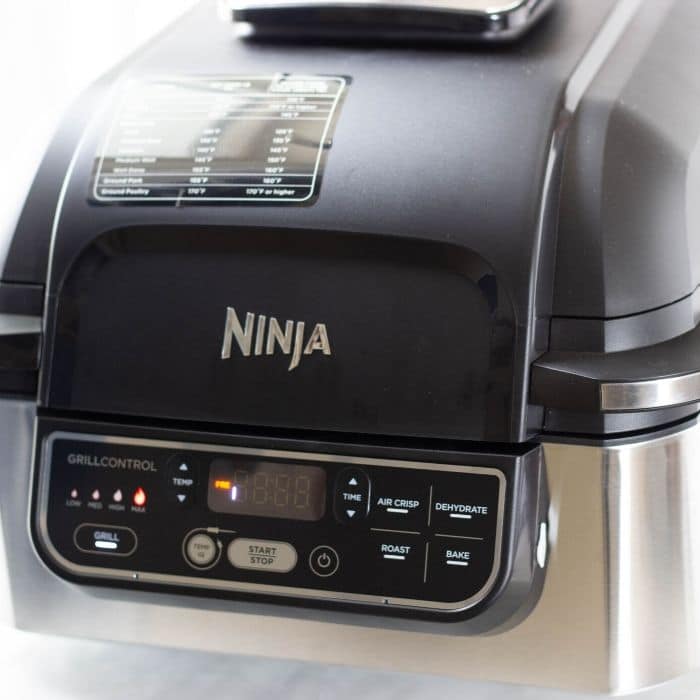 What Temperature To Cook Kabobs on Ninja Foodi Grill
You will select the highest heat on your grill, and allow it to preheat. This will take around 12 minutes. Once it is preheated, toss those kabobs on and let it sizzle!
Then cook flipping once halfway through the cooking. My kabobs took around 8-10 minutes each to cook.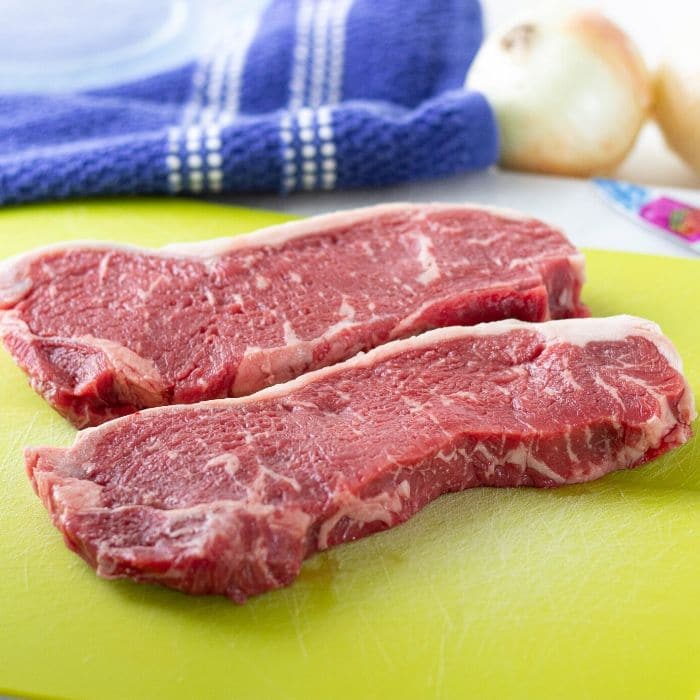 What Kind Of Steak To Use For Kabobs
You are open to options here. Porterhouse, Sirlion steaks, I used KC Strips cause that is what I had on hand. Feel free to use any cut of steak you would like.
The one thing to remember is depending on the cut of meat will vary in the tenderness of the steak once it is fully cooked.
Beef kabobs will tenderize a bit as it marinates, which helps if you buy a cheaper cut of meat.
I used wood skewers that I cut down for my shish kabobs. Now, you can buy metal you just want to make sure they will fit in your grill, as you close the lid to cook your kabobs.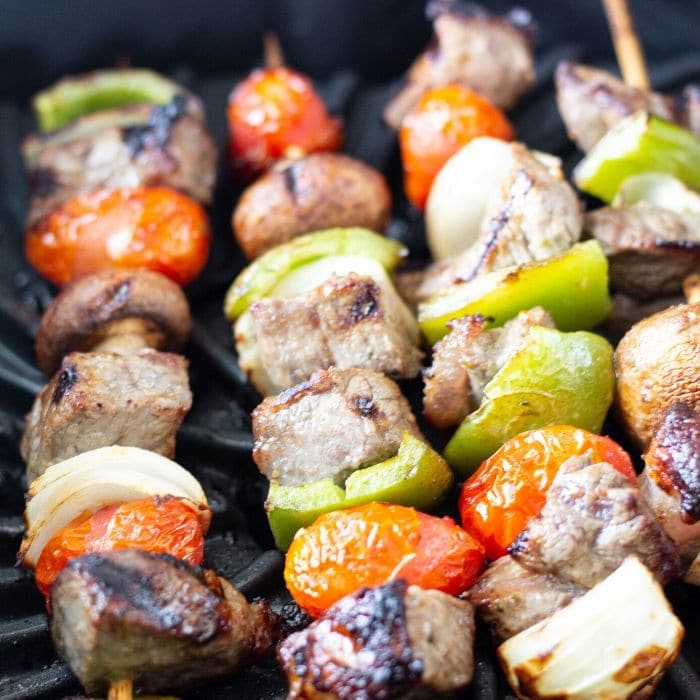 Ninja Foodi Grill Steak Kabobs
Servings 10 kabobs
Ninja Foodi Grill Steak Kabobs are SO easy to make. A steak and vegetable skewers that is a perfect summer recipe you can make indoors. These steak kabobs are so easy and cook fast in the Ninja Foodi Grill.
Ingredients
1-2 steaks I used KC Strips
1 onion
1 bundle mushrooms
10-12 cherry tomatoes
1 bell pepper
2 – 2 1/2 cup Italian Dressing
Wooden Or Metal Skewers
Instructions
Start by prepping your steaks. I cut mine in about 1-inch strips. Soak wooden skewers in water for at least 30 minutes. Or they will burn up.

You will pour your Italian dressing over the steak and let it start marinating while you prep your vegetables.

Wash and prep your vegetables. I left the mushrooms whole and tomatoes whole. Then I sliced the pepper and onions in around 1-inch pieces.

Once your skewers have been soaked in water, if using wood, you will then start pushing your steak and vegetables onto the skewers.

Place in a dish and then pour the dressing over the top of the veggies and meat. Then cover and let marinate for 3-4 hours in the fridge.

Preheat your Ninja Foodi Grill when you are ready to cook. You will select the grill setting and the highest heat. Let it preheat, this takes about 12 minutes.

Once the grill is hot, carefully place your steak kabobs onto the grill. I was able to cook 4-5 at a time.

Close lid and select 8 minutes. Flip at the 4-minute mark.

Cook your steaks until it reaches your desired doneness. At 8 minutes our medium-well to well done. If you want more rare, cook for a bit less.

Once your steak skewers are done, remove with tons, and then remove from skewers and serve.

Enjoy these easy and delicious Ninja Foodi Grill steak kabobs any day of the week, and rain or shine.
Nutrition
Serving: 1gCalories: 416kcalCarbohydrates: 17gProtein: 12gFat: 33gSaturated Fat: 7gPolyunsaturated Fat: 23gCholesterol: 43mgSodium: 1191mgFiber: 1gSugar: 14g
Craving More Summer Inspired Recipes
Have you tried Ninja Foodi Grill Steak Kabobs yet?
Reader Interactions