Smoked Queso is a Smoked Queso dip made on the grill. Two types of cheese, Rotel, onion, garlic, and more all in one cheesy grill. This is also a great campfire dip, tailgating recipe, and party dip.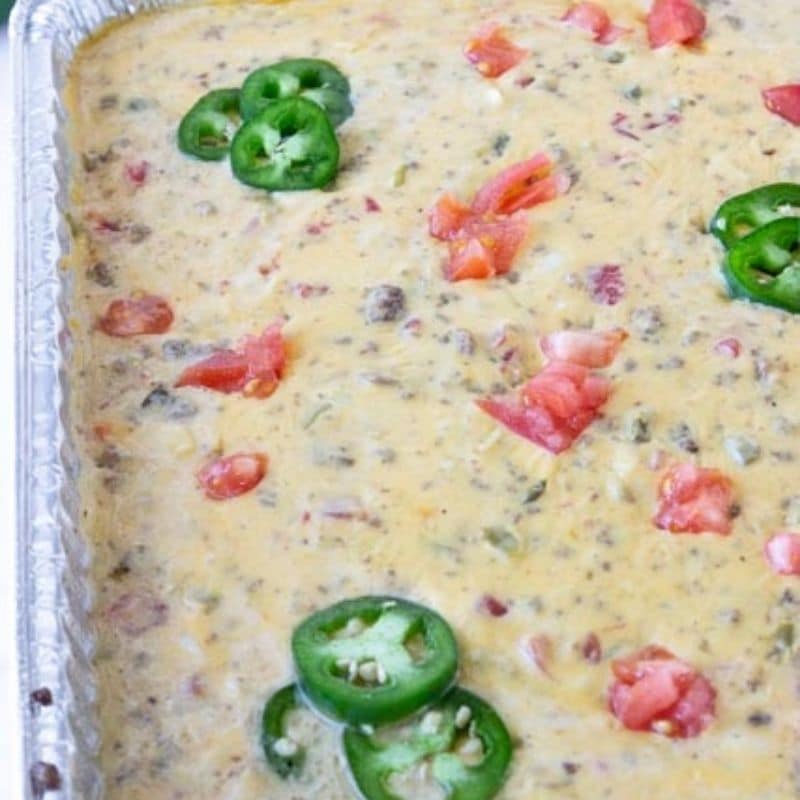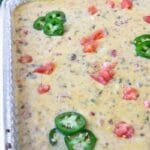 Smoked Queso brings queso dip to a whole new elevation. Velvetta, pepper jack cheese, jalapenos, Rotel, and more all mixed together and tossed on your Traeger. Queso on the grill is such a winner for a party cheese dip. This offers a delicious smoky flavor, and perfect for cooking in a disposable foil pan. Give this queso dip recipe a try for a delicious dip any night of the week.
This smoked queso dip recipe is so easy to make, it takes about 5-10 minutes to prep. Toss the queso ingredients into a pan, toss on the grill, and let it handle the rest.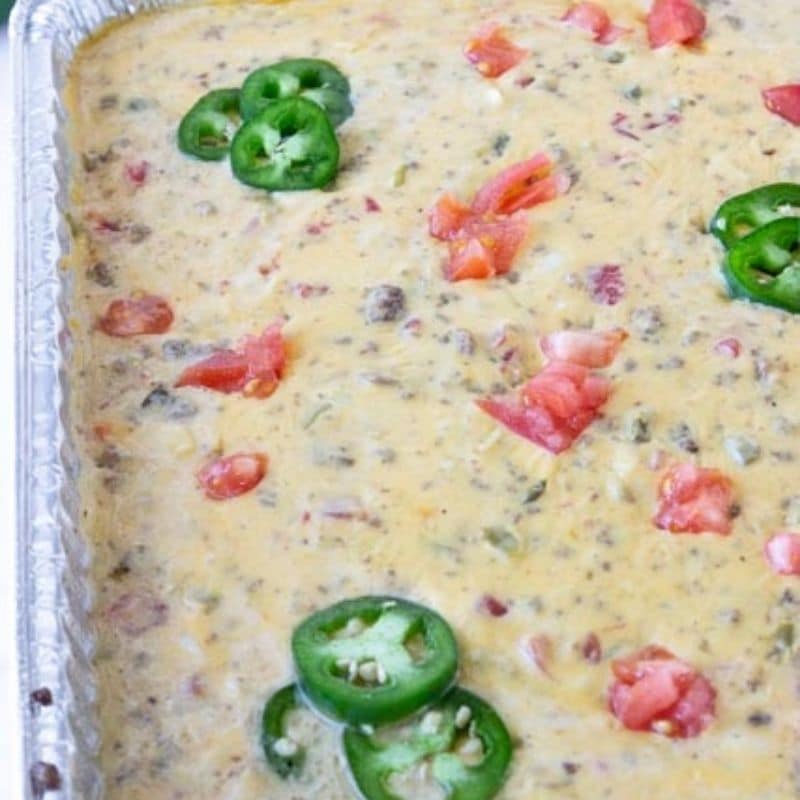 Try my latest Blackstone Brats recipe as well for a tasty grill recipe. A new version of your favorite cheese dip you can make on a Traeger pellet grill, Big Green Egg, or any other smoker or smoke box style grill.
A fun party food, game day appetizer, and more. I love how easy this party dip recipe comes together. It is loaded with cheesy goodness. This is a great appetizer for your next party or even coming up. This is the perfect dip for any occasion. There are different ways to serve it up that is a low-maintenance recipe.
Why You Will Love This Smoked Queso…
Easy ingredients you might already have on hand.
Cheesy goodness is a dippable recipe that is bursting with rich flavors.
Quick to assemble and get on the smoker.
Smoking the cheese dip is going to enhance all the flavors and create layers of flavor.
Great for cooking on Traeger, Green Mountain, Gas grill, etc.
Party Friendly for a game day entertaining or summer cookout.
Tailgate or Campfire Queso Recipe that is great for serving a crowd.
Queso Ingredients
Here are the Traeger queso ingredients I used. But, know you can change up the ingredients of this loaded queso dip a bit.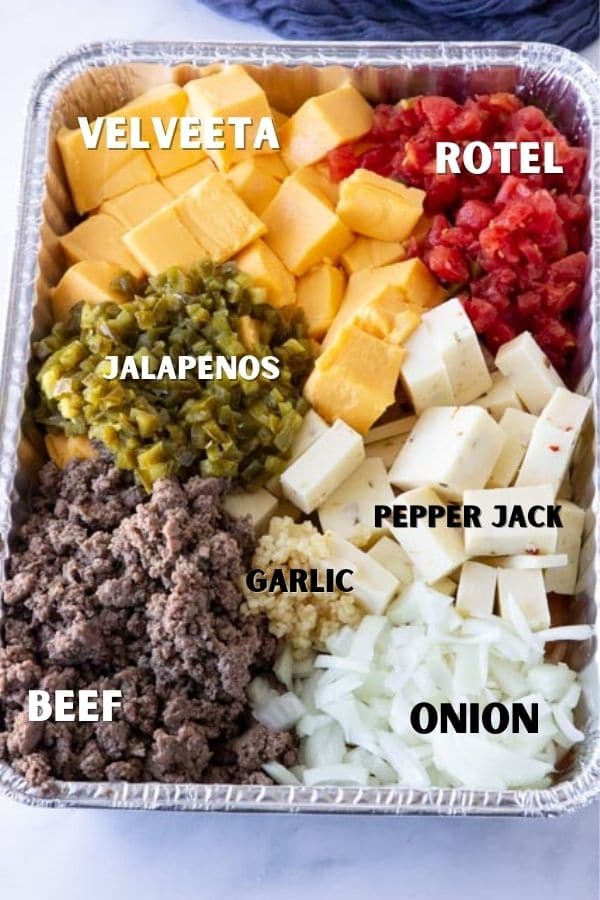 Velveeta – This is going to help add a ton of cheesy texture to the dish. Plus Velveeta is rich, so it adds a lot of flavor.
Pepper Jack Cheese – This adds a kick of flavor to your dip. If you are not a fan of spice, swap with a Monterey Jack instead.
Ground Beef Breakfast Sausage or Chorizo – The meat is your choice. I used ground beef for this recipe. 
Rotel – Canned tomatoes with green chiles are what Rotel tomatoes are. If you can't find it just do 1 can of diced tomatoes and 1 can of green chili's leave the juice. 
Pickled Jalapenos – Spice and tang are what come from canned peppers. Now, if you really want it to be spicy add fresh and leave the seeds.
Minced Garlic – Jarred or fresh minced garlic works. It adds a nice flavor to the dip.
Diced Onion – White or yellow onion is recommended for this.
How to Make
Full directions on how to make smoked queso are in the recipe card at the bottom of the post. This is a quick walk-through on how it is made.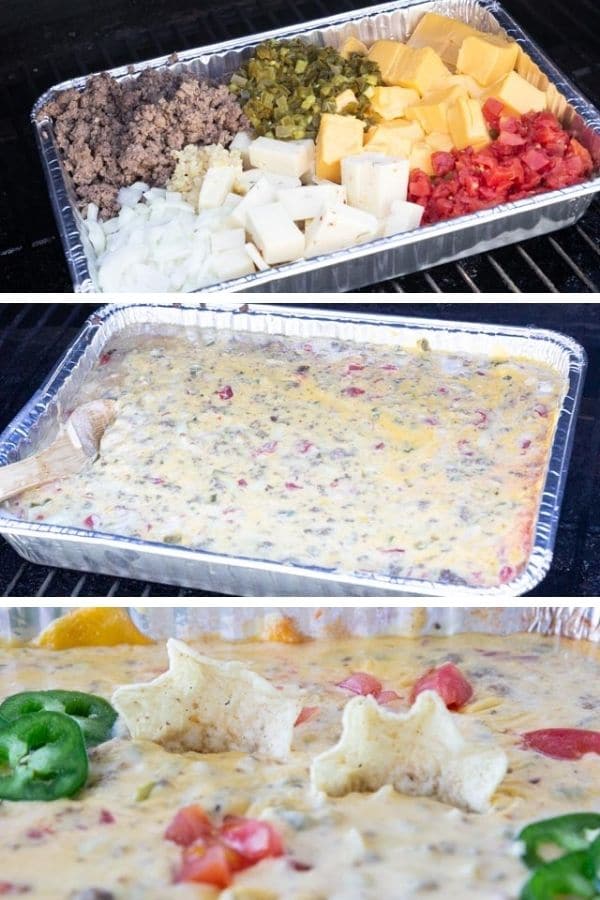 Add all your ingredients to your pan. I used an aluminum throw-away 9×13 pan. You can use whatever you would like.
Preheat the grill (I used my Green Mountain Grill) to 200-250 degrees, then place your queso dip mixture on and let it cook for 2 hours, stirring here and there.
Once done, serve with your favorite dippers.
Stir the easy-smoked queso dip to ensure the smokey flavor is incorporated through the whole dip. This is a perfect dip for a backyard party or game day dip. We used tortilla chips and pork rinds to transform this into the ultimate party dip for kids and adults to enjoy. 
Expert Tips and Variations
Meat – You can use Chorizo, sausage, beef, or any meat you want. Or if you want a meatless cheese dip, go right ahead.
Cheese – I used Velveeta and Pepperjack. I recommend the Velveeta cheese but the other you can use a Monterey Jack cheese, sharp, etc. Just buy a block of cheese and dice it up.
Jalapeno – I used jarred pickled jalapenos. You can skip this but I find it adds tons of flavor. If you want more heat use fresh jalapeno to toss in.
Stir The Dip – Make sure to stir the dip, otherwise, you will find it cooks unevenly. Smoking the dip low and slow helps allow some of that smoky flavor to get into the dip.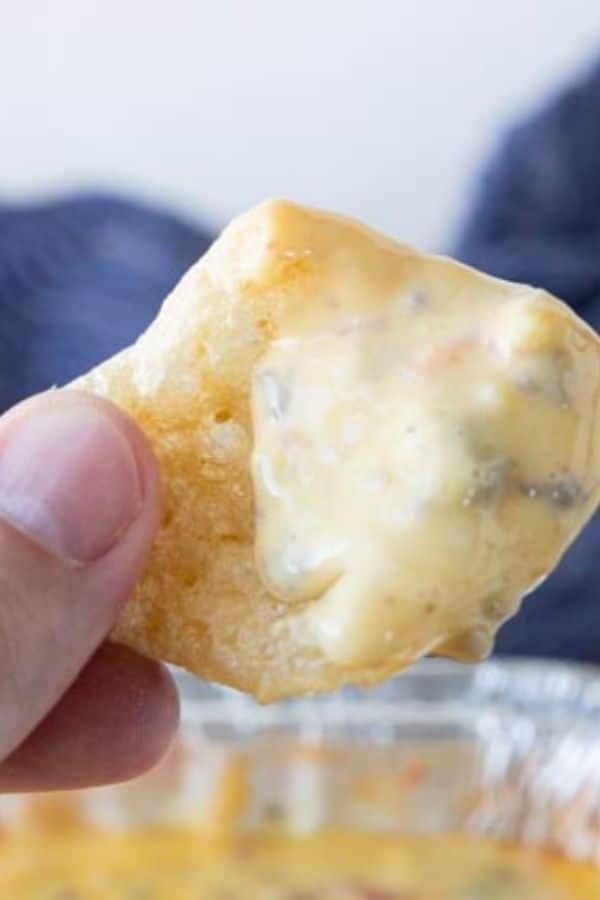 Variations To Recipe and Tips
Here are different variations to this pellet smoker queso recipe. The smoke flavor really ramps up the addiction to this dip.
Change up the type of wood chips used, hickory wood, apple, etc. these will alter the flavor a bit.
Change up the type of cheese used. I did a mix but you are welcome to play around with the types of cheese used. Colby jack, sharp cheddar, etc.
Chorizo sausage or pork sausage are a great change up in the protein used. Or leave out ground meats if you want a meatless dip.
Slice up cheese and skip the pre-shredded cheese. It will make the dip extra greasy to use any kinds of cheese that are pre-shredded.
Cook in a cast iron skillet instead of a disposable aluminum pan.
Add the seeds of a jalapeno to make this hot cheese dip spicy. It will add great flavor.
Stir in some pico de gallo to add more of a fresh flavor to the dip.
What To Dip Rotel Cheese Dip In
Not sure what to serve with this smoked cheese dip? Here are a few ides for this queso dip on the grill!
Tortilla Chips
Fresh Veggies – I love snap peas and carrot sticks
Bread
Etc
Storing
You can store your cheese dip for up to three days in the refrigerator. Just reheat in the microwave.
Or if you do a skillet on the stove or in oven, add a little milk. This will help thin up the sauce.
Due to the dairy used, this queso dip does not freeze well.
Recipe FAQs
Want More Dip Recipes
Have you tried the recipe? If so, please leave a star ⭐️⭐️⭐️⭐️⭐️ rating in the recipe card below or drop a comment. Also stay in touch with me through social media by following me on Facebook, Pinterest, or My Facebook Group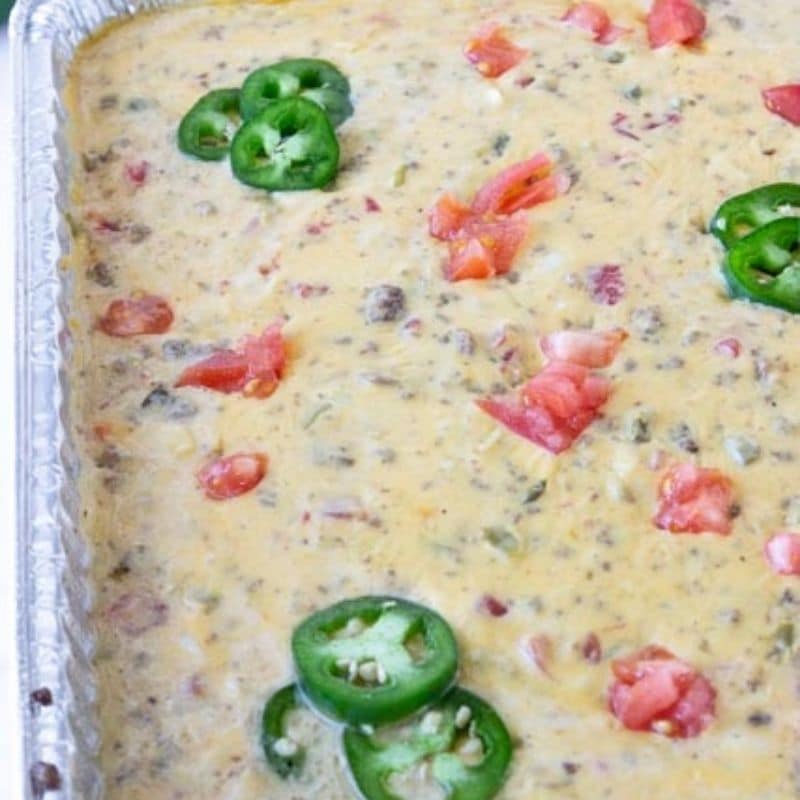 Smoked Queso
Servings 9 x13 pan
Smoked Queso is a Smoked Queso dip made on the grill. Two types of cheese, Rotel, onion, garlic, and more all in one cheesy grill. This is also a great campfire dip, tailgating recipe, and party dip.
Ingredients
Supplies
Smoked Queso Ingredients
1 block of Velveeta 32 ounces
1 block of Pepper Jack Cheese 16 ounces
1 can Rotel 20 ounce
3/4 cup pickled jalapenos in a jar
1/2 onion diced
1/2 tablespoon minced garlic
1 pound ground beef cooked and chopped
Instructions
Add in all the ingredients into your aluminum foil 9×13 pan. Velveeta, Pepper jack cheese, diced onion, garlic, can of Rotel with liquid, pickled jalapenos, and cooked ground beef.

Turn the grill on to 200-250 degrees. There is wiggle room in the temperature. Place the cheese dip on the grill uncovered.

Cook for 2 hours and stir every 15-20 minutes.

Once the smoked queso is done, serve with your favorite dippers. Pork rids, corn chips, tortilla chips, veggies, etc.
Notes
Rotel is canned tomatoes with green chilis. You can also opt for a can of diced tomatoes and a small can of green chilis to replace. You are welcome to use ground sausage, chorizo, etc to replace of ground beef. The jalapenos add heat, if you want it to be milder, leave them out. You can swap pepper jack cheese with sharp cheese or Monterey jack cheese as well. If you don't have a grill, bake in the oven at 220 degrees, stirring until the mixture is fully cooked. Cook your onions and garlic with the ground beef on the stove. Store the leftover dip in the fridge for up to 3 days. If the dip is too thick, add a splash of milk to thin up the con queso dip.
Nutrition
Serving: 1gCalories: 90kcalCarbohydrates: 1gProtein: 8gFat: 5gSaturated Fat: 2gPolyunsaturated Fat: 2gCholesterol: 28mgSodium: 212mg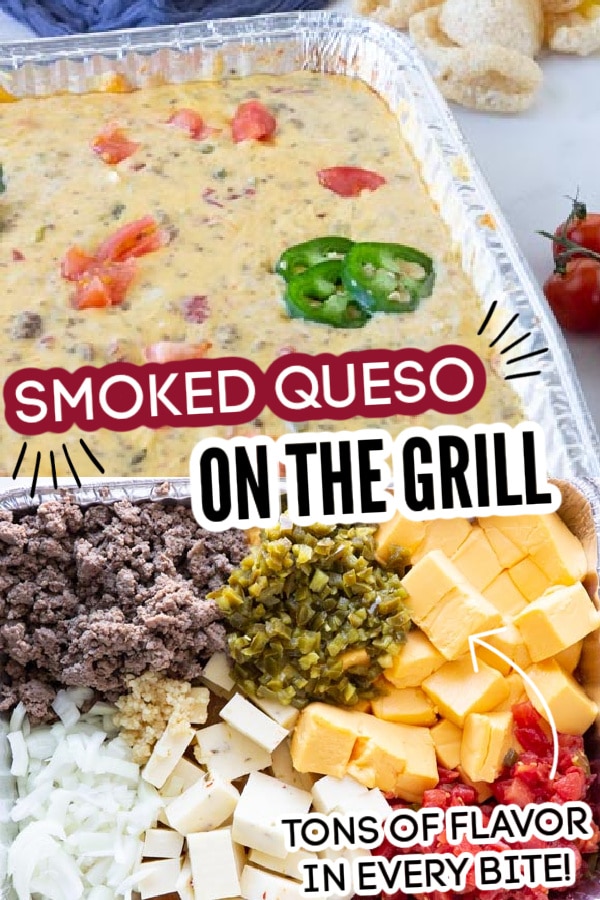 Reader Interactions