Whip up this 4-ingredient Buffalo Chicken Dip. Cheesy, spiced up, and the perfect dip for any of your entertaining needs. Whether you are looking for a buffalo chicken dip recipe to make for a game day party, summer cookout, tailgating, or to treat yourself at the end of the day. Here is my go-to Franks buffalo chicken dip recipe.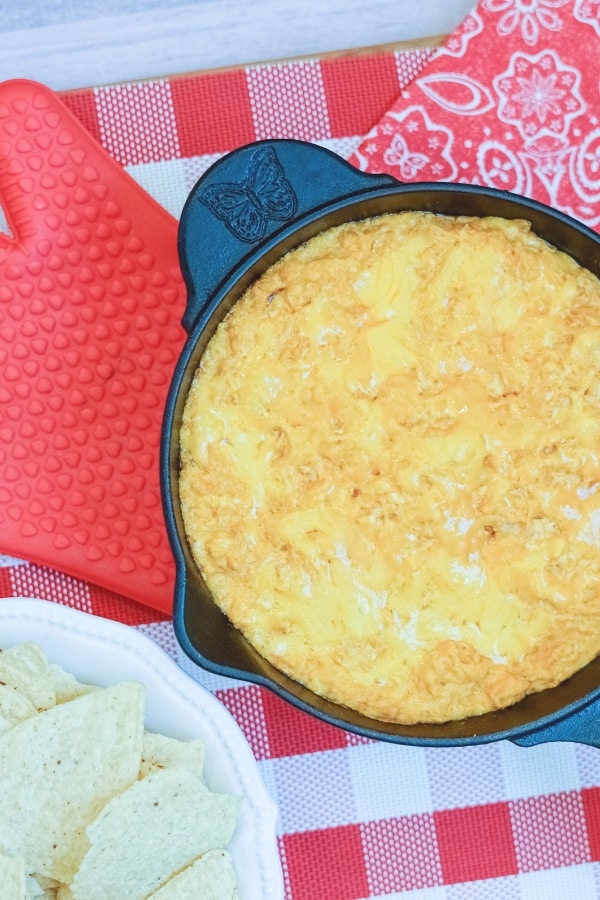 Easy chicken dip can be whipped up in literally no time. It makes a great dip recipe to make for unexpected guests. My husband loves spice so this buffalo chicken cheese dip was a winning recipe. Check out these buffalo chicken sliders for another easy recipe for that spice and heat you want in a chicken recipe.
Craving More Appetizers
Buffalo Chicken Dip
So I like to batch cook chicken and shred it and keep in the freezer. If you don't have pre-cooked shredded chicken you can easily make some for this recipe. It will just add a little bit more prep to the recipe.
What Chips Do You Eat With Buffalo Chicken Dip?
Pretty much anything you want to dip your hot dip in you can. We have even slathered in a toasted bun and eaten it like a sandwich. Trust me, this chicken dip is versatile in what to dip!
Celery Sticks
Carrot Sticks
Salty Tortilla or Corn Chips
Crackers
Pita Chips
French Bread
Baguettes
or anything else that sounds tasty
Do You Warm Up Buffalo Chicken Dip?
My dip is a hot dip recipe. After you cook it up and then refrigerate the leftovers, you could very easily eat leftovers chilled. But when you first cook it, you do bake it in the oven.
Can You Make Buffalo Chicken Dip with Canned Chicken?
Sure, you can make chicken dip with canned chicken. You would just want to use around 1 lb of cooked chicken for that. If you have extra canned chicken on hand, then feel free to reach for it. The canned chicken will slightly alter the flavor from regular chicken but cooking it should help change the flavor.
Can You Make Buffalo Chicken Dip In Advance?
You can make this chicken dip ahead of time. What you do is prep the dip and place in the pan you are going to bake in. Instead of tossing in the oven, just place the cold dip in the fridge for up to two days. Then when you are ready to bake just set the dip out on the counter to allow the pan to warm up slightly before cooking. After 30 minutes of sitting out bake as directed below!
Once the dip is baked and hot, serve and then toss out any leftovers you might have. But, if you want to store leftovers you can store up to two more days.
What If I Don't Have Pre-Shredded Chicken?
Feel free to boil up some chicken on the stove and season with salt and pepper. Once it is done cooking, remove from water, allow to cool slightly then shred with forks or a meat shredder
. Or if you have rotisserie chicken, simply shred it and use for the recipe.
Then use the shredded chicken breasts for your dip. This dip tastes fantastic, and the cheese on top is what really elevates the flavor.
Buffalo Chicken Dip Ingredients
Shredded Chicken
Cream Cheese
Cheddar Cheese or Sharp Cheese
Buffalo Sauce
How to Make Franks Buffalo Chicken Dip

Start by adding your chicken and all but 1/4 of the shredded cheese into a bowl. Then stir in your cream cheese softened, so it can mix well. Stir well, and then pour in your buffalo sauce.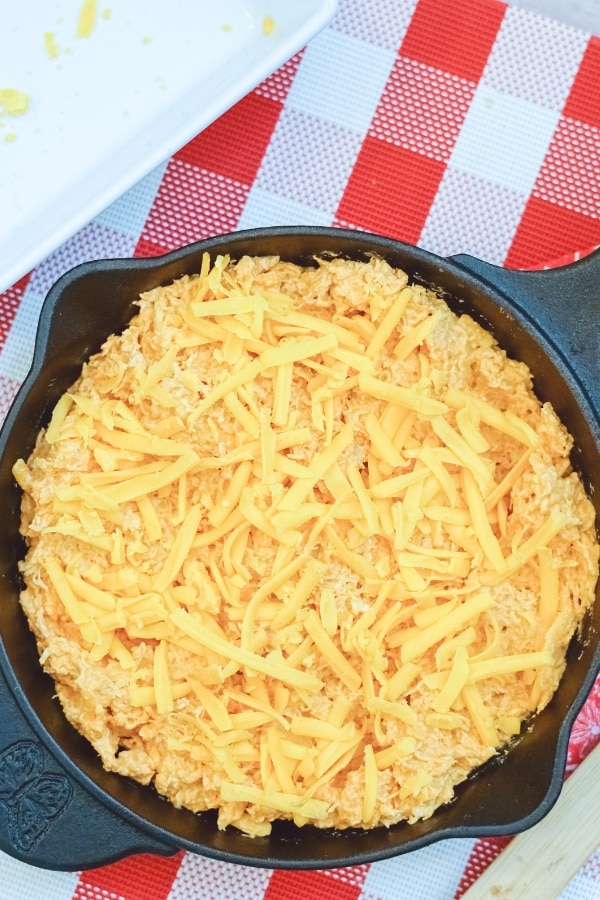 Top with remaining cheese and bake at 350 degrees for 15 to 20 minutes or until hot and bubbly. Remove from oven and serve right out of baking dish paired with your favorite dippers.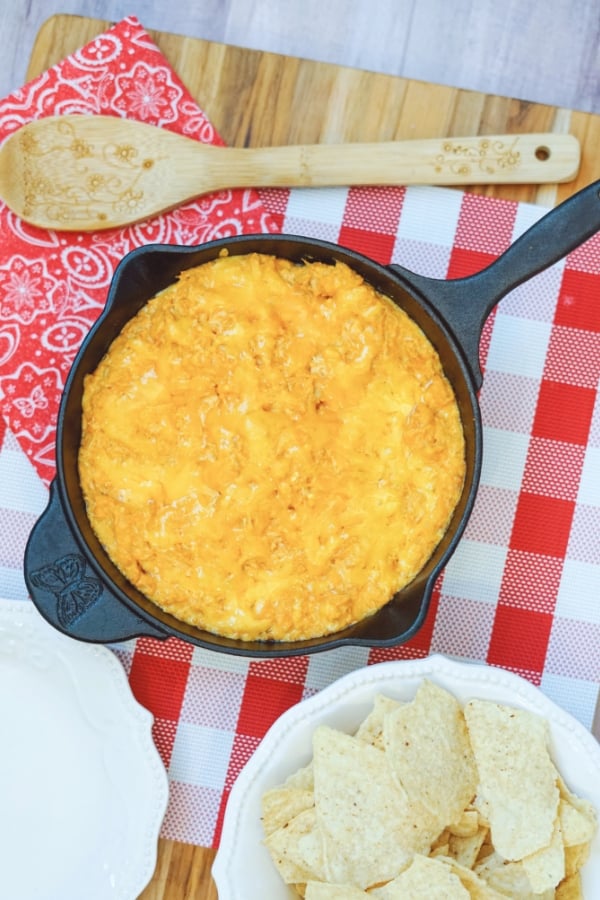 Feel free to top with fresh diced green onions or pair with ranch dressing to help tame down the heat from the hot sauce. You will have the taste of a cheesy buffalo chicken wings recipe but in dip form. It is to die for.
Can You Make Buffalo Wing Sauce
Of course! If you have a homemade buffalo sauce you prefer, go for it! You do not have to use store bought buffalo sauce for this recipe. Just use 1/2 a cup of homemade buffalo wing sauce in replace of store bought sauce!
Buffalo Chicken Dip Recipe
Baked buffalo chicken dip that is so simple to make and requires just a few ingredients.
Ingredients
1 lb Cooked Shredded Chicken
4oz Cream Cheese softened
8oz Shredded Cheddar Cheese
1/2 Cup Buffalo Sauce
Instructions
Add the shredded chicken into a large bowl.
Pour in the shredded cheddar cheese. Make sure to put 1/4 cup of cheese to the side to sprinkle on top of the dip later.
Add 4oz (half a block) of cream cheese and mix until nice and creamy.
Pour in the buffalo sauce. Mix well.
Pour mixture into an oven safe pan/dish. Sprinkle the remaining cheddar cheese onto the dip.Cook for 15-20 minutes on 350.
Serve with tortilla chips & enjoy!
Recommended Products
As an Amazon Associate and member of other affiliate programs, I earn from qualifying purchases.
Nutrition Information:
Yield:

12
Amount Per Serving:
Calories:

174
Total Fat:

12g
Saturated Fat:

6g
Trans Fat:

0g
Unsaturated Fat:

5g
Cholesterol:

57mg
Sodium:

433mg
Carbohydrates:

1g
Fiber:

0g
Sugar:

1g
Protein:

14g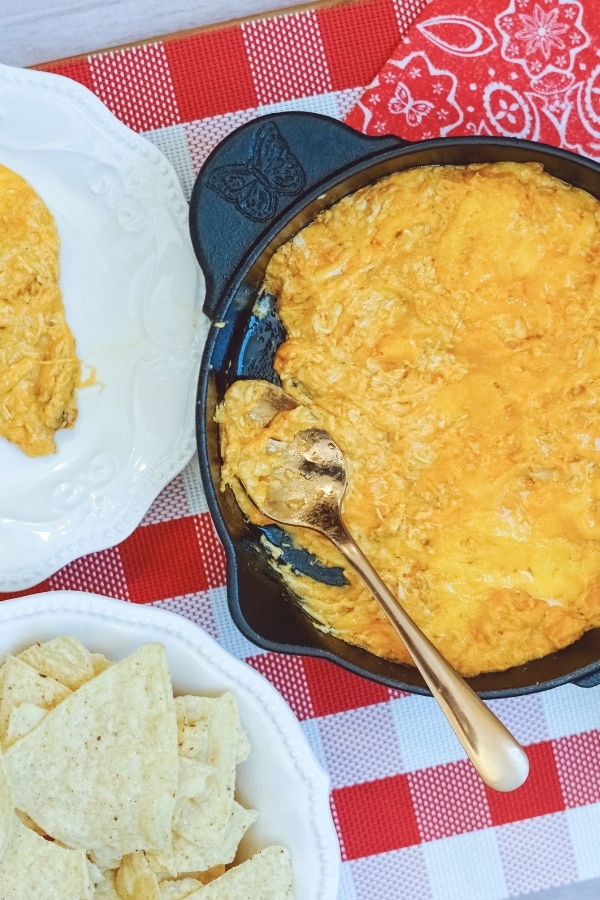 What If I Don't Own a Cast Iron Skillet for Chicken Buffalo Dip?
If you don't own a cast iron skillet just reach for an oven-safe casserole dish or skillet to use! I just love the look of a cast iron skillet for serving but it isn't needed.
Best Way To Reheat Chicken Buffalo Dip?
You can warm it up in the microwave, or even the oven. If you opt for the oven just put aluminum foil over the pan to help prevent it from drying out. Then just turn oven to 350 degrees and heat until the dip is warmed all the way through.
Can You Freeze This Chicken Dip?
You can freeze the dip, the only thing is because of the cream cheese it could alter the texture of the dip. I personally have not frozen it, but I would say if you do, be aware it could curdle a bit when you go to reheat it.
Cheesy Chicken Dip
Cheesy, creamy, addictive dip is what you will get with this recipe. While there are many variations of your chicken buffalo dip, this is by far my favorite I have made. Best of all it is so simple to make and serve your family or guests. Whether you are cheering on your favorite sports team, looking for a quick dip to make for entertaining some guests, or want to relax at the end of a hard week. This recipe is a home run in flavor.

Have you ever tried a cheesy buffalo chicken dip before?