Buffalo Air Fryer Chicken Drumsticks are smothered in a buffalo sauce that is finger-licking good. The perfect way to cook up air fryer chicken legs with a kick of spice.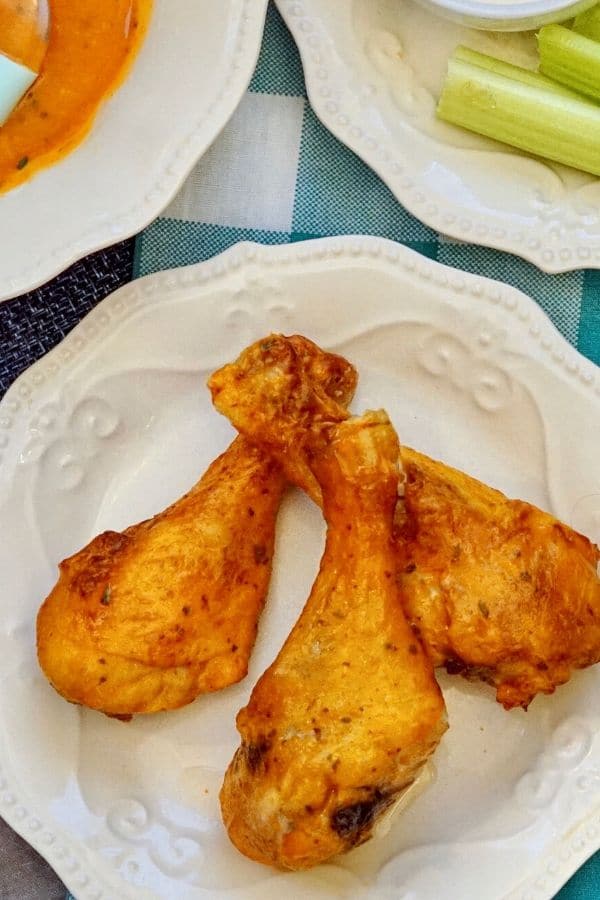 Have you air fried chicken yet? It is the perfect way to get juicy chicken with a crispy outside texture. It's my go-to way to cook chicken!
Air Fryer Chicken Drumsticks
If you have some Drumsticks in your fridge or freezer you might want to try this buffalo version! Chicken legs in air fryer might be your new favorite recipe.
Pair with your favorite side dishes and whip up a dinner that satisfies.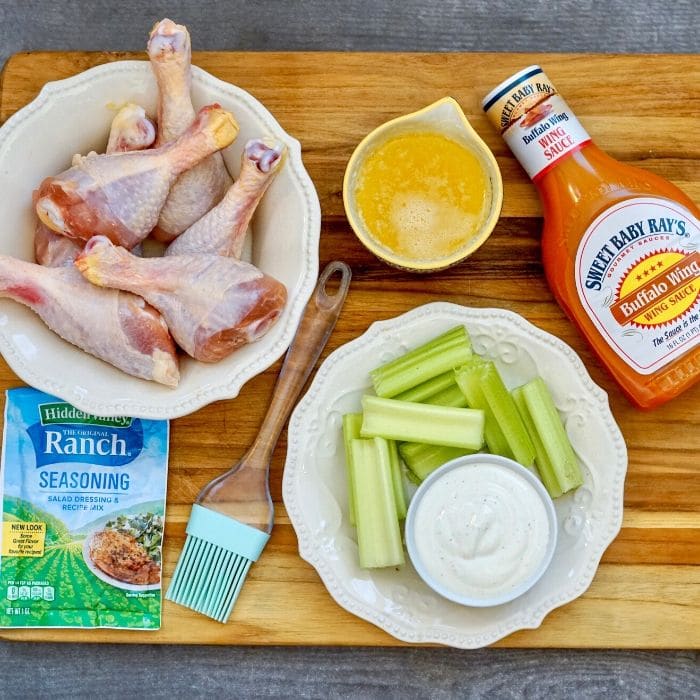 How Spicy Are These Buffalo Drumsticks
These Drumsticks do pack a bit of a punch. The spice factor all depends on the flavor of the buffalo sauce you use, and how much you smother on. 
You will find each buffalo sauce varies in flavor. So if you know of a milder flavor use that if you prefer that. 
How to Tame Down The Heat
Pair with ranch or blue cheese dressing. Both are great for aiding in making the sauce a bit milder in terms of heat.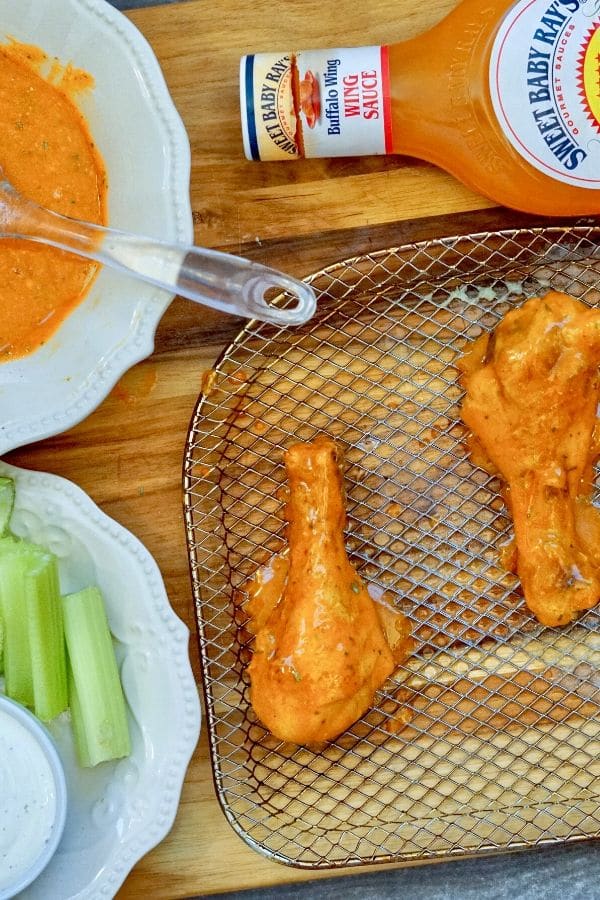 Is Using An Air Fryer Easy
Absolutely! Air fryers are a great way to get that deep-fried texture without the grease. It circulates hot air all around the food to give it a deep-fried texture. 
You will find cooking with an air fryer is so easy. A lot like a microwave a few clicks of a button and your air frying! Very user friendly. 
Can I Use Other Cuts of Chicken
If you want to use chicken thighs go right ahead. The biggest thing is adjusting the cooking time to ensure your chicken gets fully cooked. 
Thicker cuts will take longer to cook, while smaller pieces less time. 
Whether you have an air fryer oven, air fryer basket style, or need to use the oven, this recipe will work for those cooking methods.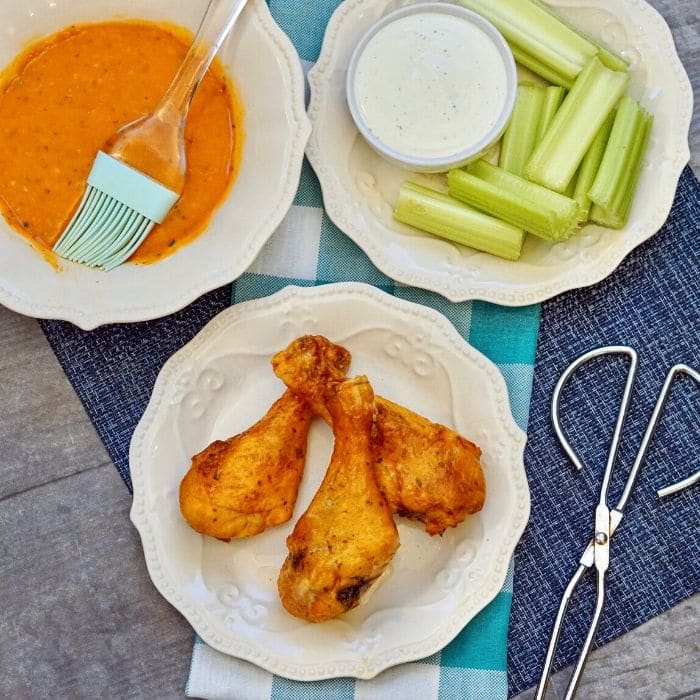 How to Know When Chicken Is Done
Grab a meat thermometer and your drumsticks in air fryer! Make sure to not put the probe on a bone, as that can give a false reading. 
Stick probe in thickest meat part of the chicken and see if it reaches 165 degrees. If it isn't there, cook your chicken a bit longer until it reaches proper temp. 
I Don't Have An Air Fryer
No air fryer? No worries! Turn your oven on to about 425 degrees and cook as directed like in the recipe card. 
Just use a meat thermometer to ensure the chicken fully cooks as you will need to adjust the cooking time. 
How to Store Leftover Chicken Drumsticks
If you have leftovers, place in an airtight container and toss into the fridge! This is a tasty leftover option to eat cold or reheat in the microwave. 
Now the texture changes a bit once you refrigerate it, bit these Drumsticks are still insanely tasty. 
Want More Chicken Recipes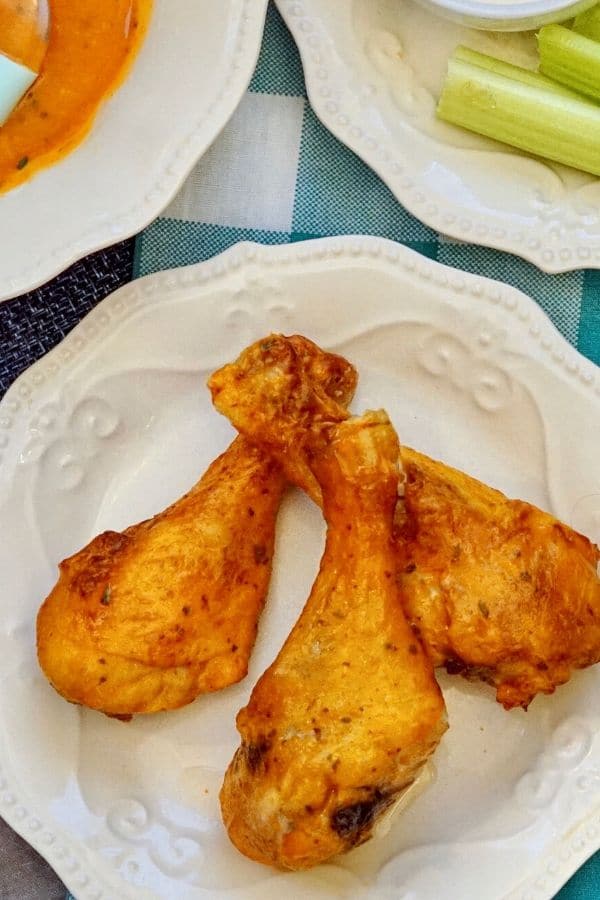 Buffalo Air Fryer Chicken Drumsticks
Servings 6 drumsticks
Buffalo Air Fryer Chicken Drumsticks are an easy air fryer drumsticks recipe that carries a nice kick of flavor. Give this air fryer chicken recipe a try.
Ingredients
6 chicken drumsticks
1/2 a packet of Powdered Ranch
1 stick unsalted butter melted
1 cup buffalo sauce
Instructions
Start by patting down your drumsticks, so they are dry. I used a paper towel.

Now you want to take a brush and coat each drumstick in the melted butter.

Place the buttered chicken drumsticks on your air fryer rack or basket, make sure to leave room between each drumstick for an even cook.

Now cook your drumsticks at 375 degrees for 25 minutes.

While your chicken is cooking in air fryer, take a bowl and mix 1 cup buffalo sauce with 1/2 a packet of ranch powder.

Remove the drumsticks from the air fryer, and baste them in the buffalo/ranch mixture.

Place back in the air fryer to cook for another 10 minutes or until your chicken is fully cooked and reaches an internal temperature of 165 degrees.

Remove buffalo chicken drumsticks from the air fryer and serve with your favorite sides!
Nutrition
Serving: 1gCalories: 328kcalCarbohydrates: 1gProtein: 22gFat: 26gSaturated Fat: 12gPolyunsaturated Fat: 12gCholesterol: 157mgSodium: 1141mgSugar: 1g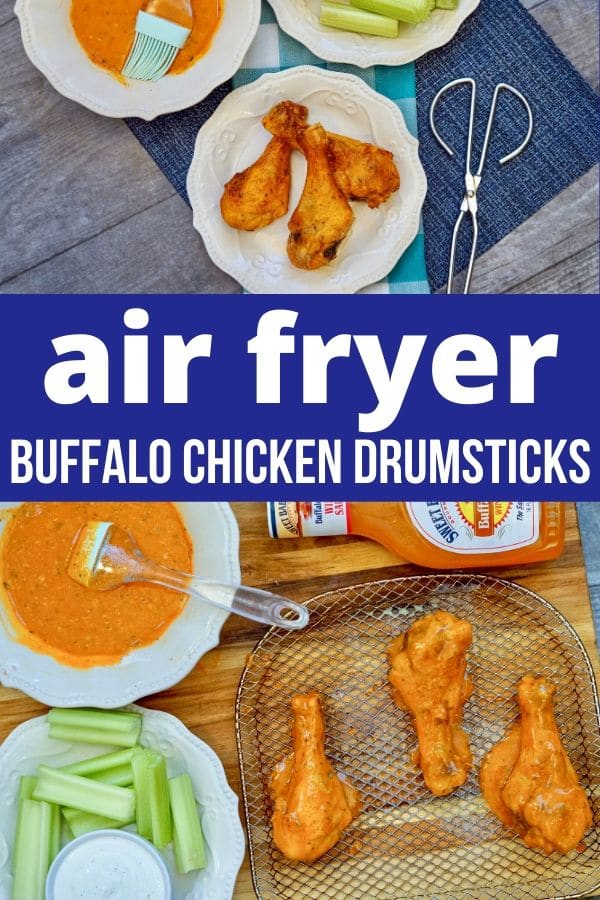 Reader Interactions