Instant Pot Chicken Pinwheels with a homemade guacamole is an easy pinwheel appetizer or light lunch option! Whip up these easy pinwheel wraps.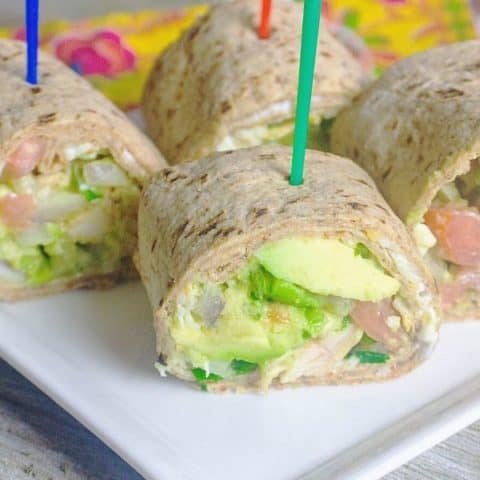 Chicken Pinwheels are perfect for a light lunch or chicken appetizer to serve up to guests. Try my Instant Pot Chicken Pinwheels today. Tender chicken, guacamole, and we can't forget the cheese.
Instant Pot Chicken Pinwheels
Pinwheel sandwiches are something I make often for lunches for my son and I. We love guacamole so creating a guacamole pinwheel was a top priority.
What Ingredients Do I Need for Guacamole Chicken Pinwheels
Chicken
Roma Tomatoes
Avocados
Cilantro
Red Onions
Seasonings
Olive Oil
Flat Out Wraps or Tortillas
Sour Cream
Cheese
How To Make Chicken Pinwheels
Start by cooking your chicken in the Instant Pot.
Once your chicken is done, remove and shred or chop the chicken.
In a separate bowl whip up the ingredients for your guacamole.
Stir in chicken, and then assemble your pinwheels.
Full instructions are in the recipe card below.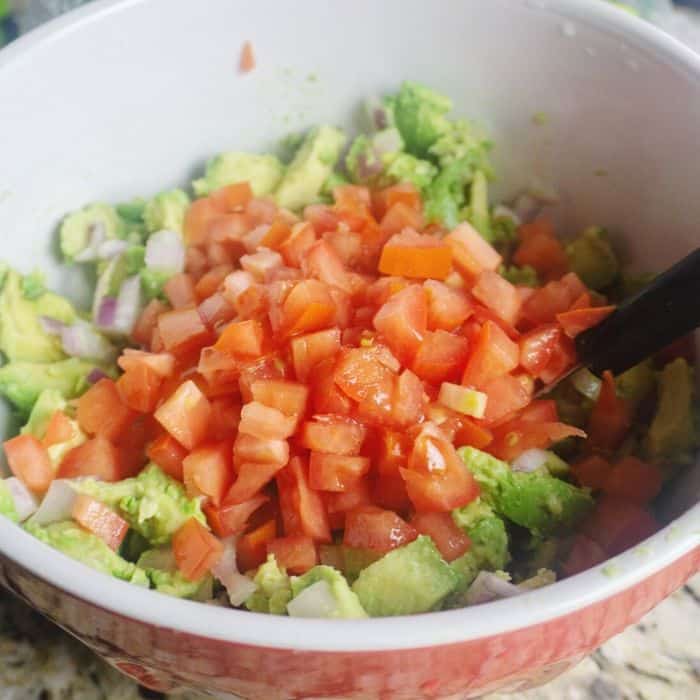 Homemade Guacamole
Now this recipe uses homemade guacamole. If you are short for time, go ahead and skip and buy store-bought.
I love fresh guacamole it helps add a nice flavor to these pinwheel wraps.
Try my Shrimp Avocado Salad as another light lunch option.
Can I Use Precooked Chicken For Pinwheel Sandwiches
Yes, if you have some pre-cooked chicken go right ahead and skip making fresh chicken that you shred. I have used rotisserie chicken in this recipe and frozen shredded chicken I batched cooked.
Both worked great and make the meal prep even faster.
Why Cook Chicken In Instant Pot
Versatile | This recipe is very versatile. By cooking your chicken breast in Instant Pot you can use it for soups, sandwiches, salads and more.
Easy | Want that juicy and easy way to cook up chicken. This is a dump and set recipe where you let the pressure cooker handle the rest.
Secret Ingredient To Getting Juicy Chicken In Instant Pot
Butter. I know it sounds odd but adding a dollop of butter on top of your chicken will help it to be nice and juicy.
Then you add whatever seasonings to your pressure cooker chicken breasts, so you want to create layers of flavor.
Shred or chop and use the chicken in this roll-up recipe, or season differently for any other recipe you have in mind.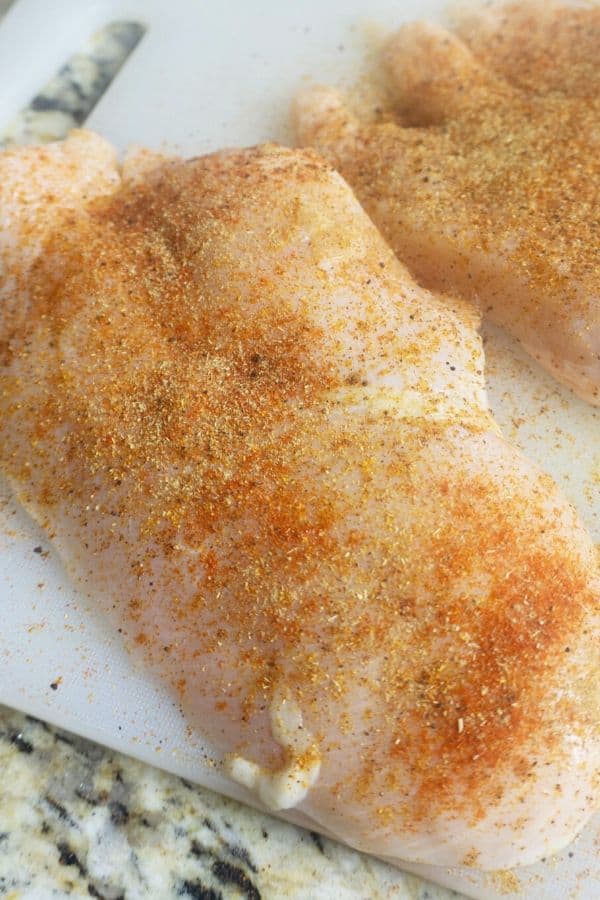 Pinwheel Appetizers
Serve these up as a pinwheel appetizer or a light lunch. I am a huge fan of pinwheel wraps.
Now I used flat out bread for this, but you are more than welcome to reach for a tortilla of your choosing or low carb tortilla for a lighter option.
Can I Make These Pinwheels Ahead of Time
Since you have avocado in these wraps, you will find they don't work that great being made in advance. The avocado will begin to brown over time.
So if you want a bright and fresh avocado this is best to whip up right before you eat.
You can sprinkle with lemon juice to help stop the browning and slow it down.
Swap Out Meat In These Chicken Wraps
If you don't want to use chicken, consider using diced turkey, ham or even reach for lunch meat. It is so versatile and even shrimp would be a great protein to toss in.
Or if you want to make it meatless consider adding extra lettuce or even chickpeas into the mixture.
Check out these other appetizers
What Size Instant Pot To Use
I used a 6 quart but you are more than welcome to use any other size. If you use an 8-quart use 2 cups of water or broth instead of 1 cup.
Instant Pot Chicken Pinwheels
Servings 24 Pinwheels
Instant Pot Chicken Pinwheels with a homemade guacamole is an easy pinwheel appetizer or light lunch option! Whip up these easy pinwheel wraps.
Ingredients
2 large chicken breasts or 4-6 chicken tenderloins
2 roma tomatoes diced
3 large Avocados smashed up with a few chunks
1/2 cup of red onions diced
1/3 cup of cilantro chopped
2 limes squeeze out the juice
1 teaspoon salt
1 teaspoon pepper
1 teaspoon smoked paprika
1 teaspoon chili powder
1/2 teaspoon cayenne pepper
1 cup water or chicken broth
1 tablespoon butter
Flat out wraps or tortilas
1/2 cup sour cream
1/2 cup sharp cheddar cheese
Instructions
Pour your 1 cup of chicken broth or water into the Instant Pot pot or your pressure cooker.

Now in a small bowl add your salt, pepper, paprika, chili powder, cayenne powder.

Sprinkle the seasonings over the top of your raw chicken breasts. Massage it in so it sticks.

Place your chicken breasts or chicken tenderloins in your pot with the stock.

Now take your butter and slice it up thin, and place on top of your chicken. I add little bits of butter and sit in different areas of the chicken.

Put the lid on your pressure cooker, and ensure it is sealed. Now you will cook on manual for 8 minutes. You will find it takes 10-12 minutes for your pressure cooker to come to pressure.

Once the Instant Pot is done, you will want it to naturally release pressure for 10 minutes. Finish releasing the pressure at that point, and remove the chicken.

Let your chicken set for 5 minutes before you slice or shred.

Once your cooked chicken breast is shredded, you can then add to a bowl and add in your avocadoes, tomatoes, onions, and cilantro. Mix up and set aside. Season with extra salt and pepper if needed.

Now take your wrap, and smear some sour cream on and shredded cheese, then put a mix of the guacamole mix, and roll up tightly.

Slice and then stick toothpicks in to hold your wraps together.
Notes
Depending on how big you make your roll-ups will depend on how many chicken wraps you get.
Nutrition
Serving: 3wrapsCalories: 124kcalCarbohydrates: 6gProtein: 9gFat: 8gSaturated Fat: 3gPolyunsaturated Fat: 4gCholesterol: 27mgSodium: 198mgFiber: 2gSugar: 1g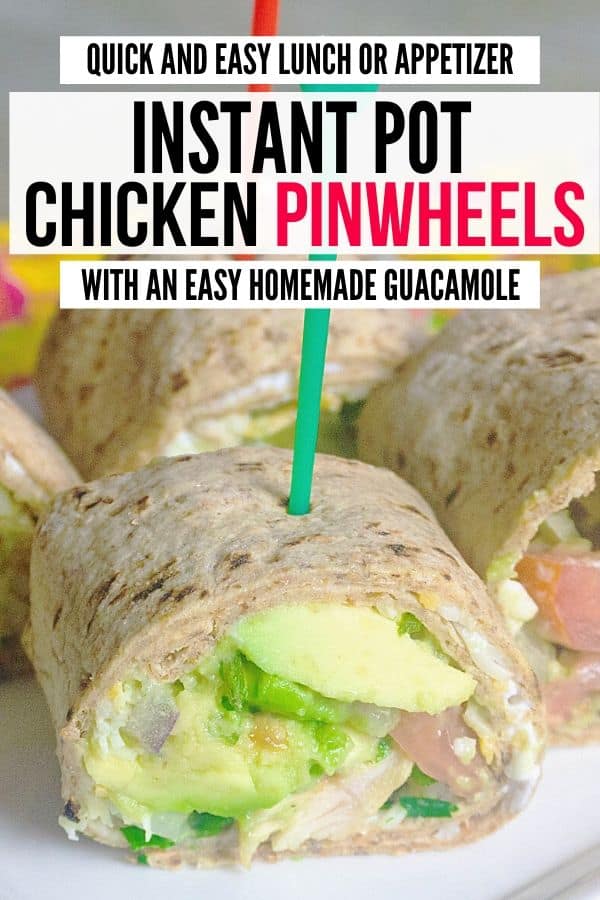 Would you eat these Instant Pot Chicken Pinwheels as an appetizer or lunch?
Reader Interactions