Buttermilk waffles are a classic buttermilk waffles recipe that are fluffy and crisp on the outside. Fluffy waffles, are calling your name.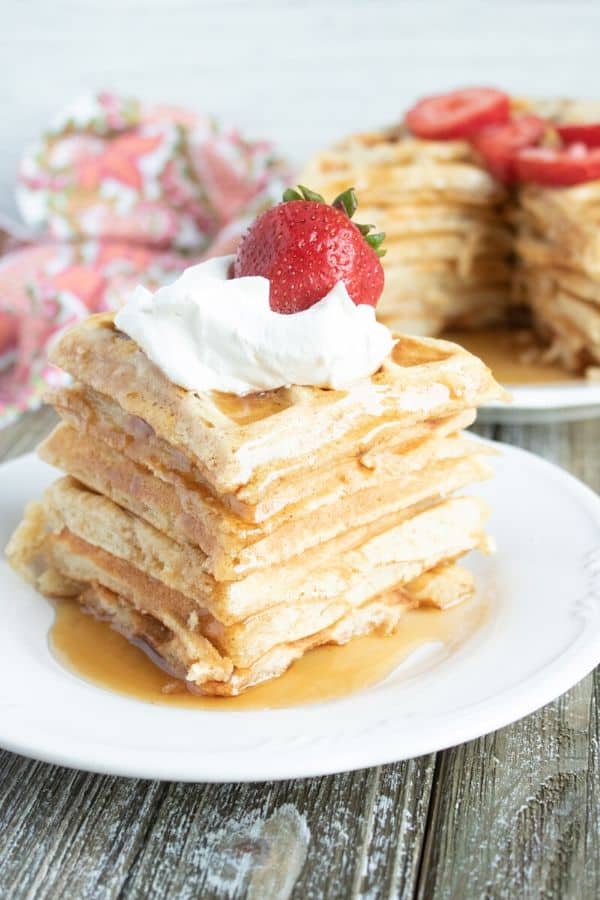 I am an Amazon Affiliate, so if you purchase through my link I can earn a commission on sales.
Buttermilk Waffles
Fluffy buttermilk waffles are my favorite breakfast options! A dollop of butter, syrup and some fresh fruit and whipped cream.
Try my simple waffle recipe, that will truly win over a crowd. This is my go-to homemade waffle recipe that I make on Sundays.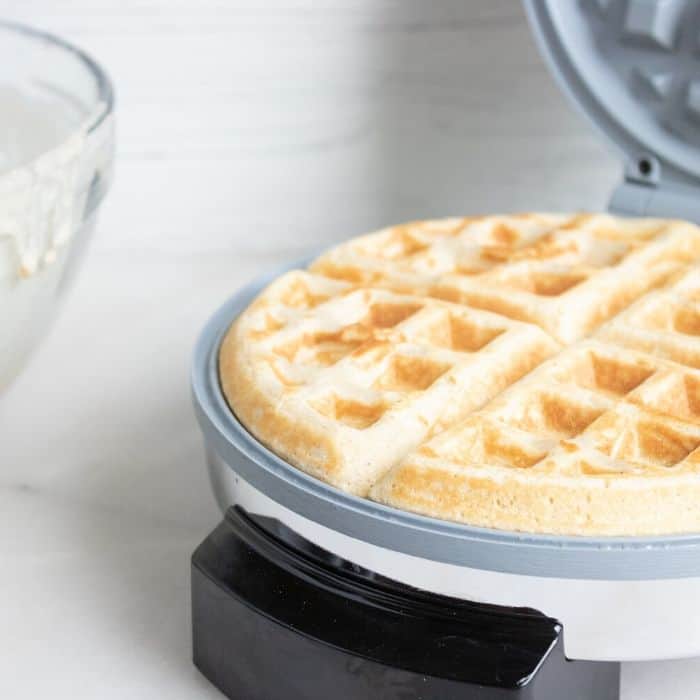 Here are more waffle and pancake recipes
How To Make Fluffy And Crisp Waffles
Making homemade waffles is easy, but there are a few steps that will help you get the best waffles each and every time. If you are looking for fluffy and crisp homemade waffles, see my tips below.
Buttermilk | Buttermilk in waffle batter reacts with the powder giving your waffles the ultimate fluff. If you want your waffles to be extra fluffy add just a bit more baking powder!
Egg Whites | If you want super moist and delicate waffles, whip up egg whites and fold it into your batter. I have found that gives you a really light texture while still crisping up and making it golden on the outside.
High Heat | One thing many miss is starting with a hot waffle iron. Get that nice and hot so it will provide you with a nice crisp texture on your waffle. If you do a low heat, you will get a soft waffle.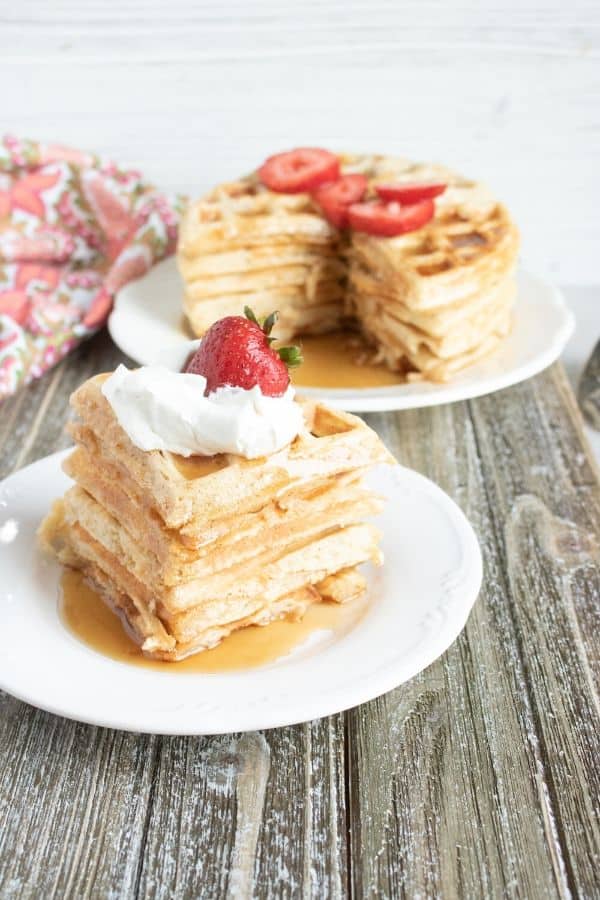 Ingredients For Buttermilk Waffles
Flour
Buttermilk
Baking Powder
Salt
Eggs
Sugar
Cinnamon
Buttermilk
Butter
Vegetable Oil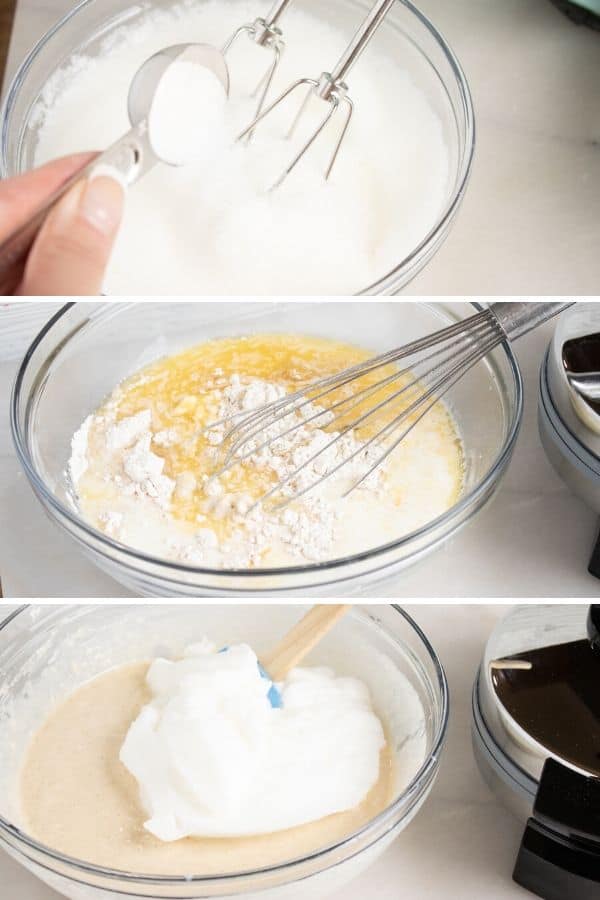 How To Make Buttermilk Waffles
Start by preheating your waffle iron.
Start by whipping up your egg whites until they are fluffy and then set aside.
In a separate bowl, whisk up the rest of the waffle batter.
Fold in the egg whites.
Pour batter into waffle iron, and cook according to your waffle maker.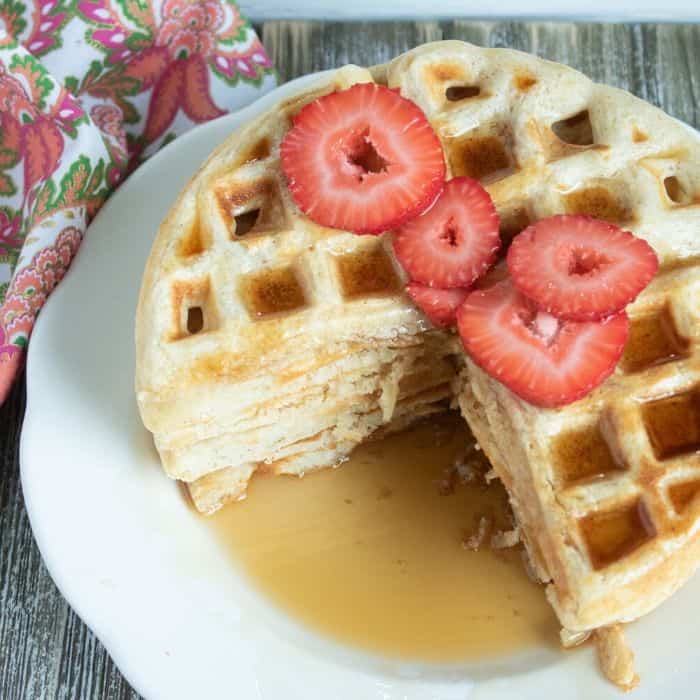 How To Keep Waffles From Getting Soggy
All you have to do is preheat your oven to 200 degrees.
Then as you are cooking your waffles place waffles no a baking sheet and toss in the oven. Make sure to do a single layer.
If you stack the waffles they will become soggy. The key is a single layer and keeping them warm in the oven until ready to serve.
Waffle Toppings
Waffle toppings are endless! This is a classic waffle recipe that is basic. So you can really pile on any of your favorite waffle toppings.
Fresh Fruit
Maple Syrup
Compote
Nuts
Whipped Cream
Bacon
Powdered Sugar
Sprinkles
Lemon Curd
Etc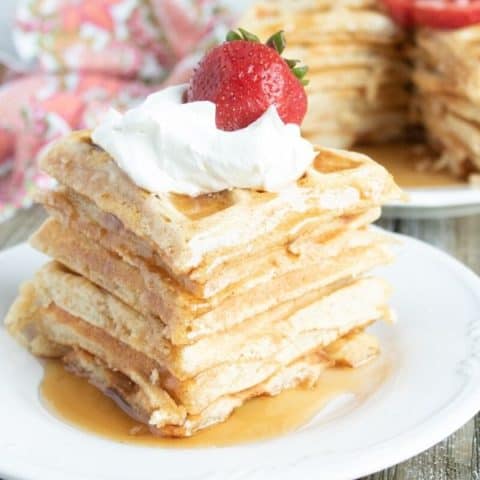 Buttermilk Waffles
Buttermilk waffles are crisp on the outside and light and fluffy on the inside. Try my homemade waffles recipe that is the ultimate way to kickstart your morning.
Ingredients
1 3/4 cups all-purpose flour
2 teaspoon baking powder
½ teaspoon salt
3 large eggs, separated
2 tablespoons sugar
½ teaspoon ground cinnamon, optional
4 tablespoons butter, melted
1 3/4 cups buttermilk
¼ cup vegetable oil
1 teaspoon vanilla extract
Instructions
Start by taking your egg whites and place in a stand mixer or use a handheld mixer. Whip until your egg whites form stiff peaks. You will add the granulated sugar to the end, to mix in the fluffy egg whites.
Now you will grab a new bowl and add in your dry ingredients: flour, baking powder, salt, cinnamon, and whisk till mixed. Then add in your buttermilk, butter, oil, vanilla, and eggs and whisk until the waffle batter is just incorporated.
Take your egg whites and gently fold your egg whites into the waffle batter.
With a preheated waffle iron you will pour in some of your waffle batter in, and cook according to your waffle iron.
Once you have your crisp waffles simply top with your favorite toppings, and enjoy.
Notes
You can double this waffle recipe if you would like.
Nutrition Information:
Yield:

6 servings
Serving Size:

1
Amount Per Serving:
Calories:

365
Total Fat:

20g
Saturated Fat:

7g
Trans Fat:

1g
Unsaturated Fat:

12g
Cholesterol:

116mg
Sodium:

572mg
Carbohydrates:

36g
Fiber:

1g
Sugar:

8g
Protein:

9g
Check out more breakfast recipes