Pumpkin waffles will kickstart your morning in a fantastic way. This pumpkin waffles recipe is easy to make and uses pumpkin puree for that tasty pumpkin flavor in every bite.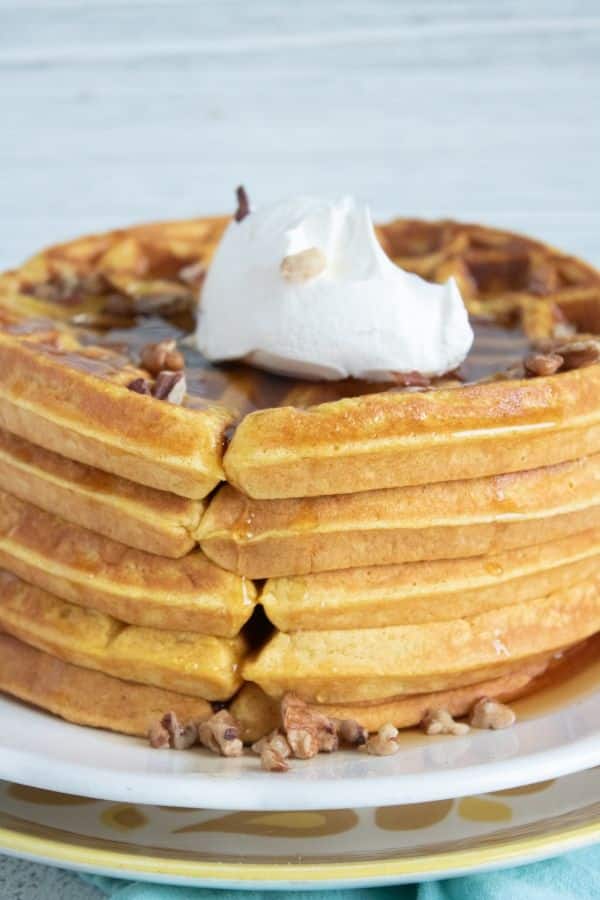 A pumpkin spice waffle recipe that is going to give you all those sought after fall flavors. A light and fluffy pumpkin Belgian waffles
recipe that will be great for making for the family or a crowd for a brunch. Try my pumpkin bread with cream cheese frosting!
Pumpkin Waffles
Homemade waffles have always been a treat for me. Whether they are loaded with chocolate chips, fresh blueberries, or like these waffles. Top with some whipped cream and I am totally happy as can be. These will make your kitchen smell like heaven.
Do You Use Pumpkin Puree For Pumpkin Spice Waffles
Yes. You will need canned pumpkin puree. Make sure that it is puree and not pumpkin pie mix. Or if you have a recipe you enjoy, make homemade pumpkin puree.
How Do You Make A Light And Fluffy Waffle
Measure correctly, so you have the right ratio.
Don't overmix. If you overmix you will get a heavy and dense waffle.
When using your waffle maker, make sure to follow according to manufacture on cook time. Don't overcook your waffles.
Can I Freeze Homemade Waffles
Of course. Simply cook your waffles accordingly, and lay them out on a baking rack and allow them to fully cool. Once cooled, then transfer to a cookie sheet, and toss in the freezer for around 15-20 minutes. Once they have hardened up, transfer to a freezer bag, and store that way.
You can freeze waffles for up to three months. This is a great way to prep for those hectic mornings where you don't have time to cook. Pull out your tasty and perfect waffles and reheat and enjoy. No need to make a waffle batter and cook, just reheat.
Best Way To Reheat Waffles
You can warm them up in the microwave for a quick reheat, or even eat them chilled. I know that might sound crazy, but they are good thawed and slightly chilled.
Toss your waffles in the toaster
for a crispy outside, or turn oven to 350 degrees and layout on a baking sheet
. Then bake for 5-10 minutes or until they are warmed up.
Toppings For Pumpkin Waffles
Maple Syrup
Butter
Powdered Sugar
Walnuts
Cream Cheese
Cream cheese frosting
Sprinkle of cinnamon
Brown Sugar glazed nuts
Add on all your favorite waffle toppings and enjoy!

Biggest Secret To The Perfect Waffle
One of the biggest tips is to allow your waffle batter to have a five-minute rest before you start cooking. This will help to give you that light and fluffy texture you want for in a waffle. It will help the ingredients blend and build up so it is the perfect thickness for making your homemade waffles.
Tip For Batch Cooking Waffles For A Crowd
Waffles are great but it is hard when you need to make a ton to feed a crowd. Some waffles end up cold, and others are fresh off the griddle. One tip I learned years ago, is to turn your oven on to 195 degrees and whip them up, and then lay it right on the racks in the oven.
If you place them on a cookie sheet, they will get soft as the moisture builds. But laying them straight on the oven rack will be a nice way to keep them warm before you are ready to serve.
Want more Pumpkin Recipes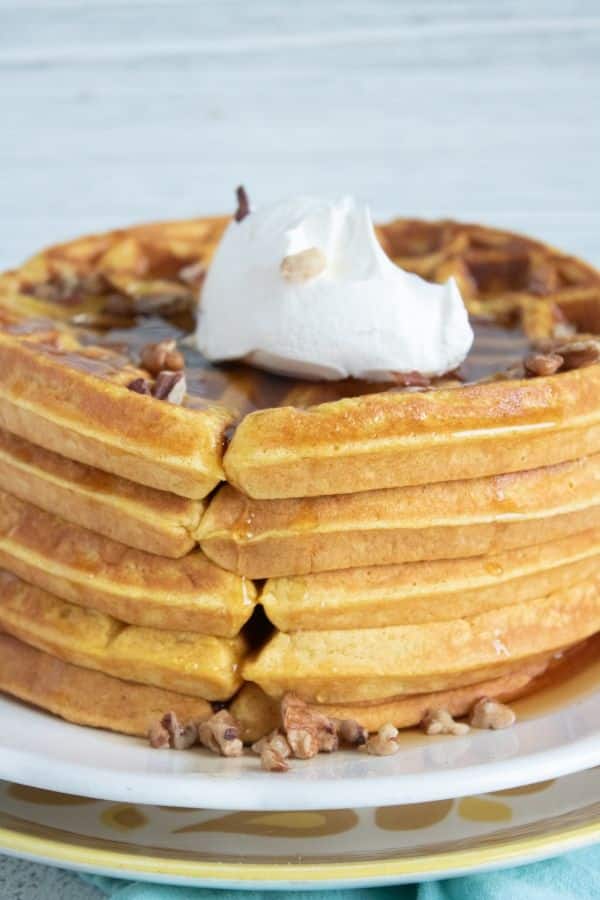 The Best Pumpkin Waffles
Servings 6 servings
Looking for the best pumpkin waffles? Here is an easy pumpkin waffles recipe that is light and fluffy!
Ingredients
• 1 3/4 cups all-purpose flour
• 2 teaspoon baking powder
• ½ teaspoon salt
• 3 large eggs separated
• 2 tablespoons sugar
• 1 cup pumpkin puree
• 1 teaspoon ground cinnamon
• ½ teaspoon ground nutmeg
• ¼ teaspoon ground cloves
• 4 tablespoons butter melted
• 1 3/4 cups milk
• ¼ cup vegetable oil
• 1 teaspoon vanilla extract
Instructions
In a stand mixer, you will want to beat your eggs until they form stiff peaks. Then at the end, mix in the sugar, and set aside.

Next you want to take a seperate bowl and add in all your other ingredients, mixing until combined. Don't overmix the batter.

Then fold in the whipped egg whites, until they are incorporated.

Now follow your waffle iron directions on how to heat, and cook.

Then top waffles as desired and enjoy.
Nutrition
Serving: 1gCalories: 388kcalCarbohydrates: 40gProtein: 10gFat: 21gSaturated Fat: 7gPolyunsaturated Fat: 12gTrans Fat: 1gCholesterol: 119mgSodium: 475mgFiber: 2gSugar: 6g
Looking for More Breakfast Option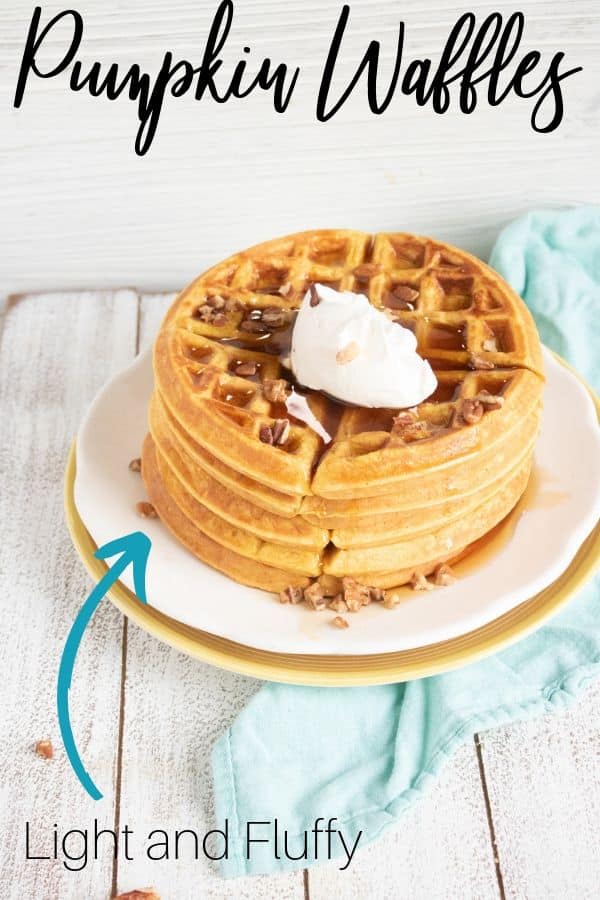 Have you made homemade pumpkin waffles before?
Reader Interactions