Roasted artichokes that are rather easy to whip up, and incredible to eat. Dip in butter or a mayo-based sauce. Either way, this roasted artichoke recipe is dynamite. Whip up this oven roasted artichoke recipe for your side!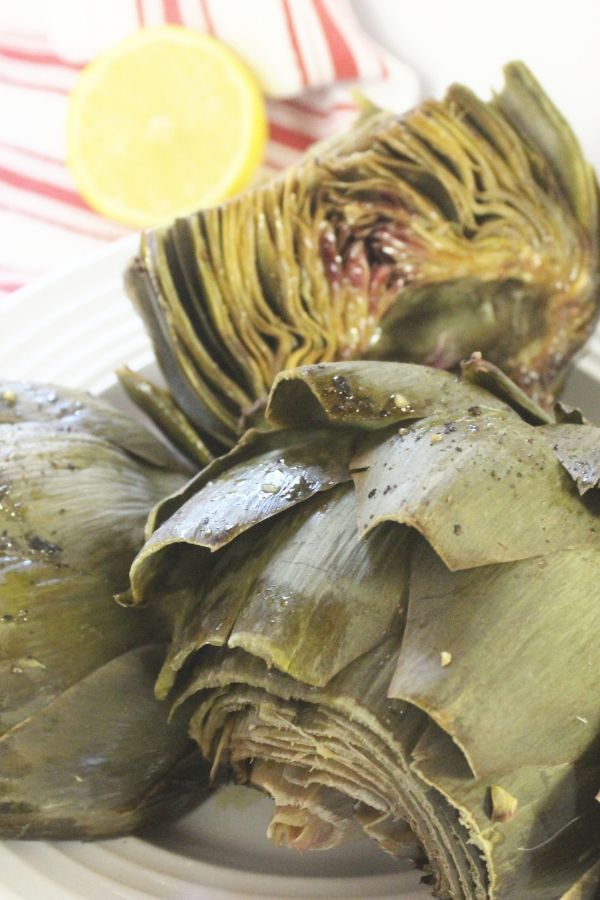 Steaming artichokes is how I first got to try artichokes. It was tasty but roasting I love more. After I first tried this recipe I knew it was my go-to method after that!
Craving More Side Dishes
Roasted Artichokes
Simple ingredients are what I reach for. I wanted an artichoke recipe that I could throw together in a hurry. Then this easy roasted artichoke recipe came about and I have never looked back.
How To Prepare Fresh Artichokes
If you are new to making artichokes, there are steps involved. You don't just slice, season and roast. I will share how to prepare fresh artichokes for any recipe you plan to use them in.
Wash | Right before you plan to cook, wash off your artichokes. This will help remove any debris that might be on them. Shake them off and sit down on a paper towel.
Cut Stems of Artichokes | Now, if your artichokes have a long stem you want to cut it down a bit. I do around an inch of s. Then pull any of the looser leaves at bottom of the artichoke.
Trim Artichoke Leaves | Trim off the pokey ends of your leaves. I used a clean pair of scissors for this. Just enough to get rid of the poke.
Cut Top Off Artichokes | Take a sharp knife and cut off an inch or so of the top part of the artichoke. This can be a little tough so do your best for a straight line. The top part is really tough to eat so it is best to cut.
Slice Artichokes In Half | Next slice right down the middle and cut artichokes in half!
Remove Choke | Grab a spoon and scrape out the choke of the artichoke. This is the fuzzy part at the bottom center of the artichoke.
Season And Roast | Next you season and roast your artichokes, just how you like them! My favorite method is below.
How Do You Prevent Artichokes From Browning
Lemon! Lemon is your must-have essential for making artichokes. Once you cut up your artichokes, drizzle with fresh lemon juice and then rub the lemon all over the artichoke.
Artichokes are delicate to where they brown just like a banana or avocado. Just rubbing the outside and inside of an artichoke with lemon juice can help tremendously.
What Part of Artichoke Do You Eat
The edible part of the artichoke is the tips of the petals and the artichoke heart. You will find that once your roasted artichokes are done, they will pull away from the artichoke base super easy. Then dip the end in your choice of sauce, and then pull the meat off the choke with your teeth.
What Part of the Artichoke is Poisonous
The choke part which appears to look like hair in the very center of the artichoke should never be eaten. In the video you see me remove it using a spoon. I gently scoop it out and remove all the hair-like pieces.
How Do You Season Artichokes
You will find tons of ways to season and flavor your artichokes, here are some go-to ways to try.
Drizzle With Olive Oil
Sprinkle Salt and Pepper
Fresh Herbs – Rosemary, Thyme, Oregano, etc
Garlic
Lemon Slices
And more
How Do You Roast Artichokes In Oven
Layout your artichoke halves on a baking dish, I used a cookie sheet. Then follow directions on preparing artichokes and lay them out on the pan. Cover with aluminum foil and roast, until they are tender.
Tools Needed For Roasting Artichokes
How Do You Select Artichokes At The Store
You want to look for artichokes that offer a bright green appearance and that are nice and compact in the center. Ensure that the leaves are not too dry. These are signs that you are buying a fresh artichoke. Another tip I find fun is to gently squeeze and if you hear a squeaking sound, it means they are fresh.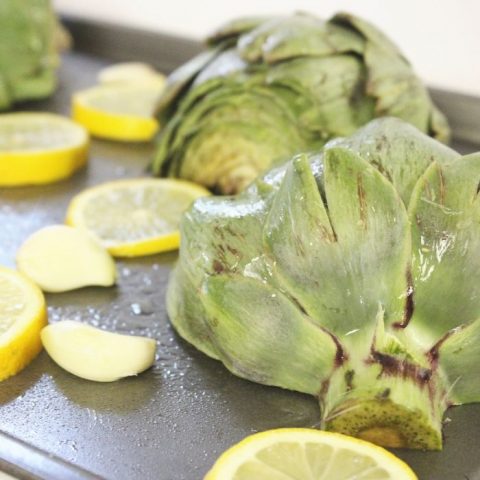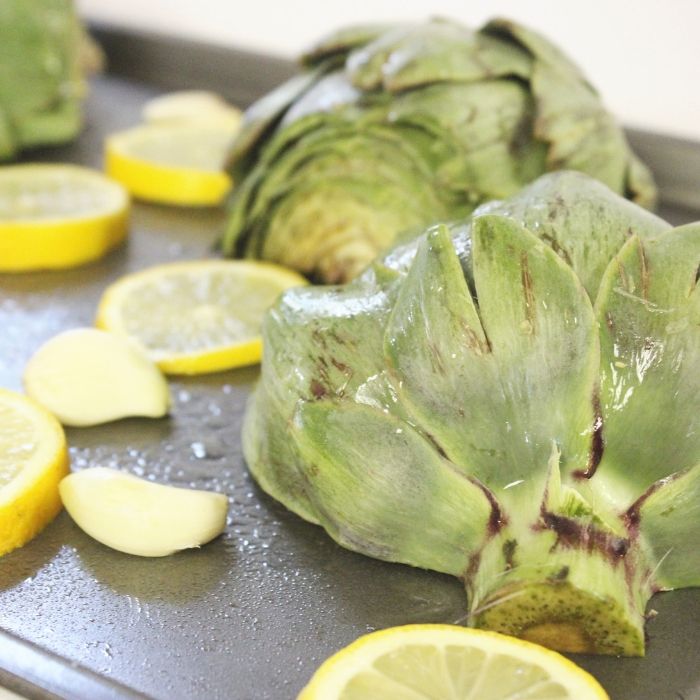 Roasted Artichokes
Roasted artichokes is an easy side dish or appetizer that is tasty as can be. Oven roasted artichokes are easy to prepare.
Ingredients
2 Artichokes (or more)
3 lemons
5 cloves garlic
Rosemary (optional)
Olive Oil
Fresh ground pepper and salt
Instructions
First you want to start by prepping your artichokes. Trim the stem, pull bottom leaves off, cut off an inch of top of artichokes. And then trim each of the leaves.
Then use a spoon to scrape out the choke in the bottom center of the artichoke. Then with a sliced lemon drizzle lemon juice over each artichoke. Now rub it all over, to prevent browning.
Now you want to lay your artichokes on a baking sheet along with 5 cloves of garlic, sliced lemon peels, and if you want rosemary.
Drizzle the artichokes with olive oil, and salt and pepper each one.
Cover in foil and bake at 375 degrees for 40 minutes or until artichokes are tender.
Notes
Serve with your favorite dipping sauces.
Recommended Products
As an Amazon Associate and member of other affiliate programs, I earn from qualifying purchases.
Nutrition Information:
Yield:

2
Serving Size:

1
Amount Per Serving:
Calories:

176
Total Fat:

8g
Saturated Fat:

1g
Trans Fat:

0g
Unsaturated Fat:

6g
Cholesterol:

0mg
Sodium:

367mg
Carbohydrates:

30g
Fiber:

11g
Sugar:

4g
Protein:

5g
What To Dip Your Artichokes In
Melted Butter (can season with spices like salt, pepper, cayenne, etc)
Mayo Based Sauce
Or eat plain or any way you would like
Check out these artichoke recipes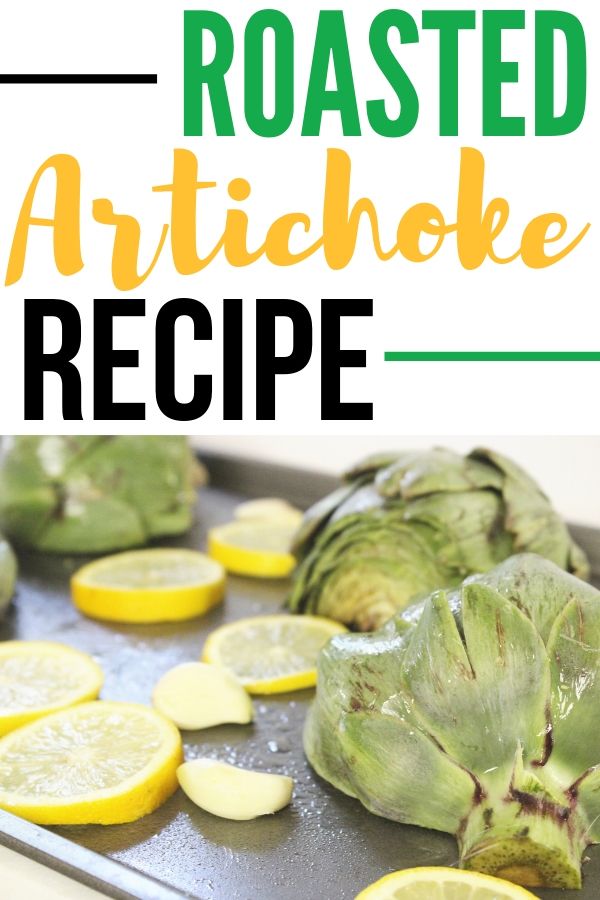 Have you ever made roasted artichokes?