Hearty cowboy beans are the perfect side dish or main dish to serve up. Tangy, savory, and full of meat. My cowboy beans recipe is a must make.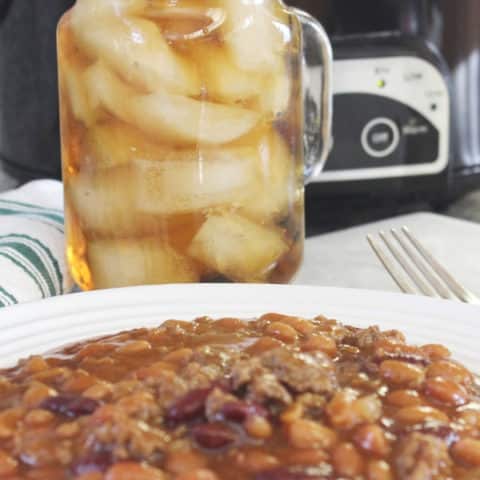 Cowboy beans are a favorite in our home. Sweet and tangy sauce, ground beef, and loads of beans. This cowboy beans recipe offers a twist in flavor that I think you will enjoy.
Growing up we are beans with ground beef a lot with a side of buttered bread. I think any family in the 80's who struggled did, affordable, easy, and you walked away feeling full.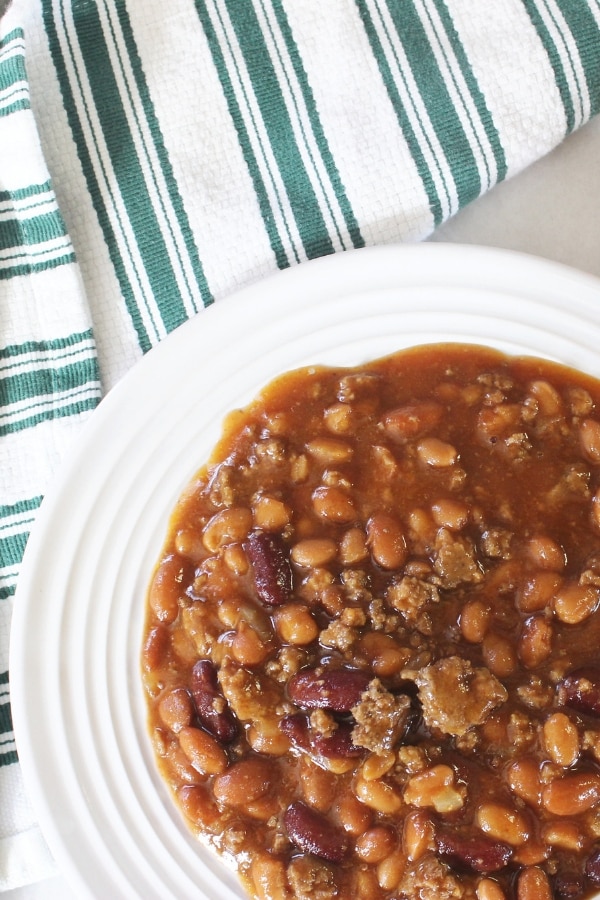 This cowboy beans with hamburger are the ultimate comfort food to feed a family on a budget.
Cowboy beans remind me of my childhood but with a LOT more flavor. I wanted to add in a few more spices and flavoring to my batch. I was out of bacon, and couldn't get to the store.
So adding in my other ingredients I knew I could dress it up enough you wouldn't miss the bacon.
Classic cowboy beans pair bacon and hamburger but bacon is not required. Pair with Instant Pot bread to slather up all the juices. Or try this Jalapeno Cornbread.
How To Make Cowboy Beans
Here is a video that walks you through every step I took. Full instructions are below, with ingredients used, and such. This recipe is incredibly easy! The slow cooker gives it that low and slow-simmered taste that really marries and blends all the ingredients.
Cowboy Beans Aka Calico Beans
Many names are considered for this dish depending on where you live. Cowboy beans, calico bean or calico bean casserole. I have even heard chuck wagon cowboy beans.
However you say it, once you ladle up a scoop and sink your teeth in, you will call it any name you want! They are GOOD!
What To Serve With Cowboy Beans?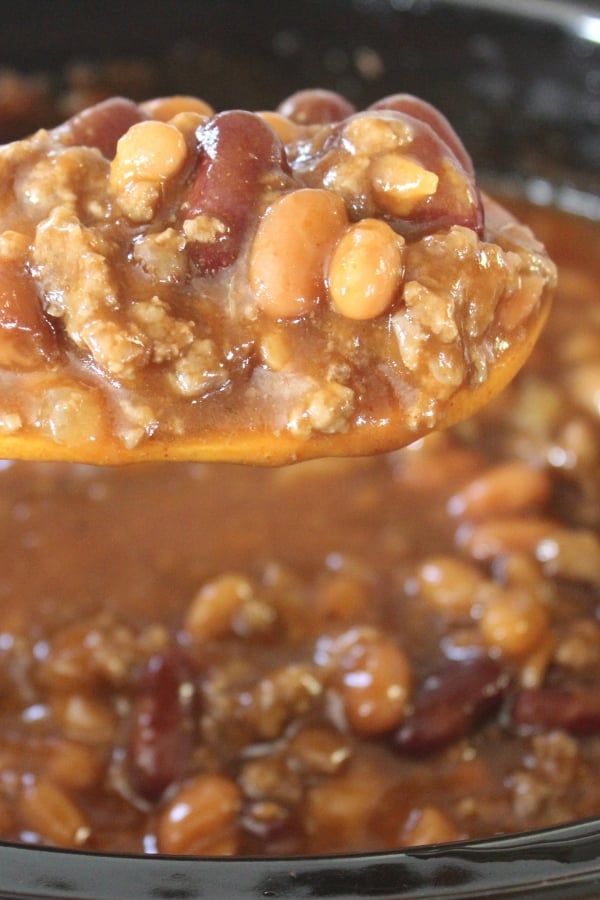 Here is the thing, Cowboy Beans are either a main dish recipe or can be served as a side. In our home, we dish calico beans up as a main dish. Here are some ideas as to what to serve with your savory and sweet cowboy beans!
Cornbread is a nice pairing with the corn flavor.
Homemade rolls, great for soaking up the extra sauce on the plate! This is what I Generally serve.
Fresh vegetable salad, offers a nice freshness to your dinner!
Coleslaw is one we enjoy as well. Mix the two together and let me tell you, sounds weird but taste like dynamite!
Can Cowboy Beans Be Made In The Oven?
Yes! You can make cowboy beans in the oven, I have gone this route in the past and works like a charm!
I actually cook mine in a Dutch oven, I love how it cooks up beans. But you can even use a cake pan, just deal it tight with aluminum foil as it bakes.
Cook the onions and ground beef together and then add all your ingredients in. Mix well, pour into pan, cover and bake at 350 degrees for around one hour. You might go more if the beans look like they need to thicken a bit more.
The cook time is what blends the flavors, so pulling out too early you will miss the blending of ingredients.
Is Cowboy Beans Chili
I get asked if cowboy Beans is chili. The answer I give is no, but you are welcome to treat it as chili.
You will find these cowboy baked beans offer similar elements to chili, I just find the flavor is more like a dressed up baked bean dish.

More Slow Cooker Recipes
When to Serve Cowboy Baked Beans
Serve for dinner, bring to a potluck, summer cookout, or pair it as a party food for entertaining. There is no wrong time to serve up cowboy baked beans!
If you serve it as a side or appetizer, pair with some salty tortilla chips or corn chips for dipping!
3 Bean Cowboy Bean Recipe
I used three beans in my cowboy bean recipe. Pork and Beans, Kidney beans and Pinto Beans. This trio is dynamite for cowboy baked beans.
Then add in your other ingredients, set slow cooker to low and let these cowboy beans or calico beans cook all day long on low.
Your home will smell fantastic, but dinner time will taste even better!
If you have never had cowboy beans you got to stop what you are doing now and try it. Give your family something a little different to fuel them to get through the rest of the day!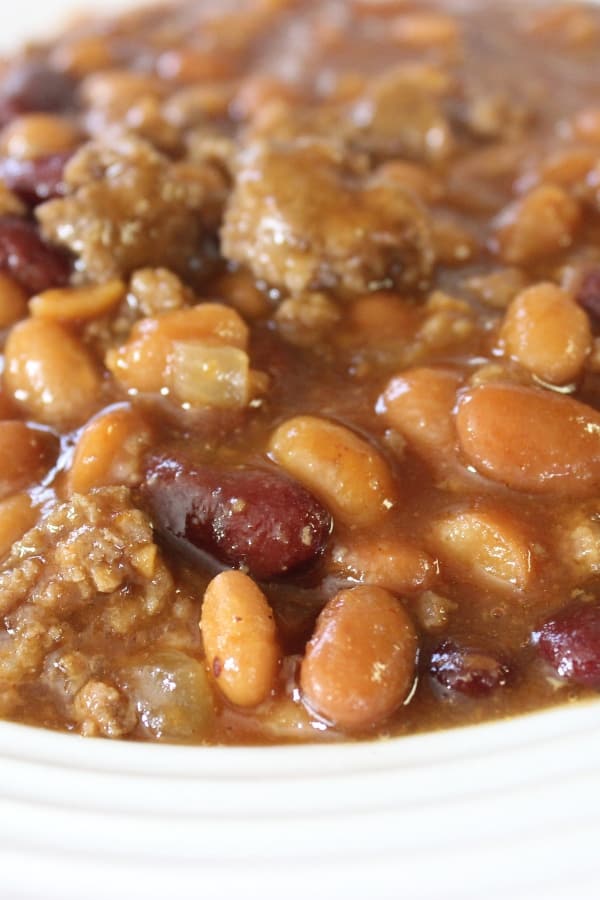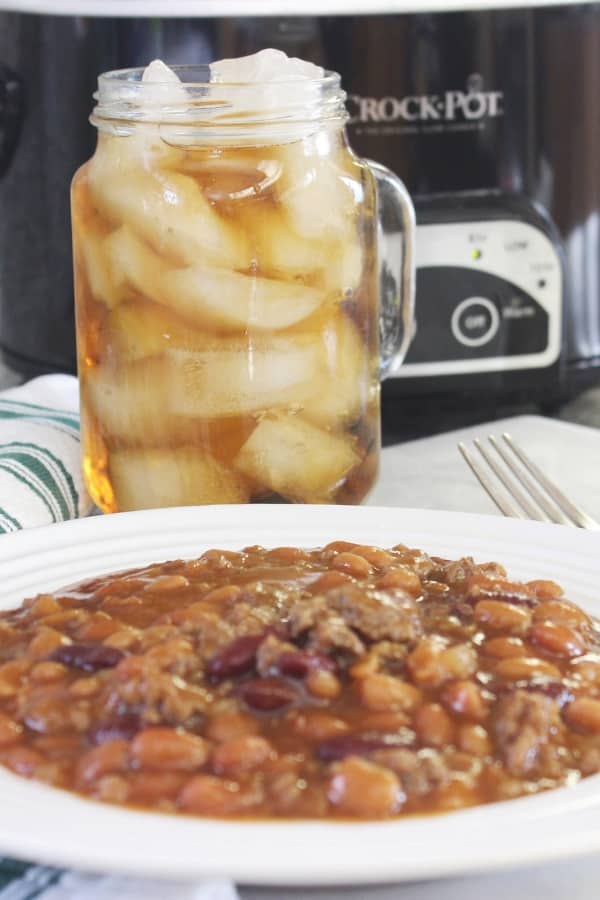 Slow Cooker Cowboy Beans
Servings 8 servings
Hearty cowboy beans are the perfect side dish or main dish to serve up. Tangy, savory, and full of meat. My cowboy beans recipe is a must make.
Ingredients
1 - 28 oz can of Pork and Beans
2- 15.5 oz can of Pinto Beans
1 - 15.5 oz can of Kidney Beans
1 pound ground beef
1/2 an onion diced
1/4 cup brown sugar
1/2 cup ketchup
1/3 cup bbq sauce we used Kansas City flavor
1 tablespoon mustard
1 tablespoon soy sauce
1 tablespoon Worcestershire sauce
salt and pepper to taste
Cheese optional
Instructions
Start by cooking your ground beef and onion in a skillet. I added a little salt and pepper to taste.

In your slow cooker, add all your beans and all the other ingredients listed above. Stir well.

Once ground beef and onions is cooked, toss in slow cooker, and mix well. Feel free to drain off grease from beef.

Stir and cover, and cook on low for 6-8 hours.

Spoon up and serve as a side or main dish.
Notes
You can dice up and cook 6-8 pieces of bacon with the hamburger if you would like! For oven version, just cook beef and onion as directed. Place all the other ingredients in a bowl and give a good mix. Once beef is done combine and pour into an oven safe dish, and bake for 1 hour to 1 hour and 30 minutes in oven at 350 degrees. I generally do a dutch oven for the oven route. You can use a 9x13 cake pan, just cover with foil as it bakes so it won't dry out.
Nutrition
Serving: 1cupCalories: 495kcalCarbohydrates: 64gProtein: 32gFat: 13gSaturated Fat: 5gPolyunsaturated Fat: 6gCholesterol: 61mgSodium: 932mgFiber: 15gSugar: 14g
I hope you all enjoy this easy and delicious cowboy beans recipe! Give it a try and let me know what you think!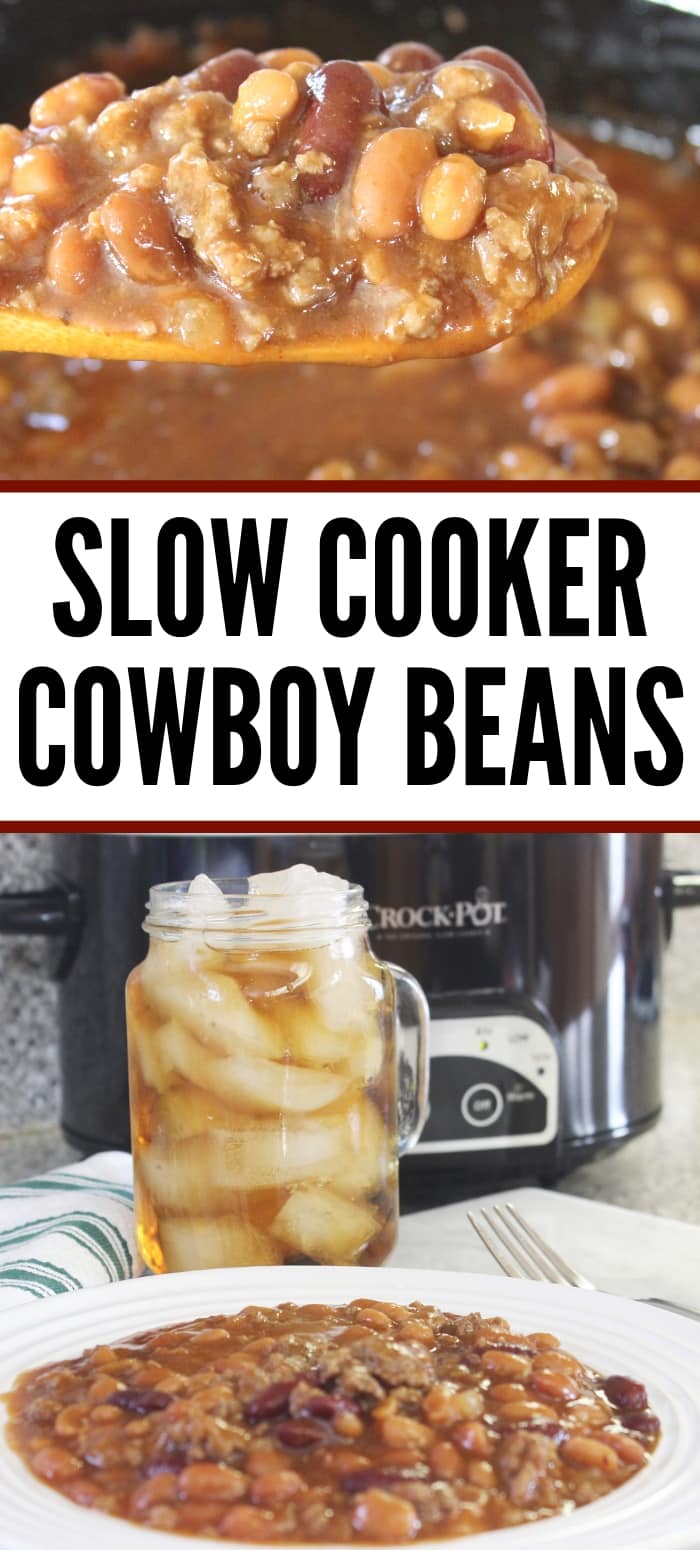 Have you made cowboy beans before?
Reader Interactions