Vegetable salad is a cold veggie salad with a mayo and vinegar-based dressing. Loads of flavor in this fresh vegetable salad, and nutrients.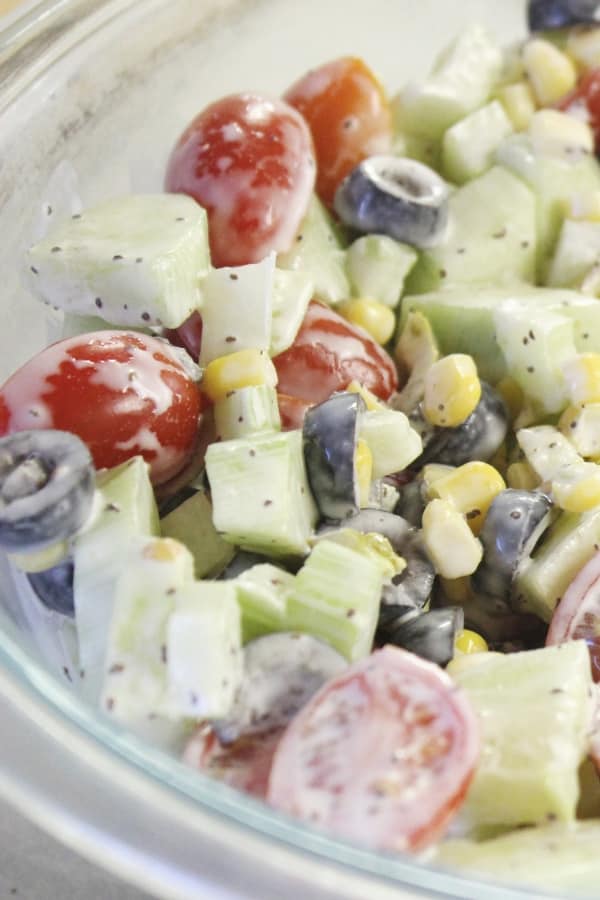 The perfect side dish recipe. We make this so often, and it is such a delicious and simple recipe.
Vegetable Salad
Looking for that perfect vegetable salad to pair next to your main dish? I have a vegetable salad recipe that could compliment your menu.
Plump tomatoes, crisp celery, corn, black olives and more with a homemade dressing. This fresh vegetable salad requires ten-minute prep, and you are ready to serve it up.
Cold Vegetable Salad Loaded With Produce
I firmly believe that a good side can elevate the whole dinner. My chopped vegetable salad is outstanding any time of year.
In the summer pull fresh vegetables from your garden, and in the winter months reach for them in the produce section at the store. You can have a refreshing and easy cold vegetable salad to serve in minutes.
Other Tasty Side Dishes
The Best Vegetable Salad
The homemade dressing adds a light and zesty flavor to the crisp vegetables. Creamy, tangy, and compliments all the cold veggies.
I was shocked that my husband and 3-year-old son gobbled it up. I have a pretty finicky eater, so having him eat a vegetable salad that was completely loaded with vegetables was a HUGE mom win for me.
Pair this with my Memphis BBQ chicken recipe!
Easy Side Dish Recipe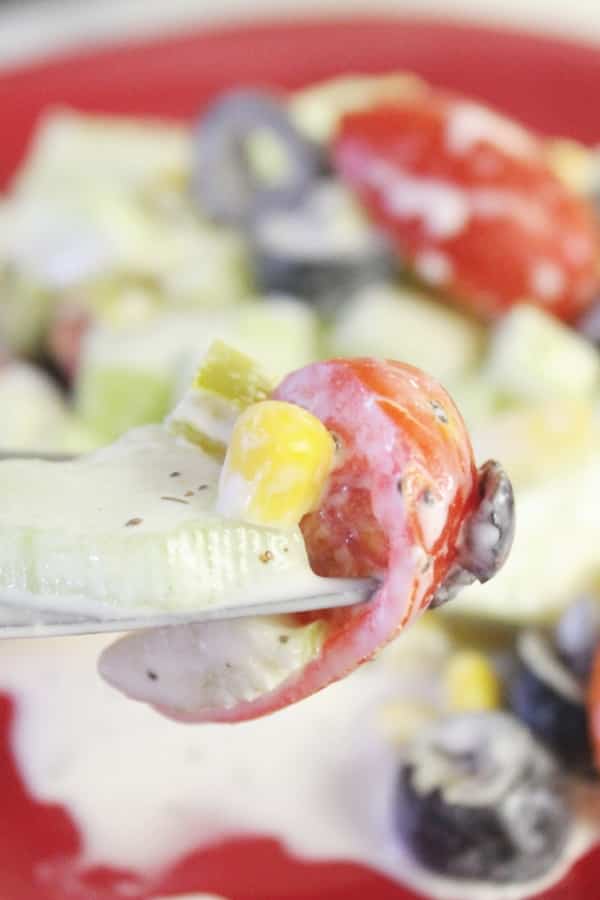 What Type Of Vegetables To Use In Fresh Vegetable Salad
Get creative and use all your favorite veggies. Here is a list of some of my favorites we add into the mix, as well as extras. Plus we also add in cheese!
Cucumbers
Peppers
Black Olives
Celery
Corn
Pepperjack cheese or Mozzarella Cheese
I do recommend using fresh corn, but for us and where we live, it is only a few times a year we can buy fresh corn. If you use canned corned, just rinse and drain off the juice, and then toss it in!
Learn How to Make A Vegetable Salad
Prep all your veggies and cut them down to small sizes.
Create your sauce in a separate bowl.
Mix the ingredients and serve or toss in the fridge and allow it to chill till you are ready.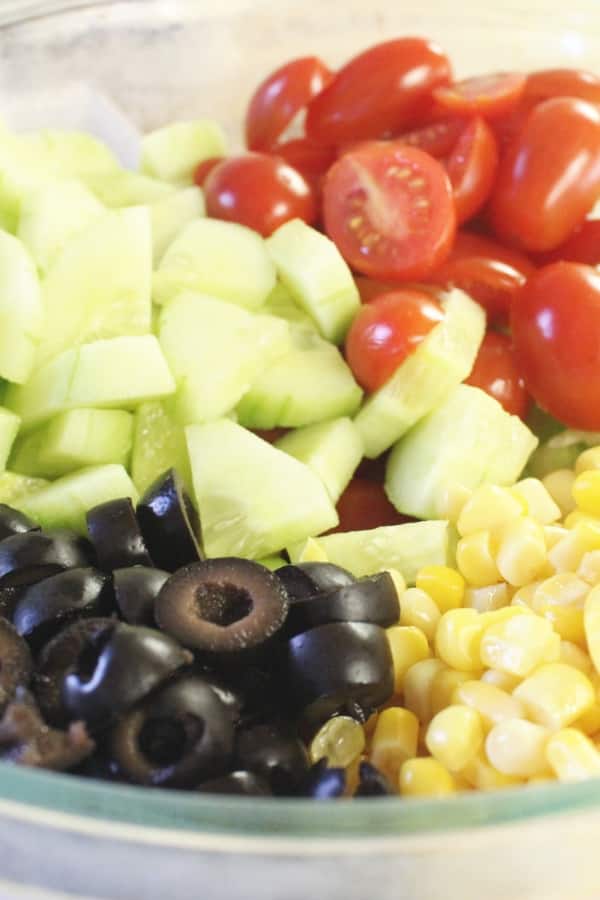 Is Vegetable Salad Healthy
Adding in more vegetables into your diet is wonderful. This has a lighter dressing so that you are gaining a lot of nutrients from the vegetables, and not adding in a ton of extra calories from a heavy dressing.
As you can see not a ton of prep work goes into this delicious fresh veggie salad. Give it a try and let me know how you like it! If you need help knowing when to serve this up, here are some ideas for you below.
When To Make This Vegetable Salad
Weeknight meal side dish
Potlucks
Summer BBQ's
Birthday Parties and Other Gatherings
And any other day of the week!
Vegetable Salad
A fresh vegetable salad that is loaded with crisp and fresh vegetables in a homemade dressing. The perfect side dish for any weeknight meal or even potluck or summer party.
Ingredients
1 English Cucumber peeled and diced
2 cups cherry tomatoes halved
3 celery diced around 1/2 cup
1 can of sliced black olives, drained
3/4 of a can of corn, drained and rinsed (optional)
1 cup of diced pepper jack or mozzarella cheese
1/2 cup sour cream
1/2 cup mayo
2 tablespoons of white wine vinegar
1/4 teaspoon salt
1/8 teaspoon pepper
1 1/2 teaspoons celery seed
Instructions
Start by prepping all your vegetables and dice them up into bite-size pieces and place in a bowl. Once all your fresh vegetables are prepped you will move onto the homemade dressing.
If you are adding cheese dice and add that in with the veggies as well.
Add your mayo, sour cream, vinegar, salt, pepper, and celery seed into a bowl and whisk. Add jalapeno juice if you want a kick of spice, this is optional.
Once your dressing is mixed, stir it in with all your chopped vegetables.
Then serve up your vegetable salad with your favorite main dish or a snack.
Notes
The Jalapenos and corn are optional. I added jarred jalapenos for a kick of flavor, but you are more than welcome to leave them off.
Nutrition Information:
Yield:

10
Serving Size:

cup
Amount Per Serving:
Calories:

174
Total Fat:

15g
Saturated Fat:

5g
Trans Fat:

0g
Unsaturated Fat:

9g
Cholesterol:

25mg
Sodium:

230mg
Carbohydrates:

5g
Fiber:

1g
Sugar:

2g
Protein:

5g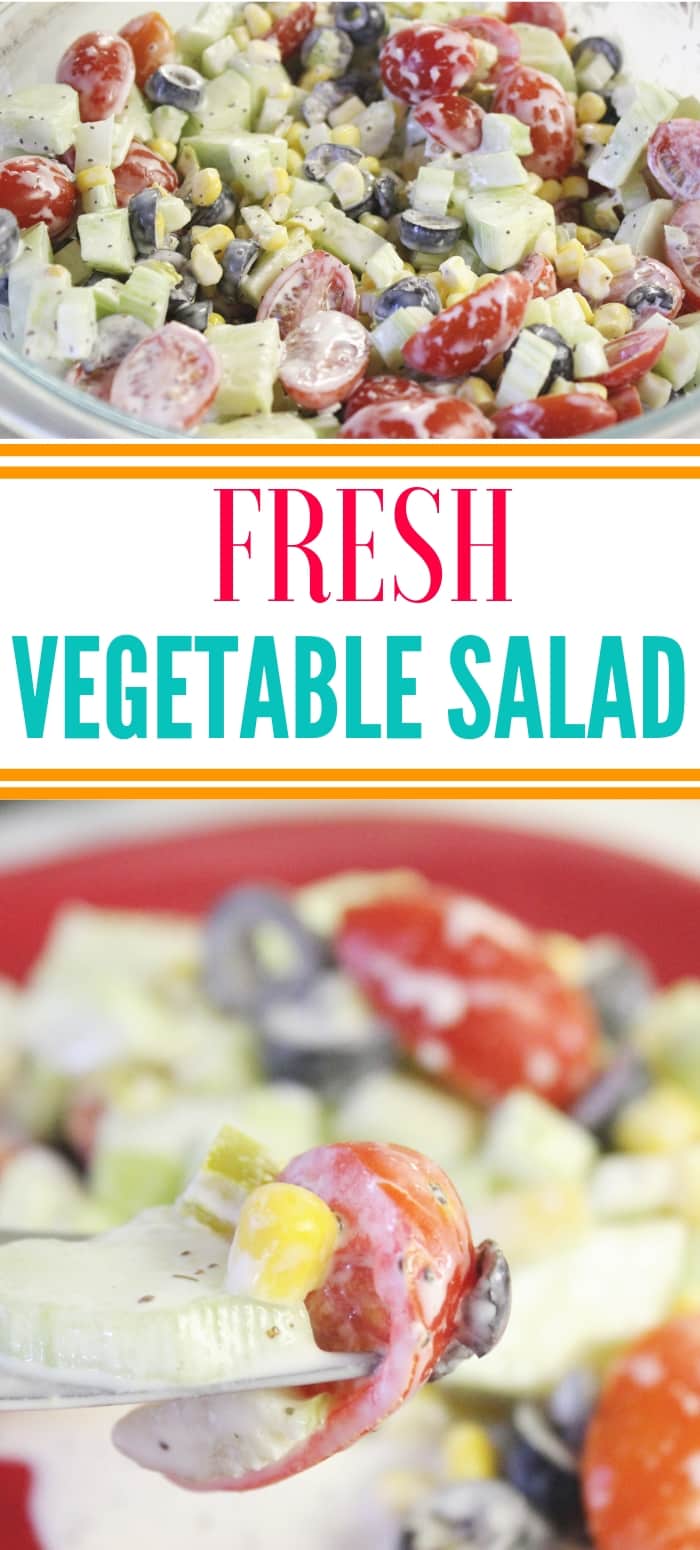 Have you ever tried a vegetable salad before?