Vegetable salad is a cold veggie salad with mayonnaise and vinegar-based dressing. Loads of flavor in this fresh vegetable salad, and nutrients.
The perfect side dish recipe. We make this so often, and it is such a delicious and simple recipe. Try my green goddess salad as well! Or you might like my spaghetti salad!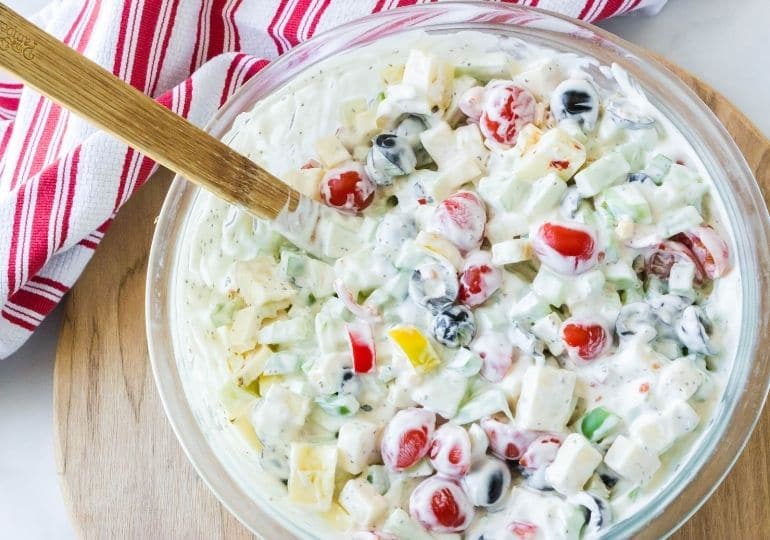 Looking for that perfect vegetable salad to pair next to your main dish? I have a vegetable salad recipe that could compliment your menu.
Plump tomatoes, crisp celery, corn, black olives, and more with a homemade dressing. This fresh vegetable salad requires ten-minute prep, and you are ready to serve it up.
Why Make This Vegetable Salad…
Simple Ingredients
Easy to Make
Make-ahead salad recipe
Whip up and serve, no waiting required
Full of crisp veggies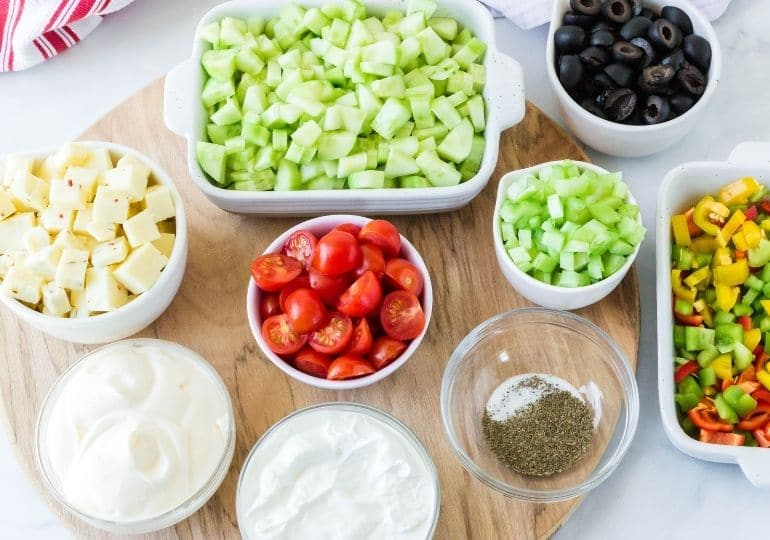 Ingredients Needed
Cucumbers
Peppers
Black Olives
Celery
Cherry Tomatoes
Pepper jack cheese
Mayonnaise
Sour Cream
Celery Seed
Salt and Pepper
White Wine Vinegar
How to Make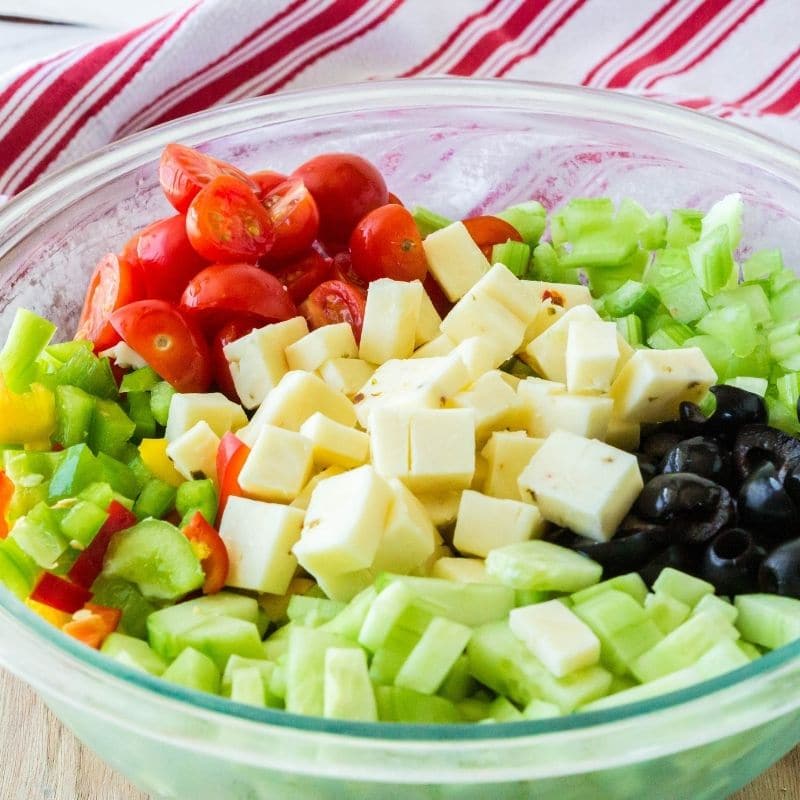 Step 1: Start by prepping all your veggies and cut them down to small sizes. Then dice up the block cheese as well.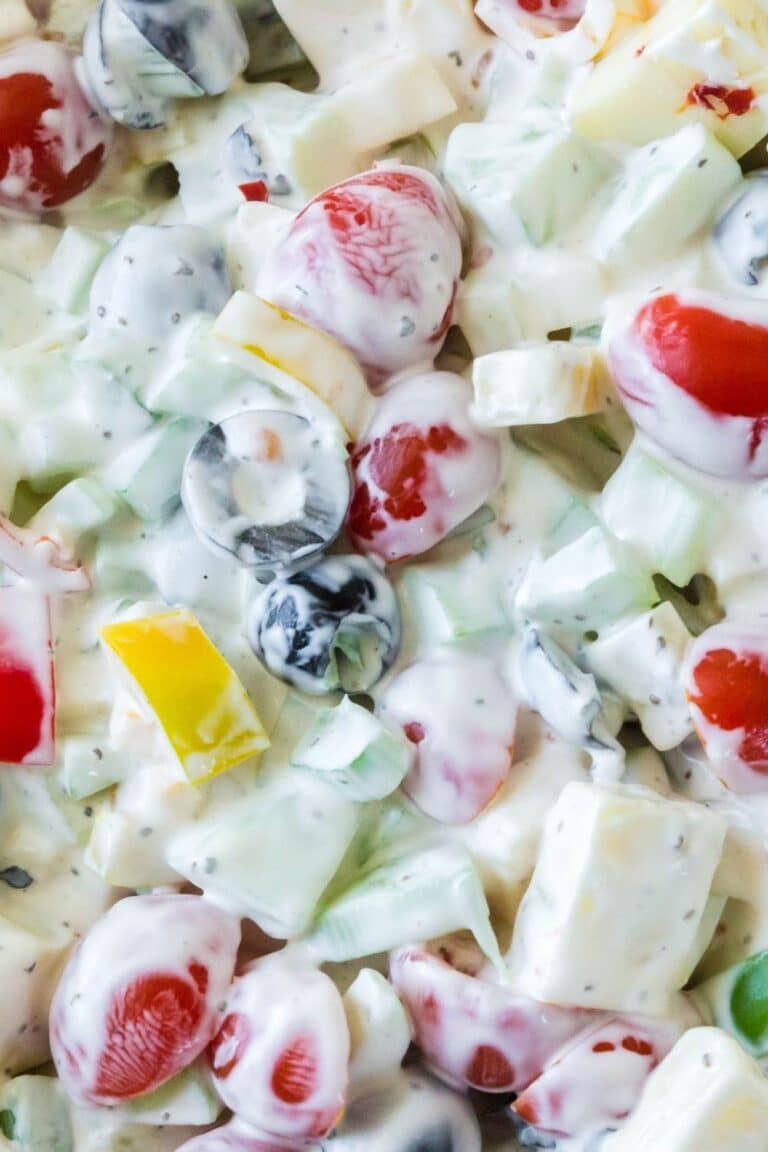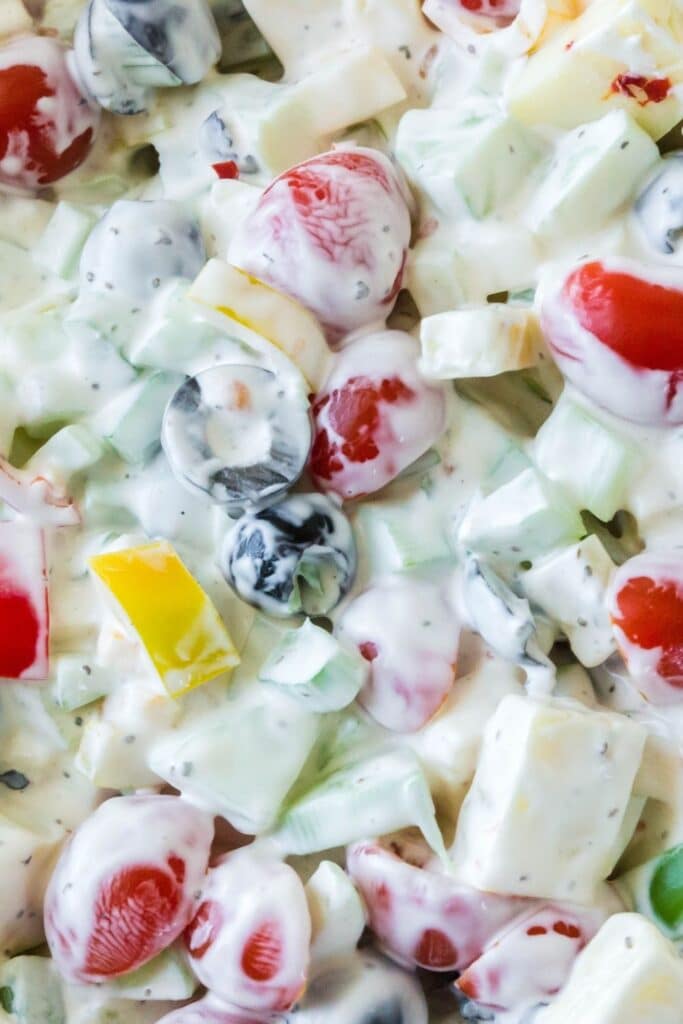 Step 2: Next in a new bowl add in your creamy sauce ingredients. Mix well then pour over all the vegetables.
Step 3: Serve and enjoy this simple cold vegetable salad.
Storage
Your cold salad will store in the fridge for up to 5 days. The key is to watch the chopped vegetables. When they start to soften that is the time to toss.
Depending on how fresh your vegetables are, the storage time will vary a bit.
This fresh vegetable recipe can be made a day or two in advance. That makes it a perfect potluck salad to take to a summer cookout, family reunion, etc.
Expert Tips and Variations
Try to cut up the veggies into uniform size, so you can get all the flavors in each bite.
This is a wonderful cold potluck recipe that can be made in advance.
You can make and serve this salad right away, no needing to let it sit in the fridge.
Swap the pepper jack with a mozzarella cheese or even sharp cheddar.
This vegetable side dish is great for dinner or even a snack.
Add more white wine vinegar if you want more tang to the sauce.
Recipe FAQs
I hope you enjoy this vegetable salad idea. It is one of my favorites and I have been making it for years now!
Craving More Side Dishes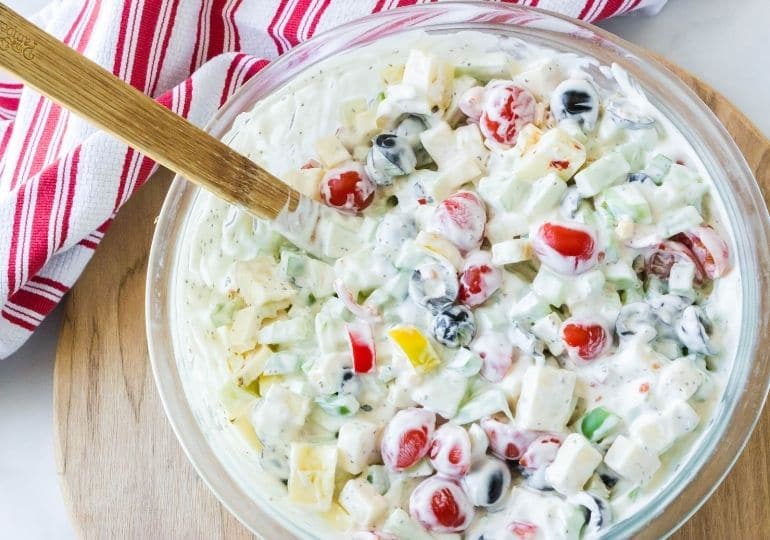 Vegetable Salad
Servings 8 -10 servings
Serve up this creamy vegetable salad that is made with fresh vegetables, and a creamy mayonnaise and sour cream-based sauce. Whip this up for a weeknight dinner, potluck salad, and more. This is a must make veggie salad.
Ingredients
2 English Cucumber peeled and diced
1 cups cherry tomatoes halved
3 celery stalks diced
1 cup bell pepper diced
1 cup of sliced black olives drained
1 1/2 cups of diced pepper jack cheese
1 cup sour cream
1 cup mayo
2 tablespoons of white wine vinegar
1/4 teaspoon salt
1/8 teaspoon pepper
1 1/2 teaspoons celery seed
Instructions
Start by prepping all your vegetables and dice them up into bite-size pieces and place in a bowl. Toss in your cubed cheese. Once all your fresh vegetables are prepped you will move onto the homemade dressing.

Next, you will mix up the mayonnaise, sour cream, rice vinegar, salt, pepper, and celery seed. Once creamy, pour over your vegetables.

Give your fresh vegetable salad a stir, and then serve or store it in the fridge until you are ready to serve it up.
Notes
Feel free to swap the pepper jack cheese with cheddar, mozzarella, etc. You can toss in or remove veggies to create a custom cold vegetable salad to fit your preference. This veggie salad does double well. Store the veggie salad in the fridge for up to 5 days. Toss well before each time you serve it. If the veggies are seeming to go bad, then toss the salad out. Use your best judgment in terms of quality. It all depends on how ripe your ingredients are when you make the salad. Other veggies you could add to the salad – broccoli, cauliflower, jalapeno, fresh corn off the cob, snap peas, etc. Essentially any vegetables you enjoy could be a great ingredient to mix in.
Nutrition
Calories: 174kcalCarbohydrates: 5gProtein: 5gFat: 15gSaturated Fat: 5gPolyunsaturated Fat: 9gCholesterol: 25mgSodium: 230mgFiber: 1gSugar: 2g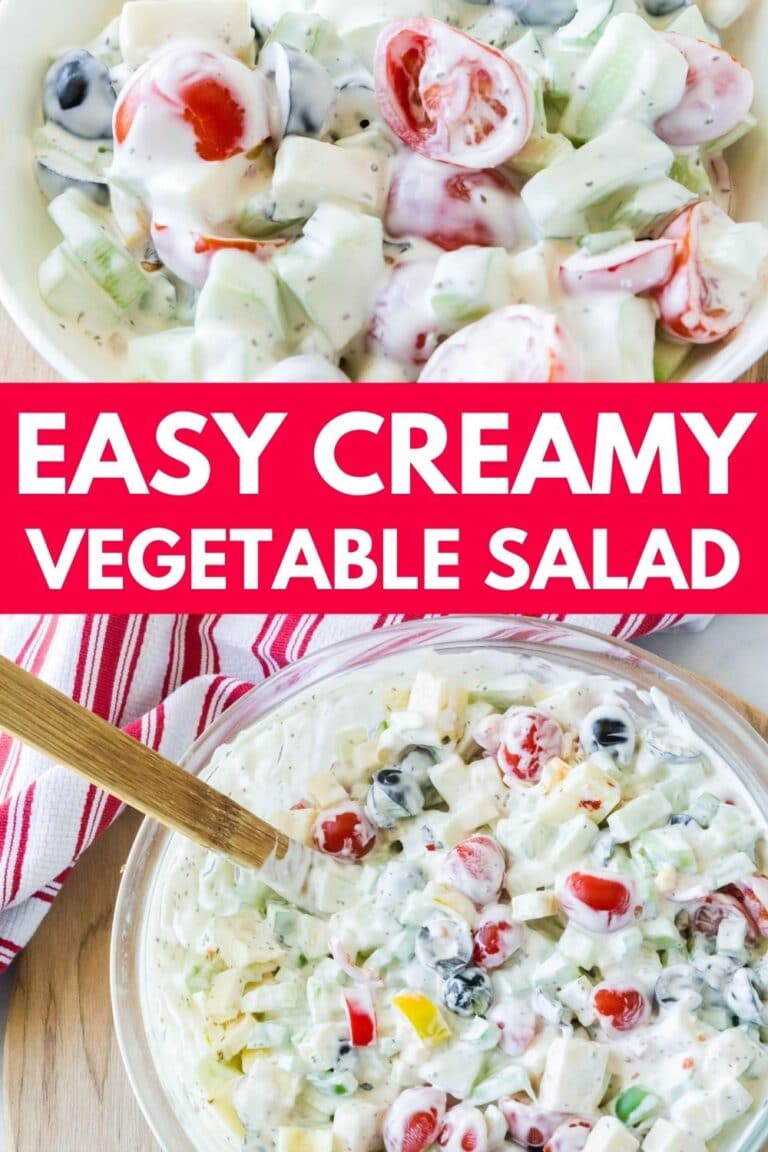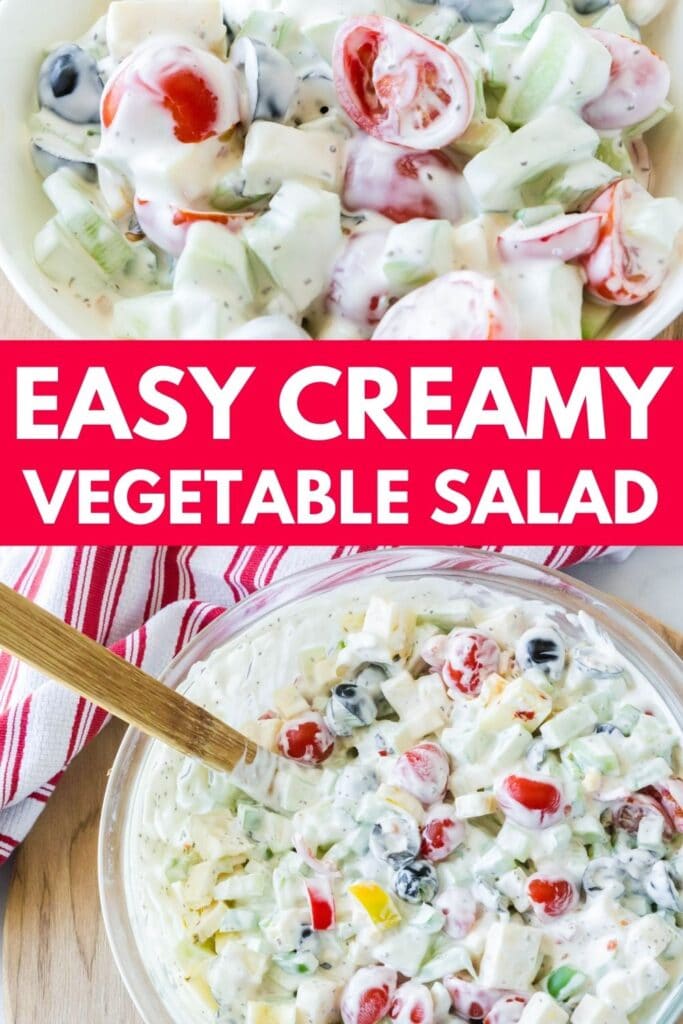 Reader Interactions