Green Goddess Salad is a chopped cabbage and cucumber salad that is mixed with a homemade greed dressing. This is a TikTok viral salad recipe. I did make a few changes to the original goddess salad recipe.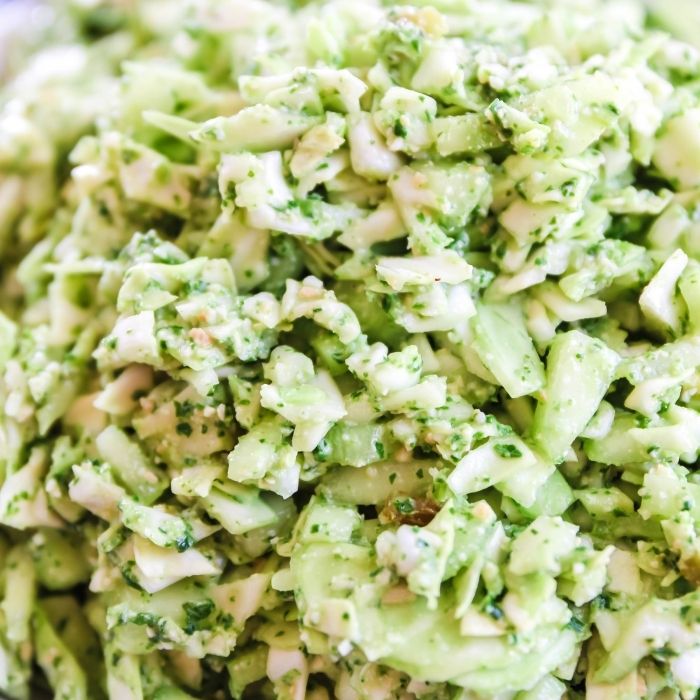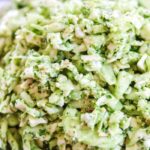 Green Goddess Salad is the newest viral TikTok salad recipe that is taking the world by storm. Chopped cabbage, cucumbers, jalapeno, mixed with a homemade green dressing that brings all the ingredients together. This green goddess salad recipe is so easy.
Baked by Melissa's salad is one that hit the world by storm. She shared how to make this chopped cabbage salad, and people fell in love. I had to see what it is was all about, and with a few changes I made it my own.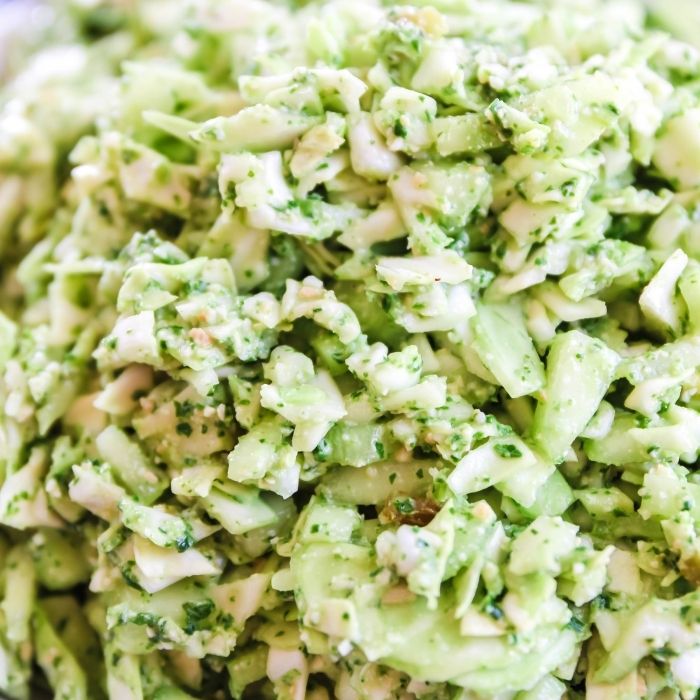 This green goddess dressing recipe brings it all together. Spinach, cashews, olive oil, and more. All blended up to a creamy consistency. Try my cold spaghetti salad as well for a tasty side. Try my broccoli salad as a side dish for any night of the week.
This Green Goddess Salad Recipe Is…
Nutrient Rich
Gluten Free
Vegetarian
Can Be Made Vegan
Homemade Green Salad Dressing
Appetizer, Snack or Lunch Recipe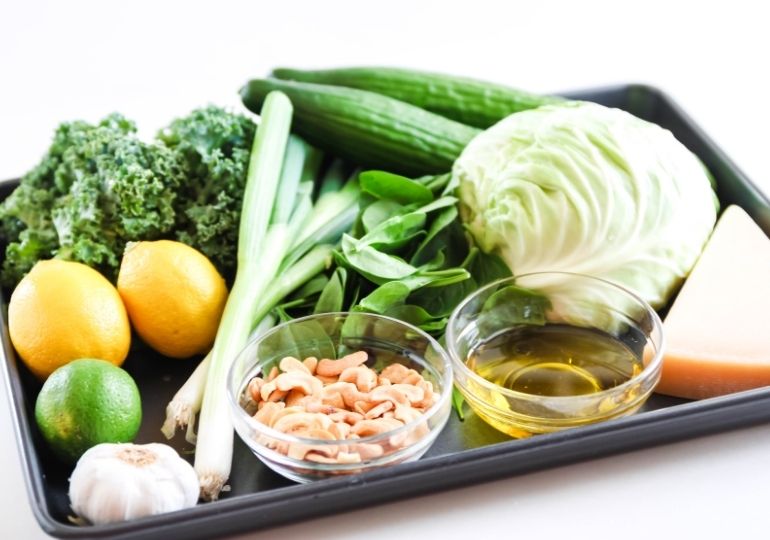 Ingredients Needed
Green Cabbage – I used green cabbage that you chop finely. I used one whole small head. But if you have a larger cabbage do half the cabbage.
English Cucumbers – So I peeled and finely diced my cucumbers up. You can use a regular cucumber if that is what you have.
Lemon and Lime – I wanted the twist of lemon and lime in our salad. The original just used lemon, so it is whatever you prefer.
Jalapeno – So I used jarred jalapenos that were diced up. I did mix it in with the cucumber and cabbage to add a kick of spice. I found the salad lacking without it.
Kale – So I used kale, but I wanted basil. Our store was completely out of basil. So kale was my substitute.
Baby Spinach – Reach for some baby spinach for making the sauce. It adds tons of nutrients and is so delicious.
Garlic and Green Onions – I added the onions in with the white tops in the blender to mix up for the dressing. You can also add shallots but I didn't have any.
Oil and Vinegar – Rice vinegar and olive oil are the base of the dressing.
Parmesan – I cubed up some fresh parmesan and tossed it in. Now if you want vegan swap with 2 tablespoons nutritional yeast.
Modifications To Recipe
Swap kale for basil. The basil is delicious.
Leave out the jalapeno if you don't want to add in some spice.
Make sure to salt well, as this dish needs salt to help bring out the flavors.
You can use white wine vinegar in replace of rice vinegar.
Use just lemon and leave out the lime juice.
Add in one avocado for added flavor.
How to Make
Full directions on how to make this chopped green goddess salad are in the printable recipe card featured at the bottom of the post.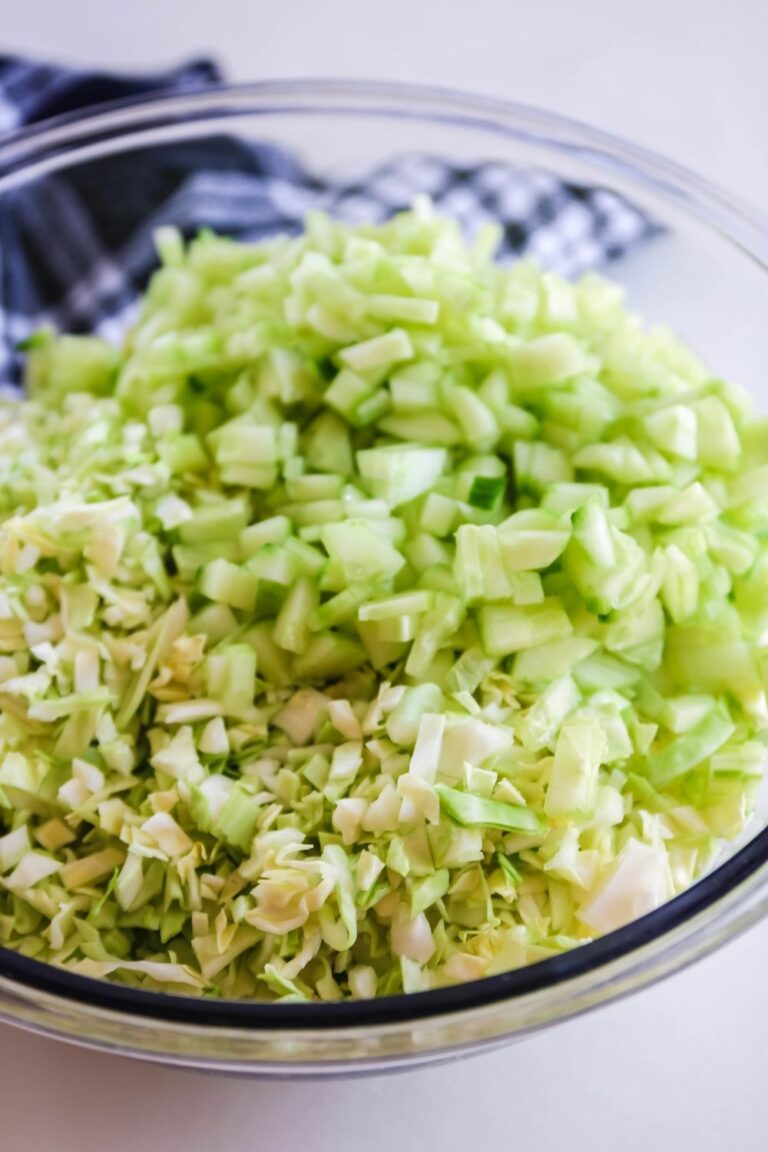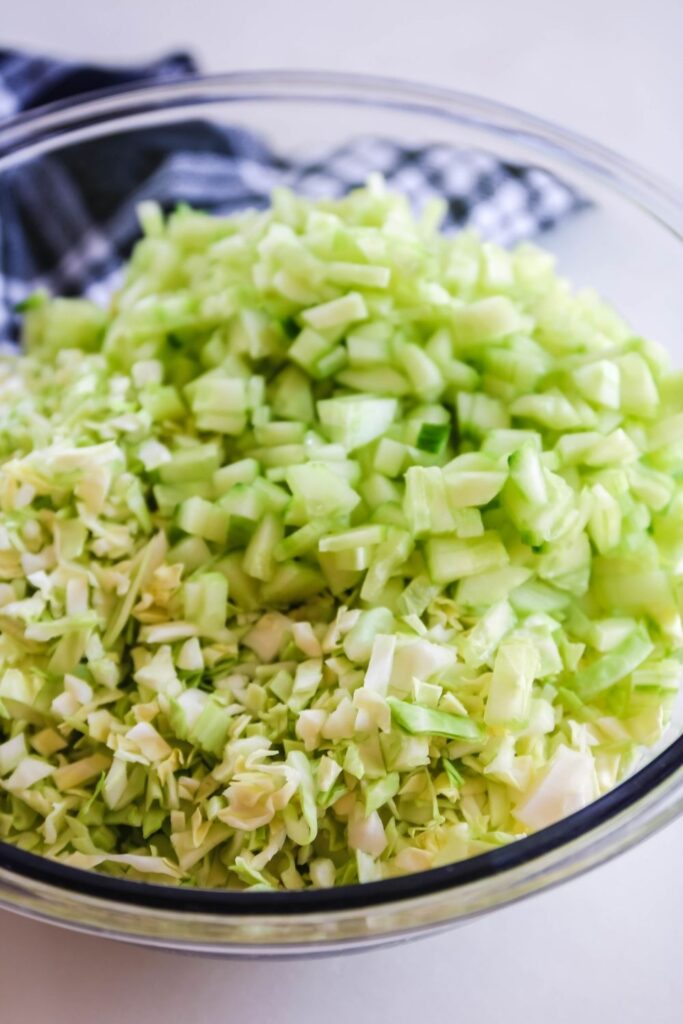 Step One: Start by chopping up the cabbage and the cucumbers very fine. Toss in a bowl and mix. Now if you want to add jalapeno toss it in at this point.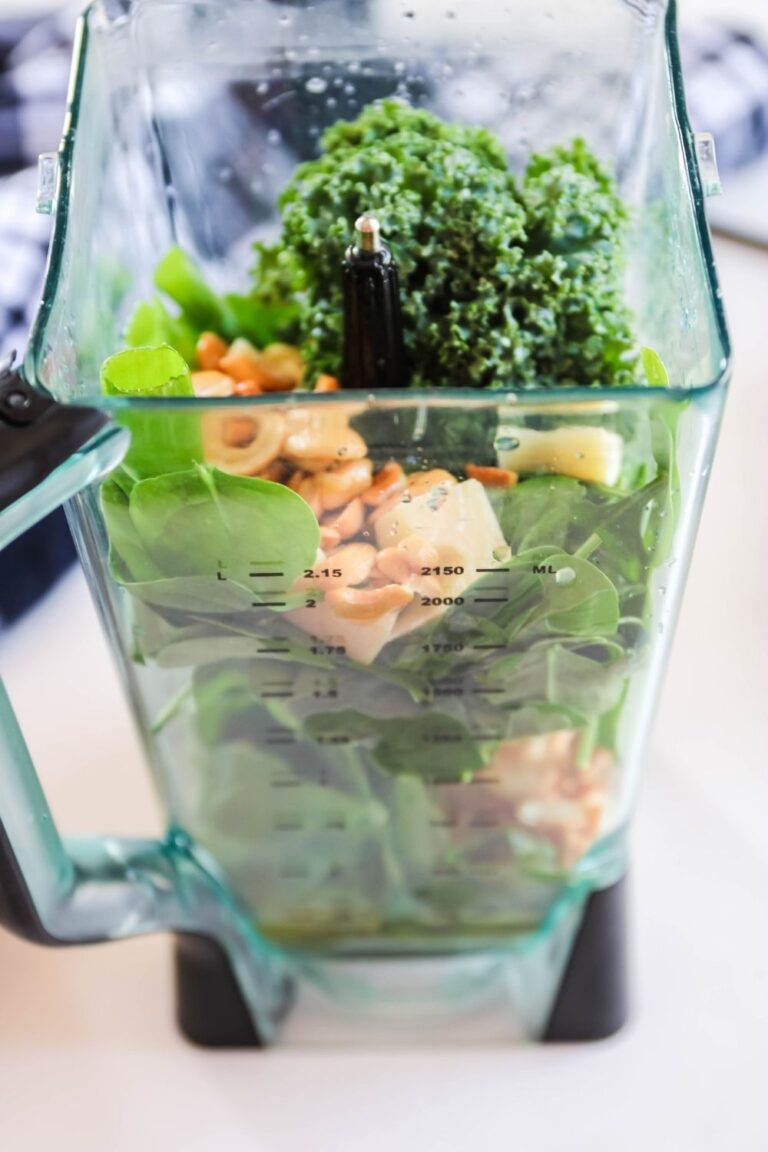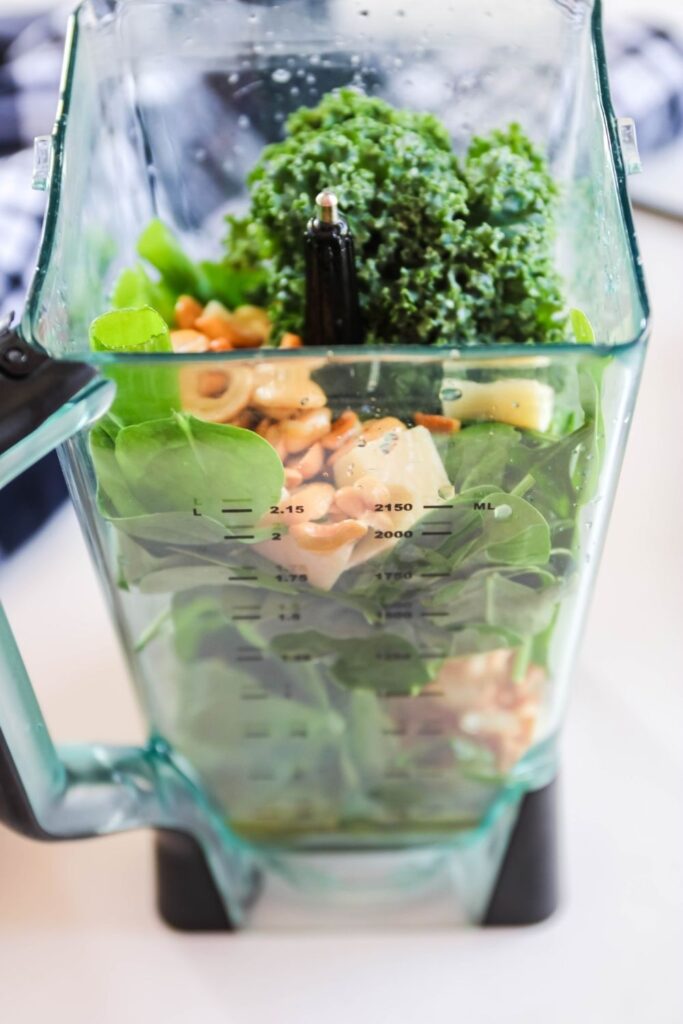 Step Two: Now in a blender you will add spinach leaves, nuts, garlic, parmesan cheese, kale, juice of lemon and lime, rice vinegar, green onions, and salt.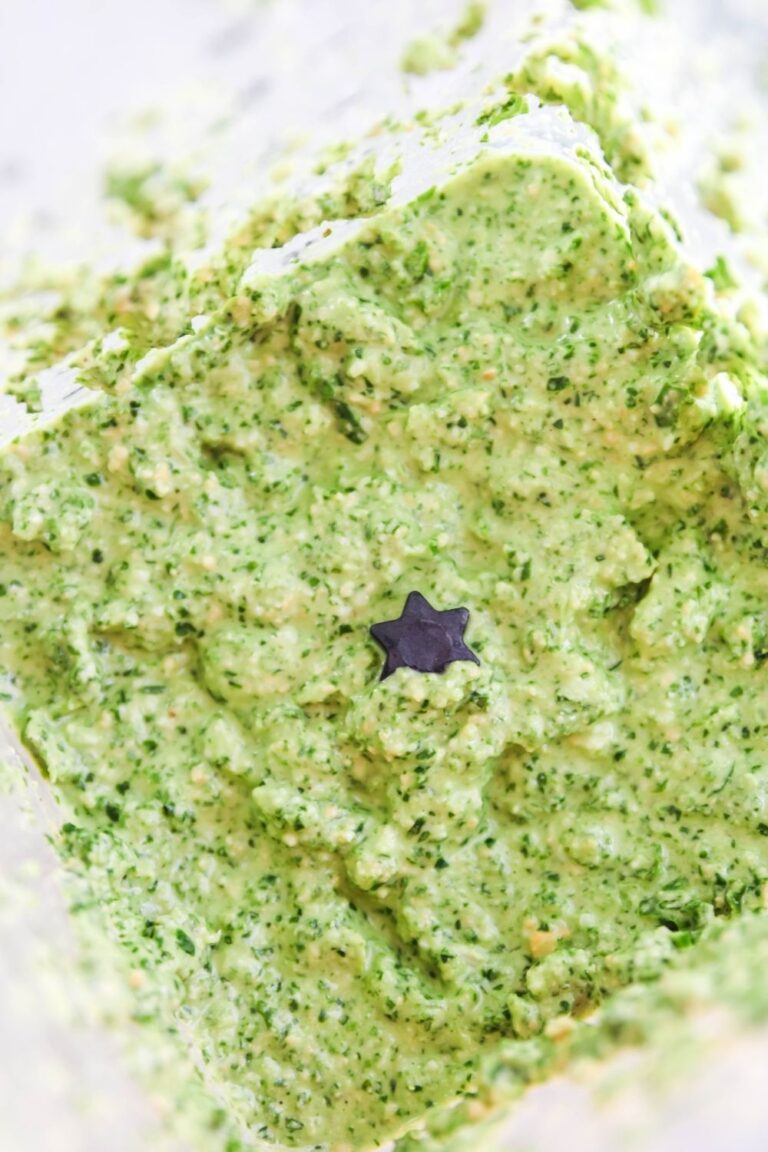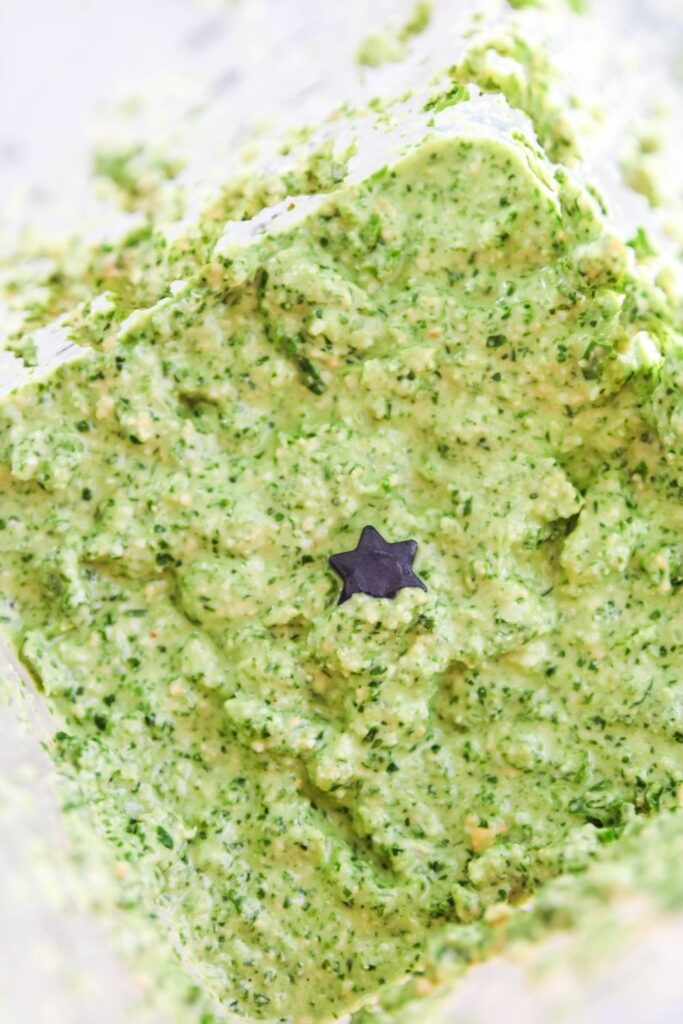 Step Three: Blend until it creates a creamy dressing. You will want to stop in between, and scrape down the edges to ensure you get an even mix.
Step Four: Pour the green goddess dressing over the cucumber and cabbage mixture. Mix well and then season with salt and pepper to taste if you would like.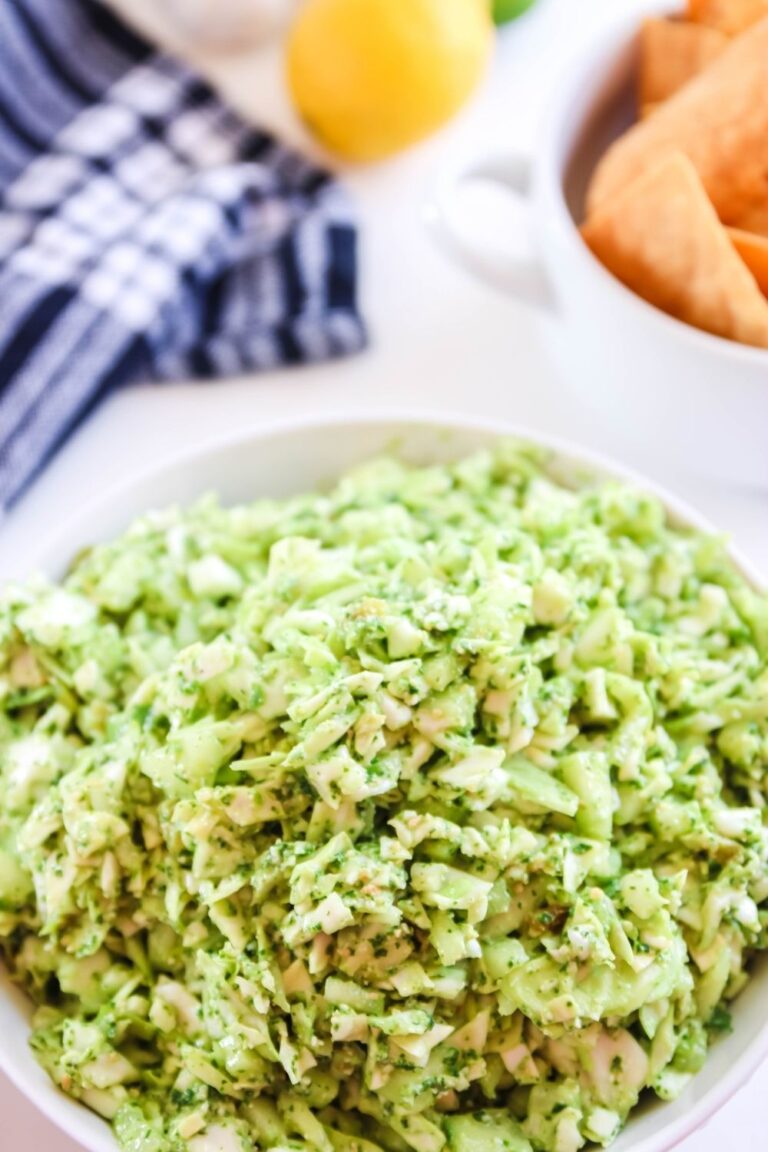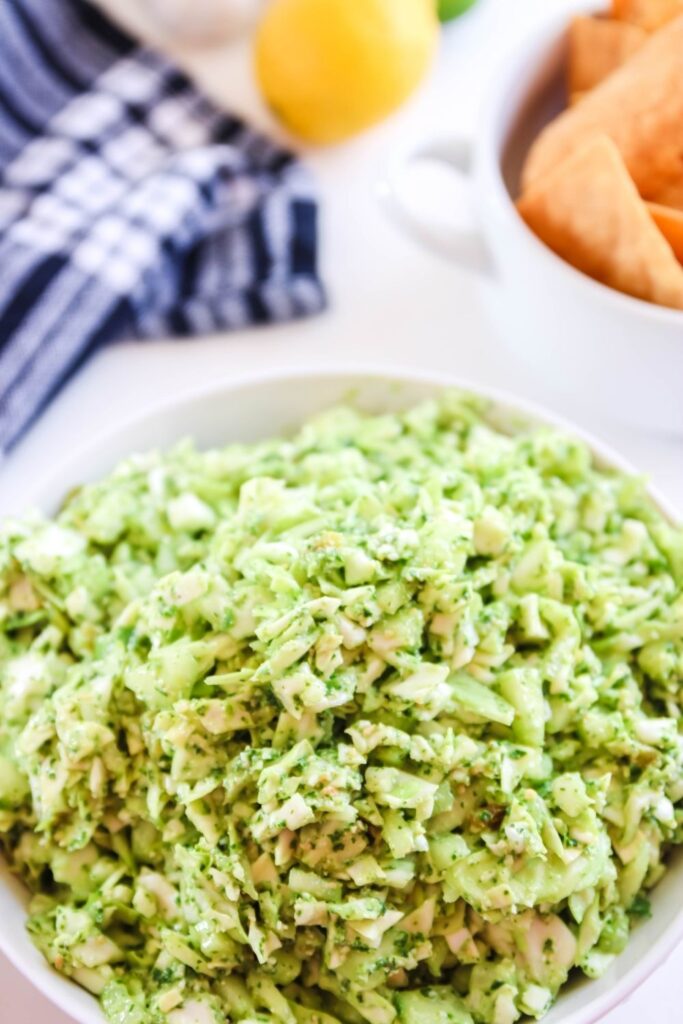 How to Eat This Green Goddess Salad
There are numerous ways to eat this salad. From eating it on tortilla chips, to wrapping up in a tortilla. We buy low carb tortillas and make a wrap with the salad. So good.
Also you can serve it as a side dish and eat it plain. It is loaded with nutrient rich foods that are so good for you, and taste even better.
Storing Leftovers
This cabbage chopped salad can be stored in the fridge for 3-5 days. You will find it is best eaten the first day as all the flavors are perfectly blended and it has a nice crunch texture to the salad.
Helpful Tips For Success
Chop your cucumbers and cabbage very fine. That is the tasty aspect of the salad is you get all the components in each bite.
Use a sharp knife to get all the veggies chopped nicely.
Use fresh ingredients making sure to wash and prep all your ingredients properly.
Allow the green goddess cabbage salad to refrigerate for 1 hour before you serve. It will help lock in all the flavors to the salad.
FAQs
More Salad Ideas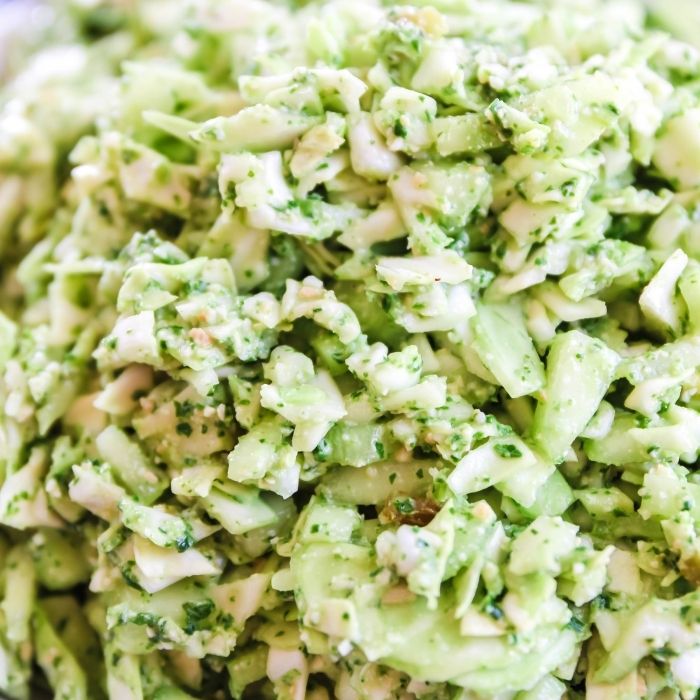 Green Goddess Salad
Servings 8 -10 servings
Green Goddess Salad is a chopped cabbage and cucumber salad that is mixed with a homemade greed dressing. This is a TikTok viral salad recipe. I did make a few changes to the original goddess salad recipe.
Ingredients
1 small green cabbage or 1/2 a large one.
2 Persian cucumbers
1 teaspoon jalapeno optional
2 cloves garlic
5-6 green onions
1 cup baby spinach leaves
1 cup basil or 1/2 cup kale
1/4 cup olive oil
2 1/2 teaspoons rice vinegar
1 lemon juiced
1 lime juiced
1/4 cup cashews or other nuts
1/3 cup parmesan cheese
2 teaspoons salt
Instructions
Finely chop your cabbage, cucumbers and jalapeno. Place in a bowl and set aside. It is very important to finely chop the veggies.

Then in a blender add your spinach, basil/kale, cashews, lemon and lime juice, garlic, green onions, parmesan, oil, rice wine vinegar, and salt.

Blend until it is nice and creamy like a dressing. You will want to scrape down sides of your blender as needed.

Pour the green goddess dressing over the vegetables, toss well and refrigerate for an hour before serving.

Enjoy your green goddess salad in tortillas, pair with tortilla chips, or eat as a side dish.
Notes
Kale – Swap the kale with basil if you would like. Our store didn't have basil so I used kale. I prefer basil. Lemon and Lime – If you want omit the lime and just use lemon juice. Thickness – If your texture of dressing is too thick add a little more oil or lemon juice to thin it out a bit. Vegan Friendly – Leave out the parmesan and swap with 2 teaspoons of nutritional yeast instead.
Nutrition
Serving: 1gCalories: 120kcalCarbohydrates: 7gProtein: 3gFat: 10gSaturated Fat: 2gPolyunsaturated Fat: 7gCholesterol: 3mgSodium: 530mgFiber: 2gSugar: 2g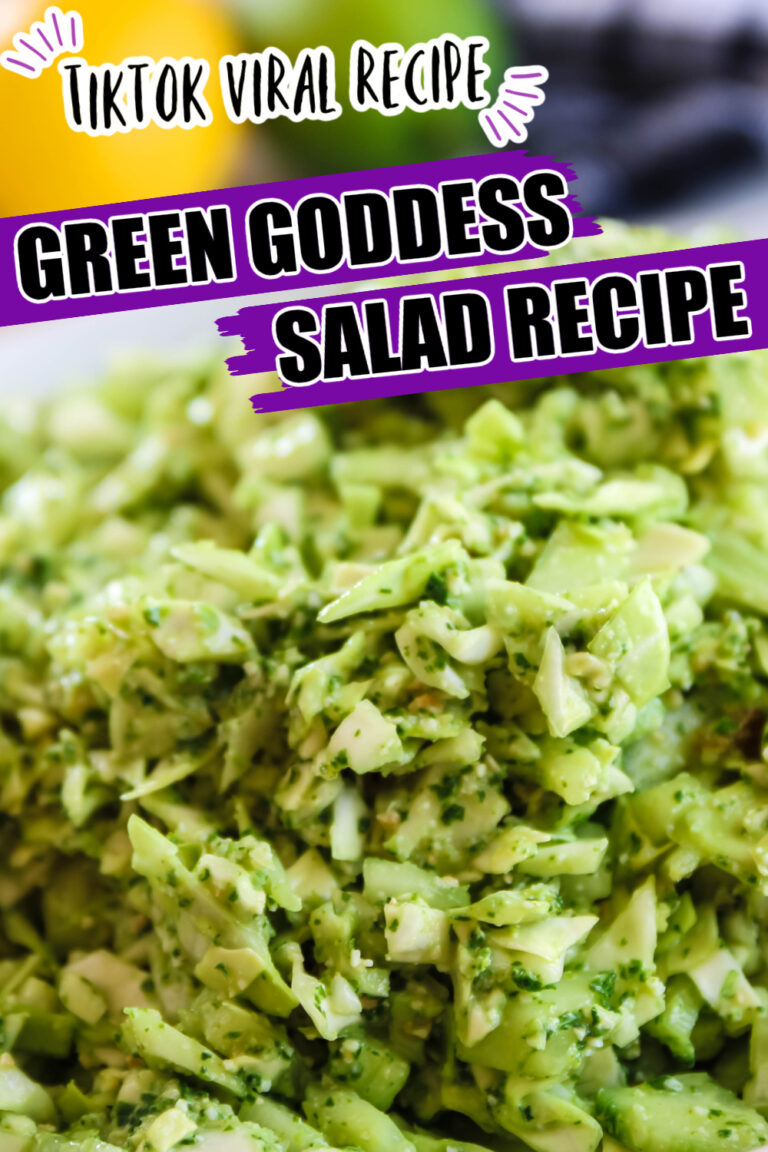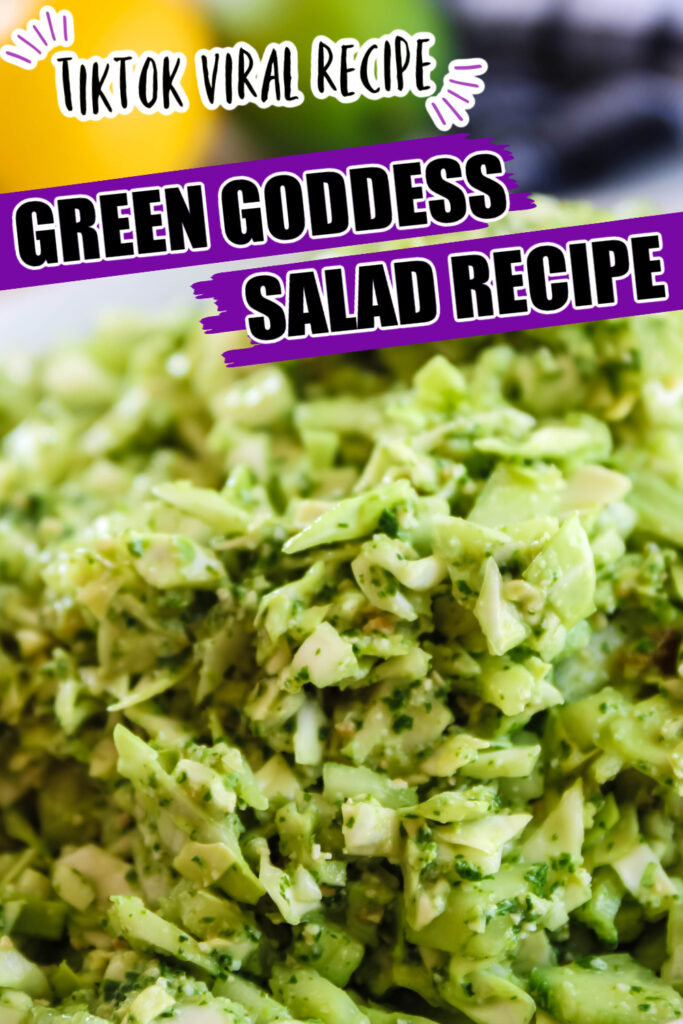 Reader Interactions