Broccoli Salad is a delicious and easy side dish. Crisp broccoli, salted sunflower seeds, red onions, cheddar cheese in a creamy broccoli salad sauce. This is a classic side dish recipe.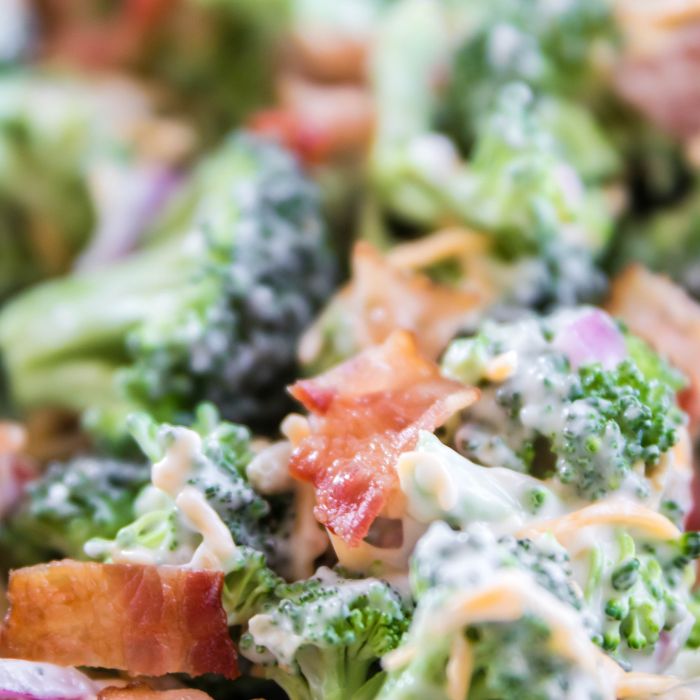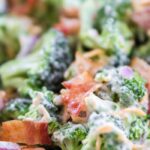 Looking for a simple and delicious broccoli salad? This fresh broccoli salad is loaded with crunchy broccoli florets, salted sunflower seeds, diced crisp bacon, red onion, cheddar cheese, smothered in a creamy dressing. This is a quick salad, you can throw together for a side dish for dinner, or summer gatherings.
This is a summer salad that is great for summer cookouts, entertaining guests or to serve up with hamburgers and brats, and so much more. The tangy dressing, really compliments the crunchy broccoli. This is our family's favorite broccoli salad recipe.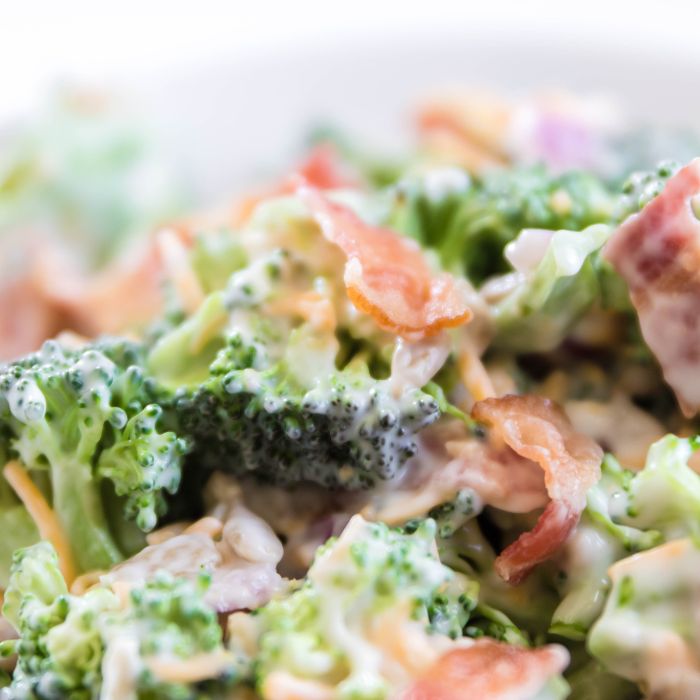 This Broccoli Salad Recipe Is…
Perfect side dish for any day of week
Cold broccoli salad
Easy make ahead side dish
Fun for summer gatherings
Fresh broccoli salad with crisp bacon
Creamy Mayonnaise based sauce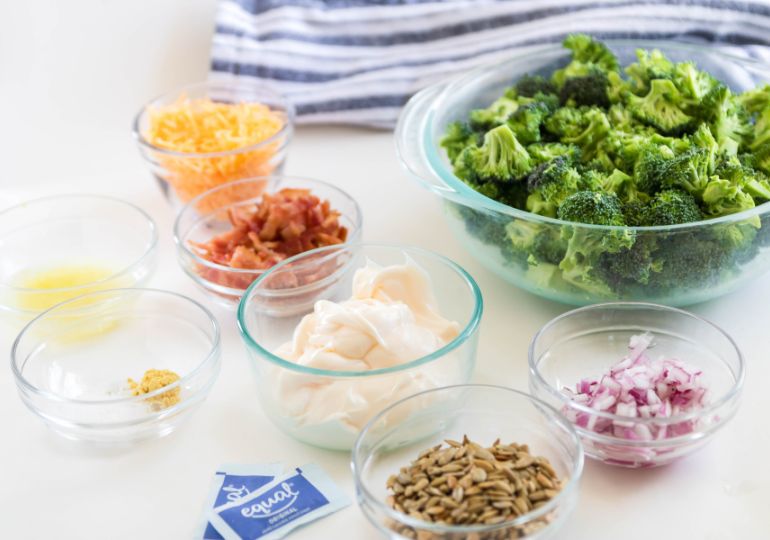 Ingredients
Here is what you need for this classic broccoli salad and broccoli salad dressing recipe.
Fresh Broccoli – I bought a couple broccoli heads, and then cut the broccoli stem down. Now you can leave a bit of broccoli stem if you would like. Or just do the broccoli florets.
Crunchy Sunflower seeds – Reach for some salted sunflower seeds that offer that crunchy factor that you can't go wrong with!
Mayonnaise – The mayonnaise is the main part of this salad dressing. It is nice and creamy and will really bring all the ingredients together.
Red Onions – Slicing red onions up really fine is going to help give this salad a little kick. I find the red onions compliment the dressing and vegetables.
Expert Tip: Soaking red onions in ice cold water will help reduce the potency of the red onions. Not just cold water but add in ice. The ice is they key. Let it sit for 10 minutes, then drain, and finish slicing up the onion.
Bacon – Make sure to cook up your bacon and allow it to be nice and crispy. Then once cooled dice into small pieces that you toss in. Use a paper towel to press on the cooked bacon to remove any excess grease before dicing.
Lemon Juice – Now I used fresh lemon juice and zest for this salad recipe. If you don't want the lemon to be too strong skip the lemon zest.
Kosher Salt, Pepper, Dry Mustard, Sweetener – I used salt, pepper, dry mustard, and artificial sweetener to add flavor to this quick salad. Now, you can use plain sugar but I wanted a sugar free broccoli salad.
More Classic Side Dish Recipe
Here are even more perfect side dish recipes to try out!
How to Make
Learn how to make broccoli salad in minutes. The full measurements and steps are below in the printable recipe card. This is a visual walk through on how to make this summer salad.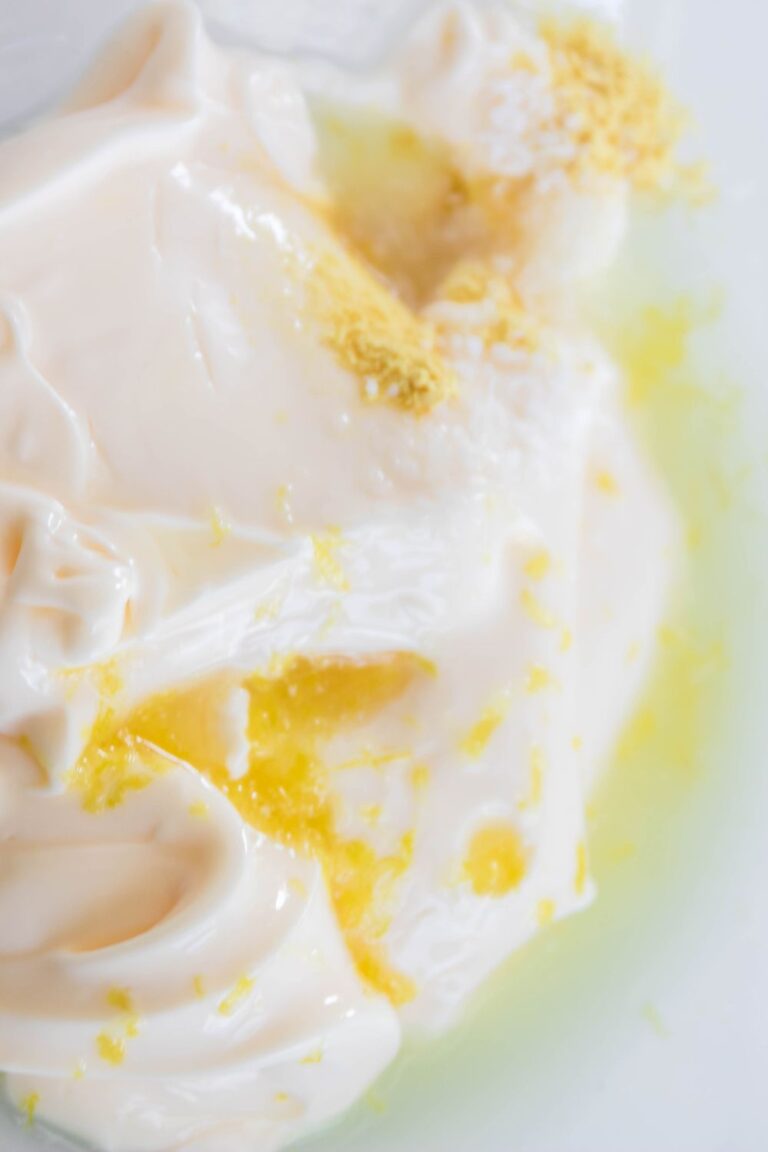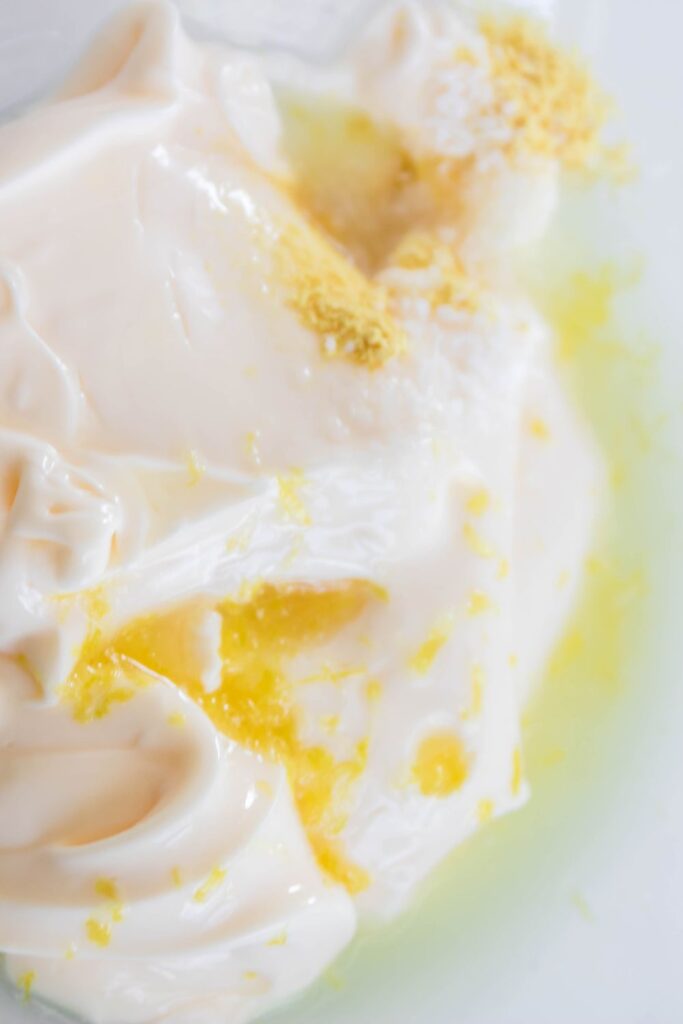 Step One: In a bowl add your mayonnaise, lemon juice, lemon zest, sweetener, salt, pepper, and dry mustard.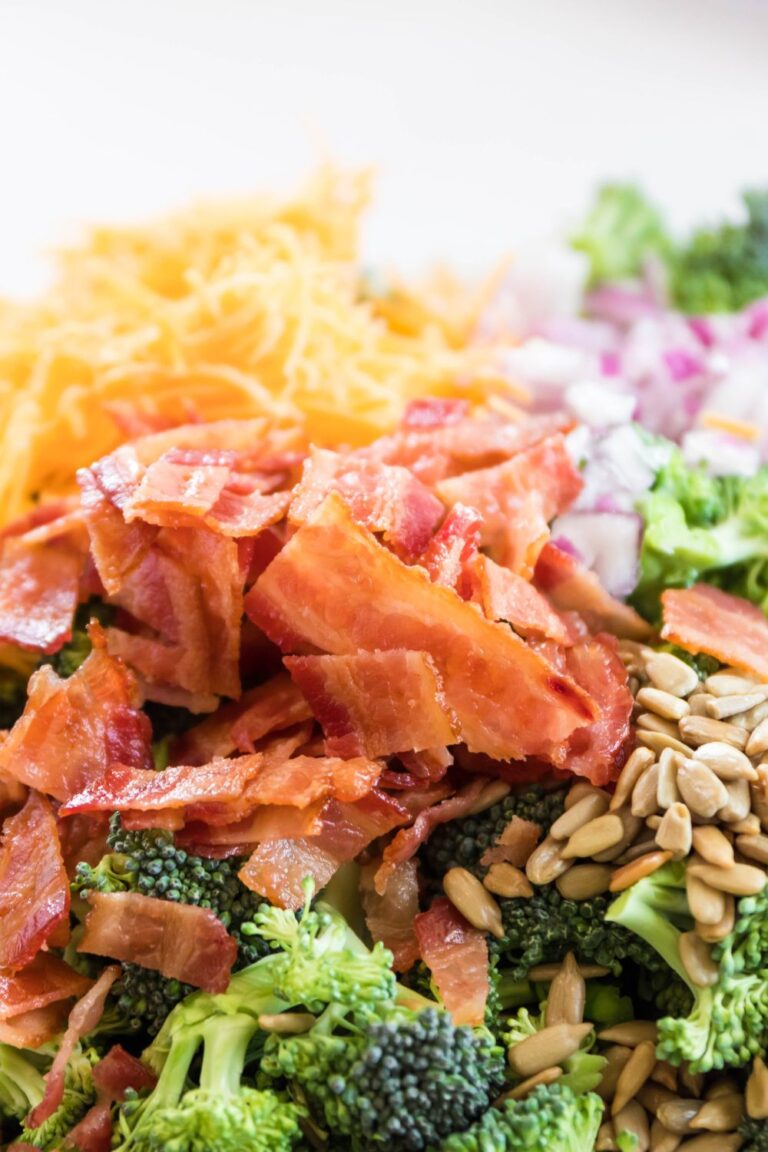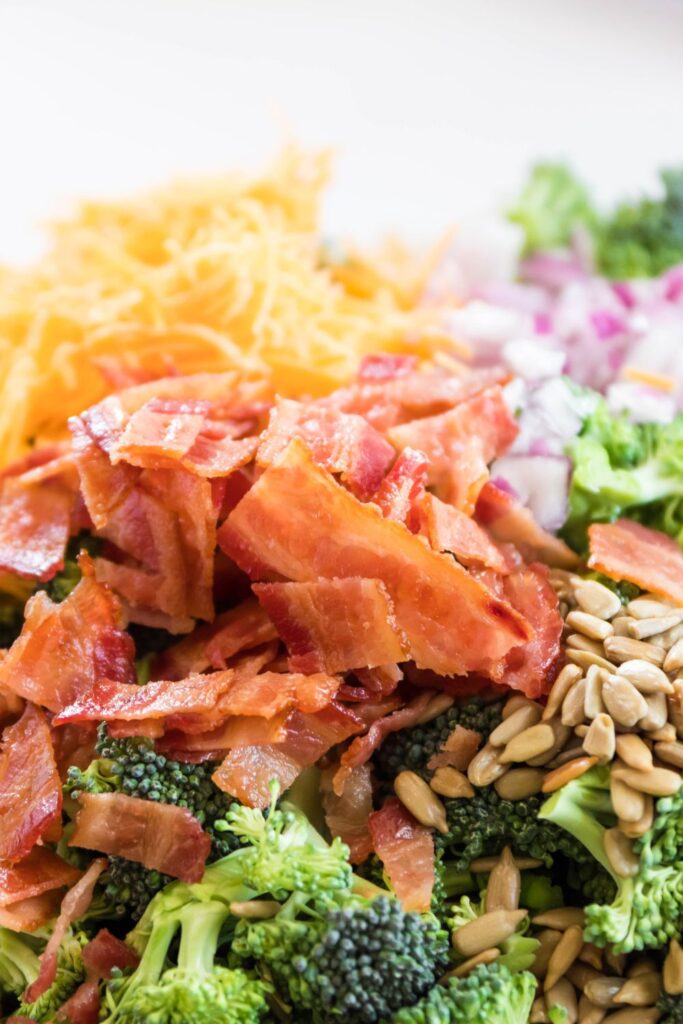 Step Two: Mix well till it is nice and creamy. Then you will prep your broccoli and onions and then toss them in the bowl. Add your diced cooked bacon, sunflower seeds, and shredded cheese.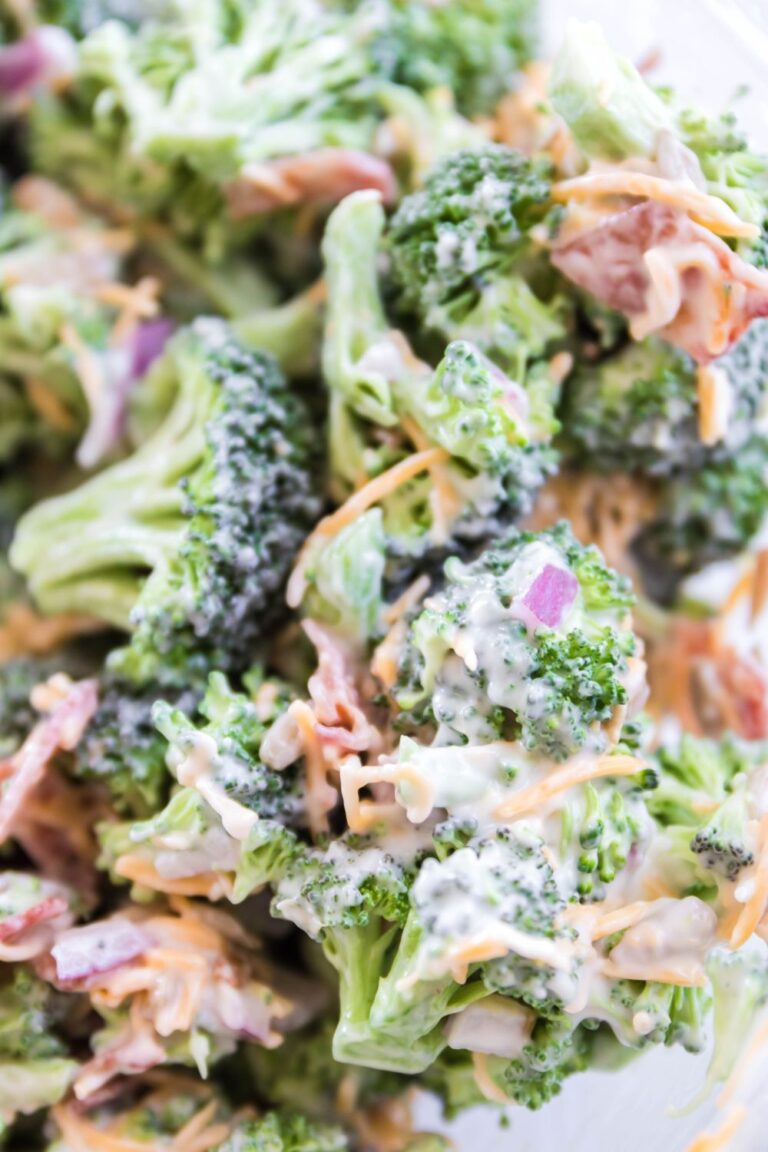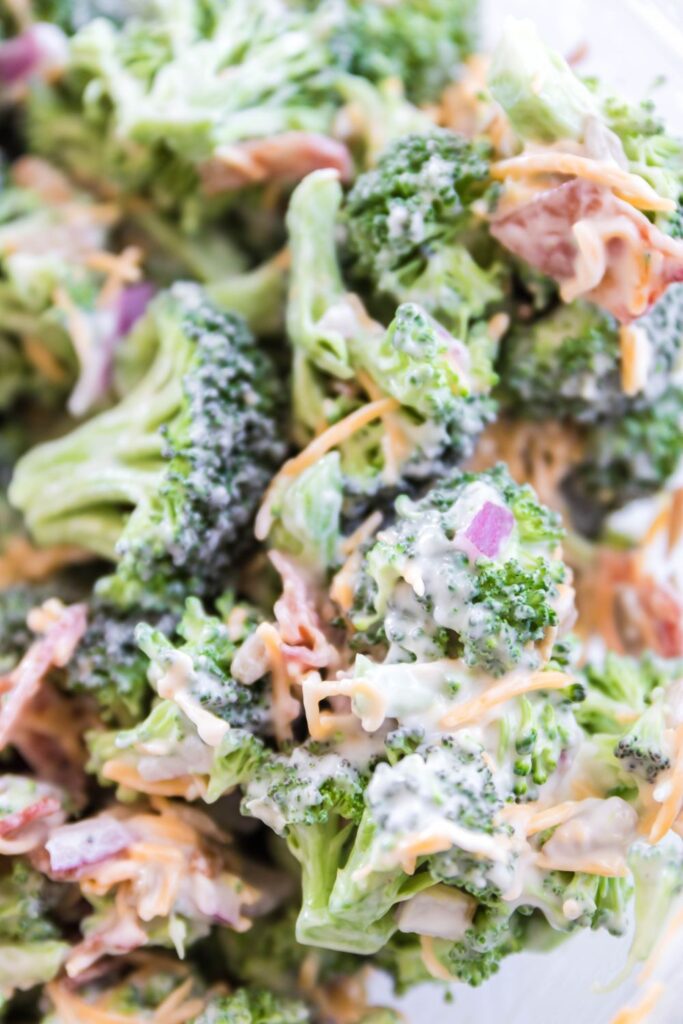 Step Three: Finally toss to combine ingredients and then store in the refrigerator until you are ready to serve!
Variations To Recipe
Here are some ways to change up your easy broccoli salad recipe.
Red wine vinegar – swap out the lemon juice with a red wine vinegar, white wine vinegar or even apple cider vinegar. The acidic in the vinegar will act similar to the lemon juice but with a different punch of flavor.
Spice it up – Add in some red pepper flakes or cayenne powder to help give this a spicy kick if you like heat.
Sauce – You can use plain Greek yogurt or even sour cream in replace of the mayonnaise. Or if you are a Miracle Whip fan go for that.
Fruit – Some broccoli salads have raisins, dried cranberries, etc. If you want to sweeten up your salad, then go ahead and add in about 1/4-1/3 cup.
Seeds – I used salted roasted sunflower seeds. If you want a change reach for shelled pumpkin seeds. They are a great source of nutrients and delicious. Find them in the nut aisle at the grocery store.
Broccoli Slaw – You could reach for a bag of broccoli slaw in replace of raw broccoli you dice up for this salad. It would be a twist in texture and flavor but still delicious.
Cheese – Sharp cheddar cheese, pepper jack or even a marbled cheese all work great in this recipe. Feel free to use any variety of cheese.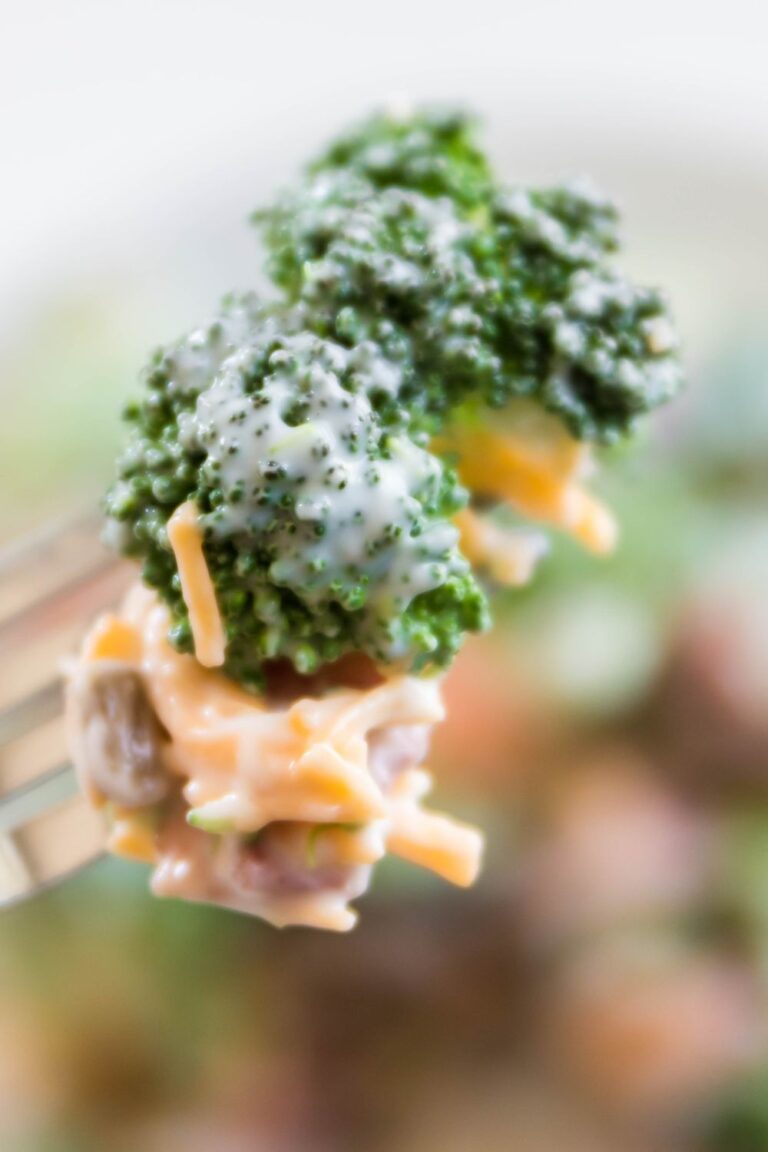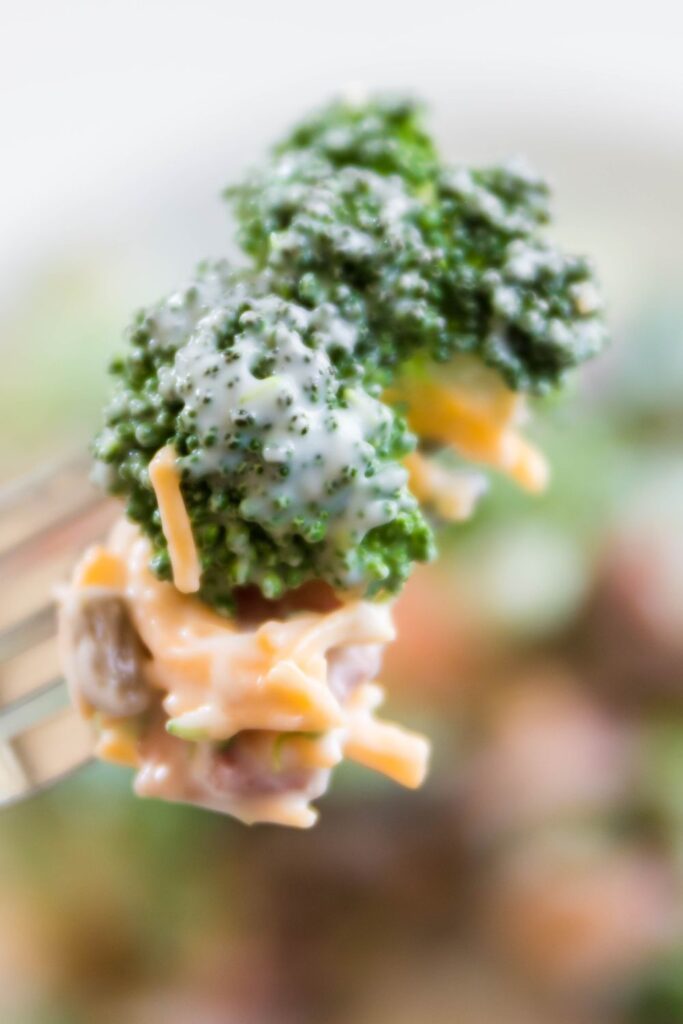 Storing Leftovers
You can store this raw broccoli salad with bacon in the fridge for 3-4 days. You will find after it begins to break down as it sits in the fridge.
Make sure to give the salad a toss after it has sat in the fridge for a bit. This will help mix up the sauce that settles at the bottom of the bowl.
FAQs
Here are some common questions for this bacon broccoli salad recipe.
More Broccoli Recipes
Have you tried the recipe? If so, please leave a star ⭐️⭐️⭐️⭐️⭐️ rating in the recipe card below or drop a comment. Also stay in touch with me through social media by following me on Facebook, Pinterest, or My Facebook Group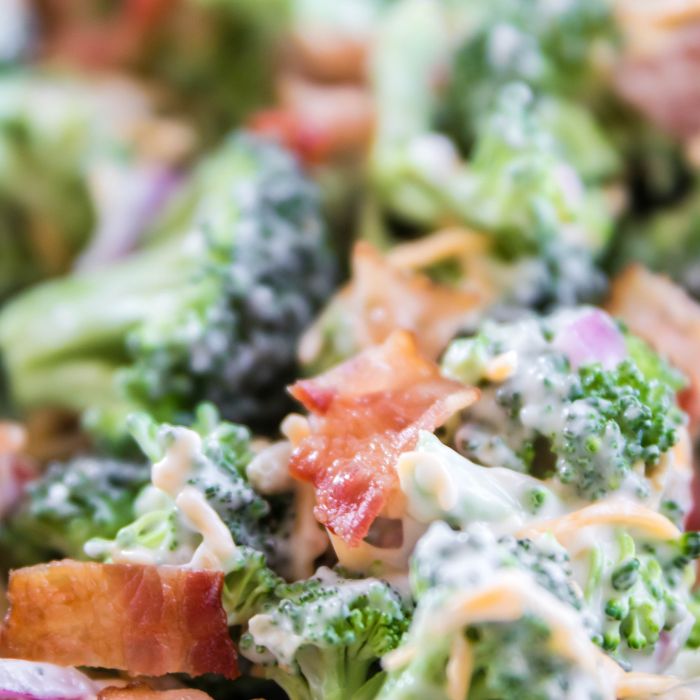 Broccoli Salad
Servings 12
Broccoli Salad is a delicious and easy side dish. Crisp broccoli, salted sunflower seeds, red onions, cheddar cheese in a creamy broccoli salad sauce. This is a classic side dish recipe.
Ingredients
6-8 slices bacon cooked and diced
1 cup shredded cheddar cheese
6 cups broccoli florets diced
1/3 cup sunflower seeds
1/3 cup red onion diced
1/2 tablespoon lemon juice
1 zest of lemon
1 1/4 cup mayonnaise
1 1/4 teaspoon Kosher salt
1 teaspoon black pepper
2 packets equal sweetener 2 grams
1/4 teaspoon dry mustard
1-2 teaspoons milk opitonal
Instructions
Start by slicing your onion and place in a bowl of ice water for 10 minutes. This is going to help tame down the red onion so it isn't as strong. Once done soaking, thinly dice up the onion. Cook your bacon while your onions are soaking then dice up.

Next you will wash and prep your broccoli by cutting off the stalks, and place the florets and even some of the stalks in a bowl to set aside.

In a large bowl add your mayonnaise, lemon juice, zest, salt, pepper, dry mustard, and artificial sweetener. Whisk to combine the mixture making sure it is nice and creamy.

Now add in your prepped broccoli, diced bacon, sunflower seeds, shredded cheese, and red onion.

Toss to mix up the mixture. If you find the broccoli salad sauce is too thick add 1-2 teaspoons of milk. This will help thin it out.

Cover and refrigerate the broccoli salad until you are ready to serve.
Notes
Sugar – I made this a sugar free broccoli salad, but you could add in 1/4 cup granulated sugar if you do not want to have it be sugar free.  Dried Cranberries – If you want sweet, add in 1/2 cup dried cranberries or even raisins.  Storing – Store your cold salad in the fridge for up to 4-5 days. Stir between each serving to incorporate the sauce. You can make this 1 day in advance. 
Nutrition
Serving: 1gCalories: 242kcalCarbohydrates: 5gProtein: 5gFat: 23gSaturated Fat: 5gPolyunsaturated Fat: 12gMonounsaturated Fat: 6gTrans Fat: 1gCholesterol: 20mgSodium: 469mgPotassium: 191mgFiber: 2gSugar: 1gVitamin A: 397IUVitamin C: 42mgCalcium: 96mgIron: 1mg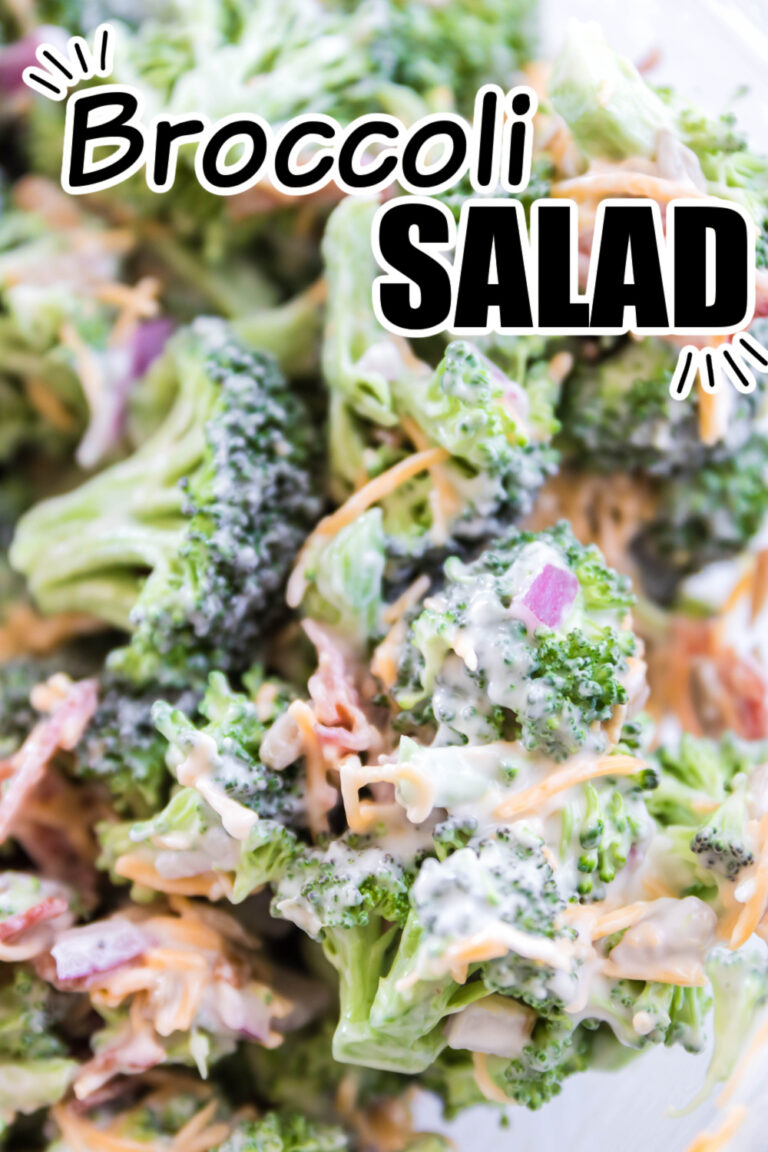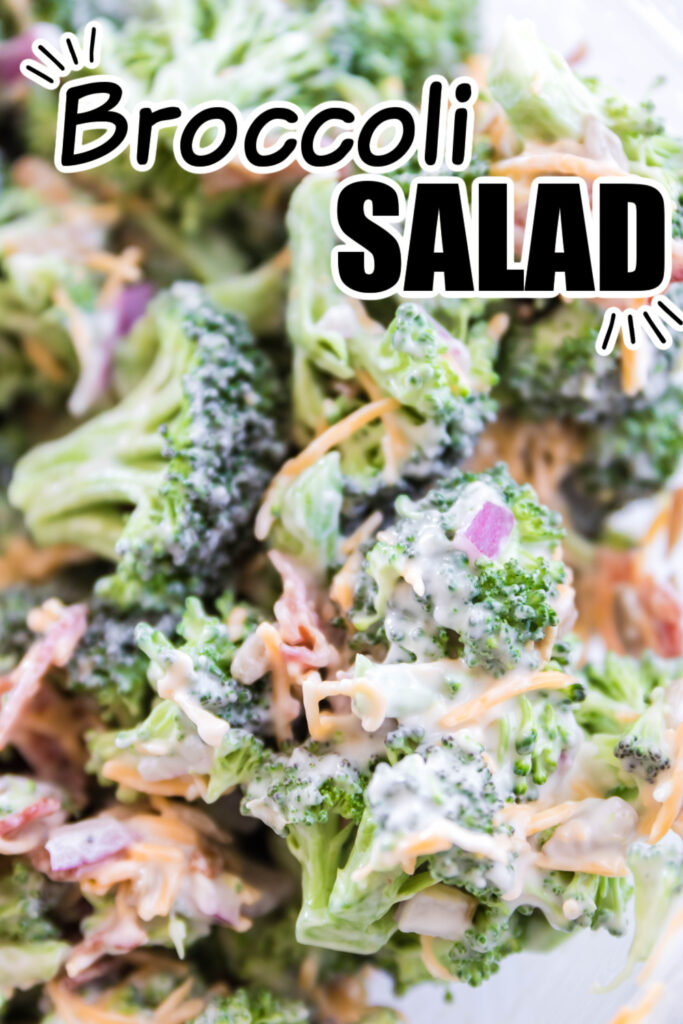 Reader Interactions