Cucumber Onion Salad is a refreshing and light summer salad. Cucumber onion vinegar salad is a classic recipe I have used for years.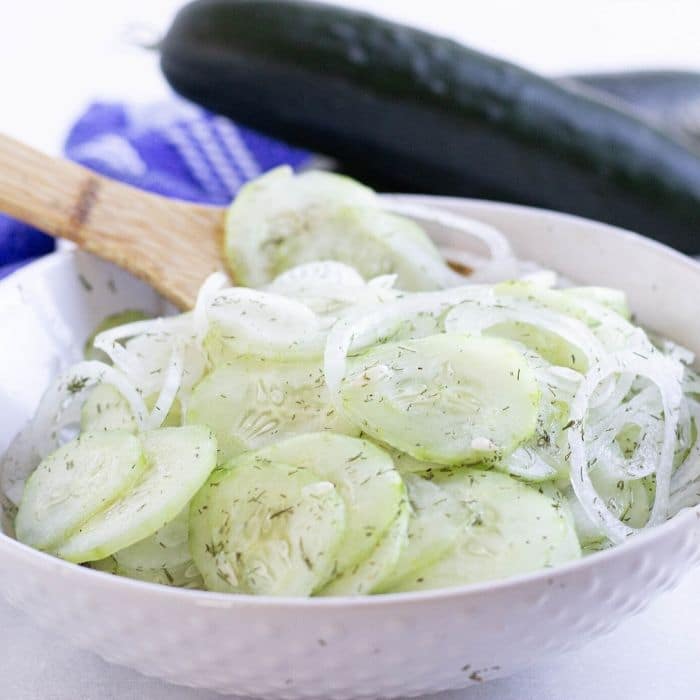 Cucumber onion salad is one side dish that is on constant rotation in the spring and summer months. A crunchy salad with thinly sliced cucumbers and onions.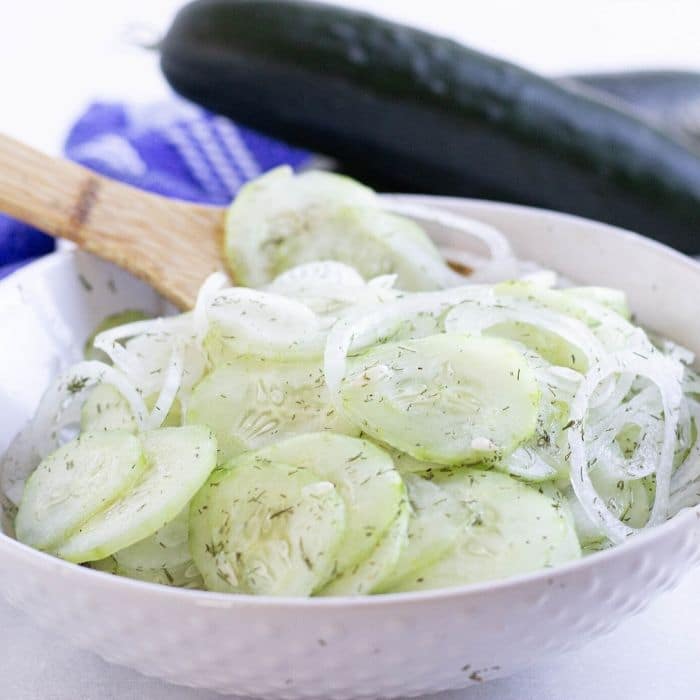 You use white distilled vinegar, dill, sugar, and water to create an incredible base to this fresh salad.
Cucumber Onion Salad
Cucumber salad is one side dish that many bring to potlucks, summer cookouts, and more. It is legit one of my husband's favorites.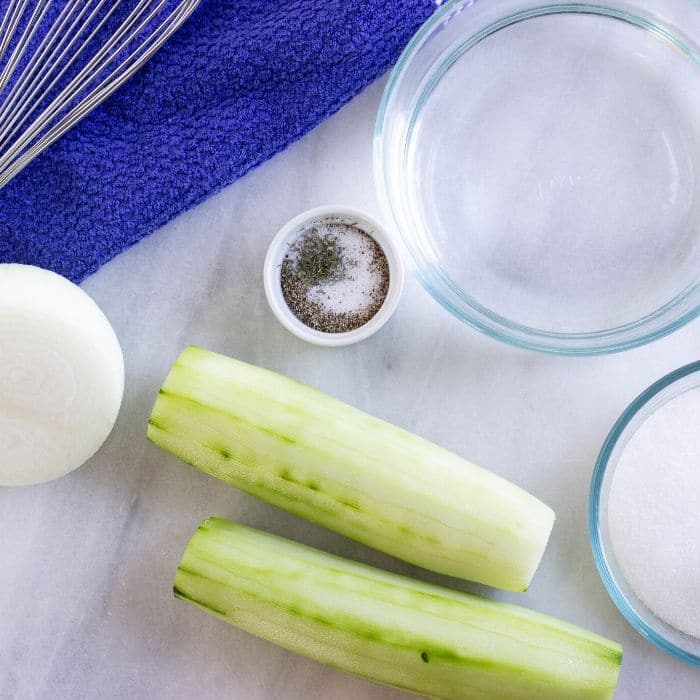 Ingredients For Cucumber Salad
English Cucumbers are my cucumber of choice. I find they have so much more flavor. But sometimes I use classic cucumbers if our stores are out. 
Onions of course! You can use a sweet onion, white, or even a red onion. They all work great and bring unique flavors in. 
Granulated Sugar is needed to help balance out the acidity from vinegar and offer the perfect sweetness. 
Dill can be either fresh dill or dried. A lot of times if it isn't quite the season for fresh dill I used dried with no troubles at all. 
Water is another ingredient to mix in to help blend it all and allow the flavors to mix. Without water the ingredients are too harsh. 
How to Make Cucumbers And Onions
The first step I do is mix my sugar, water, vinegar, and dill in a bowl. Stir until the sugar is melting in. 
Now you will wash and prep cucumbers, I like to peel mine but you can leave the peels on if you prefer. 
Thinly slice your cucumbers and onions. Toss into the mixture, stir, cover and allow to sit in the fridge to soak in the flavors. I tend to not eat the salad until it has soaked in the mixture for at least 6 hours.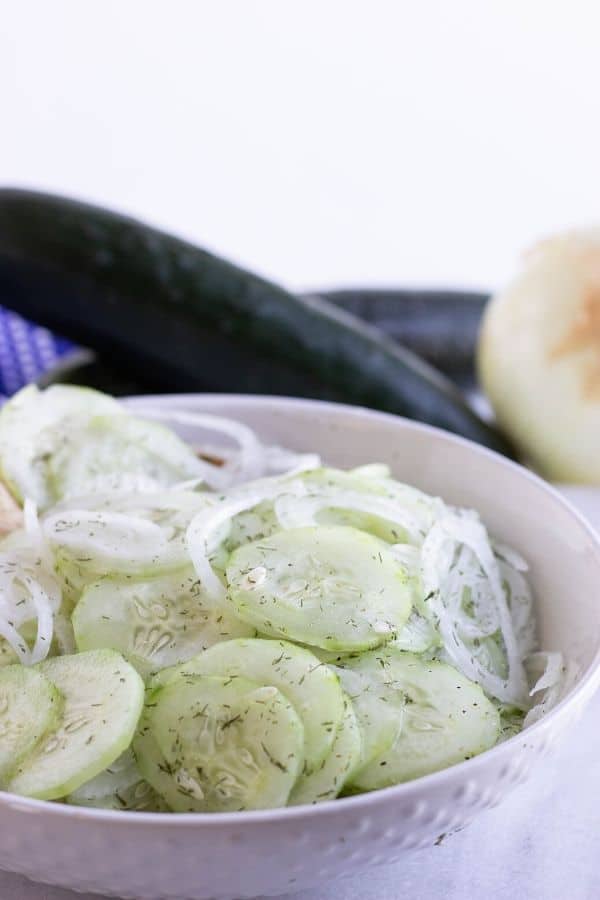 What Do You Serve With Cucumber and Onions
This cucumber and onion vinegar salad is light, refreshing and really pairs with almost anything. From lobster rolls, juicy steak, to even chicken planks. Even a plain sandwich is a fantastic option. 
Variations to Salad
Reach for Apple cider vinegar to replace white distilled vinegar.
Use pickling cucumbers instead of English cukes.
Slice and toss in tomatoes to go with your onions and cucumbers.
Add in garlic that has been chopped up.
Etc
There are so many ways to change up the base of this summer salad. Make it how you would like!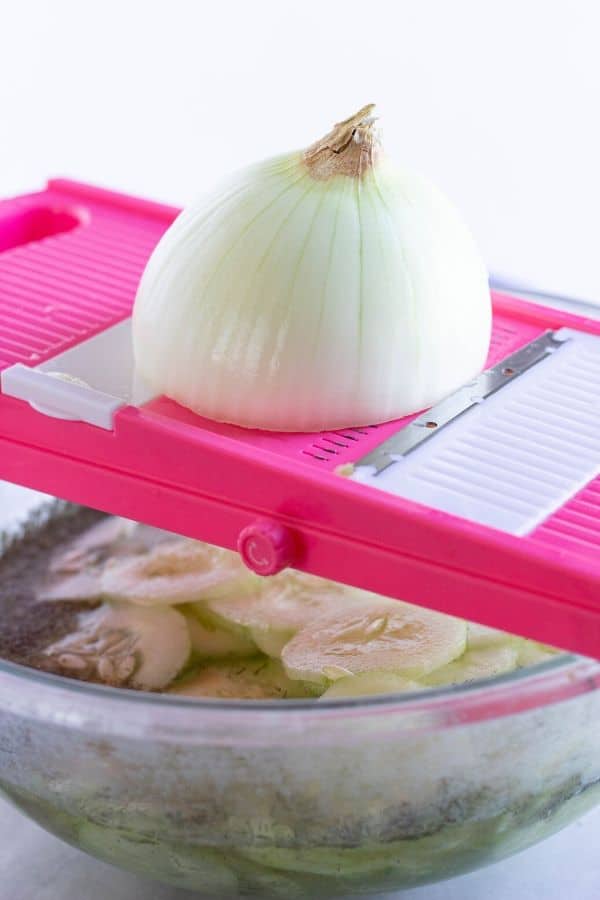 How To Slice Vegetables
I highly recommend buying a mandoline to use. This way you can adjust the thickness and then slice away. It will give your onions and cucumbers a consistent thickness. 
Personally we prefer a thinner sliced salad. As the vegetables marinate in vinegar, they become softer in texture. You still have a crunch, but thru really soak up tons of flavor.
You are welcome to make them a little bit thicker. Just know the thicker they are the longer it takes for your salad to fully marinate.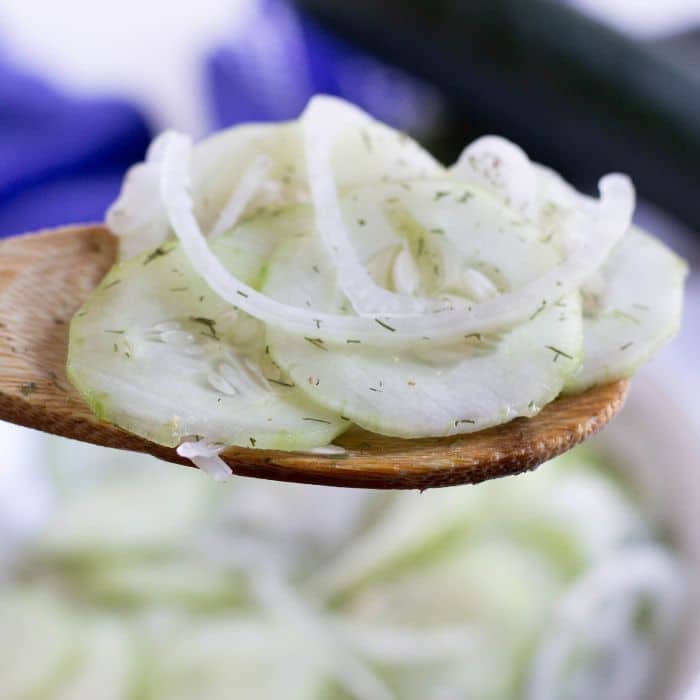 How to Store
Your onion salad needs to be stored in the fridge. Make sure to place it in an airtight container. Or opt for aluminum foil to tightly cover. 
You can stir here and there as the salad sits to ensure it all blends well. 
This vinegar-based salad will stay good in the fridge for at least a week. The vegetables will get a bit more tender the longer they sit in the marinade. 
Craving More Summer Salads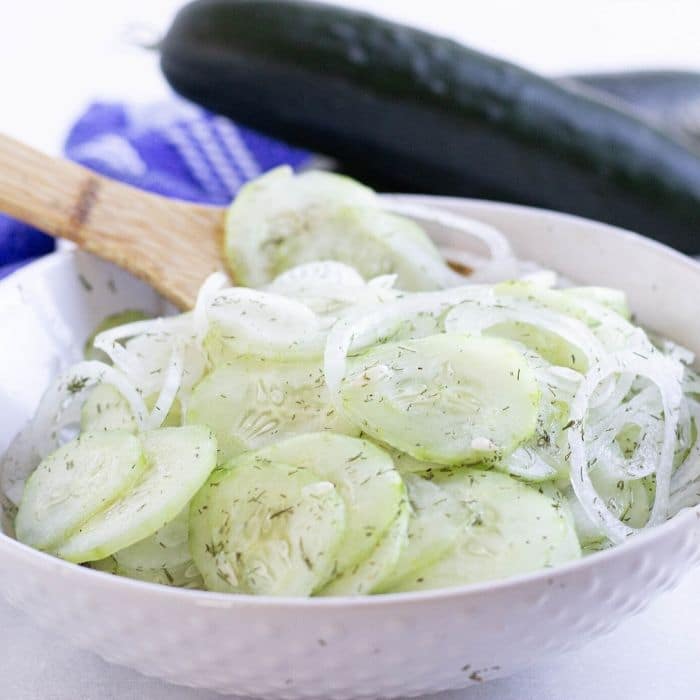 Cucumber Onion Salad
Servings 8 servings
Cucumber Onion Salad is a refreshing and light summer salad. Cucumber onion vinegar salad is a classic recipe I have used for years.
Ingredients
1 medium onion white, yellow or red thinly sliced
2-3 cucumbers peeled and sliced
2 cups water
1 cup white distilled vinegar
1/2 cup granulated sugar
1 1/2 teaspoons dried dill
Instructions
Start by adding your water, vinegar, dill, and sugar into a bowl. Stir well until the sugar begins to dissolve.

Now peel your cucumbers and thinly slice them. I used a mandoline for similar-sized cucumbers.

Followed by slicing your onion thinly as well.

Give the salad mixture a stir and cover and place in the fridge for around 6 hours or longer to marinade.

Stir and then serve your cold cucumber onion vinegar salad to guests or your family.
Notes
You can double or even triple this cucumber salad recipe, with no troubles.
Nutrition
Serving: 1gCalories: 71kcalCarbohydrates: 17gProtein: 1gSodium: 5mgFiber: 1gSugar: 14g
Are you a fan of cucumber onion salad?
Reader Interactions