My Mexican Coleslaw is a Tex-Mex spin on a classic coleslaw recipe. Get that creamy South of the Border flavor in every bite, and this Mexican Slaw is going to win over any crowd. Crispy slaw with a tang from the lime juice, and creamy dressing is great for serving as a side at your summer cookouts, or use this Mexican coleslaw for tacos, it makes a great topping.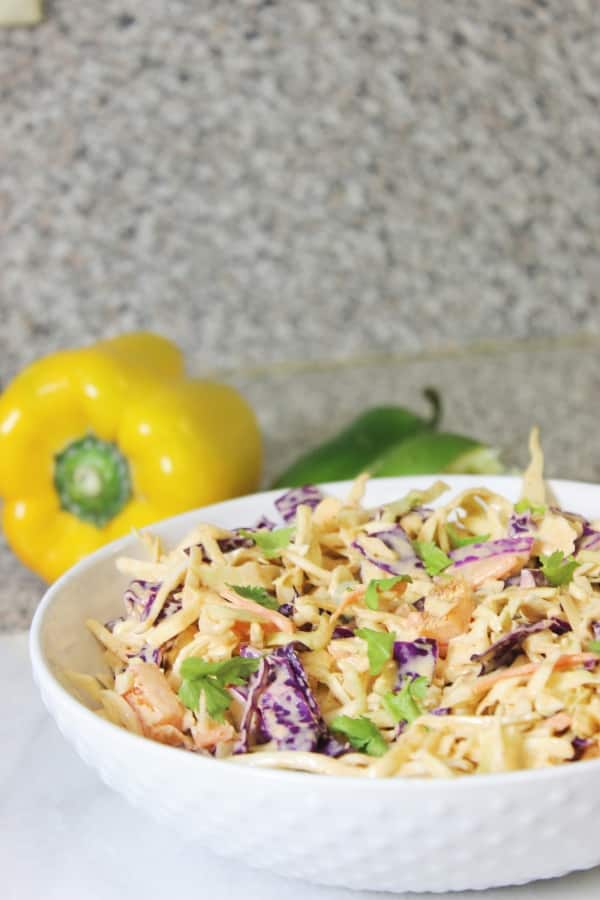 It is no secret when cabbage is around, our family dives head first in! Egg roll in a bowl, classic KFC coleslaw, or maybe a twist with sunflower seeds in a lemon dill coleslaw. We love slaw, there is no other way around it! My latest coleslaw recipe is a copycat Chick Fil A coleslaw recipe!
Easy Mexican Coleslaw
This Mexican Coleslaw uses taco seasoning and a mix of mayo and sour cream as the base. Just thirty minutes in the fridge to marinade the flavors and you can serve up this coleslaw!
The first night we ate this as a side dish, then the next night I made crispy flour shelled tacos and we used the Mexican coleslaw for the tacos toppings! It added crunch and so much fresh and vibrant flavor to the tacos! Ground beef, fish tacos, chicken tacos, or even turkey, it works with all types of tacos!
The Best Mexican Slaw
I used a mix of coleslaw mix and then added in more cabbage for color and crunch factor. You are welcome to buy a bag of mixed and call it good, our store only sells one kind of coleslaw mix!
More Favorite Side Dish Recipes
How To Make Mexican Coleslaw
Here is a quick video that shows you how easy this Mexican coleslaw recipe is to make. Print the recipe below!
Add-Ons To Dress Up Your Slaw
Sunflower Seeds or Pepitas
Roasted Sweet Corn (we do this but it was not in season at the time!)
Black Beans
Green Onions
Diced red onions
Crunched up Frito Chips
Shredded Cheese (Monterey Jack, sharp, or any other flavor you want)
How Long Will Mexican Slaw Last In Fridge
You can keep leftover Mexican slaw in the fridge for up to 3 days. Each day it will begin to lose a bit of the crispness but still offer great flavor. Just keep it in an airtight container so it stays fresh.
Ways To Serve Mexican Coleslaw
Serve as a side to a chicken, beef, smoked ham, pulled pork, or any other protein.
Top tacos or make a taco salad
Add in shredded chicken or ground beef for a full salad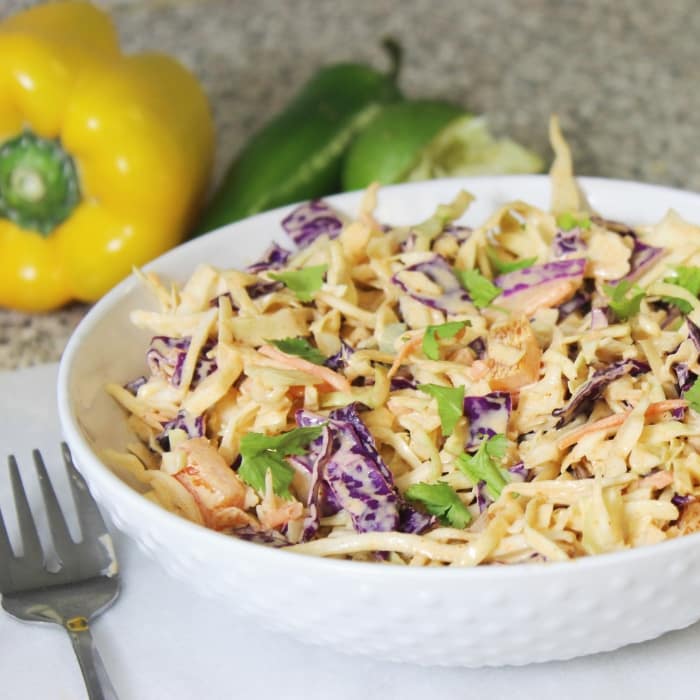 Can I Use A Head of Cabbage Instead of Bagged Coleslaw?
Feel free to skip the bagged coleslaw and cut up a head of green cabbage in replace of the bagged coleslaw. I use it for easy prep, but you are welcome to buy a head of lettuce if you want. And then if you go that route, you might want to add in some shaved carrots as well. Shredded cabbage is the main ingredient in slaw mix, so don't fret if you buy a head of cabbage over bagged.
I then do a cup or so of red cabbage cause it adds color but even more flavor to the mix. You are welcome to opt out if you want.
Which Peppers Are Best For Mexican Slaw?
I used a red bell pepper paired with jalapeno. You are welcome to use green or yellow bell peppers in replace if you want. The jalapeno is tame since you de-seed and remove the membrane. If you want to keep the heat, then leave some seeds!
I think you will love this Mexican slaw, it is a fun twist to Mexican food as a side dish.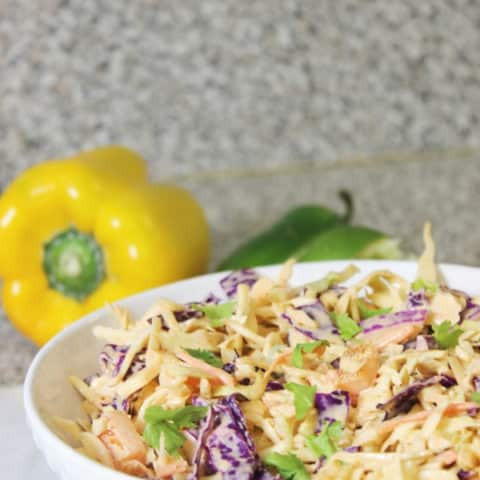 Mexican Coleslaw Recipe
Additional Time:
30 minutes
Mexican coleslaw gives you that south of border flavor. A tex mex coleslaw you will love eating as a side or topping tacos.
Ingredients
3/4 cup mayonnaise
1/2 cup sour cream
1/2 packet of taco seasoning (or make homemade if you prefer)
2 tablespoons lime juice
1 (14-ounce) bag coleslaw mix
1 cup shredded red cabbage
1/2 cup diced red pepper or yellow
1 jalapeno diced and de-seeded
Cilantro for topping (optional)
Instructions
Start by mixing your mayo, sour cream, lime juice, and taco seasoning together.
Toss in your diced peppers and jalapeno.
Then add in your chopped cabbage and slaw mix.
Stir well until all is coated, and then toss in fridge for 30 minutes before serving.
Notes
To tame down the heat of jalapeno, de-seed the pepper and remove membrane. Then rinse in cold water to get rid of the oils. Then dice fine and add into slaw mix.
Nutrition Information:
Yield:

10
Serving Size:

1
Amount Per Serving:
Calories:

164
Total Fat:

16g
Saturated Fat:

3g
Trans Fat:

0g
Unsaturated Fat:

12g
Cholesterol:

15mg
Sodium:

238mg
Carbohydrates:

5g
Fiber:

1g
Sugar:

3g
Protein:

1g
How Far Ahead Can I Make Coleslaw?
You are welcome to make your coleslaw the night before if you would like. It just needs a minimum of thirty minute chill time in the fridge before serving. But, if you are prepping ahead feel free to make ahead by 24 hours or so.
Serve with some fresh lime wedges so your company can drizzle on more lime juice for added tangy flavor if you want.
Can You Freeze Coleslaw?
You can't, this recipe uses mayonnaise, and that makes it unable to be frozen. It will break down and ruin the slaw mix once it thaws after being frozen.
Can Fresh Shredded Cabbage be Frozen?
If you have leftover cabbage you are welcome to freeze your cabbage. Just cut your cabbage into wedges or quarters and toss in the freezer for up to 4-6 weeks. Now, if you blanch your wedges for around 60-90 seconds you are able to freeze your cabbage for longer.
When you go to use the leftover cabbage this is great for tossing in soups, stews, and even casseroles. It will not have the same crisp texture, but is still a tasty way to mix into recipes!

Have you ever made Mexican coleslaw before?