This easy KFC coleslaw recipe is one I have been making for literally years. It tastes so similar to the KFC coleslaw, the only difference is I don't dice my coleslaw up, but if you prefer that texture, by all means, chop away!
Pair this coleslaw with some chicken and rolls, and you have a dinner anyone will love.
If you have never made homemade coleslaw, don't be afraid, it takes 5 minutes of prep, and then just let it do its magic in the fridge.
You have that crisp cabbage, bites of refreshing carrots with that creamy coleslaw sauce. Or change it up and try my Southwest Coleslaw or Chick Fil A Coleslaw!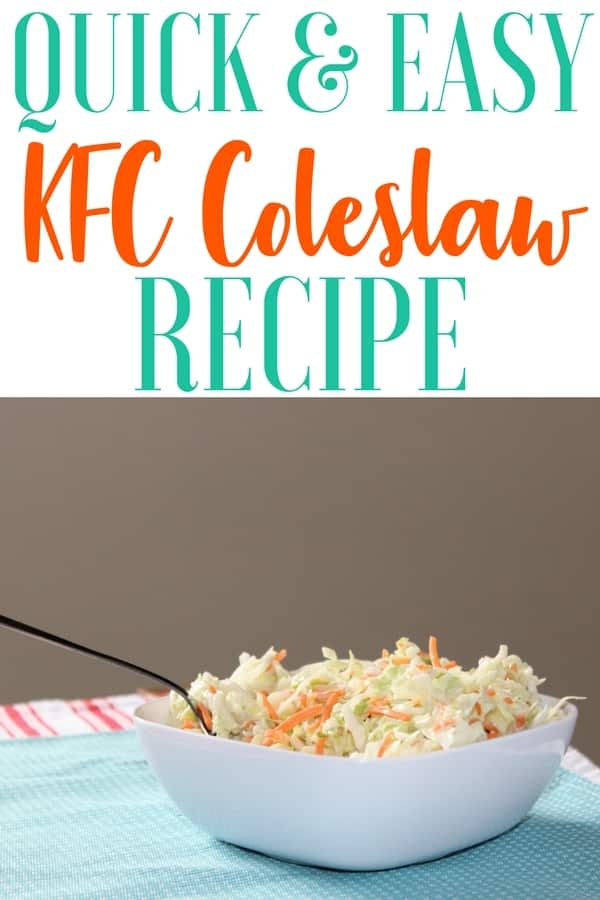 I love going to KFC and getting a bucket of crispy chicken, coleslaw, and green beans. Don't even get me started on their biscuits with that glorious honey!
I am a sucker for chicken, I think it is safe to say it is by far my favorite protein. Our household fell in love with the KFC coleslaw and I knew I had to try and make something similar so we could enjoy it more often.
We live a town away and we didn't get to eat it often, and now we can have it anytime we want.
The blend of cabbage and carrots with a creamy sauce is outstanding. This kfc coleslaw recipe is my go-to for years. Don't change what isn't broke, am I right?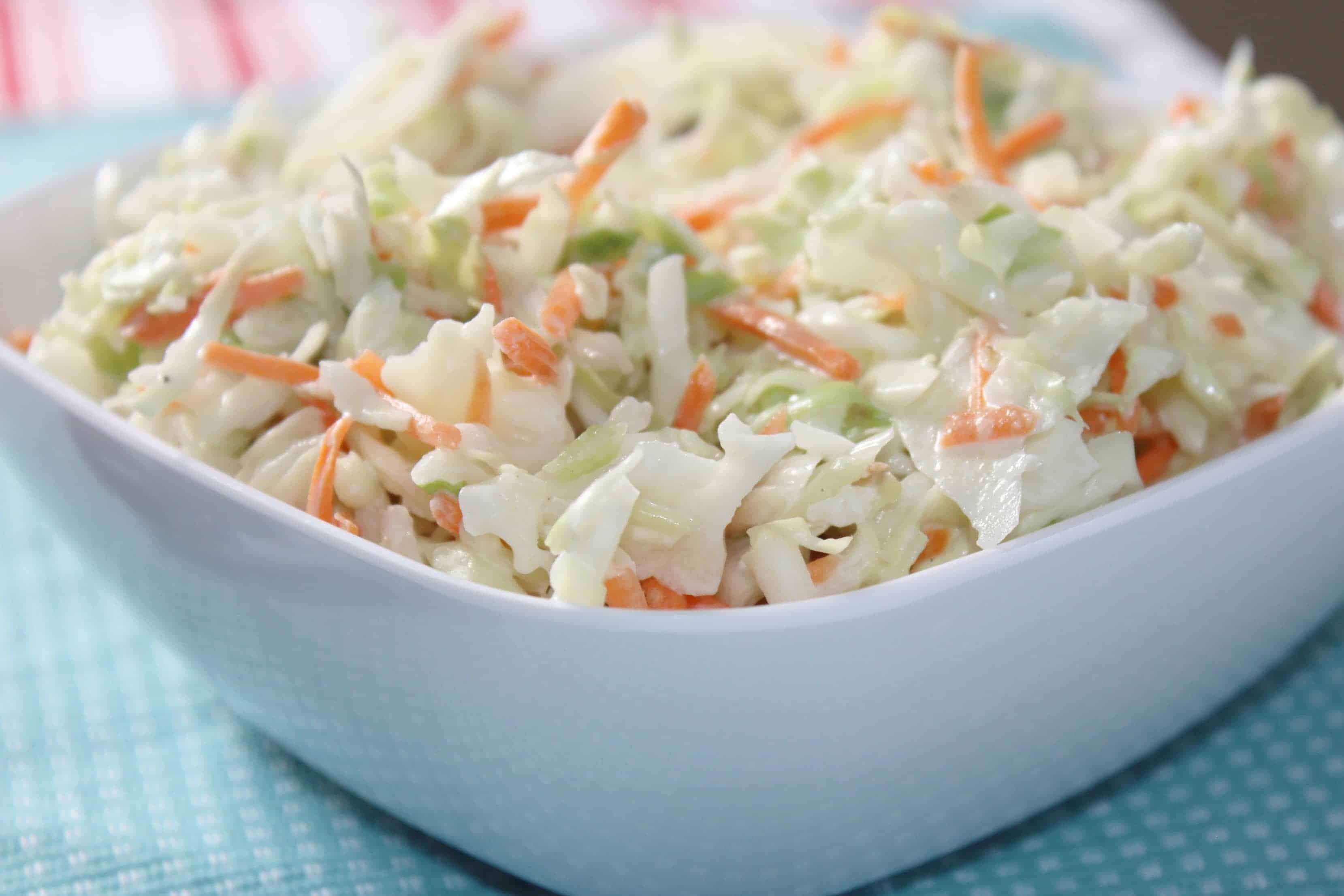 Quick and Easy KFC Coleslaw Salad Recipe
I buy the shredded cabbage and carrot mix, but you are more than welcome to buy a head of cabbage and carrots and shred them yourself.
I am just a mom of a toddler and I don't always have the time to fully do it all, so I cut corners when I can.
Simple ingredients are all you need to make this transform into a perfect side dish. The hardest part is waiting for it to break down a bit, so you can serve it.
I have made my own buttermilk and bought buttermilk to use in this recipe. I find that store-bought buttermilk gives this a more creamy texture over homemade.
Both routes work, but I prefer buying buttermilk. This kfc coleslaw recipe makes the perfect side dish.
More Side Dish Recipes
How Do You Make KFC Coleslaw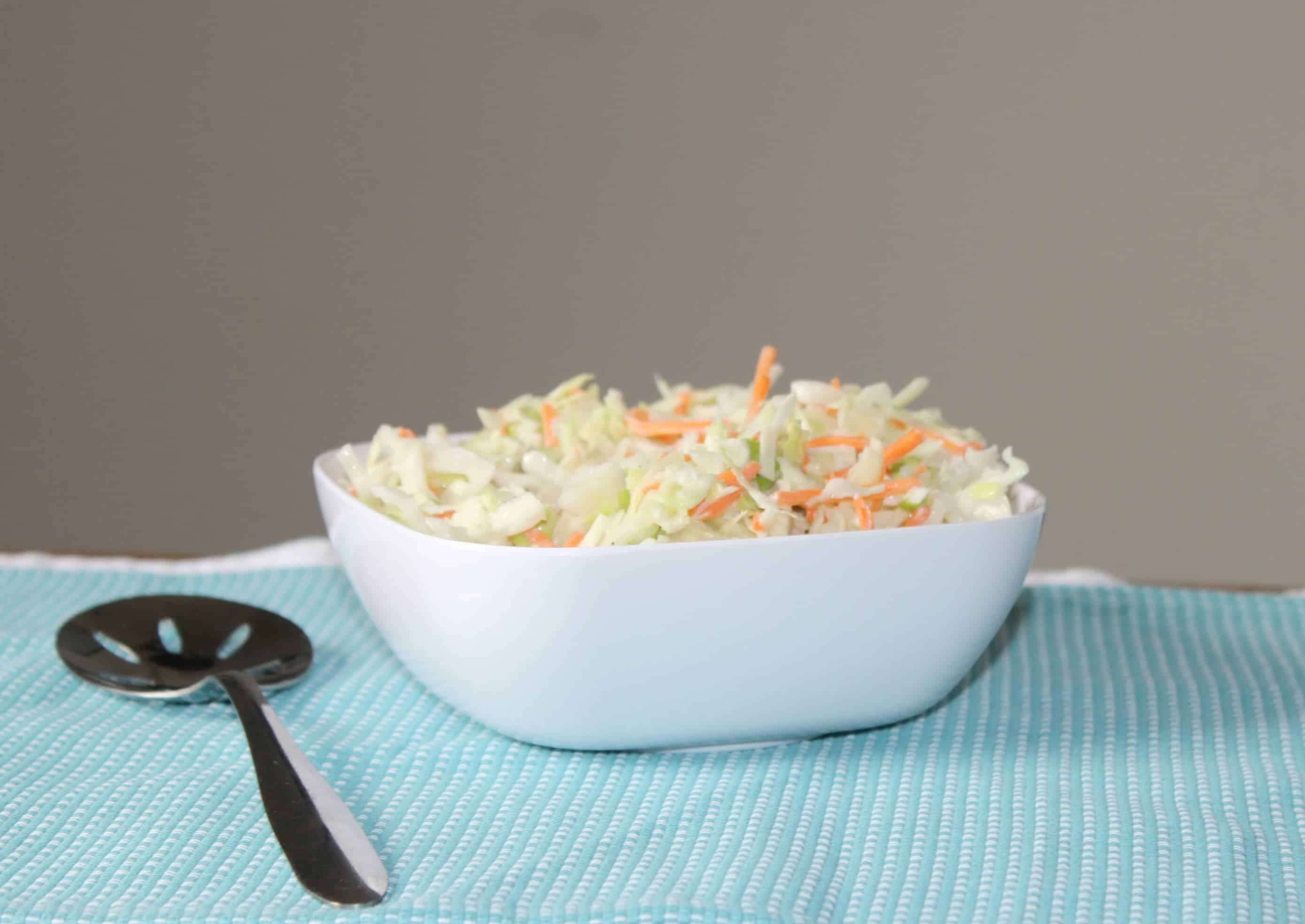 You simply create the sauce and then slowly stir in the cabbage. Allow it to break down and then before you know it you have one delicious side dish.
It offers just a hint of sweetness, the sugar really helps in breaking down the slaw mix.
7 Weight Watcher Freestyle Points for Coleslaw Recipe
If you are doing Weight Watchers, it is 7 points with Light Mayo and 11 points with regular mayonnaise! A decent side dish recipe to consider for your parties, and gatherings.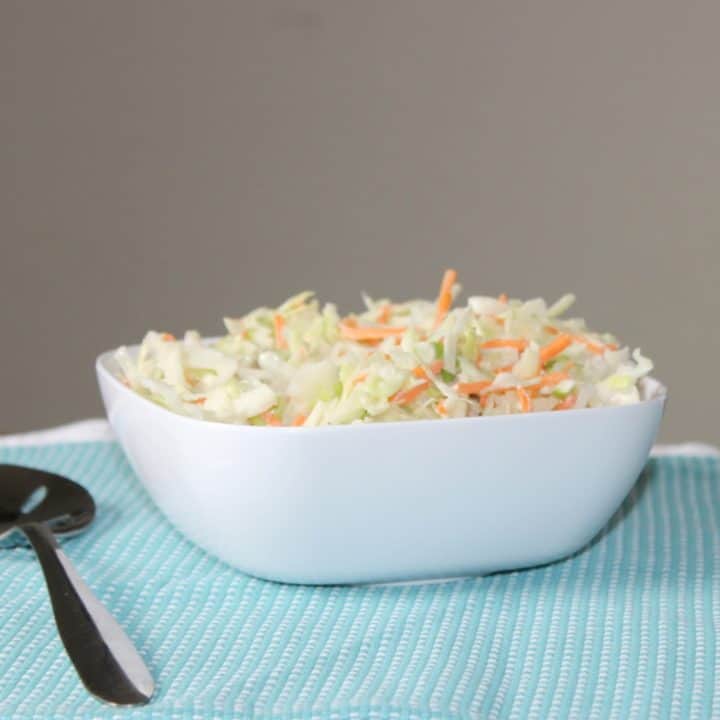 Easy KFC Coleslaw
Total Time:
3 hours
10 minutes
Copycat KFC Coleslaw is a creamy and savory coleslaw that gives you that favorite takout coleslaw you know and love. Learn how to make a creamy homemade coleslaw with coleslaw dressing that will win over a crowd.
Ingredients
1/4 cup buttermilk
1/2 cup mayo
1/4 cup milk
2 tbs lemon juice
1 package cabbage mix
1 1/2 tbs vinegar, white distilled
1/4 cup granulated sugar
1/2 tsp salt
1/8 tsp pepper
Instructions
Start by adding your buttermilk, milk, white distilled vinegar, lemon juice, sugar, and a dash of salt and pepper in a bowl. Whisk all the coleslaw dressing ingredients until nice and creamy.
Now you will take your coleslaw mix and chop it up a bit, to give it that chopped coleslaw texture that KFC is known for. You can skip this step if you would like.
Pour the shredded cabbage and carrot mixture into the coleslaw and stir until the mixture is well combined for this side dish.
Now take your coleslaw and cover it and place it in the fridge for 4 hours. Remove from the fridge, give a good stir and serve.
This copycat KFC coleslaw recipe serves around 6-8 servings.
Recommended Products
As an Amazon Associate and member of other affiliate programs, I earn from qualifying purchases.
Nutrition Information:
Yield:

8
Serving Size:

1/2 cup
Amount Per Serving:
Calories:

130
Total Fat:

11g
Saturated Fat:

2g
Trans Fat:

0g
Unsaturated Fat:

9g
Cholesterol:

7mg
Sodium:

254mg
Carbohydrates:

8g
Fiber:

0g
Sugar:

7g
Protein:

1g
How Do You Make Coleslaw with Vinegar and Mayo
What I do is add in all the ingredients of the sauce together. Use a whisk and get it nice and creamy, then mix in your coleslaw.
If you don't mix your base sauce with vinegar and mayo, it can begin to curdle if not mixed well. By doing it this way you get that creamy sauce you want.
How to Make Coleslaw with A Head of Cabbage
Dice up your head of cabbage so it is shredded. Then add in some shredded carrots.
If you are using a whole head of cabbage, then I would double the sauce recipe, so that you have enough mix to help break down your cabbage.
How Long is KFC Coleslaw Good For
When properly stored, I saw 3-4 days tops. After a few days, you will find the coleslaw becomes a lot mushier and you lose that crunch factor. The best days to eat coleslaw are day 1 and 2 for sure, it has the best texture.
As you can see a few simple steps is all it takes to make the perfect side dish to serve up this summer.
We love to make this for our bbq's, sausage balls, and other dishes that seem to go perfectly with coleslaw.
Can You Make Coleslaw Ahead Of Time
You sure can!
Just make the dressing the day before or the night before, and store in an airtight container.
Then the day of you want to mix it with the slaw and let it sit for 4 hours before serving. You will still have that nice crunch of the coleslaw and carrots this way.
Can Coleslaw Be Frozen
Because there is mayo in this recipe, the answer is no. When you freeze coleslaw that has mayo, it will separate and become curdled once you thaw it out.
How Long Does Shredded Cabbage Last
If you use a head of cabbage to make and don't use it all, you can keep the rest of your head for 2-3 days once it is cut.
Just cover and refrigerate what you don't use. Then you can use up the leftovers in other recipes.
4 Health Benefits of Cabbage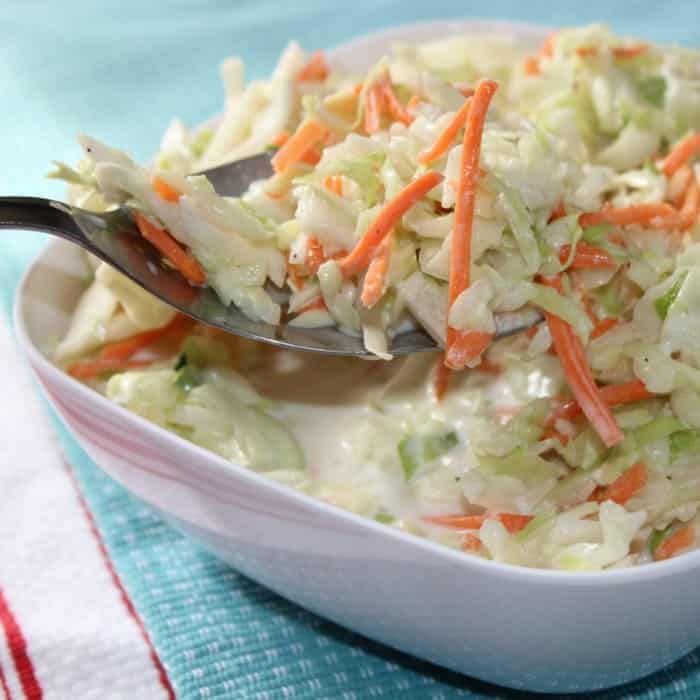 If you are looking for more excuses to eat coleslaw, then check out these health benefits of cabbage below.
Whether you are serving them up in a tasty coleslaw or eggrolls, you will gain some awesome benefits from the cabbage!
Vitamin K
Cabbage is packed full of vitamin K, which is great for your bones. It helps strengthen them and helps mineralization of your bones.
Stomach Issues
If you struggle with ulcers or issues in your stomach you might reach for some cabbage. It has been known to help speed up the healing process and soothe some GI tract issues.
Fights Against Cancer
Cabbage has isothiocyanates, which are molecules that have been shown to offer anti-cancer properties.
While I can't say it will cure cancer it has been said that it is good to have in your diet to help fight against cancers like lung, breast, and even leukemia.
Antioxidants
Move over blueberries, there is another food that has high levels of antioxidants! Cabbage has polyphenols which is great for protecting our body and skin and protecting from UV rays from the sun.
Do you like KFC coleslaw?