Check out these best coleslaw recipes for you and your family to make! From the classic coleslaw to a crunchy and crispy twist, I got you covered. Coleslaw is something that is always welcome in our home, and these coleslaw recipes below will not disappoint.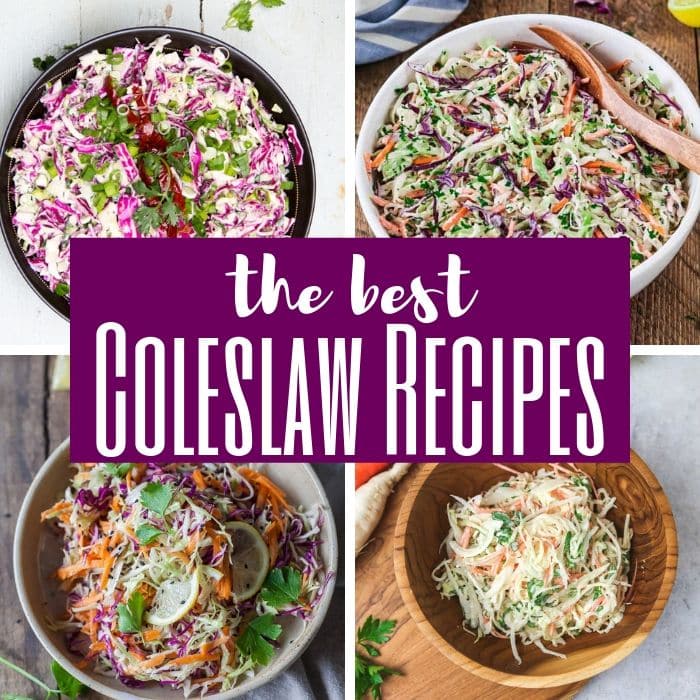 If you follow my site, you know I love coleslaw in all forms. From a classic creamy mixture to a south of the border twist with fresh lime juice. Let me share all my favorite coleslaw recipes with you below.
Even More Delicious Side Dish Recipes To Try
Best Coleslaw Recipes
The Best Coleslaw Recipes To Make All Year Round
Looking for the best coleslaw recipes? Well, you found them. Here are a handful of coleslaw recipes from sweet to savory and even a few spicy ones!
What to Serve With Coleslaw?
Depending on the type of coleslaw you made, will depend on how you want to serve it up! Let me share some ideas with you so you can see different ways to enjoy this tasty coleslaw side dish.
Top pulled pork or beef sandwiches with a bit of a classic or spicy slaw.
Fill your tacos with a pile of coleslaw.
Eat as a side for your main dish, whether beef, pork, hamburgers, chicken, etc.
Or find any other way you like pairing your coleslaw to your other recipes.
Can You Heat Coleslaw?
Coleslaw or slaw is made with fresh cabbage and a creamy dressing. Most of the ingredients in coleslaw would not heat well, as it would break down, become mushy and the flavors would change. Almost any coleslaw recipe will need to be chilled and refrigerated.
Can You Freeze Shredded Cabbage?
If you are making a coleslaw recipe and have extra cabbage leftover you can actually freeze it. Simply place in a freezer bag and freeze as is. Or if you want you can blanch and freeze the cabbage leaves if you prefer.
How Long Will Coleslaw Last In The Fridge?
Depending on your recipe will vary in how long coleslaw will last. But in generally you will only want to keep your coleslaw mixture for around three days. Anything after that you will want to toss it out.
I hope you enjoyed all these incredible coleslaw recipes to give you inspiration on how to change up your coleslaw game!
Have you tried one of these best coleslaw recipes listed above?