Nutella cupcakes with homemade pistachio chocolate buttercream frosting. A tasty treat to serve up for parties, afternoon snacks, baby showers, wedding parties, and more. A chocolate cupcake with a dollop of hazelnut spread and topped with silky smooth buttercream frosting and pistachios. These hazelnut cupcakes will be a delight.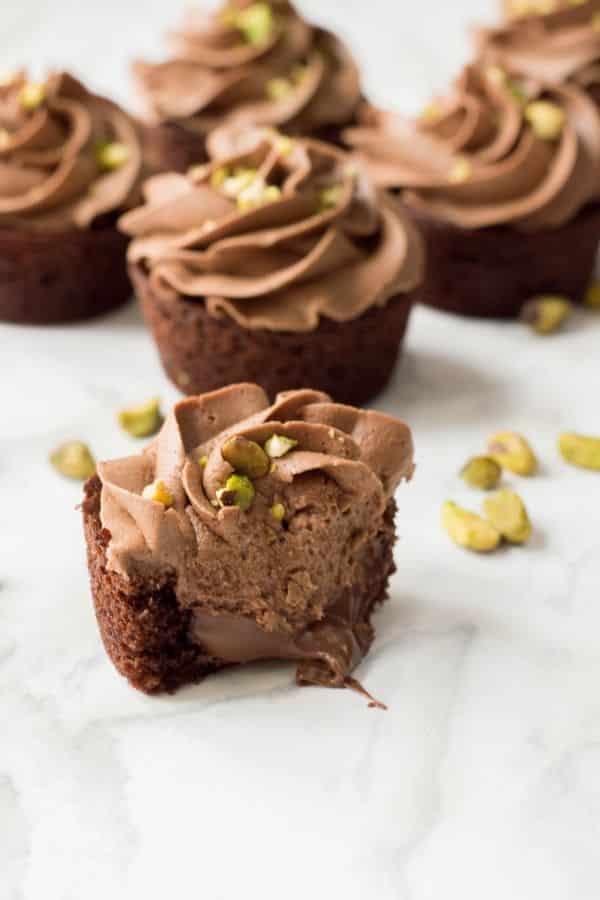 Chocolate cupcakes are always welcome in our home. Transform it into a Nutella cupcake recipe and that really takes the cake! I made a homemade chocolate buttercream frosting recipe that is to die for. Add in the pistachio on top, for that added crunch, and it takes these cupcakes from a 8 to a 10!
Check Out More Cupcake Recipes
Nutella Cupcakes
A rich and vibrant chocolate cupcake, a dollop of hazelnut spread, and then your frosting is all you need. But, to take it one more step add on a Ferrero Rocher
instead of pistachios if you choose. However you choose to decorate your cupcakes, will be a delight.
Nutella Chocolate Cupcakes with Pistachio Buttercream Frosting
Let me walk you through some tips and tricks for making cupcakes, troubleshooting, and ending up with an incredible light and moist cupcake that you are proud of.

Can I Use A Box Cake Mix Instead of Homemade Chocolate Cupcakes
Sure. Feel free to use whatever you like. This chocolate cupcake recipe is really easy, but if you prefer box chocolate cake, go for it. You will follow the same steps, and then just cut hole for the Nutella spread.
What Makes A Cupcake Fluffy
Making sure you don't overmix your batter is important. If you do, you will find you get a more dense cupcake. When you are using your stand mixer or even hand batter, whip the ingredients but aim to not overmix. You will create air pockets in batter that releases as it bakes offering a light and fluffy cupcake.
How To Make Nutella Chocolate Cupcakes with Pistachio Buttercream Frosting
Start by preparing your cupcakes! Once your batter is mixed, spoon it into your muffin tin. Make sure to spray your muffin tin with a cooking spray.
Once the cupcakes are baked, allow to cool, then work at cutting out a hole in the cupcakes. This is where you will put your Nutella spread
or other hazelnut spread you want.
Then whip up your homemade frosting and use a piping bag and Wilton 1M tip
and pipe onto cupcakes. Top with crushed pistachios
, and then serve.
Can I Transform This Recipe Into a Cake
Absolutely. Use your choice of cake pan and bake until it is cooked through and the toothpick comes out clean when poked in the center. You will adjust the baking time depending on the cake pan size you use.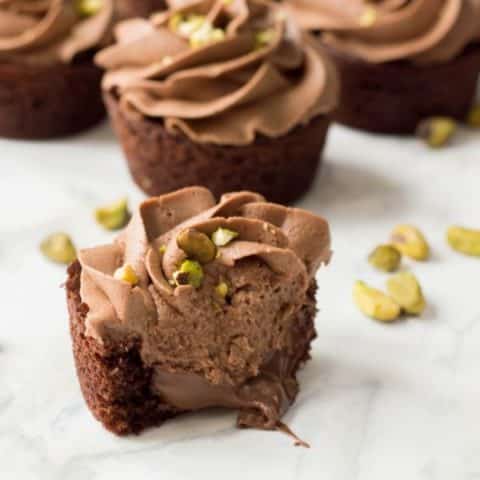 Nutella Cupcakes with Pistachio Chocolate Buttercream
Homemade Nutella Cupcakes with Chocolate Buttercream Pistachio frosting. Light and moist chocolate cupcakes with a homemade buttercream frosting.
Ingredients
For the cupcakes:
1 cup all purpose flour
½ cup cocoa powder
½ tsp baking soda
1 tsp baking powder
½ tsp salt
1 large egg (room temperature)
1 cup granulated sugar
½ cup vegetable oil
½ cup milk
½ cup hot water
½ cup Nutella spread (or other hazelnut spread)
For the frosting:
2 sticks butter, softened
4 cups icing sugar, sifted
3-4 tbsp milk
3 tbsp cocoa powder
¼ cup pistachios (out of the shell)
Instructions
Start by preheating the oven to 350 degrees. Then spray the muffin pan with cooking spray.
In a bowl mix dry ingredients - flour, baking powder, baking soda, cocoa powder, and salt. Set aside.
Then in a large bowl or stand mixer, mix your eggs and sugar. Next, add in your vegetable oil.
Now you want to alternate with milk and dry ingredients. Slowly incorporate each ingredient, then add a splash more milk or flour until it is all mixed.
Once well mixed, add in your hot water, then scoop batter into muffin pan (about 2/3rd way full).
Bake for 15-17 minutes and allow to cool on a cooling rack.
After the cupcakes have cooled, cut out the top of each cupcake, around 1/2 in in size and 1/2 in deep.
Then fill each cupcake with a tablespoon of Nutella spread.
Now, you want to make the homemade frosting.
Start by beating all the ingredients for the frosting except the pistachios. Start on a lower setting then increase to high. You want it to form semi soft peaks.
Pour frosting into a piping bag with a #1M tip.
Frost cupcakes, and sprinkle crushed pistaschios on top.
Recommended Products
As an Amazon Associate and member of other affiliate programs, I earn from qualifying purchases.
Nutrition Information:
Yield:

18
Serving Size:

1
Amount Per Serving:
Calories:

386
Total Fat:

21g
Saturated Fat:

9g
Trans Fat:

1g
Unsaturated Fat:

10g
Cholesterol:

39mg
Sodium:

231mg
Carbohydrates:

48g
Fiber:

1g
Sugar:

39g
Protein:

3g
How To Store Cupcakes
Because of the buttercream frosting you will want to store these cupcakes in the fridge to preserve the frosting. You can keep your cupcakes in the fridge for 3-5 days. After that they will begin to dry out.
Can You Freeze Chocolate Hazelnut Cupcakes
Yes. Feel free to take what you don't plan to eat, and toss in the freezer in an airtight container
. Then freeze around 2-3 months. Thaw in the fridge or on the counter for a quick treat.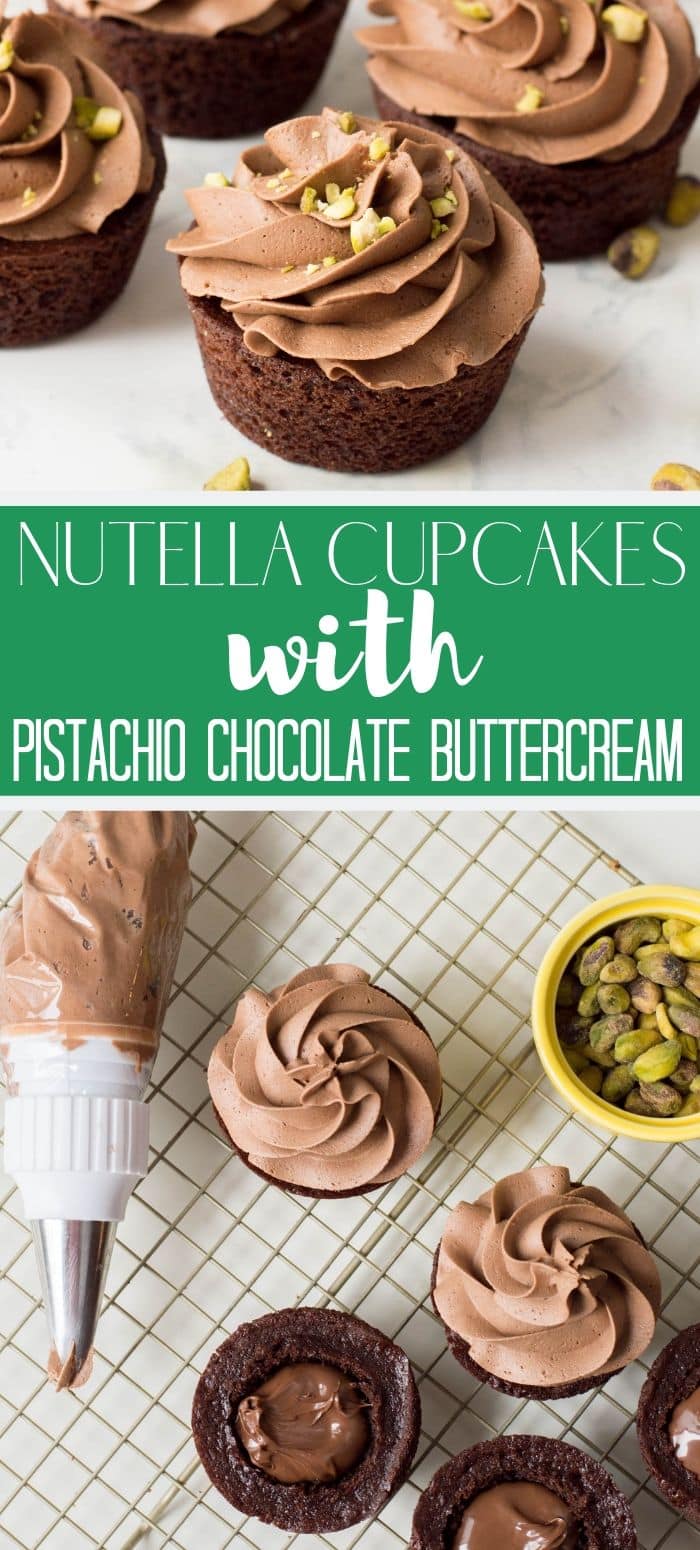 Have you ever tried a Nutella Cupcake with Buttercream Pistaschio frosting?