Homemade no churn blackberry ice cream recipe. This is a refreshing and delicious blackberry ice cream recipe that is perfect for summer fun. No ice cream machine required.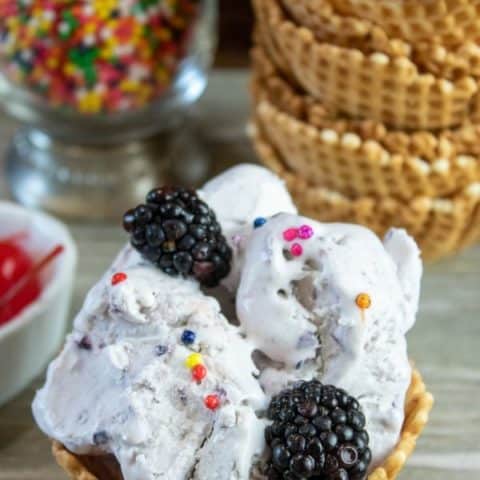 Blackberry Ice Cream is one of my favorite desserts. Fresh blackberries folded into the no churn ice cream is a creamy and fruity treat. This homemade blackberry ice cream recipe doesn't need an ice cream maker, so it makes it a super simple and quick prep ice cream recipe. 4 ingredients are all you need.
If you have some fresh blackberries from your tree or store, save some back and make a homemade no churn blackberry ice cream recipe that will win over your family and guests in no time.
Check Out These Other Desserts
Blackberry Ice Cream
All you need is a little bit of time to whip up the ingredients and puree in the blackberries. Then you will have an ice cream ready to go in the freezer to firm up. This easy no churn ice cream will make you kiss your ice cream maker goodbye!
What Is The No-Churn Ice Cream
No churn ice cream means you can make homemade ice cream without having to use a classic ice cream maker
. No salt no constantly stirring the ice cream. Just mix up the mixture, pour into a freezer friendly container and wait for it to firm up. It is incredibly easy to make and has taken the world by storm.
How To Get Blackberry Seeds Out Of Ice Cream
If you don't want seeds in your ice cream, after you puree your blackberries in food processor
, run them through a mesh strainer
. This will catch all or most of your blackberry seeds.
Can You Use Frozen Blackberries In Replace of Fresh For Blackberry Ice Cream
Yes. I really love the flavor of fresh, but if you have frozen feel free to use them instead. Toss in a food processor or blender and pulse like normal to create puree and use as you would fresh.
Best Containers for No Churn Ice Cream Storage
Aluminized Steel Loaf Pan with Lid
Tovolo Glide-A-Scoop, Non-Slip Base, Insulated Ice Cream Tub, 1.5 Quart,
Ice Cream Freezer Storage Containers – Set of 2 with Silicone Lids
Here are my top picks for making ice cream at home. I love Tovolo Glide, it helps the ice cream freeze a lot faster since it is insulated, and will help keep the ice cream at optimal temperature in the freezer. Then the loaf pan has a sliding lid which is so nice! And lastly, the storage containers are great for making single serve option if you plan to gift to someone or just want a little at a time.
Topping Ideas for Blackberry Ice Cream
Nuts
Sprinkles
Chocolate chips (white, chocolate, peanut butter chips, etc)
Whipped cream
Cherry
Cookie Crumbles
Chopped candy bar
Hot Fudge or Chocolate Syrup
The sky is the limit on how you want to serve up your ice cream. I a lot of times eat it plain, but every now and again I dress it up like a sundae.
How To Make No Churn Blackberry Ice Cream
Start by pureeing your blackberries. Then set it aside, and whip up the base of the ice cream. Cream all your ingredients together but the blackberries until nice and creamy. Then fold in blackberries, and pour into freezer friendly container. Store in the freezer wrapped for 5-6 hours until it firms up, or even overnight.
Best Way To Serve No-Churn Ice Cream
The ice cream will be pretty set up, so allow it to warm up a bit on the counter. I normally let it sit out for 5-10 minutes and then warm up an ice cream scoop
in a cup with warm water. Wipe off excess water on ice cream scoop and then dig into the ice cream.
No Churn Blackberry Ice Cream
Servings 6 servings
Homemade no churn blackberry ice cream recipe. This is a refreshing and delicious blackberry ice cream recipe that is perfect for summer fun. No ice cream machine required.
Ingredients
1 14 ounces can sweetened condensed milk
½ teaspoon vanilla extract or almond extract
2 cups cold heavy cream
1- pint blackberries rinsed clean then pureed
Instructions
You will want to Puree blackberries in a food processor for 15-20 seconds. If you don't want seeds, run it through a fine mesh strainer.

With a stand mixer, beat heavy whipping cream until thick. Pour in sweetened condensed milk,vanilla,and blackberries fold in until smooth.

Next, spoon ice cream into a freezer safe container. I used a bread loaf pan.

Freeze for 5-6 hours or overnight. When it is time to serve, remove the container from the freezer and let sit on the counter for 5-10 minutes before serving to soften.
Notes
If you don't want seeds after you puree the blackberries, run it through a fine mesh to catch the blackberry seeds.
Nutrition
Serving: 1gCalories: 312kcalCarbohydrates: 10gProtein: 3gFat: 29gSaturated Fat: 19gPolyunsaturated Fat: 9gTrans Fat: 1gCholesterol: 92mgSodium: 30mgFiber: 3gSugar: 8g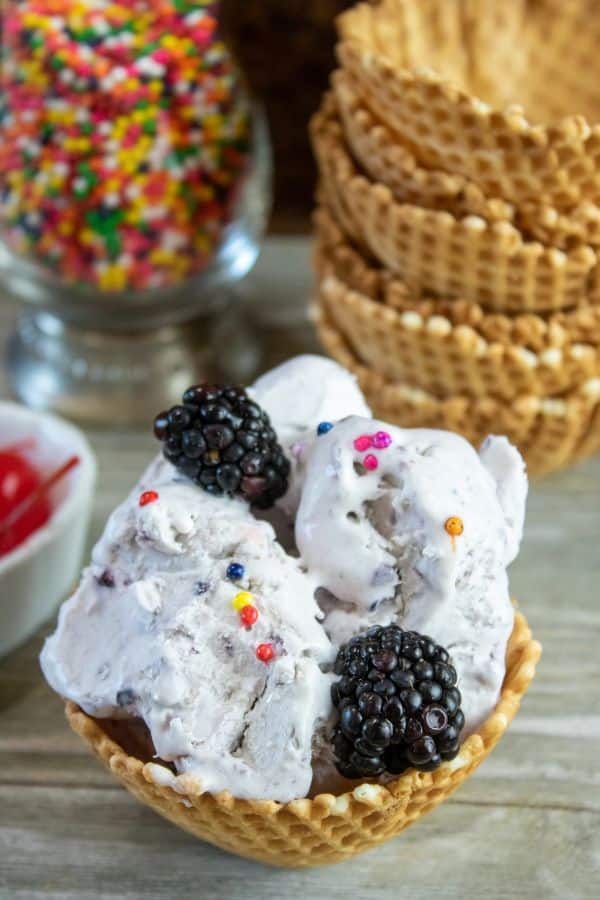 Do You Have To Cook No Churn Ice Cream
No! No Churn ice cream contains no egg like most egg-custard style ice creams. This recipe uses sweetened condensed milk, vanilla, and more. So no ingredients need to be cooked before serving, which makes it so enticing to make.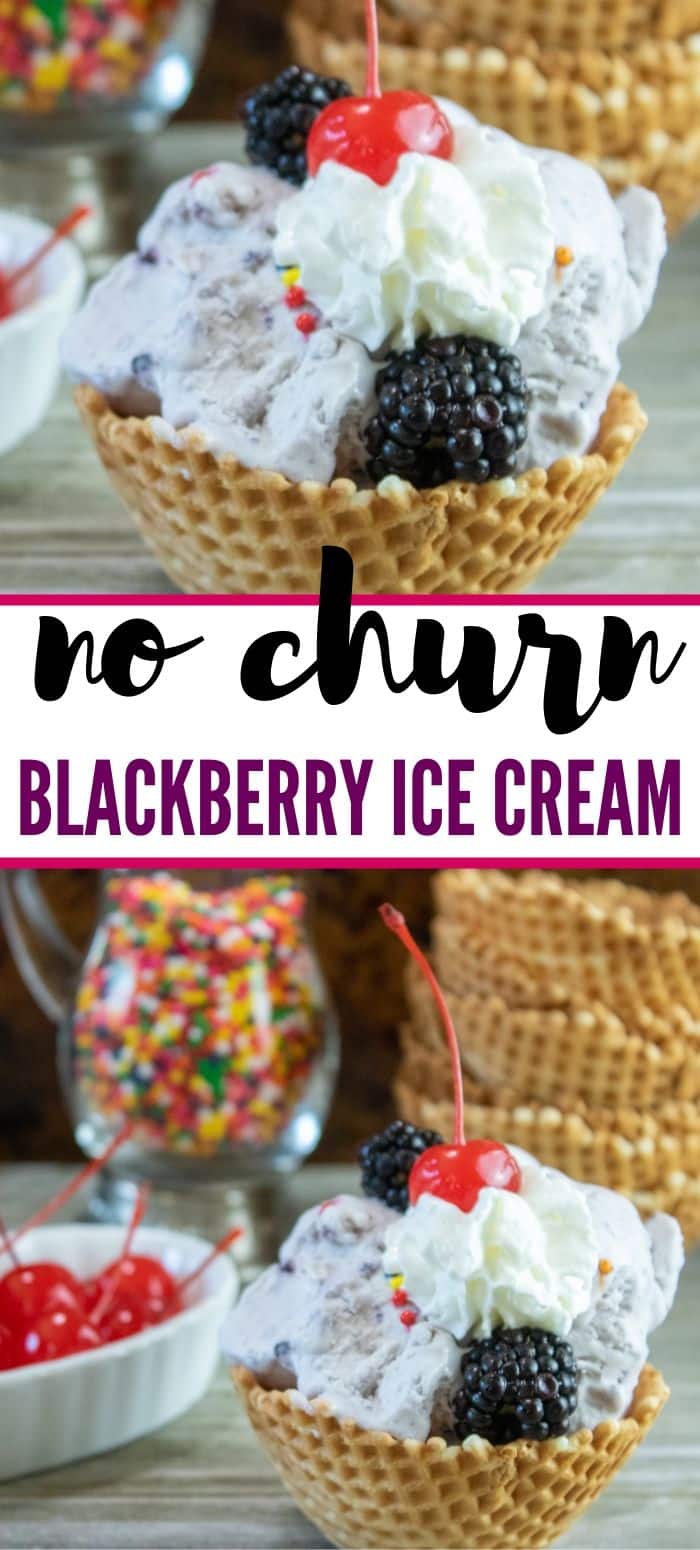 Have you ever made blackberry ice cream before or tried it in store?
Reader Interactions