Chinese chicken salad is so quick to make and has a homemade Asian dressing that elevates the flavor.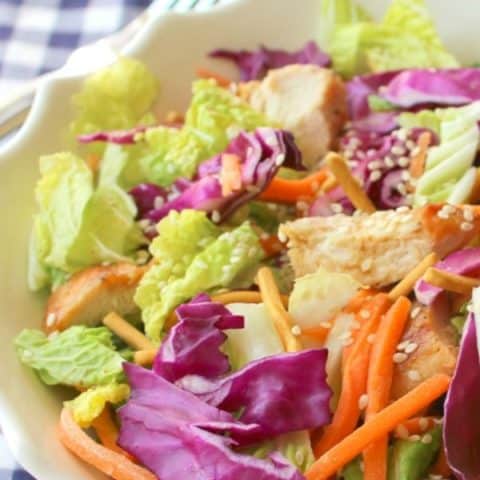 Chinese Chicken Salad is my go-to summer salad recipe. Fresh, crisp, and is made with a homemade Asian dressing that is packed with flavor. This keto Chinese chicken salad is low carb, so if you are watching your figure or on a keto diet, this is a keto salad recipe to try. If you love salads give this Chinese chicken salad recipe a try!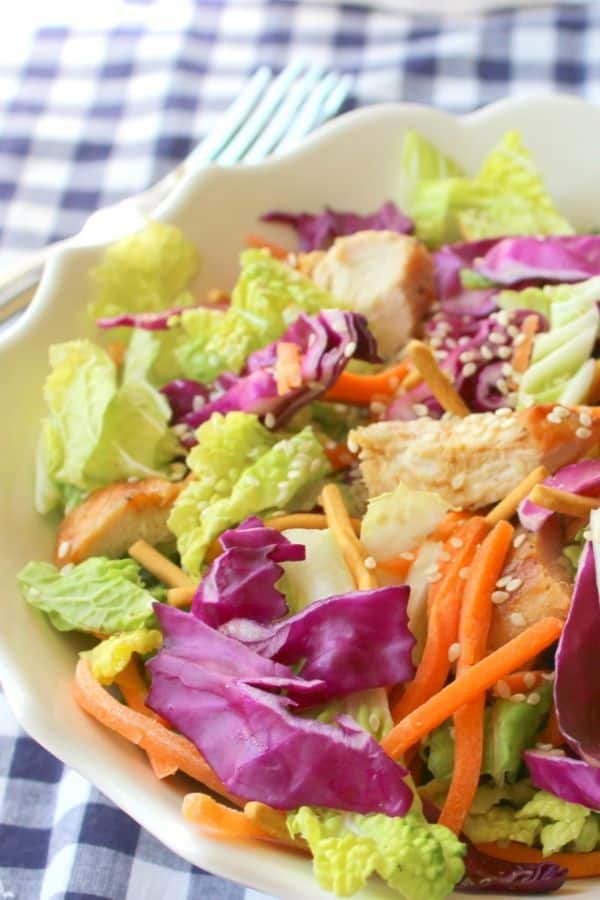 We don't have a ton of restaurants near us, so having the option to make my own to re-create the Chinese chicken salad we love is fantastic. I think my personal favorite is the Chinese chicken salad dressing that is homemade and bursting with fresh flavors.
Also try this chicken spaghetti squash skillet recipe! Creamy, delicious and so satisfying.
Chinese Chicken Salad (Keto Friendly)
Let me share an incredible recipe with you for a tasty salad you can make any time of year. Crisp, fresh, and a great way to use up a rotisserie chicken or even leftover grilled chicken! We love Chinese chicken recipes, and this chicken salad is at the top of the list.
What Are Some Good Dishes To Serve With Chinese Chicken Salad?
This is always our main course when I make this dish for dinner. But, on occasion, I will whip up this salad and bring to potlucks, summer cookouts and more. If you want to serve this green salad as a side, pair with any of your favorite mains.
Pair with juicy grilled burgers
Pork Chops
Steak
Brats
Or any other main dish that sounds good
Homemade Asian Dressing
You will want to make the Asian dressing at least 30 minutes before serving your salad. The reason being is you want those flavors to really blend and marry. If you don't your dressing will taste bland. This Asian salad dressing is so simple to make.
How Long Will Asian Dressing Last In Fridge
You can make this dressing ahead of time and store for up to four days in the fridge. Just make sure to shake or stir in between each use, as it will settle out.
What Cabbage Do You Use for Chinese Chicken Salad Recipe
I used Napa Cabbage that I cored and diced up along with red cabbage. I find that this offers a stunning presentation value but also adds so much vibrant flavor and crunch to the salad.
Salad Toppings For This Chinese Salad
Lo-Mein Noodles
Slivered Almonds
Sesame Seeds
Green Onions
Mandarin Oranges
Snow Peas
Sunflower Seeds
Water Chestnuts
Feel free to top however you would like. Just make sure that if you want a low carb Chinese chicken salad you are aware of what you are adding to the salad.

Can I Use Leftover Chicken For This Chicken Salad
Yes! You can use rotisserie chicken, leftover grilled chicken, or any other type. Just make sure you shred or dice it up so you have bite-size pieces of chicken in every bite.
Can I Used Breaded Chicken In Chicken Salad
Yes. If you want low carb or keto friendly chicken salad, then consider breading in almond flour or something that is lower carb. Otherwise, you are welcome to add breaded chicken to your chicken salad.
Check Out These Other Chicken Recipes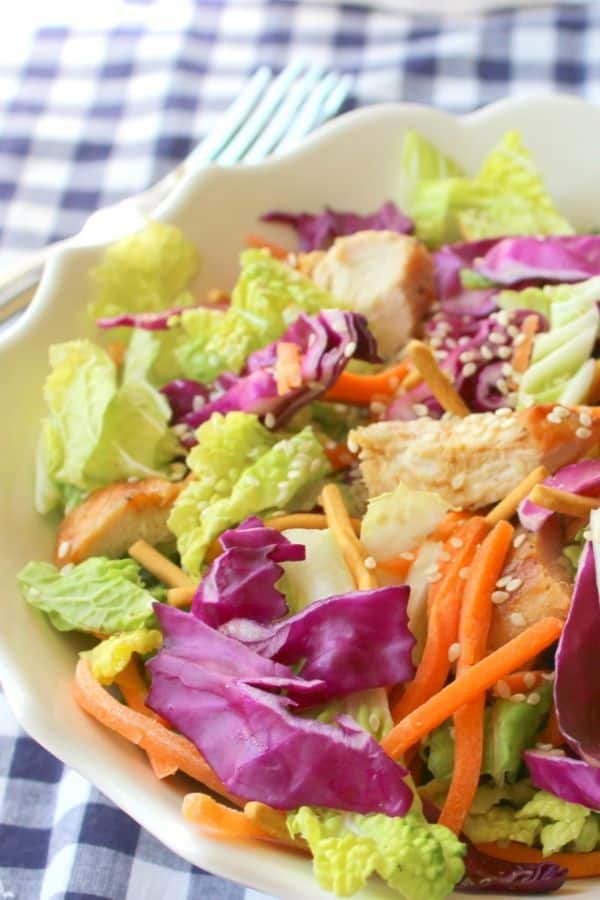 Chinese Chicken Salad Recipe (Keto Friendly)
Chinese chicken salad is so quick to make and has a homemade Asian dressing that elevates the flavor.
Ingredients
Dressing Ingredients:
2 Tbsp. canola oil
1/3 cup rice vinegar
1/4 cup hoisin sauce
1 1/2 TBsp. soy sauce
½ TBsp. tablespoon ginger
1/2 tsp. toasted sesame oil
Salad Ingredients:
4 cups cooked chicken diced
1 pound Napa cabbage cored and shredded
2 cups red cabbage finely shredded
1 cup shredded carrots
1 bunch scallions sliced thin
1/4 cup cilantro minced
2 TBsp. sesame seeds for garnish - optional
1 cup chow mein noodles optional leave off if Keto
Instructions
In a small bowl, you will add in your vinegar, oil, hoisin sauce, soy sauce, ginger, and sesame oil. Whisk until mixed and set aside. You want this to sit at room temperature for up to 30 minutes to help blend the flavors.

Then in a bowl, you will want to add in your cabbage, chicken, scallions, carrots, and cilantro. Mix up the salad, and stir dressing and then pour over salad.

Toss to coat, and sprinkle with sesame seeds and chow mein noodles!
Nutrition
Serving: 1gCalories: 232kcalCarbohydrates: 12gProtein: 15gFat: 13gSaturated Fat: 3gPolyunsaturated Fat: 10gCholesterol: 52mgSodium: 391mgFiber: 2gSugar: 4g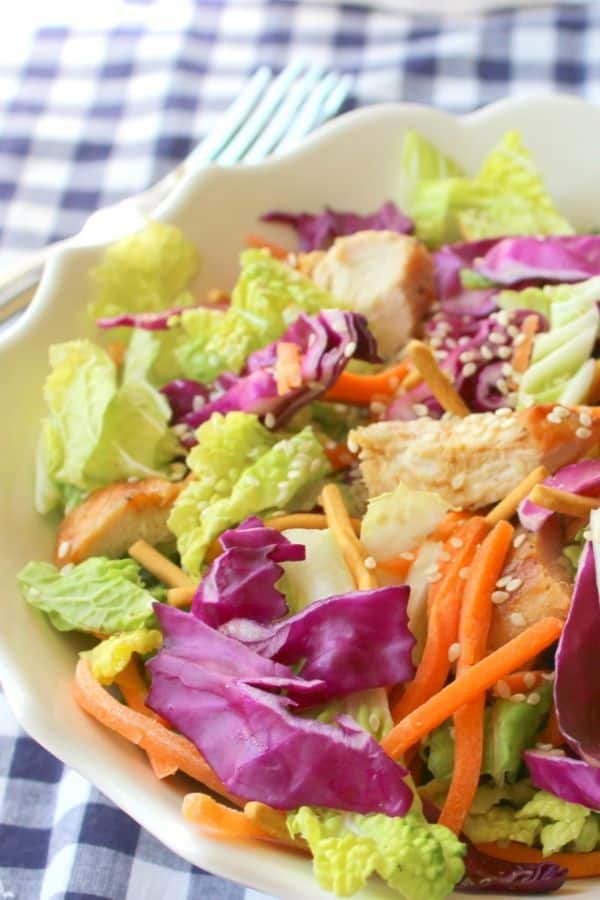 How to Store Leftover Chicken Salad
You will want to store your leftover chicken salad in the fridge. You can store the salad for 1-3 days. Just use your best judgment if you see the salad is going bad, toss it. The best way to store the salad is to keep the dressing separate and then mix it in per bowl you use, vs mixing the entire mixture all at once. It will help not wilt the leaves as much.
Aladdin Classic Mason Salad Jar
OXO Good Grips Leakproof On-The-Go Salad Container
Snap Fresh – 3 Pack of Salad Containers – 1 Liter (33.8 fl oz) – BPA-Free, Locking Lids and Airtight Silicone Seal
DOBI (50 Pack) Salad Container for Lunch
Meal Prep Chicken Salad
This is a perfect salad to meal prep for the week. Use this to prep your meals for a few days. Place in airtight containers and store in the fridge. What I do is put the dressing in the bottom of the container and then top with the cabbage mixture. Then shake or stir up when ready to serve.
I really love the Aladdin mason jars, they are so nice. The Oxo Good grips is nice for that leak proof container that you can toss in dishwasher to wash.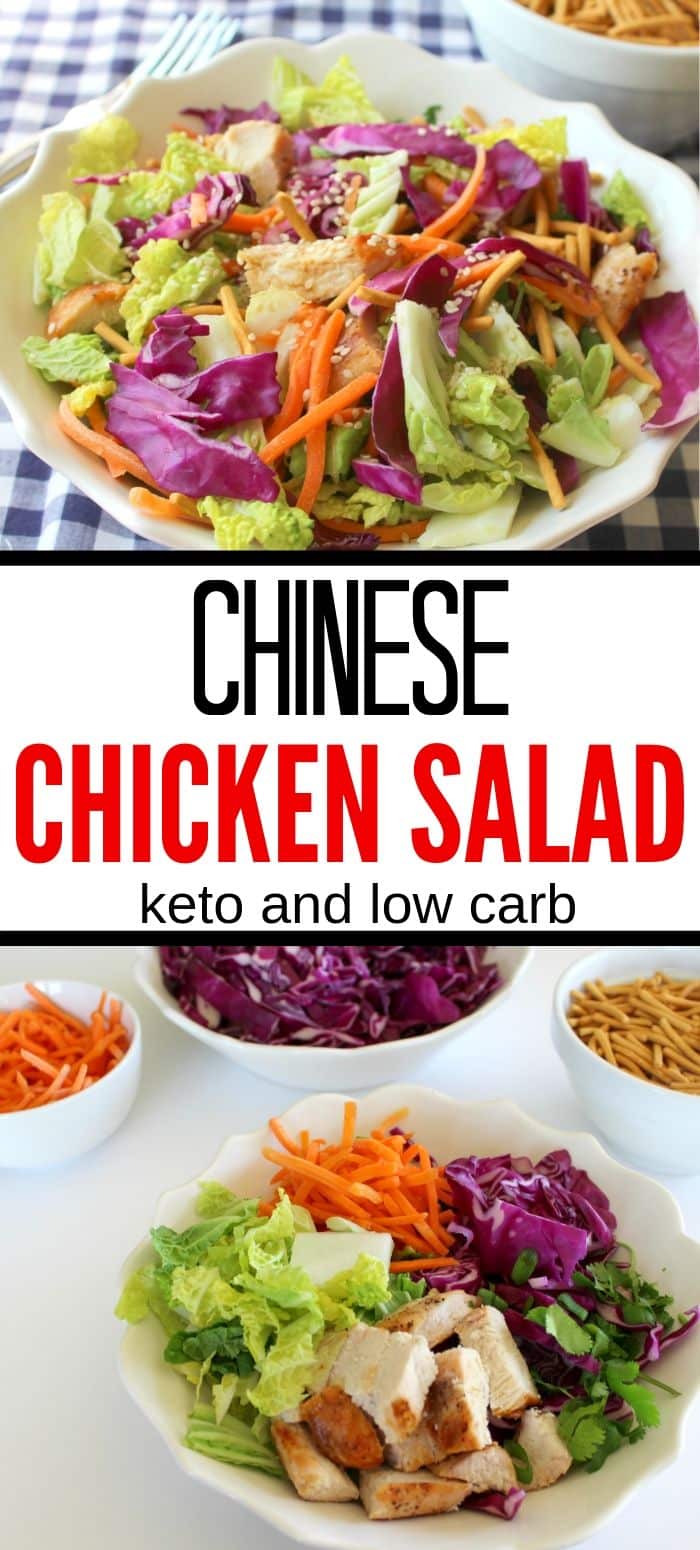 Have you ever made a chicken Chinese salad at home?
Reader Interactions