This Instant Pot Pulled Hawaiin BBQ Chicken Recipe is the perfect savory and sweet combination to serve up for a quick weeknight meal. Hawaiian chicken is undoubtedly the best chicken sandwich you will ever sink your teeth into. Hawaiin bbq chicken offers savory and sweet, crushed pineapple, brown sugar, soy sauce, bbq sauce, and more. Shred and top your hoagie buns and dive in.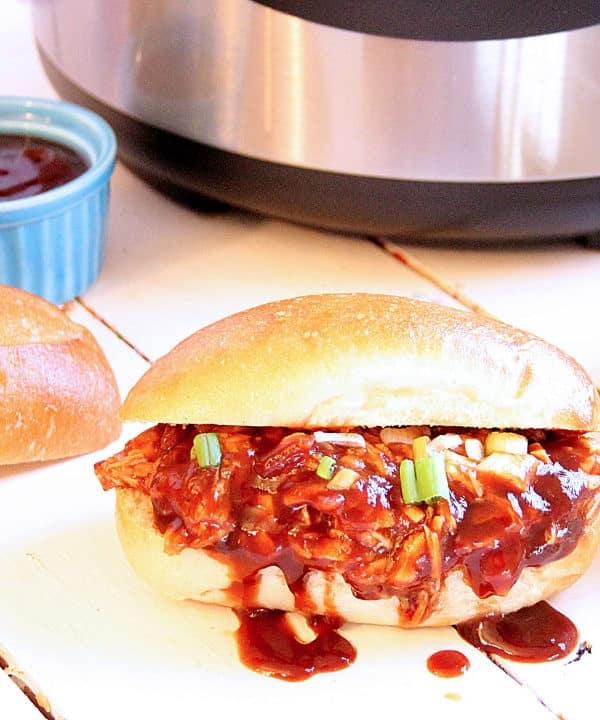 Looking for a tasty chicken recipe to make in your Instant Pot or even slow cooker? This Hawaiian chicken recipe is a home run. Or maybe you don't want to serve with buns then do a bed of rice, cauli-rice, or eat alone.
What To Make With Hawaiian BBQ Chicken
Coleslaw (great for topping your meat on the bun or eating as a side)
Salty Fries or Chips
Rice (to serve over if you don't want buns)
Easy Hawaiian BBQChicken Recipe
One question I get asked is do I have to shred the chicken? The answer is no, you can keep the chicken whole and serve it up that way. We just love the aspect of sandwiches. We have even made Hawaiian chicken sliders for parties, and it is always a huge hit.
Best BBQ Sauce For Hawaiian BBQ Chicken
Personally, we are a Kansas City style bbq sauce family. But if you are not that is okay. Reach for a honey bbq sauce or something that offers some sweet to the tang.
More Favorite Instant Pot Recipes
How To Store Leftover BBQ Hawaiian Chicken
Just place in an airtight container and then store in the fridge for up to three days. Anything after it will need to be tossed out.
Can I Use Frozen Chicken for BBQ Hawaiian Chicken
Yes! If you are using the Instant Pot it will just take a longer time to reach pressure, but leave the cook time the same. If you are cooking in the slow cooker, add an extra hour or two, and check to ensure the chicken is cooked through.
How To Make BBQ Hawaiian Chicken Sandwiches
Cook your chicken as directed below. I give you the option of using this recipe in your Instant Pot or even the slow cooker. Once your chicken and sauce are cooked, just shred and pile on sandwich buns or serve how you prefer.
Instant Pot Pulled Hawaiian Chicken Recipe (Plus Slow Cooker Directions)

A savory Instant Pot pulled Hawaiian chicken sandwich recipe! Easy to make and great for leftovers.

Ingredients

4 boneless skinless chicken breasts
1 sweet red onion - cut in half and sliced thin
1 large can of crushed pineapple, including juice
2 Tablespoons of brown sugar
2 Tablespoons of soy sauce
1 bottle of Kansas City BBQ sauce
Garlic
salt
Seasoned pepper

Instructions

Start by turning the Saute setting on your Instant Pot. Add in your chicken breasts, and season with the garlic, salt, pepper, and brown both sides for around 6-7 minutes, or until a golden brown coating.
Once you are done sauteeing turn off the saute setting. Add in your sliced onions, pineapple with juice, brown sugar, soy sauce, and bbq sauce.
Stir the ingredients and then place lid on Instant Pot and lock. Seal your valve, and hit the poultry button on Instant Pot.
Let your chicken cook until you hear the beep go off and the "keep warm" setting kicks on. Allow your Instant Pot to release the pressure (about 10 minutes).
Once the keep warm is on, make sure the valve is all the way down,and then release the valve. Once all the pressure is released, remove the lid.

Shred your chicken with a shredder or two forks, and toss in the sauce.

Notes

Slow Cooker Directions.

Sear the chicken on a skillet with a dab of oil. Season and cook the same amount of time as directed above. If using frozen chicken skip the pan searing, and add at least 1-2 hours more to cook time.

Mix up your sauce, and pour over your chicken in the slow cooker, and cook on low 6 hours or high 3-4 hours. Just make sure your chicken is cooked through, then shred like listed above.

Recommended Products

As an Amazon Associate and member of other affiliate programs, I earn from qualifying purchases.

Nutrition Information:

Yield:

8

Serving Size:

1 sandwich Amount Per Serving:

Calories:

160

Total Fat:

2g

Saturated Fat:

1g

Trans Fat:

0g

Unsaturated Fat:

1g

Cholesterol:

51mg

Sodium:

399mg

Carbohydrates:

15g

Fiber:

1g

Sugar:

13g

Protein:

19g
Look at how incredible these sandwhiches are! Add on some fresh green onions for a bite and color, and you are golden! This is our go-to for chicken dishes lately. It has me dreaming of spring and summer. I am totally over this winter cold!

Have you ever made a Hawaiian bbq chicken before?