Peach and raspberry collide in this Instant Pot raspberry peach cheesecake. A vanilla wafer crust, filled with peaches, raspberry, and topped with a whipped cream cheese topping.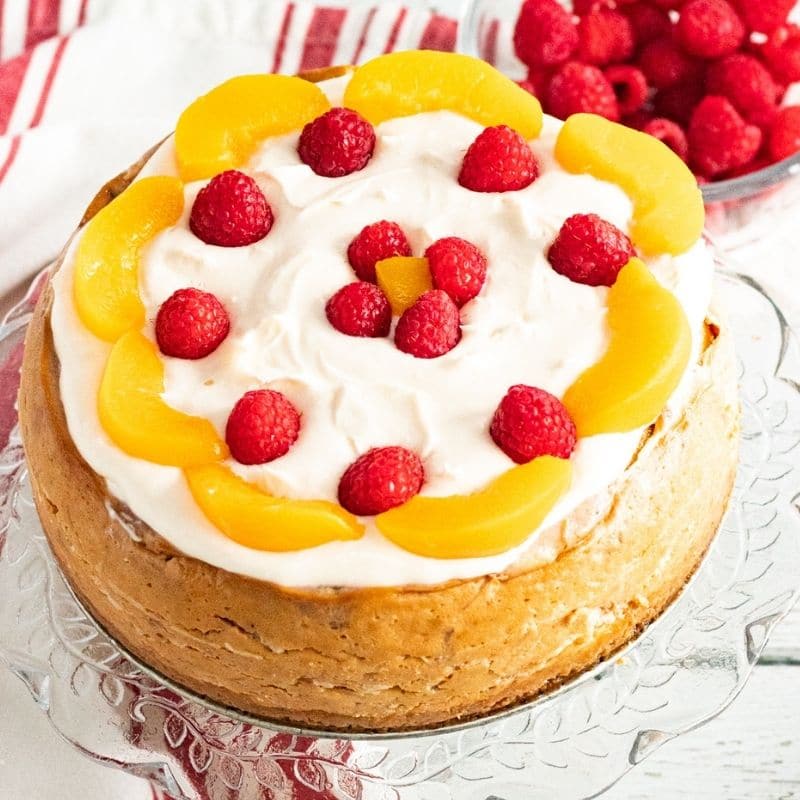 This is one of the best peach recipes, the raspberries and peaches compliment each other nicely. If you are looking for a fruity cheesecake recipe, give this recipe a try.
I love when peaches are in season, but when they are not, you can reach for frozen peaches or drained canned peaches as well.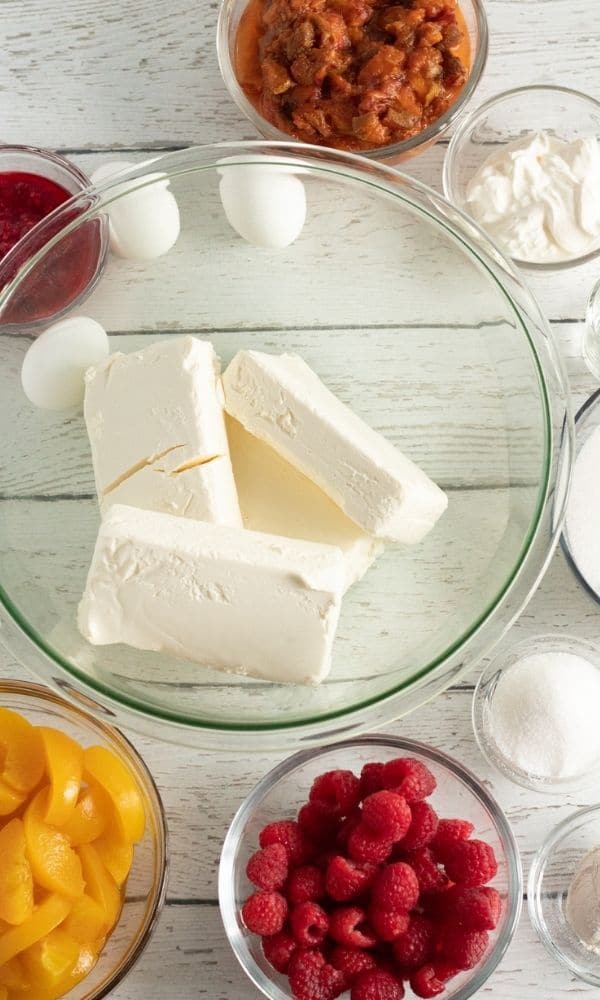 This Peach Raspberry Cheesecake Is…
An easy peach dessert
Can use fresh or frozen fruit
Great for a summer cookout
Vanilla wafer crust
A delicious potluck dessert
Homemade cream cheese frosting topping
Makes a stunning birthday cheesecake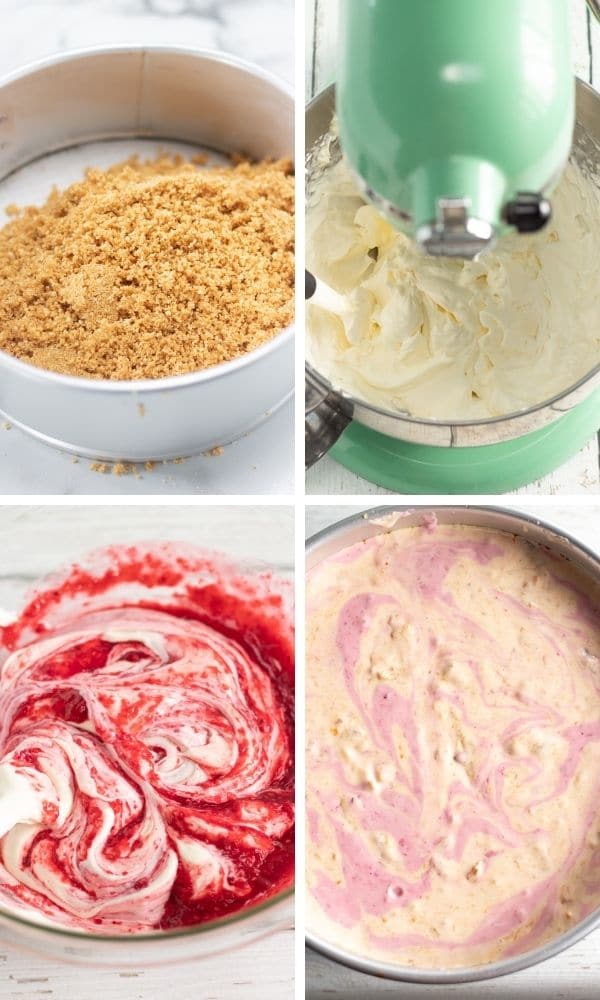 How to Make Instant Pot Raspberry Peach Cheesecake
Prep the vanilla wafer crust and press it into your Instant Pot cheesecake pan. You can use a springform or push pan for making pressure cooker cheesecake.
Now you will work on the cheesecake batter. Once you get it fully mixed, separate the batter. Do one portion with the raspberry puree, and the other with peach.
Now you will slowly add some peach cheesecake mixture to the pan, then do some raspberry. You want to create a swirl effect.
Cover tightly with aluminum foil. Place water and cheesecake in the Instant Pot. Place the lid on your Instant Pot and the valve set to sealing.
Do high pressure for 50 minutes with a 10-minute natural release.
Let the cheesecake cool for a bit on the counter, then refrigerate overnight.
Then you can make up the topping, pile on, add on some fresh berries and peach slices and enjoy!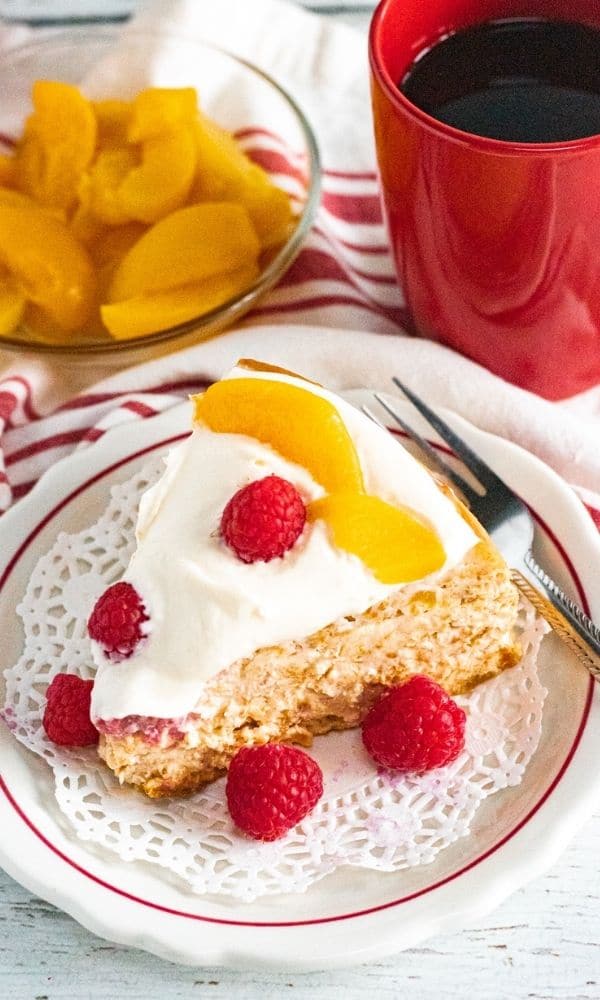 Variations To Instant Pot Cheesecake
Use a classic golden graham cracker crust to replace of the wafers. Or you could even do a Golden Oreo cookie crust.
Feel free to change up the fruit used. Strawberries, Cherries, etc.
Pair with a scoop of vanilla ice cream for a treat.
Garnish with fresh fruit, or serve it naked
Storage Of Instant Pot Raspberry Cheesecake
Refrigerator
This Instant Pot peach cheesecake with raspberries requires refrigeration. Once the cheesecake cools on the counter after being baked, it then needs to be stored in the fridge.
Your cheesecake will store for around a week when stored in the fridge.
Freezer Friendly
Go right ahead and freeze any leftover cheesecake you don't plan to eat. Wrap tightly in plastic wrap or aluminum foil. Then place in a freezer bag or container.
Freeze the raspberry dessert for up to three months. Thaw in the fridge overnight. Or take a slice and let warm up to room temperature. Just don't allow it to sit out for more than 2 hours before eating.
Cheesecake Accessories
Pan | I recommend using a push pan or a classic springform pan.
Silicone Sling| Place your cheesecake on this silicone sling to lift it easily out of the pressure cooker. This is a great accessory I use all the time.
Parchment Rounds | Instead of having to cut classic parchment paper these parchment rounds make it easy to just place right in your round pan!
Container Carrier | So when I put my decorated cheesecake in the fridge I use a container carrier. That way the whopper cheesecake is in a container to protect it and I don't worry about the toppings getting smashed by aluminum foil wrapped around it.
Want More Cheesecake Recipes
Recipe FAQs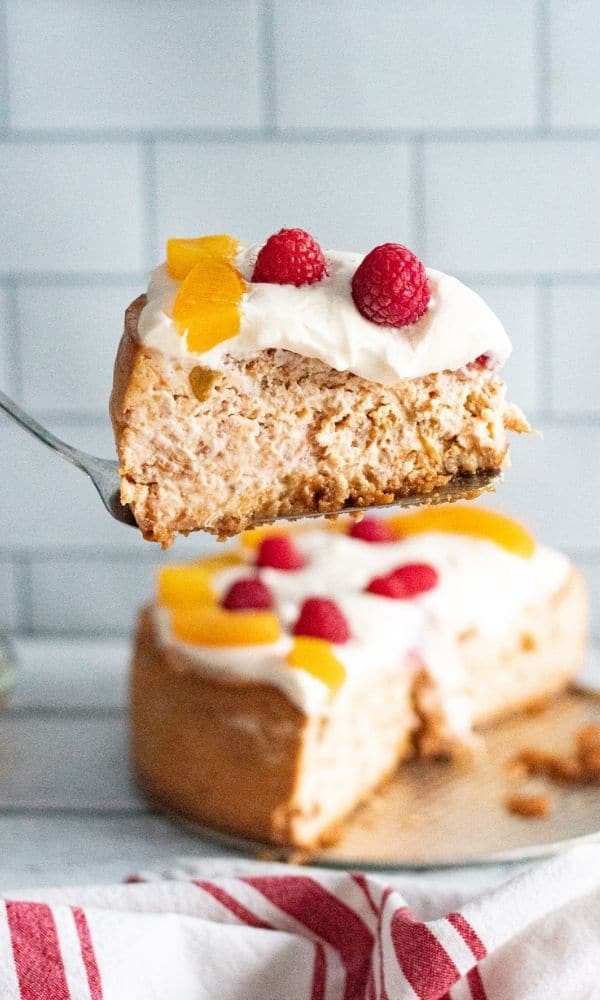 More Easy Desserts
Tried this recipe? Make sure to rate ⭐️⭐️⭐️⭐️⭐️ and leave a comment to let me know how you like it! Plus get more Instant Pot Recipes or Home Cooked Recipes Facebook Page on my Facebook. Stay up to date and Follow Me On Pinterest!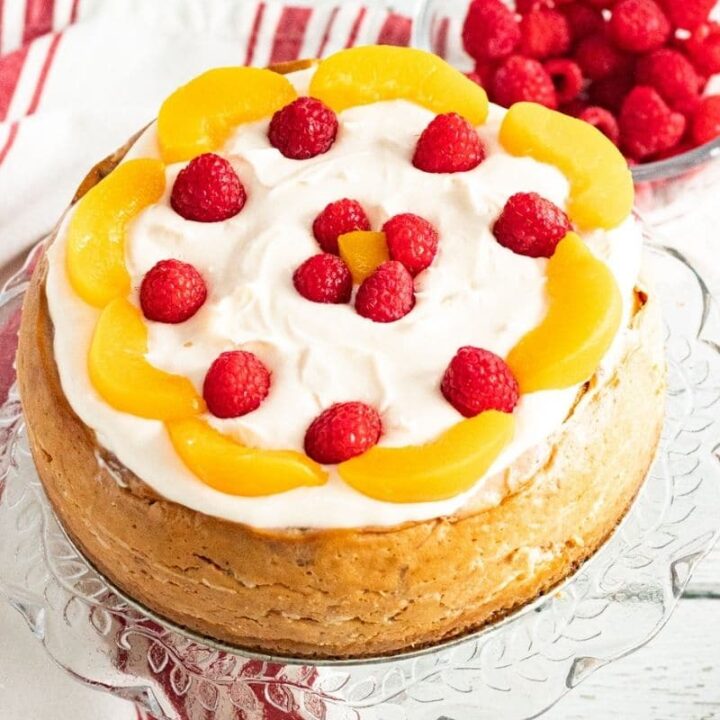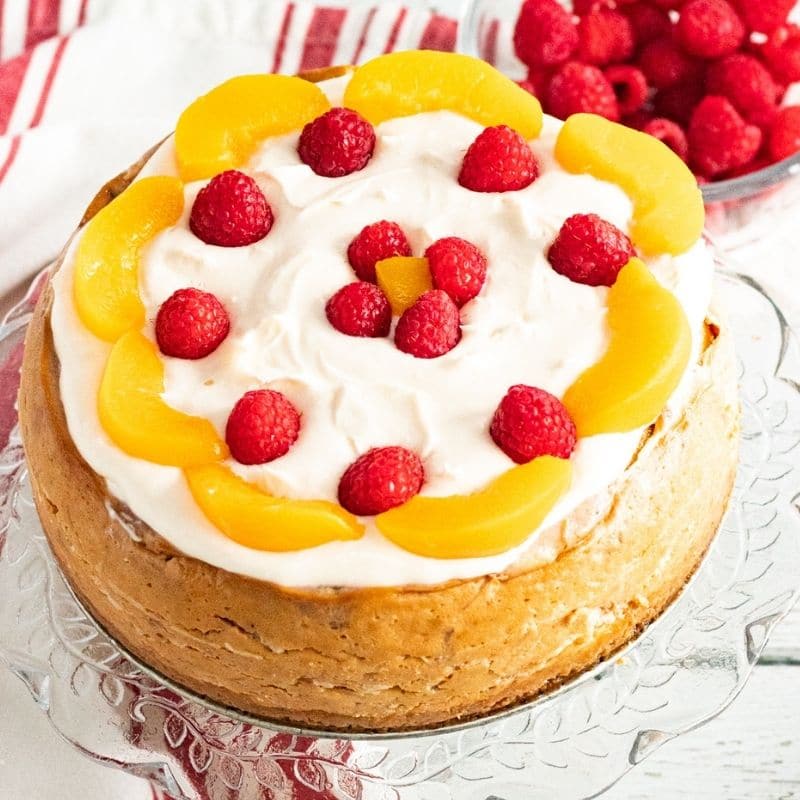 Instant Pot Raspberry Peach Cheesecake
Total Time:
1 day
1 hour
5 minutes
Instant Pot Raspberry Peach Cheesecake is a vanilla wafer crusted cheesecake that has a raspberry and peach cheesecake filling. Cook in the pressure cooker, then top with a cream cheese frosting topping. The ultimate raspberry cheesecake recipe.
Ingredients
Ingredients for Vanilla Wafer Crust
2 cups Vanilla Wafers (crushed)
3 tablespoons Brown Sugar
4 tablespoons Butter (melted)
Raspberry Peach Cheesecake Filling
32 oz cream cheese (room temperature)
1½ cups granulated sugar
1 teaspoon vanilla extract
2 tablespoons all-purpose flour
4 tablespoons sour cream
3 large eggs, room temperature
2 cups peeled and chopped peaches (fresh, canned or frozen) reserve 1 cup for top
2 cups raspberries (reserve 1 cup for top)
½ cup granulated sugar (divided for fruit)
¼ teaspoon raspberry extract (optional)
Ingredients for Whipped Cream-Cream Cheese Frosting
1 ½ cups Heavy whipping cream
8 oz Cream cheese
1 cup Powdered sugar
1 teaspoon Vanilla extract
Instructions
Add in your crushed vanilla wafers into a bowl and add melted butter and brown sugar. Mix until it is a wet sand-like texture.
Place a circle parchment paper liner into the bottom of your cheesecake pan. Then lightly spray with a cooking spray.
Press down the cookie crumbs to make sure it is packed well on bottom and sides of the pan. Place the crust in the freezer as you prep the rest of the cheesecake.
Now for the raspberry peach cheesecake filling you want to beat your softened cream cheese until light and fluffy.
Add in the vanilla and sugar, and mix until creamy, then toss in the sour cream. Mix until blended.
Now you will add in your eggs one at a time, mixing until combined. Do not overmix at this point. Slowly add in your flour.
Now grab a bowl and split the cheesecake batter in two. This will be how you flavor one peach and flavor the other raspberry.
In a new bowl mash up 1 cup of your raspberries to make a puree and add in 1/4 cup sugar. Then you will do 1 cup peaches and 1/4 cup sugar for the other bowl of cheesecake. Mix the fruit fillings with the separated cheesecake batter.
Fold the cheesecake flavors into each one of the bowls. Add food coloring if you want to brighten the color.
Now pour 1/2 of one flavor of the filling in the Instant Pot pan, and then pour on the other filling. Use a toothpick or knife to swirl the cheesecake batter. Repeat the pouring a little of each to try and spread out the flavoring.
Cover tightly with aluminum foil. Then add 1 1/2 cups of water in the Instant Pot. Place your cheesecake pan on a trivet or silicone sling. Cook on high pressure for 50 minutes, followed by 10 minute natural release.
Once the cheesecake is done, remove and let cool on the counter for an hour.
Then refrigerate the cheesecake overnight or 6 hours. Once the cheesecake is fully set up then you can do the cream cheese frosting.
For the frosting add all your ingredients in the mixer, and whip until creamy. Then pour on top of the chilled cheesecake.
Top with remaining fresh berries and peach slices. The store your cheesecake in the fridge until you are ready to serve.
Notes
Store your cheesecake in the refrigerator until ready to serve.
You can freeze the cheesecake for up to three months.
Your cheesecake is fully cooked when it is 150 degrees internally. Use a thermometer to check.
It is important to let your cheesecake set up, or it will not be the right texture.
Recommended Products
As an Amazon Associate and member of other affiliate programs, I earn from qualifying purchases.