If you enjoy cinnamon rolls you will jump for joy over this cinnamon roll cheesecake. This Instant Pot cheesecake has a buttery golden crust, with a creamy cheesecake that is swirled with cinnamon flavor.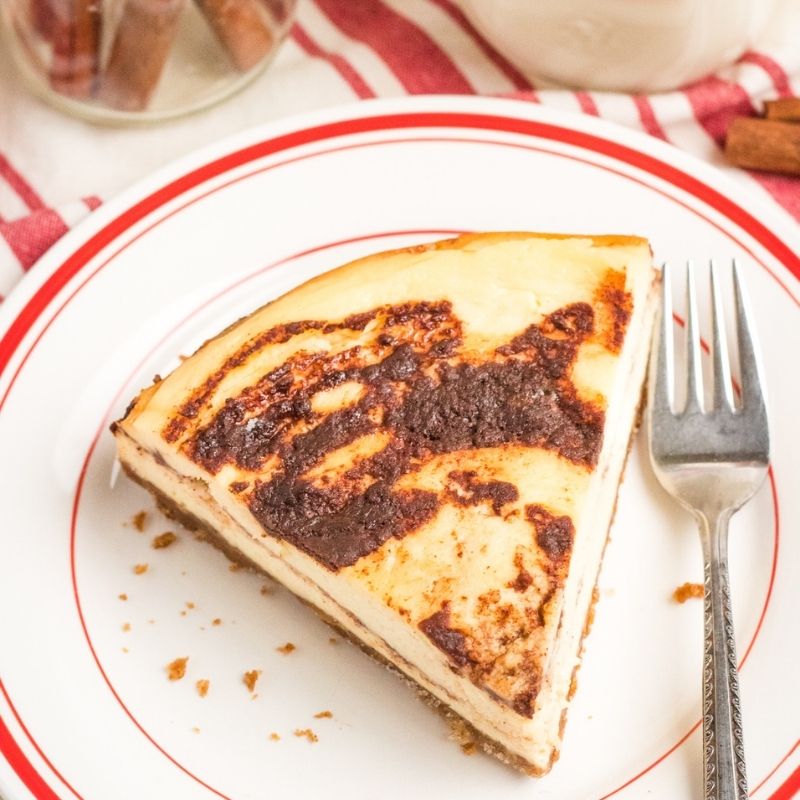 Cinnamon cheesecake is so fun and different. This cinnabon cheesecake recipe is like a cinnamon roll but with a cheesecake twist.
Give this cinnamon dessert a try. Pair with a cup of coffee, serve up for a dinner dessert, or mid-day dessert.
Why you will love this Instant Pot Cinnamon Roll Cheesecake…
Graham cracker crumb buttery crust
Rich cheeeecake batter that is velvety
Swirls of cinnamon filling in the cheesecake filling
Cooks in a Pressure cooker for the perfect hands off method
Great for parties
So easy to make
Ingredients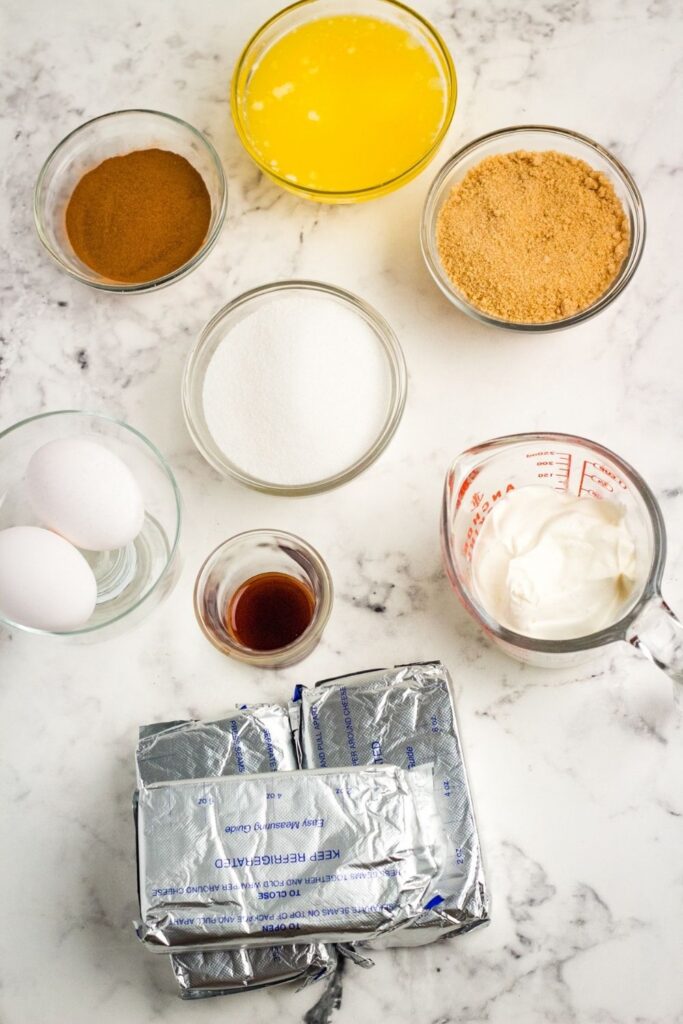 Graham cracker crumbs
Butter
Brown Sugar
Cinnamon
Cream Cheese
Granulated Sugar
Sour Cream
Eggs
Here are some cinnamon roll-inspired recipes: Maple cinnamon rolls, Chocolate cinnamon rolls, blueberry sweet rolls.
How to Make
Full directions and measurements for this recipe are in the printable recipe card below.
Step 1: Start by taking your graham cracker crumbs, mixed with butter, cinnamon and brown sugar. You want the texture to be like wet sand.
Step 2: Place the graham cracker mixture in the bottom of your greased 8-inch springform cheesecake pan. Press it firmly, and up around 1/2 inch on the sides.
Chill the crust in the freezer, while you work on the dough.
Step 3: Now in a bowl, you will want to beat your butter and brown sugar, and cinnamon until it is light and fluffy in texture. Scrape down the sides.
Add in the sour cream and vanilla extract next.
Step 4: Now you will want to add the eggs one at a time, do not overmix this step.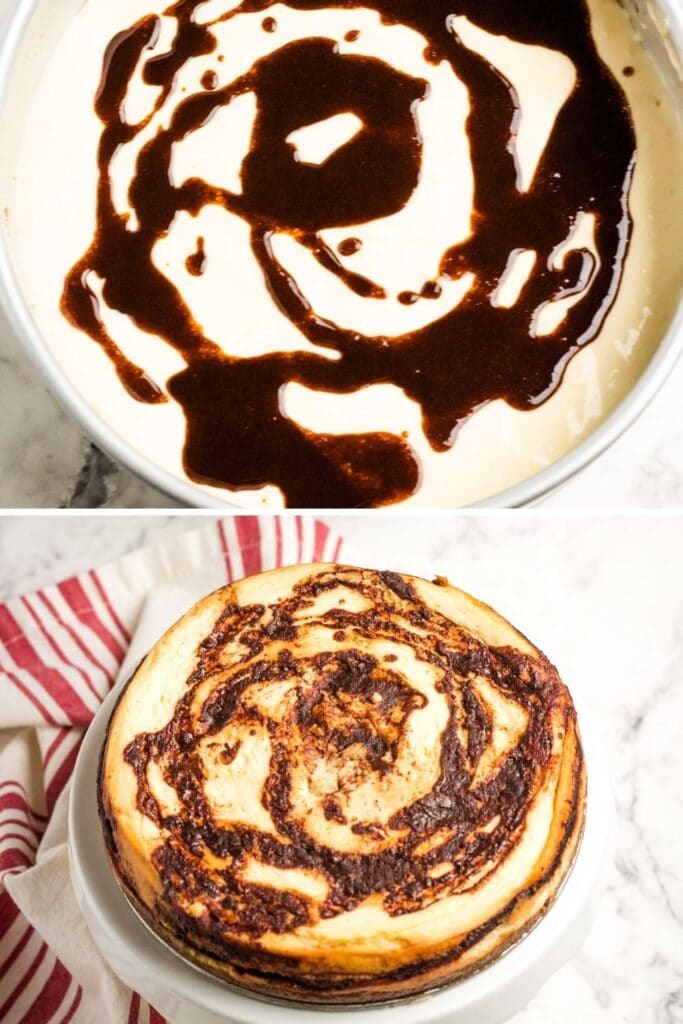 Step 5: Pour half the filling into the crust. Spoon over your cinnamon swirl mixture, and use a wooden skewer to twirl it aroun.
Step 6: Add the remaining batter, and repeat with the cinnamon swirl. Cover the cheesecake tightly with aluminum foil.
Step 7: Add water into the Instant Pot, and place a sling or trivet inside. Add your cheesecake, seal the lid, and make sure the valve is set to sealing. Pressure cook high manual pressure for 35 minutes.
Step 8: Once done, natural release the pressure. Remove the cheesecake and allow it to cool on a cooling rack for an hour.
Then refrigerate overnight.
Step 9: Once the cinnabon cheesecake is set up, slice and serve!
This Cinnabon cinnamon swirl cheesecake is so popular and offers a stunning presentation for serving up guests.
Storage
For this cinnamon swirl cheesecake you can store it in the fridge for around 5 days. I recommend storing in an airtight container. Cheesecake can easily soak up odors in your fridge if not in a sealed container.
In terms of freezing, you can freeze your instapot cheesecake for up to 3-4 months when stored properly. Thaw in the fridge for a few hours or even overnight.
I hope you like this cinnamon roll dessert. It is one of my favorites and always a bit hit.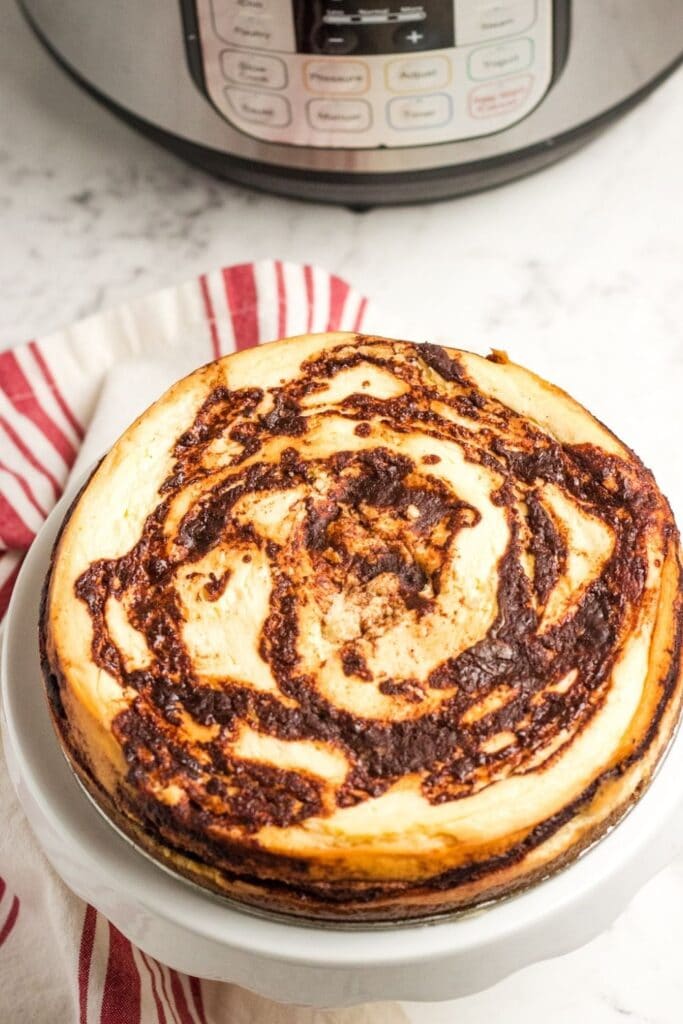 Variations To Recipe
Use Vanilla Wafers or even Golden Oreos in replace of the graham crackers.
You can drizzle the top of cheesecake with a Pillsbury cinnamon roll icing if you want.
Add in some chocolate chips to the batter for a chocolate cinnamon roll style dessert.
Expert Tips
Make sure to press down the crust really well. This will help it hold shape and not fall apart when you slice into it.
Tap the cheesecake batter gently in the pan or run a toothpick throughout to help remove any small air bubbles in the cheesecake.
Cover with aluminum foil really well. You don't want condensation to get into the cheesecake.
To know the cheesecake is done, do the jiggle test. You only want around a quarter size to move in the center if you jiggle it.
Cheesecake Accessories
Pan | I recommend using a push pan or a classic springform pan.
Silicone Sling| Place your cheesecake on this silicone sling to lift it easily out of the pressure cooker. This is a great accessory I use all the time.
Parchment Rounds | Instead of having to cut classic parchment paper these parchment rounds make it easy to just place right in your round pan!
Container Carrier | So when I put my decorated cheesecake in the fridge I use a container carrier. That way the whopper cheesecake is in a container to protect it and I don't worry about the toppings getting smashed by aluminum foil wrapped around it.
Recipe FAQs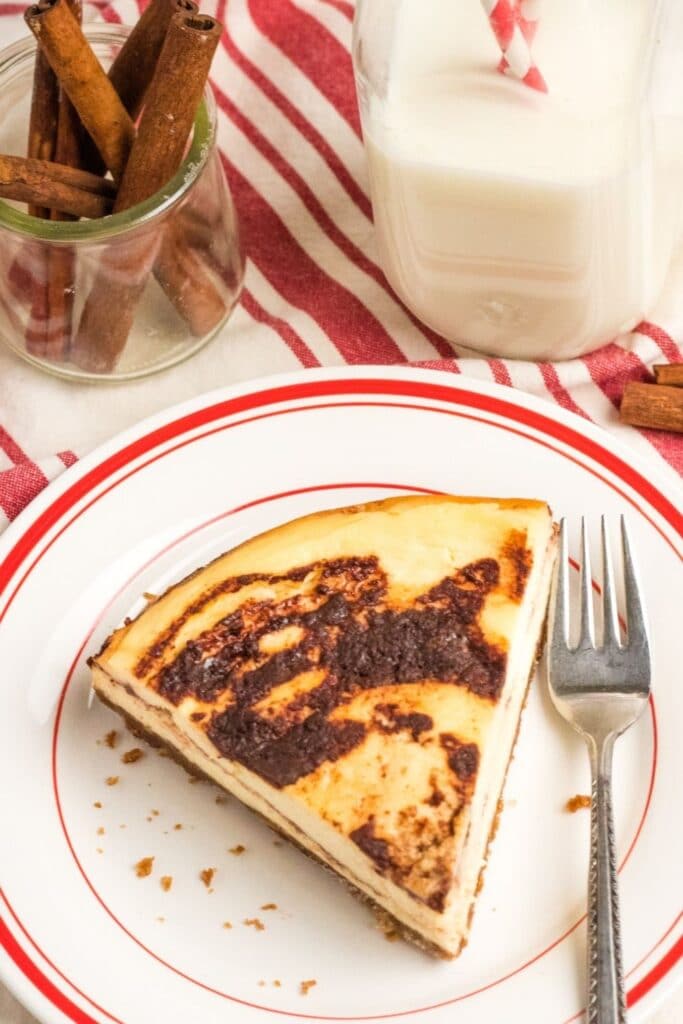 Craving More Cheesecake Recipes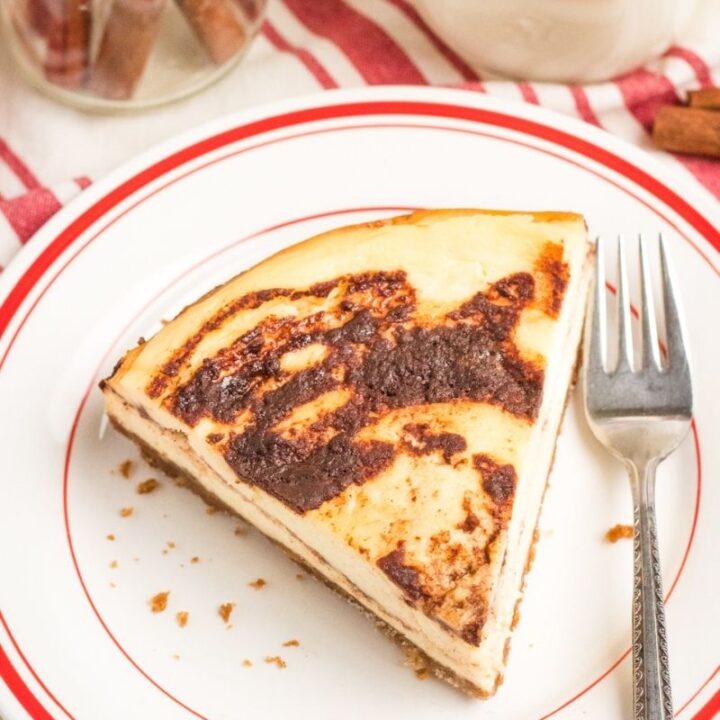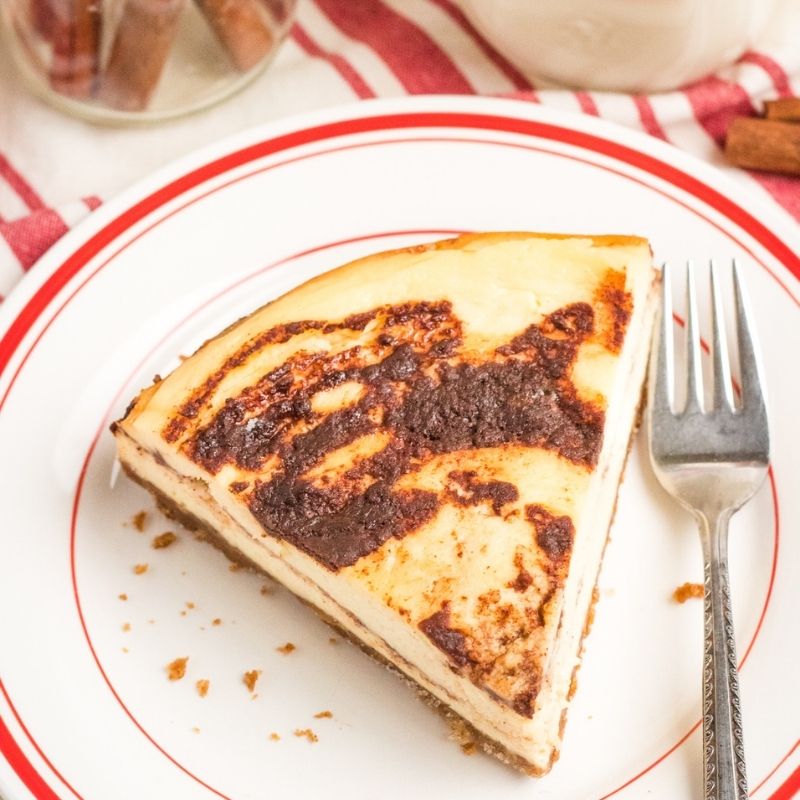 Instant Pot Cinnamon Roll Cheesecake
Instant Pot Cinnamon Roll Cheesecake is a golden graham cracker crust that has a velvety cheesecake that is swirled with a cinnamon mixture. This cinnamon roll cheesecake recipe is so easy to make, and such a treat. An instant pot cheesecake that will win you over with one bite.
Ingredients
Supplies
Crust
2 cups graham cracker crumbs
1/2 teaspoon cinnamon
3 tablespoons brown sugar
8 tablespoons melted butter
Cheesecake Swirl Ingredients
1/2 cup butter, melted
2 1/2 tablespoons cinnamon
2/3 cup brown sugar
Cheesecake Batter
24 ounces cream cheese, softened
2/3 cup granulated sugar
2 eggs, room temperature
1/2 cup sour cream
1 teaspoon vanilla extract
Instructions
The first thing you want to do is work on your graham cracker crumb crust. Take your crushed graham crackers and mix with melted butter, cinnamon and brown sugar. Once mix, and it feels like wet sand. Press into a lightly greased 7 or 8 inch springform pan.
Make sure to press the crust tightly down, and aim to come up 1/2 inch on the sides. Toss the crust in the freezer.
Now in a bowl, mix butter, brown sugar, and cinnamon. Once it is whipped, set aside. This is the cinnamon filling you will swirl.
Now in a stand mixer beat cream cheese and sugar until smooth. Then add in the sour cream, and vanilla. Mix until fully incorporated.
Next add in 1 egg at a time, mixing on low. Don't overmix or it will create air bubbles.
Once the batter is mixed, pour half the cheesecake batter into the pan. Take the cinnamon swirl mix and add dollops on top. Use a toothpick or skewer to swirl it around.
Top with the remaining cheesecake batter and repeat with more of the cinnamon mixture you swirl into the cheesecake.
Cover tightly with foil, and place on a trivet or use a silicone sling. Add 1 1/2 cup water into the Instant Pot. And place cheesecake on trivet.
Place the lid on pressure cooker making sure the valve is set to sealing.
Pressure cook on high manual pressure for 35 minutes. Followed by a natural release of pressure.
Allow to cool for 1 hour on a cooling rack.
Then cover the cheesecake and store overnight before slicing and serve up this cinnamon roll cheesecake.
Notes
You can use Golden Oreos or vanilla wafers as crust instead of graham cracker crumbs.
You want to ensure you tightly cover the cheesecake with aluminum foil or it will become soggy.
The internal temperature needs to be 150 degrees.
If your cheesecake is not fully cooked, return and pressure cook another 5-8 minutes.
You can make a cinnamon roll glaze to drizzle on top of your cheesecake if you want.
Refrigerate your cheesecake or freeze any you don't plan to eat right away.
Nutrition Information:
Yield:

12
Serving Size:

1
Amount Per Serving:
Calories:

523
Total Fat:

39g
Saturated Fat:

23g
Trans Fat:

1g
Unsaturated Fat:

13g
Cholesterol:

135mg
Sodium:

383mg
Carbohydrates:

40g
Fiber:

1g
Sugar:

30g
Protein:

6g
This information is automatically calculated by third-party software, including but not limited to the Create or Bake Me Some Sugar. For accurate nutrition, I suggest running the ingredients in your own system to get a more accurate reading. Nutritional information is approximate and automatically calculated, and should only be viewed as an indication.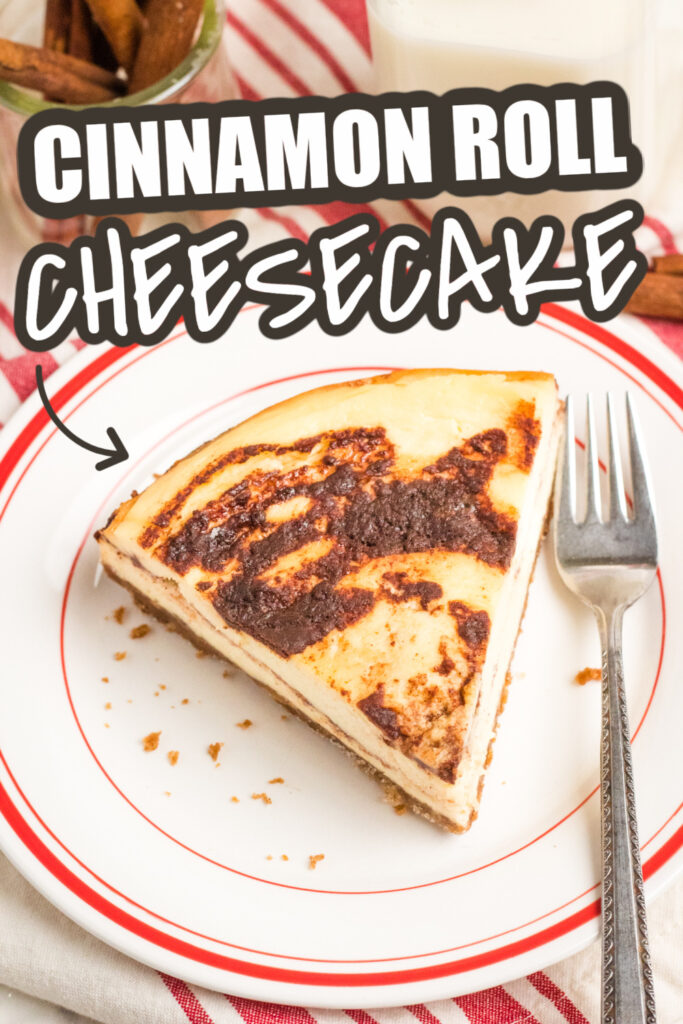 Let me know how you like this easy cinnamon roll cheesecake.