Best Maple Cinnamon Rolls are a maple bun that is a maple-flavored cinnamon roll, sugary filling, and a maple icing drizzled over the top. Give this homemade cinnamon roll with maple glaze recipe a try!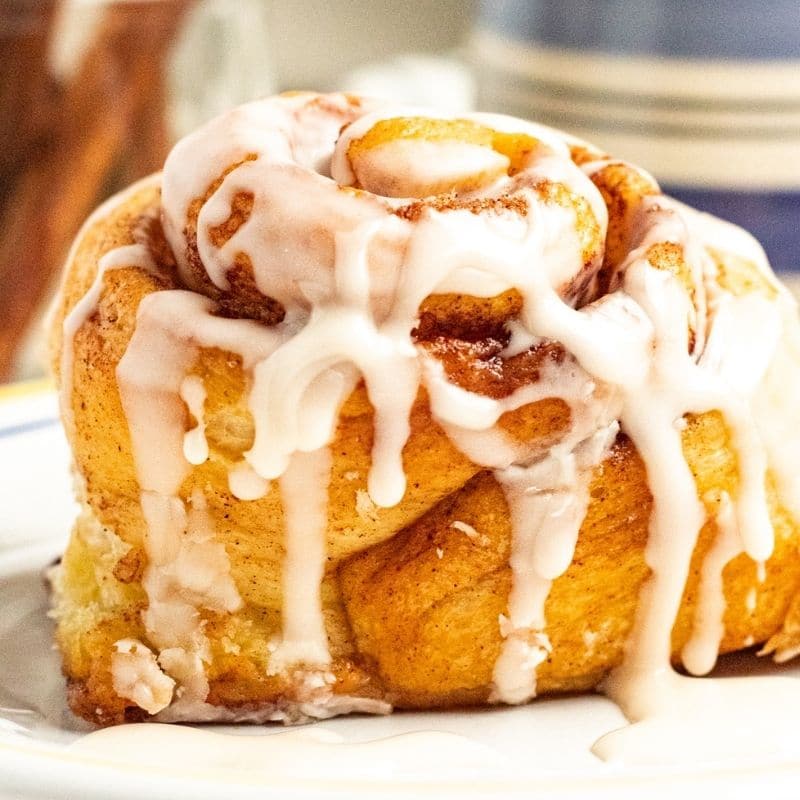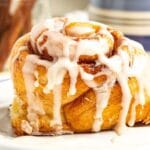 These Maple Cinnamon Rolls are a perfect weekend treat for your family. Homemade yeast cinnamon rolls with a maple dough, cinnamon sugar filling, and a sweet maple cinnamon roll glaze. Maple rolls never tasted so good!
This recipe is easy for anyone to follow and your family will love that they are made from scratch.  If you bake very often you will have most of these ingredients already and they all can be used in various other recipes as well.
Try my bread machine cinnamon rolls as well. Light, fluffy, and topped with a cream cheese frosting.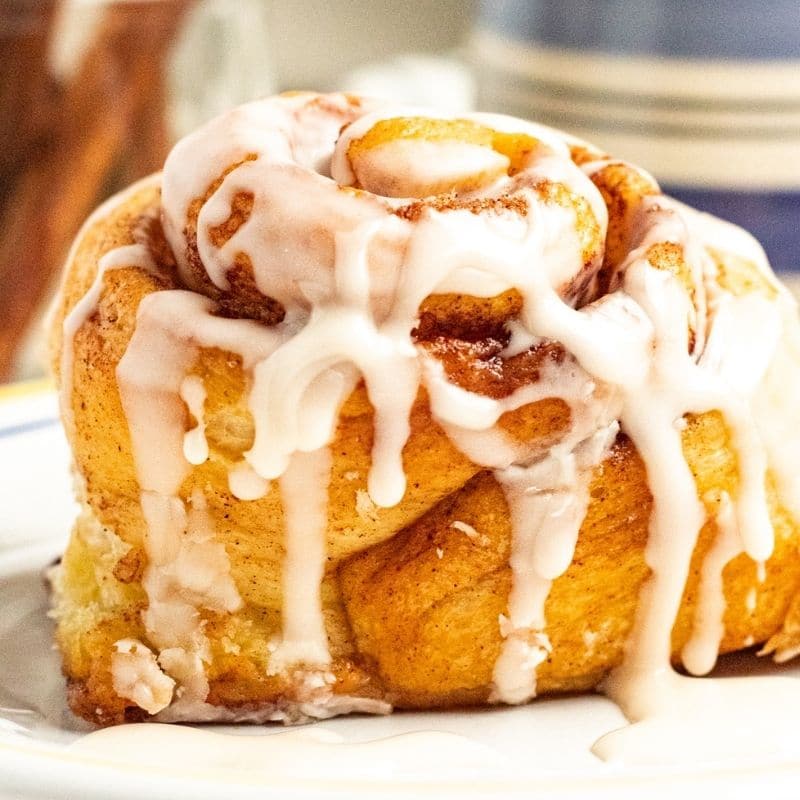 The cinnamon roll glaze recipe that you drizzle on the top of the maple buns taste so sweet that everyone will be talking about it. I normally get about 10 rolls out of this mixture and sometimes a couple of tiny ones due to the dough stretching a bit.
This Maple Cinnamon Roll Recipe Is…
Made from scratch
Homemade maple icing for cinnamon rolls
Soft and tender
Great for breakfast or dessert
Stores well leftover
Freezer friendly maple cinnamon rolls
How to Make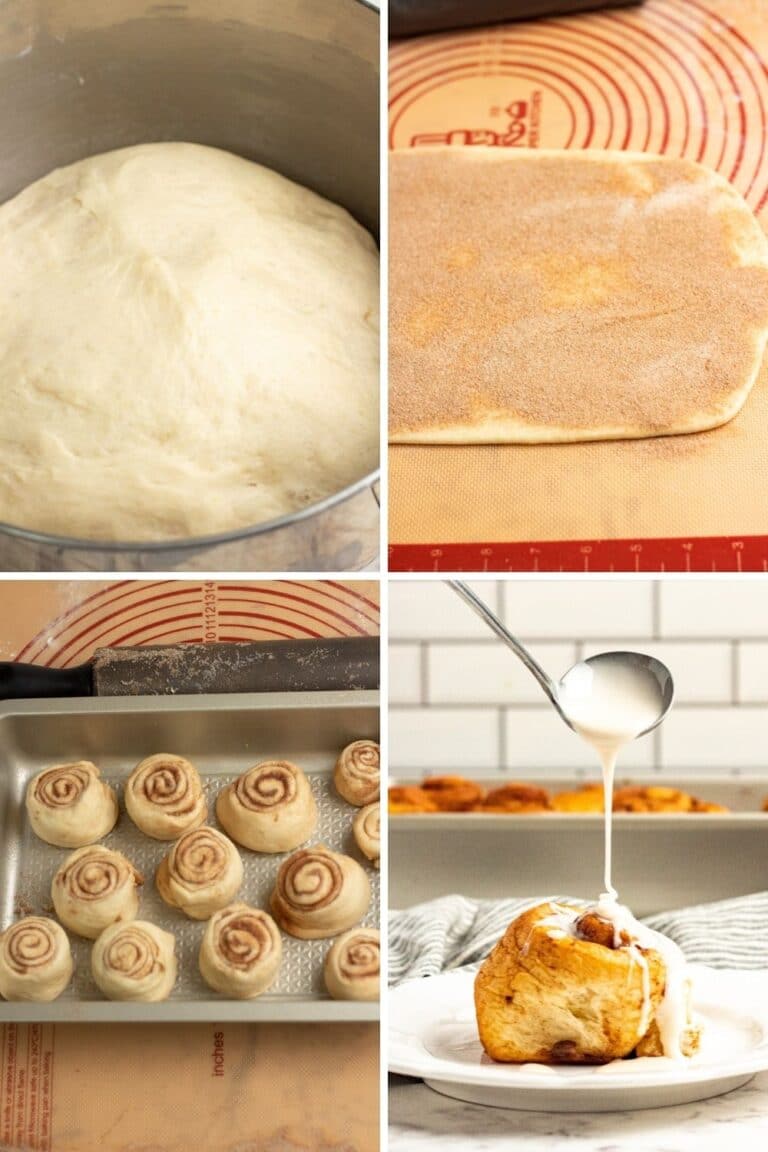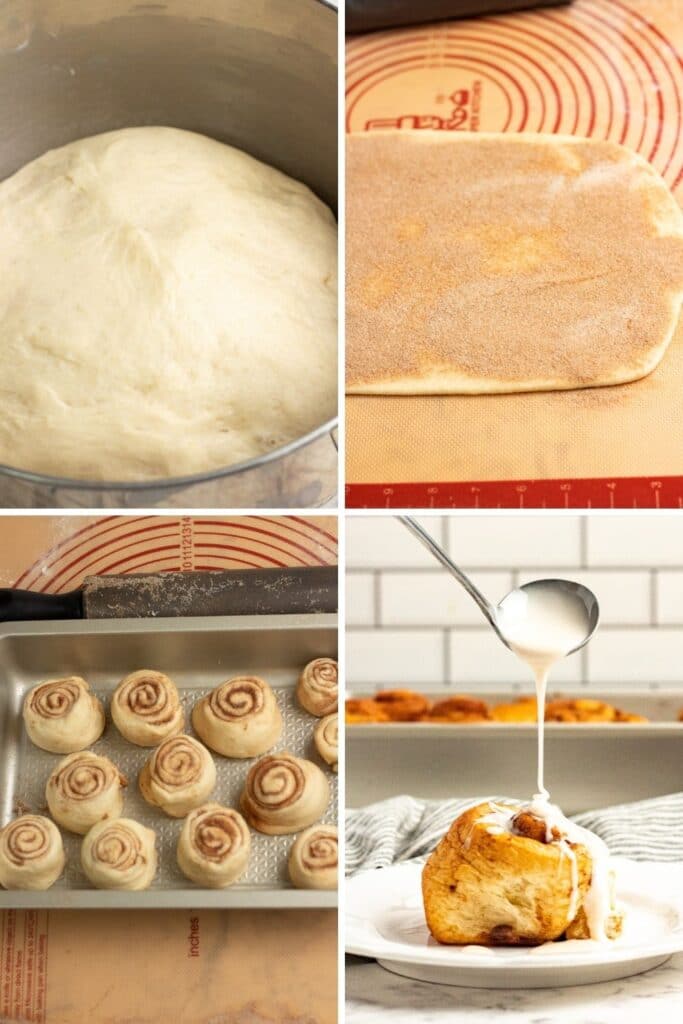 Step 1: Make your bread starter. Mix up your yeast mixture and let activate.
Step 2: Mix up the cinnamon roll dough with your bread starter and other ingredients. Cover and let rise until it is double in size, approximately 1 to 1 ½ hour.
Step 3: Preheat your oven and grease your pan.
Step 4: Roll out and assemble your cinnamon roll dough, and place in a greased pan. Let rise again covered.
Step 5: Bake your maple cinnamon rolls as directed in the recipe card. Brushing with milk helps the rolls brown up.
Step 6: Mix ingredients for your maple icing.
Step 7: After the maple cinnamon rolls cool slightly add icing. Serve warm.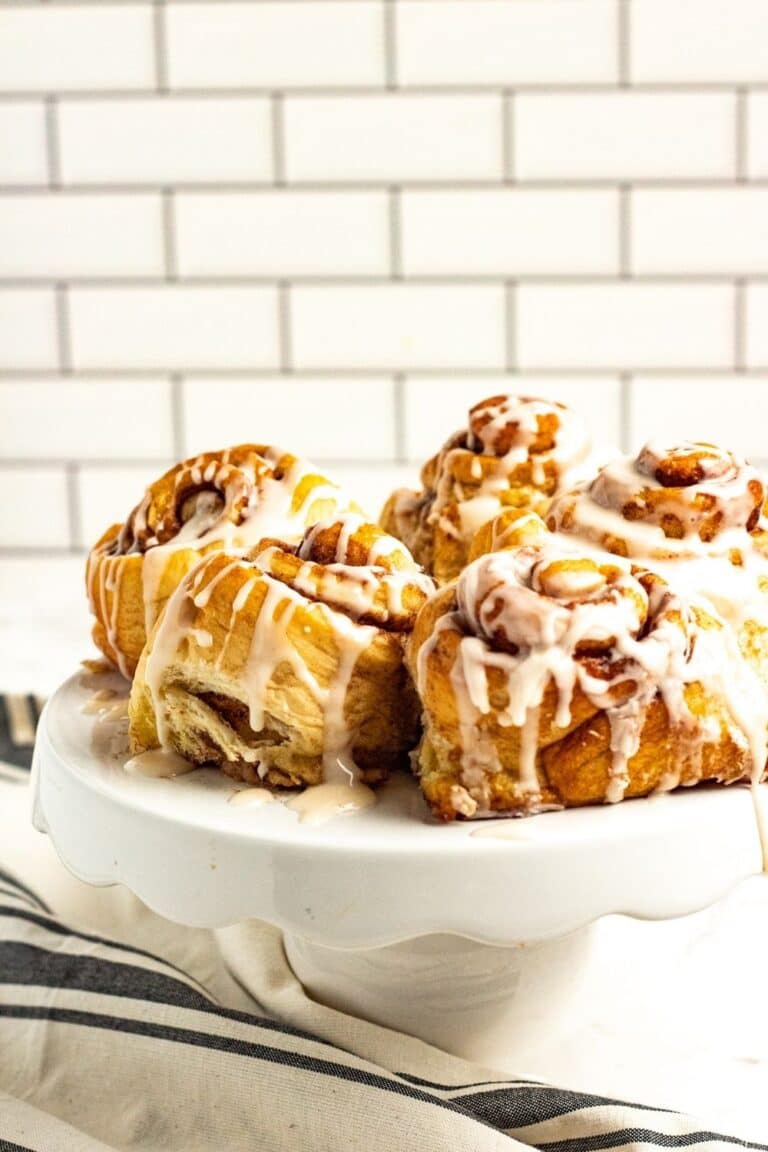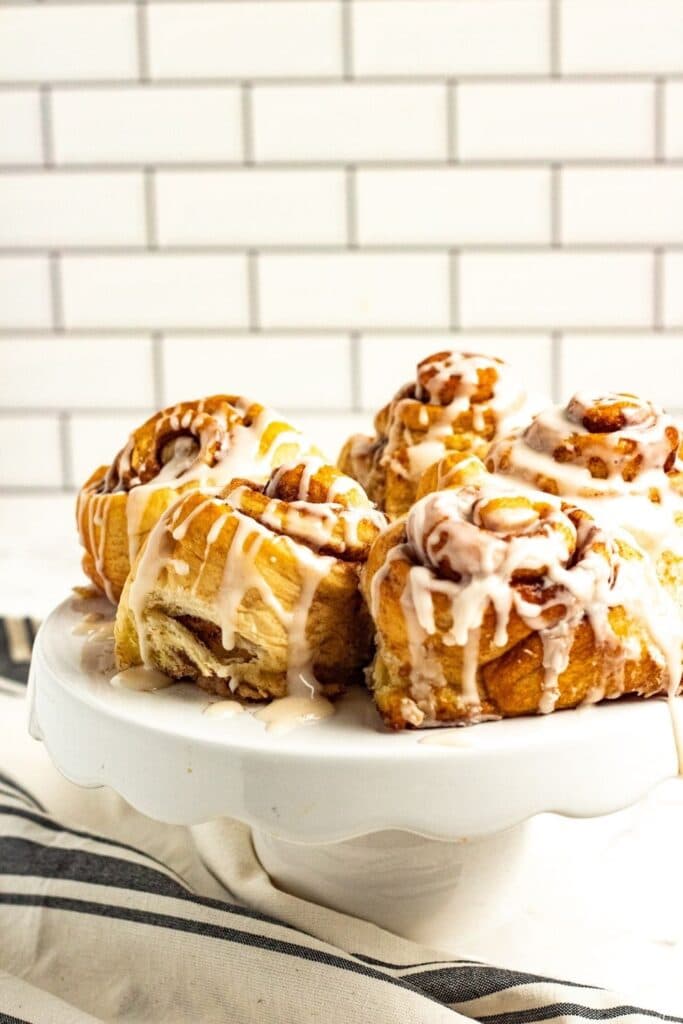 Expert Tips
This recipe works best if you have a dough hook with a stand mixer. But can be mixed by hand.
Have all ingredients out when you start the recipe.
Make sure your butter is softened.
Gently roll your filling onto the dough using a rolling pin. Gently press the mixture into the dough.
Let your dough rest until it is doubled.
Variations to Recipe
To make the recipe your own you can add your favorite spice like nutmeg, ginger, or anything else.
Consider adding in walnuts or pecans to make these maple nut buns.
Add in a glaze on bottom and make a maple pecan sticky bun instead of a classic cinnamon roll.
Make sure to activate your active dry yeast.
Measure your ingredients properly.
Allow dough to rise in a warm environment.
Recipe FAQs
How can you tell when cinnamon rolls are ready?
Use a paring knife or fork to pull up the center, if the dough is still sticky and raw looking return to the oven. The maple buns should be golden to dark brown on top.
What type of yeast to use for cinnamon rolls?
Active dry yeast works best. Allow your mixture to sit while the yeast activates.
Can you reheat cinnamon rolls?
Wrap any leftovers and store at room temperature for up to 2 days. Just before serving, tent the buns lightly with foil and rewarm in a preheated oven for about 10 minutes. 
Why do my cinnamon rolls get hard?
Adding too much flour or overmixing the dough can lead to a hard cinnamon roll.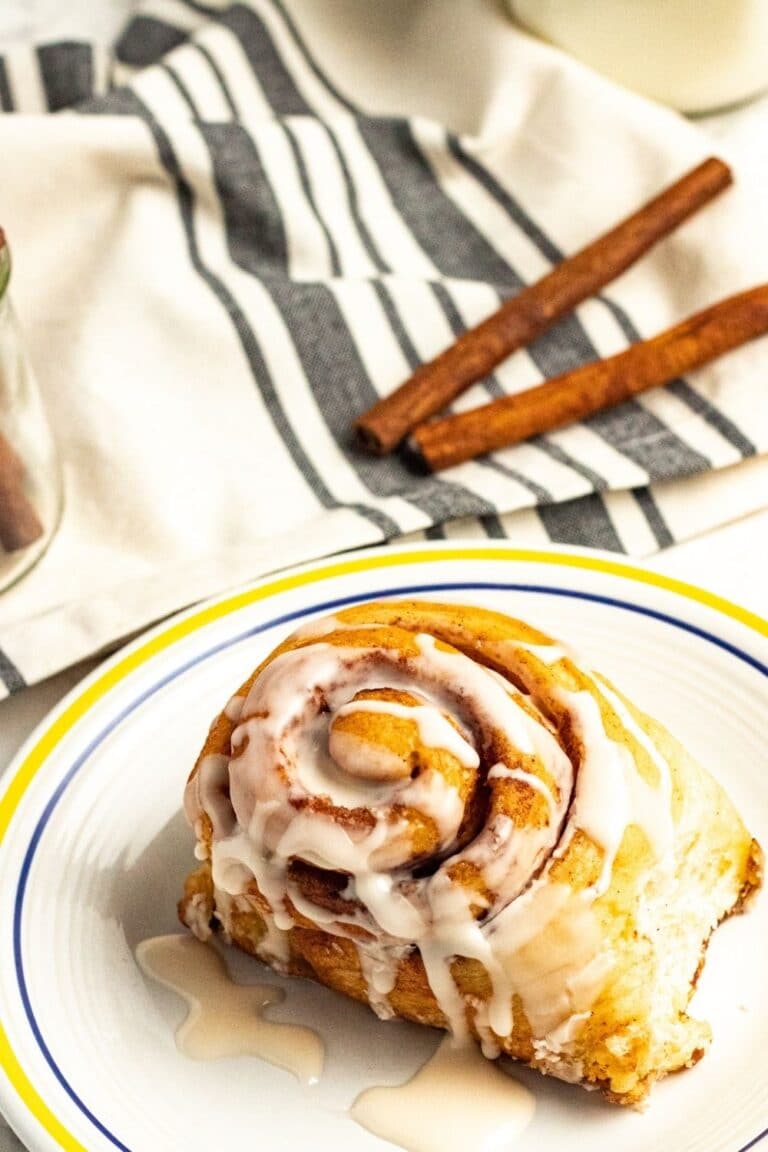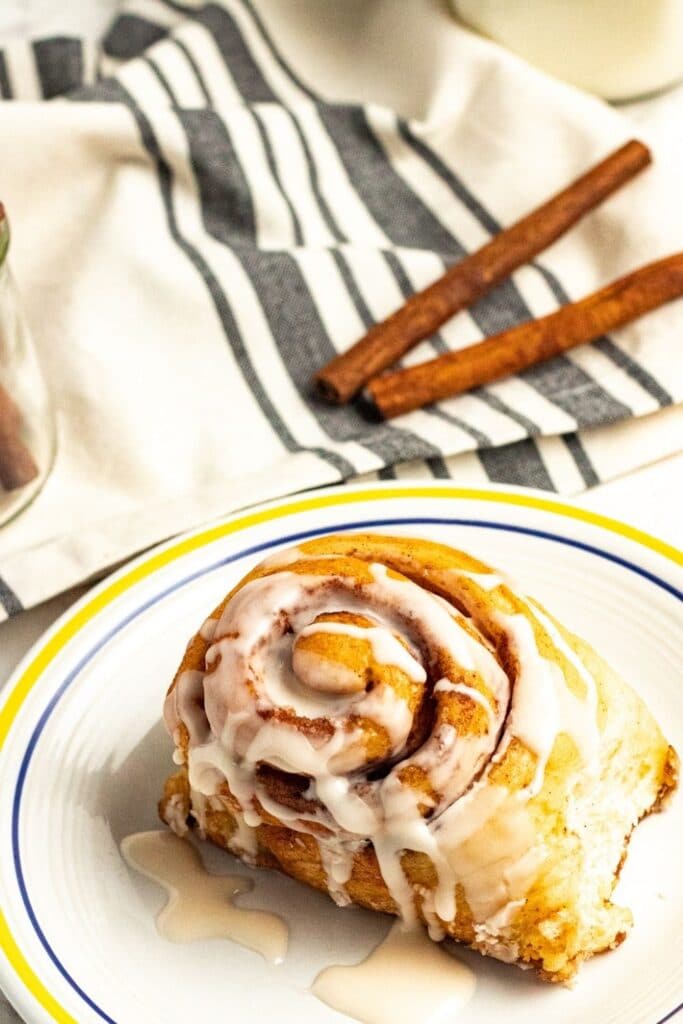 More Bread And Roll Recipes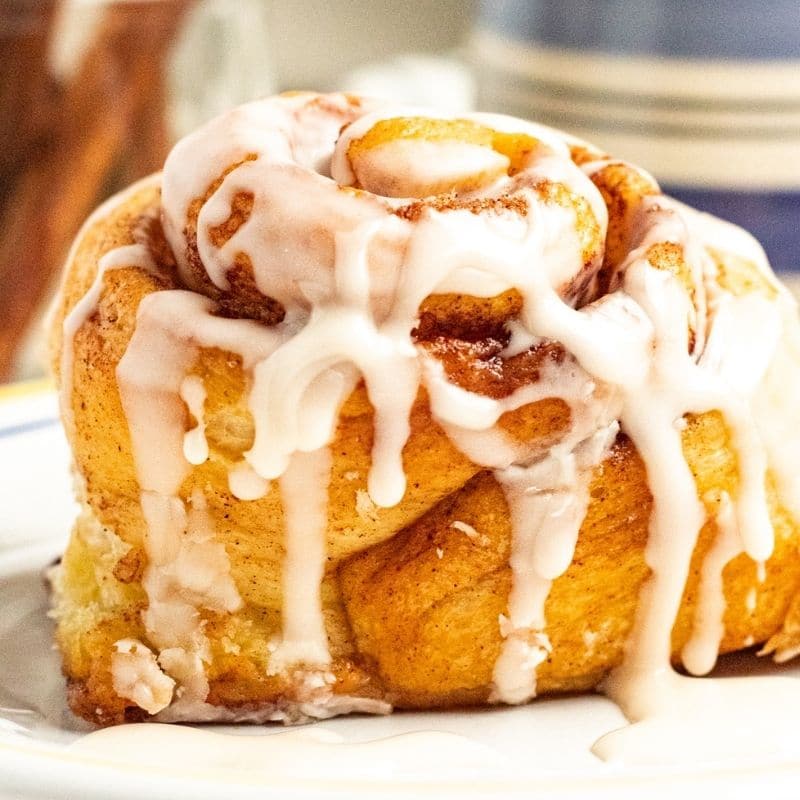 Best Maple Cinnamon Rolls (Maple Buns)
Servings 10 -12
Best Maple Cinnamon Rolls are a maple bun that is a maple-flavored cinnamon roll, sugary filling, and a maple icing drizzled over the top. Give this homemade cinnamon roll with maple glaze recipe a try!
Ingredients
Cinnamon Roll Starter
½ cup warm water
⅓ cup bread flour
½ cup warm milk
Dough
2⅔ cup bread flour
¼ cup granulated sugar
1 packet active dry yeast
1 large egg
¾ cup warm milk reserve ¼ cup for brushing tops of rolls
4 oz butter
1 teaspoon maple extract
Cinnamon roll Filling
8 tablespoons butter softened
¾ cup granulated sugar
3 teaspoons cinnamon
Maple Glaze
1 cup powdered sugar
½ cup sour cream
1 teaspoon maple extract
Instructions
To start work on your cinnamon roll starter. You will add 1/2 cup warm water in a small saucepan. Add in 1/3 cup flour and whisk well.

Stir in the 1/2 cup milk on medium low heat, mixing until no lumps. You want a smooth and thick slurry. Once the mixture has thickened, remove from heat and cover with plastic wrap and let it sit as you work on dough.

Add 1/2 cup warm milk (100-105 degrees) in a bowl. Add 1/2 teaspoon sugar to the milk along with the yeast. Stir gently and let sit. You will want the mixture to bubble and foam. This takes 5-10 minutes.

Once the yeast is ready, toss in the flour, egg, leftover sugar, maple extract, and salt. Mix until combined.

With a dough hook you will add in your bread starter with the rest of the dough. Knead for 5 minutes on low speed.

Cut the dough int o 4 pieces, then one at a time add dough into the mixer, and knead for 2 minutes, then add another lump of dough, until all has been kneaded.

Remove the dough, it should be a soft ball. Place in a greased bowl, and cover with towel or plastic wrap. Let it rise for 1 – 1 1/2 hours or until doubled.

Roll out your dough on a floured surface, to make a rectangle shape. You want around 8×20 inch rectangle.

In a bowl add your butter, cinnamon, and sugar mixture and spread all over the dough leaving an edge.

Roll up and slice into 2 inch slices and place in a greased 9×13 pan.

Cover and let the dough rise 1 hour. Preheat the oven to 350 degrees.

Brush the top of the rolls with the leftover 1/4 cup of milk, and bake in the center rack for 25-35 minutes or until your rolls are baked fully.

Remove and allow to cool.

In a bowl mix up the maple icing ingredients and drizzle over the warm rolls.

Slice and serve this maple cinnamon roll recipe up for breakfast, snacking, or a midnight dessert.
Notes
How to Proof Dough in Instant Pot | To proof your dough all you have to do is mix as you would. Then grease the Instant Pot liner, place the yogurt setting on for 30 minutes. Cover the top with a glass lid. Let it rise for 20-30 minutes.
Brushing rolls with butter helps the tops of the rolls brown.
Make sure to allow your yeast to fully activate, or it will not allow your rolls to rise properly.
If you want you can leave the maple flavoring out of rolls and just use it in the maple icing.
Refrigerate any rolls you don't eat right away.
You can freeze rolls for up to three months.
Nutrition
Serving: 1gCalories: 401kcalCarbohydrates: 53gProtein: 6gFat: 19gSaturated Fat: 11gPolyunsaturated Fat: 6gTrans Fat: 1gCholesterol: 64mgSodium: 146mgFiber: 1gSugar: 26g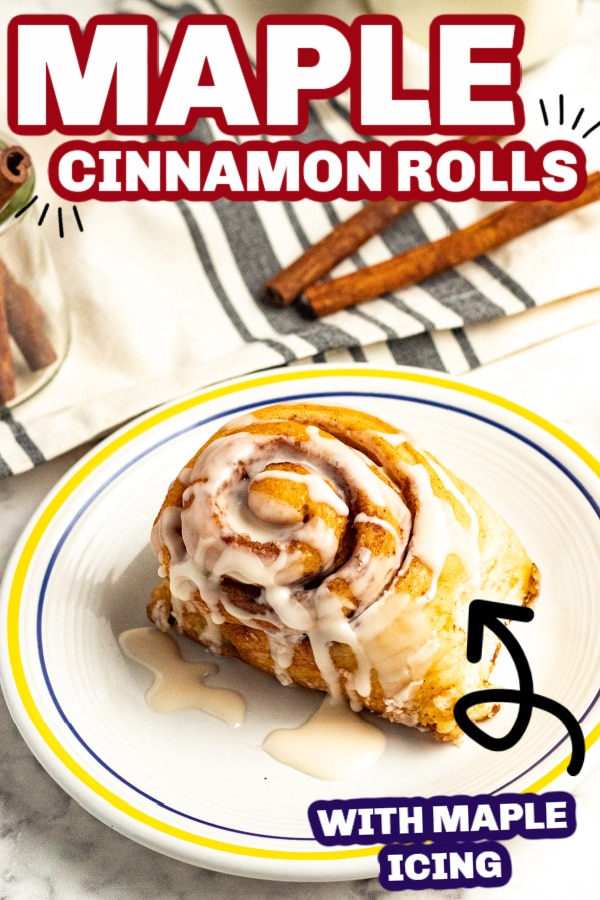 Reader Interactions