If you own a bread machine, dust it off and try out these bread machine cinnamon rolls! Homemade cinnamon rolls that is fluffy, light, and topped with a decadent cream cheese frosting.
These cinnamon rolls in the bread machine are a game changer. Perfect bread dough each and every time, with no effort on your part needed.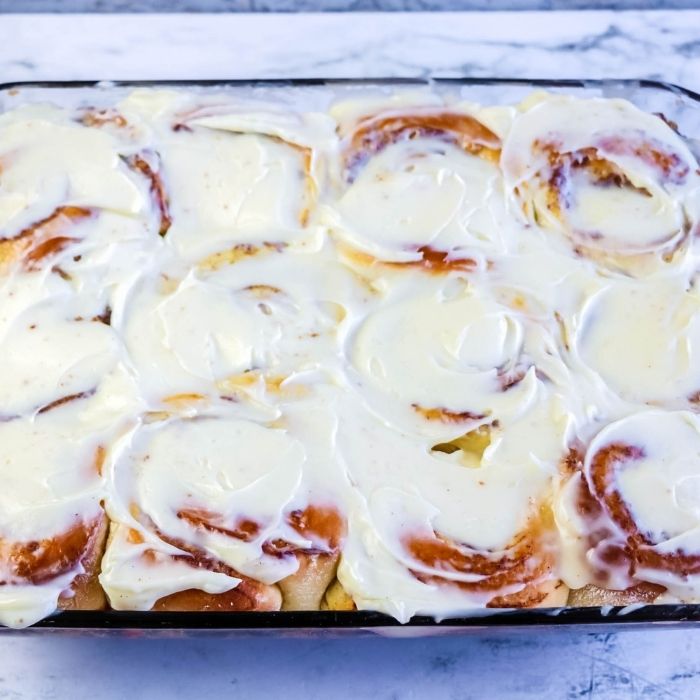 If you enjoy cinnamon rolls, I have a few different recipes to check out. Here are some chocolate cinnamon rolls, or try my maple cinnamon rolls. Try this cinnamon roll TikTok cake that is a dump and go dessert.
This Bread Machine Cinnamon Recipe Is…
Made from Scratch
Uses Simple Ingredients
Topped with Cream Cheese Frosting
Freezer Friendly
Ingredients
Bread Flour
Bread Machine Yeast or Active Dry Yeast
Brown Sugar
Granulated Sugar
Milk
Butter
Eggs
Yeast
Vanilla
Butter
Cinnamon
Cream Cheese
Salt
Powdered Sugar
How to Make
Full directions on how to make bread machine cinnamon rolls are in the printable recipe card. This is a visual walk through with images for readers.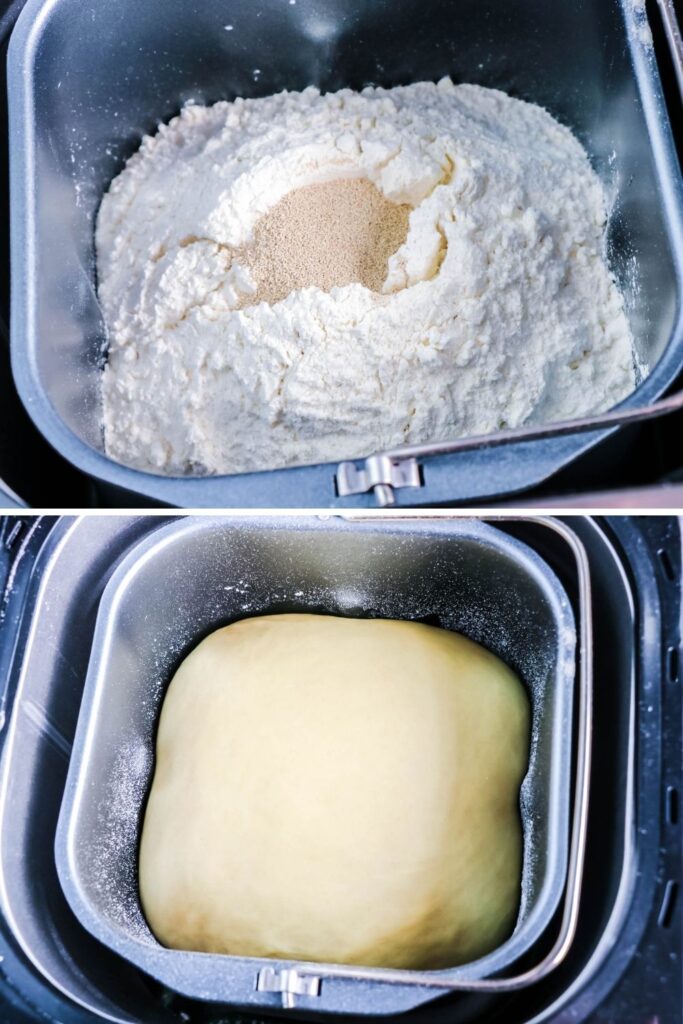 Step One: Add the ingredients for the bread dough into the bread machine, as listed to your manufacture instructions.
Step Two: Then place the dough setting and let it work over the cinnamon roll dough. Let the machine handle working the dough.
Step Three: Next, once dough is ready, preheat the oven and grease your 9×13 casserole pan. Set it aside.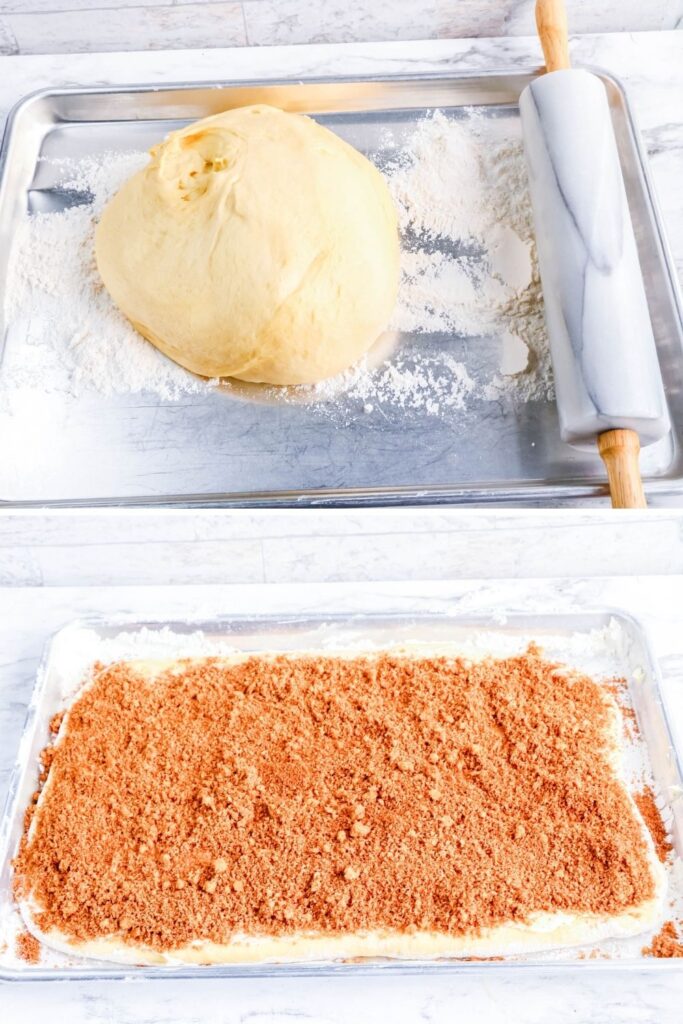 Step Four: Then open the bread machine, and punch down the dough, and place the dough on a lightly floured surface. Roll out the dough and aim for around 16 inches by 22 inches in size.
Step Five: Next you will mix up the brown sugar and cinnamon together. Then spread your softened butter over the dough, and sprinkle the brown sugar mixture on top.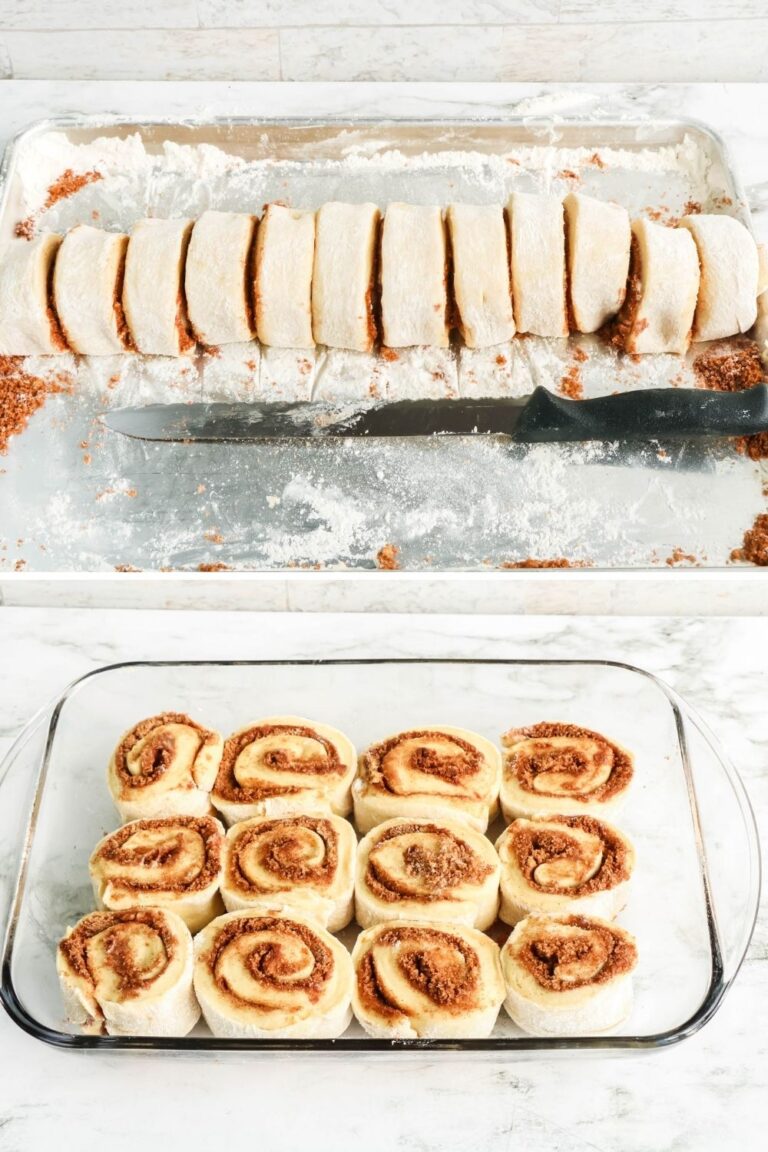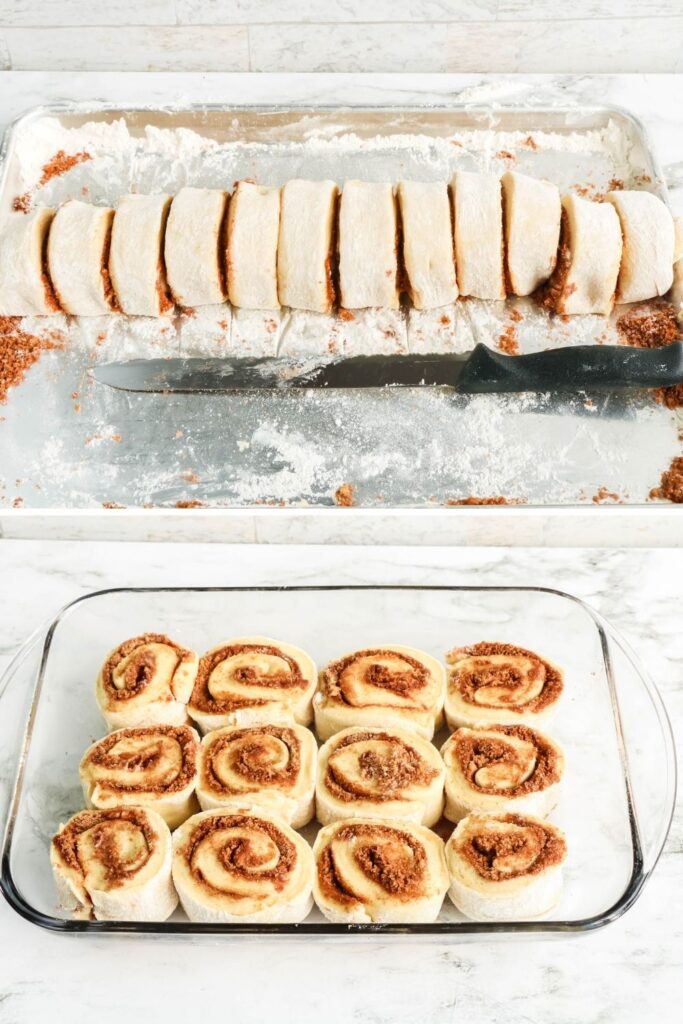 Step Six: Then after that you will roll up the dough along the edges, creating a long log. Cut the dough into 12 equal dough portions.
Step Seven: Next, transfer to casserole dish and cover and let the cinnamon rolls rise for another 30-60 minutes. Or until they are doubled in size.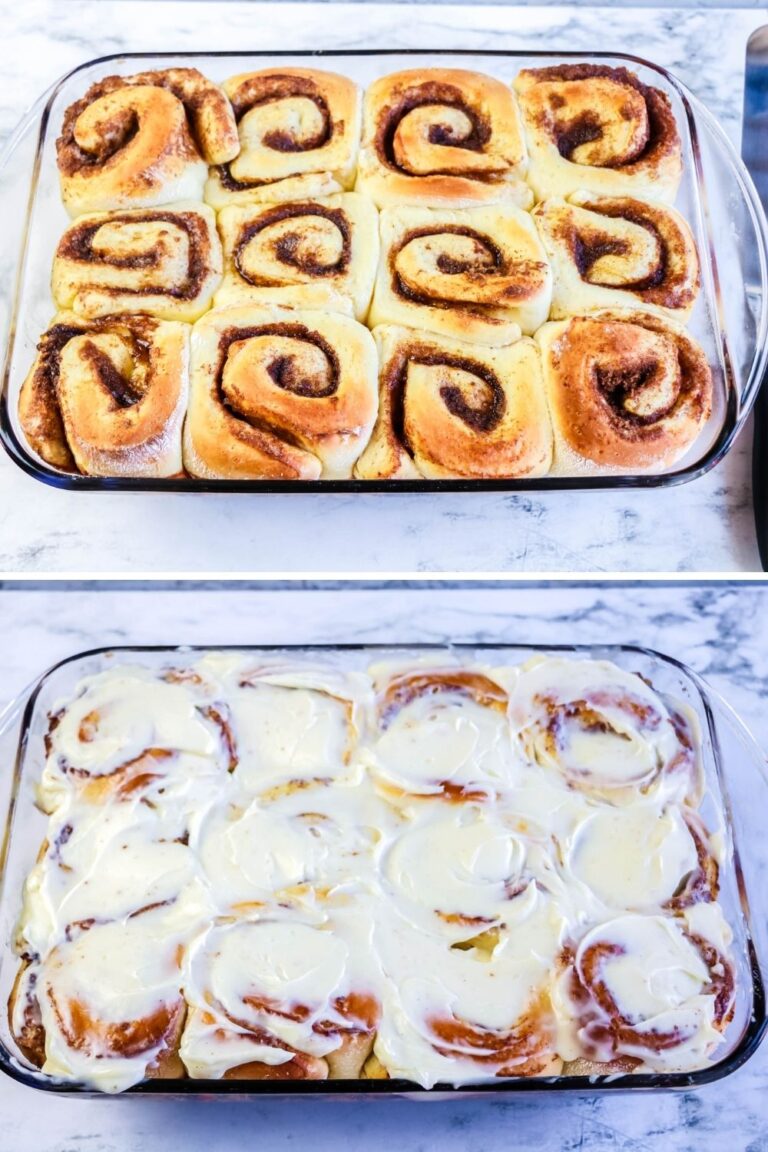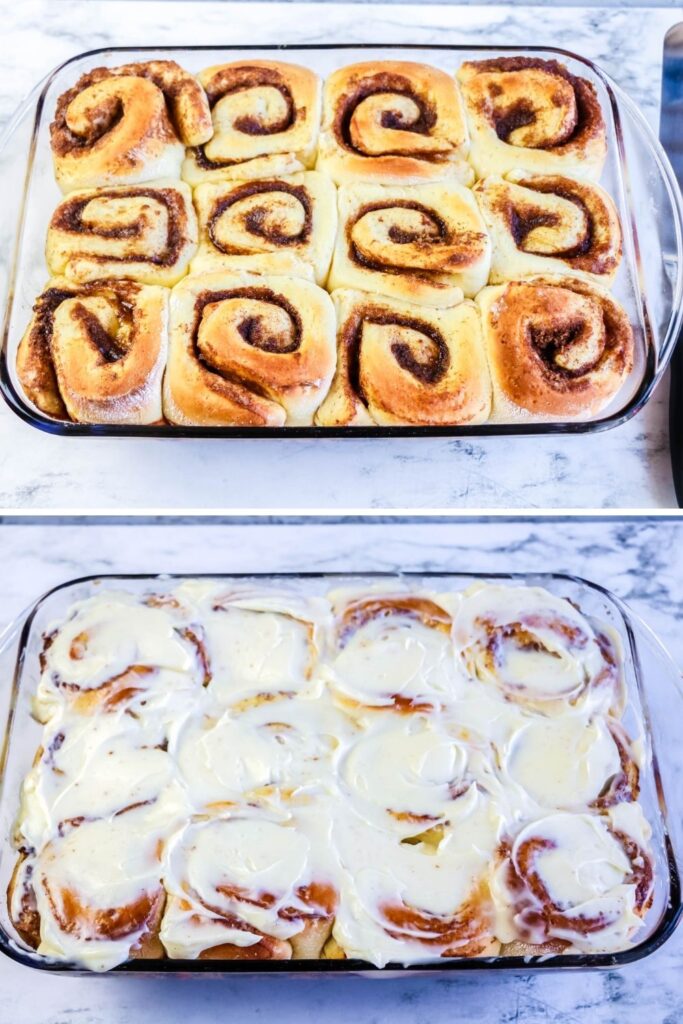 Step Eight: Next, bake for 15-20 minutes or until the rolls are cooked through and golden brown on top.
Step Nine: Finally while rolls are cooking mix up the cream cheese frosting and spread over the cinnamon rolls, then serve them up.
Tips For Making Cinnamon Rolls
Here are some helpful tips for making this sweet bread machine recipe. It will set you up for success.
Follow your bread machine manual on how to place ingredients in your bread machine. As you can see in ours, the yeast goes right on top in the center. Depending on make and model the placement of ingredients varies.
Make sure that you preheat the oven for your cinnamon rolls. They need to be placed in a fully hot oven.
If the cinnamon roll dough is too elastic from being removed from the bread machine when you go to work the dough. Let it rest for 5 minutes, and then work the dough. This will help the texture.
You can brush the rolls with milk, butter or an egg wash to help them become golden brown in the oven if you would like.
Make sure to work with softened cream cheese for the frosting, or it will be clumpy.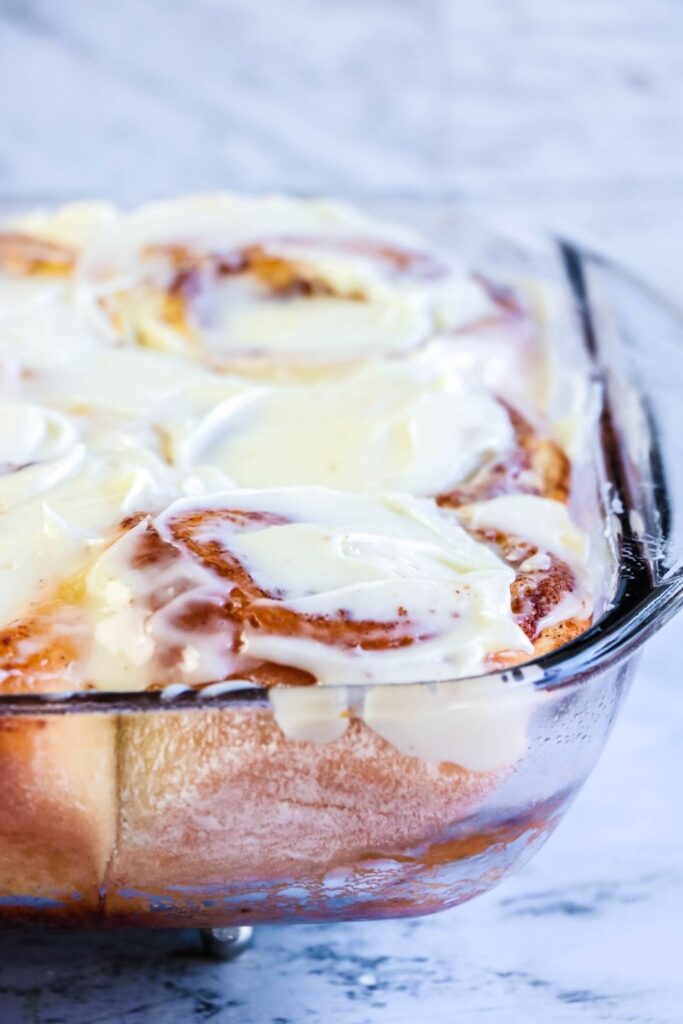 Storing Rolls
Refrigerate – Due to the cream cheese frosting these rolls need to be refrigerated. Just place in a dish that is covered with a lid. These bread machine cinnamon rolls with cream cheese icing can store for up to 4-6 days in the fridge.
To eat, you can eat cold straight from the fridge. Or warm them up in the microwave to get more of a fresh out of the oven texture.
Freezing Rolls – You can also freeze these cinnamon cinnabon rolls. Just place in an airtight container and freeze for 3-4 months. Thaw in the fridge overnight, or defrost in the microwave.
FAQs
Here is a list of common questions for this bread maker breakfast bread or rolls recipe. Whatever you want to call it, this bread maker questions are helpful.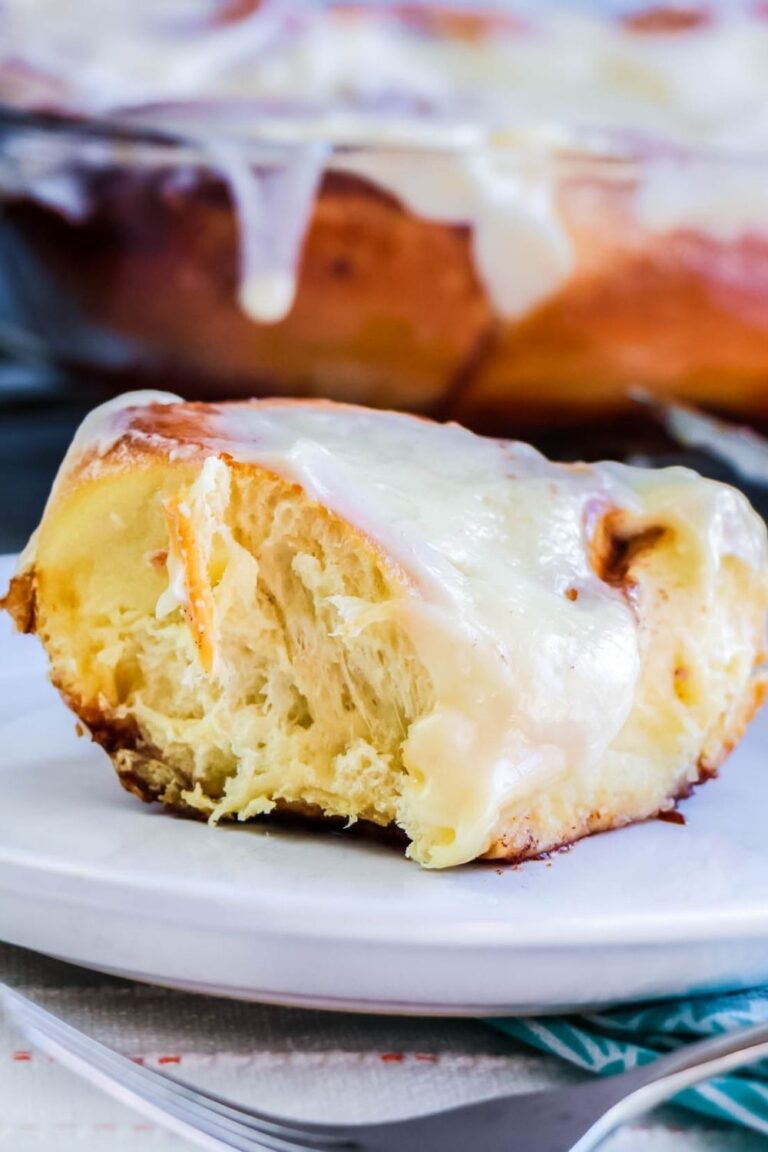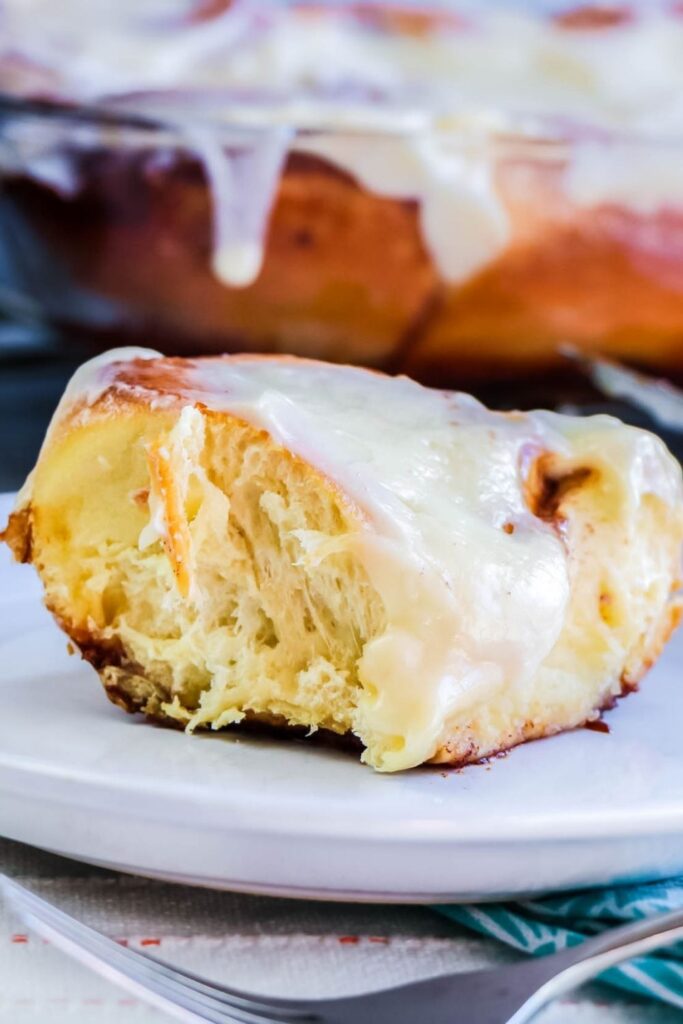 More Breakfast Recipes
Have you tried the recipe? If so, please leave a star ⭐️⭐️⭐️⭐️⭐️ rating in the recipe card below or drop a comment. Also stay in touch with me through social media by following me on Facebook, Pinterest, or My Facebook Group!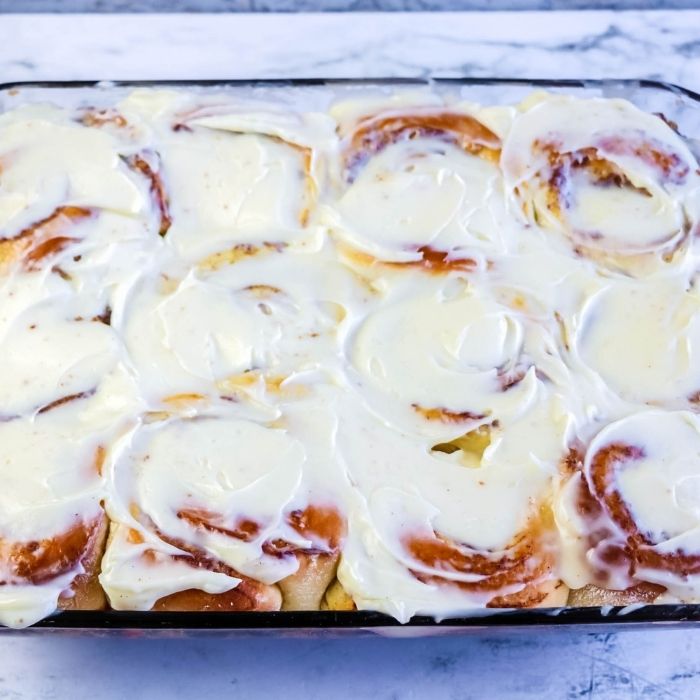 Bread Machine Cinnamon Rolls
Servings 12
Bread Machine Cinnamon Rolls are the perfect way to make the cinnamon roll dough with a hands off approach. Soft, fluffy, delicious homemade cinnamon rolls that are topped with a cream cheese frosting.
Ingredients
Cinnamon Roll Dough
1 cup milk microwave to 110 degrees
2 eggs room temperature
1/3 cup butter melted
2 1/2 teaspoons bread machine yeast or active dry yeast
1 teaspoon salt
1/2 cup granulated sugar
4 1/2 cups bread flour scooped, and leveled
Cinnamon Roll Filling
2 tablespoons ground cinnamon
3/4 cup brown sugar
1/3 cup unsalted butter softened
Cream Cheese Frosting
8 ounces cream cheese softened
1/4 cup unsalted butter softened
1 1/2 cups powdered sugar
1/4 teaspoon salt
1/2 teaspoon vanilla extract
Instructions
Start by adding all the cinnamon roll dough ingredients into your bread machine as directed by your bread machine manual.

Press the dough cycle and allow it to work the dough. Once the dough is done, you can move on.

Preheat the oven to 400 degrees, and grease a 9×13 pan. Set it aside for the time being.

Take the dough and punch it down once it has risen and is done in the bread machine. Place it on a floured surface and work the dough for a few minutes. If you find the dough is too elastic, let it sit 5 minutes and then work with it.

Roll the dough out to a thin layer of 16 inches by 22 inches.

Spread the softened butter all over the dough, except for around 1 inch of the dough. Then mix up the brown sugar and cinnamon filling mixture and sprinkle all over the dough, and spread to an even layer.

Next, tightly roll the dough into a long log, and cut into 12 equal parts. Pinch the seams a bit to ensure they stay together. Place the sliced cinnamon roll dough balls in your baking sheet.

Cover with a towel and let it rise for 30 minutes to 1 hour. You want the cinnamon rolls to double in size.

Place in the oven and bake for 15-20 minutes or until cinnamon rolls are done. Remove and place on a cooling rack.

Now you can cream all your ingredients for the cream cheese frosting together with a hand mixer or stand mixer.

Once nice and creamy spread all over the cinnamon rolls. Then slice and serve up these bread machine cinnamon rolls for breakfast, dessert, or a side to go with chili.
Notes
Bread Machine Dough – All bread machines have specific ways they want ingredients added in. Make sure to refer to your bread machine to put the ingredients in the right way, or you can run the risk of not getting the proper dough. Frosting – I used a cream cheese frosting but you can always swap it with a classic glaze, or even serve them plain. Storing – Refrigerate the cinnamon rolls due to the cream cheese frosting. You can also freeze for 3-4 months.
Nutrition
Serving: 1g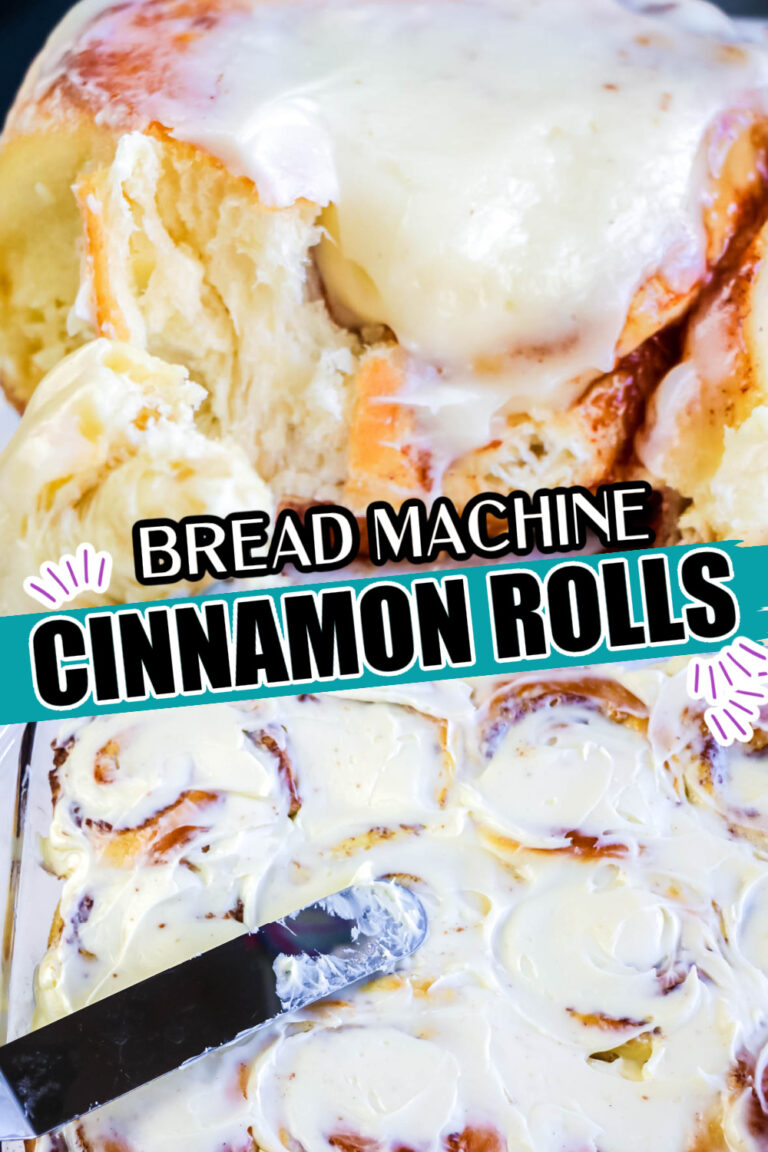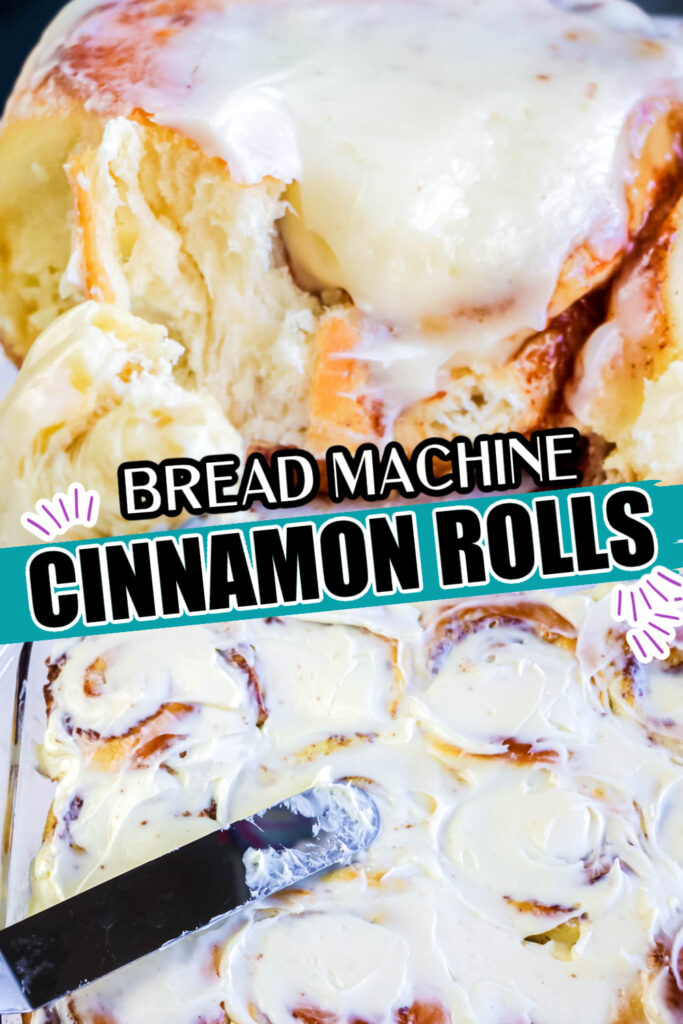 Reader Interactions