Cheesecake Stuffed Apples are a gourmet apple that you will love. A chocolate-dipped apple that is stuffed with a no-bake cheesecake filling and drizzled with caramel, chocolate, and candy bar crumbles!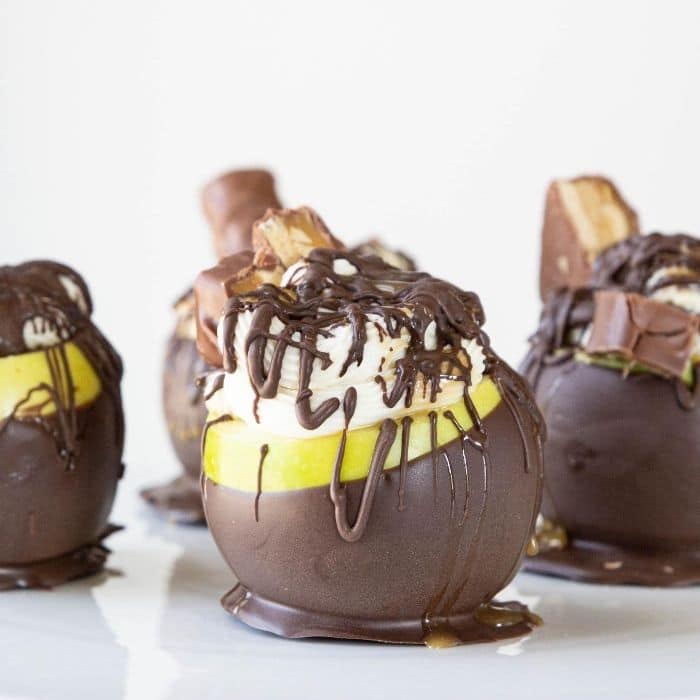 Looking for more apple recipes? Instant pot apple cinnamon oatmeal, applesauce pancakes with cheesecake filling, or apple pie cheesecakes in a jar.
A fruit dessert recipe that will win over anyone with one bite. I loved these dipped apples because they were a fun and different recipe. Serve as a summer dessert or a fall dessert. It works for either season!
How to Make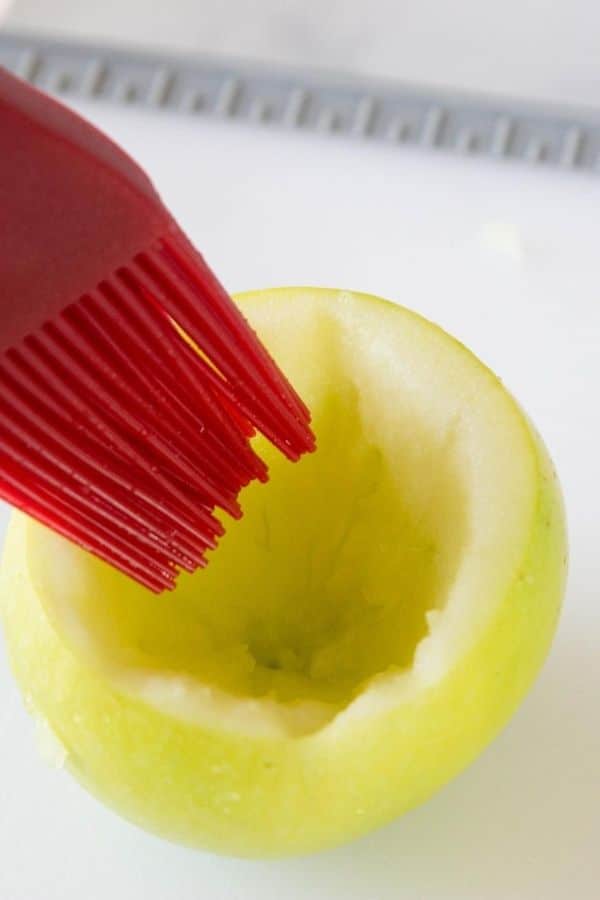 Step 1: The first thing to do is to wash and dry your apples. Then cut off the top, and use a spoon or melon scoop to scoop out the center of the apple.
Once it is cored out, you will use lemon just to brush over the apple to help prevent it from browning.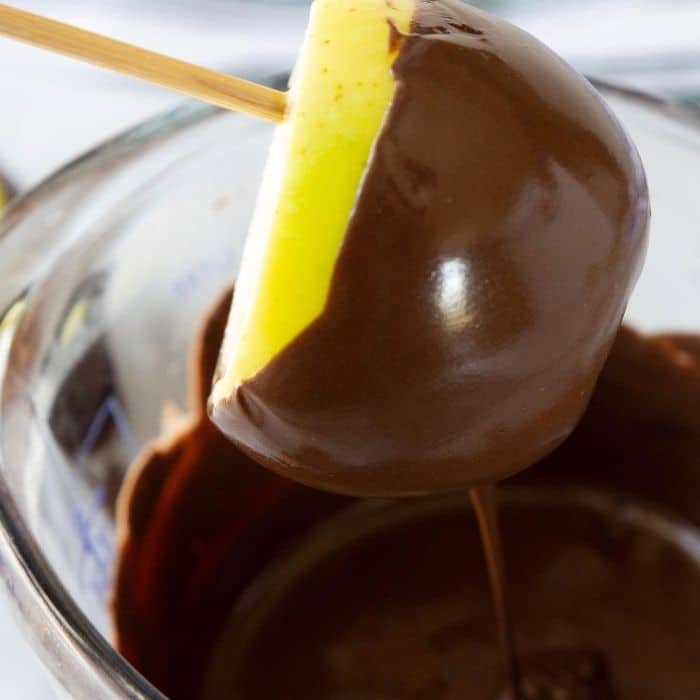 Step 2: Now you will melt your dipping chocolate. I used a larger measuring cup, so it would dip easily.
I used a wooden skewer to poke into the apple so I could dip in the chocolate easily.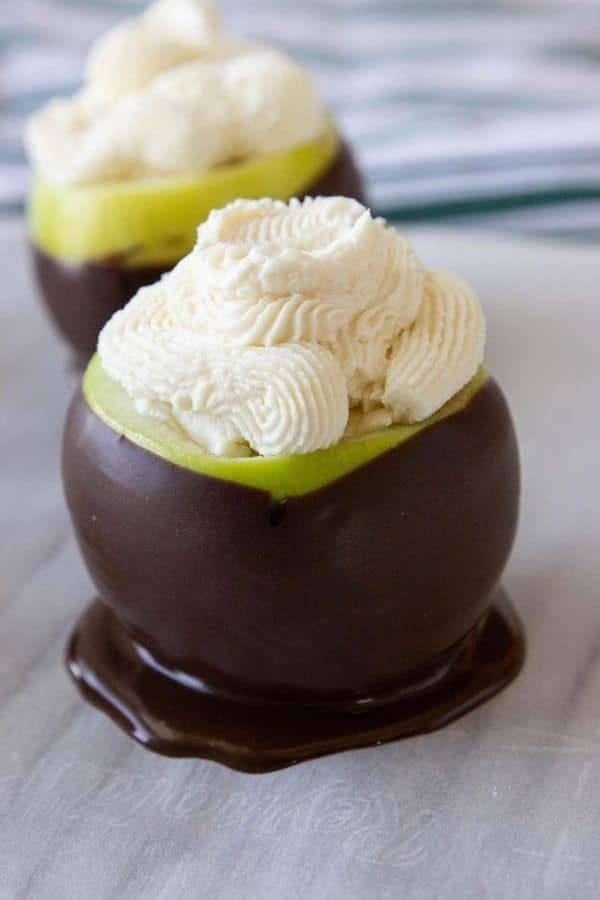 Step 3: Set the apple on parchment paper to let it set up. Then in a stand mixer whip up the softened cream cheese, powdered sugar, and vanilla. Then spoon into a piping bag.
Pipe the cheesecake filling into the apples. There is enough cheesecake to do 6 small apples.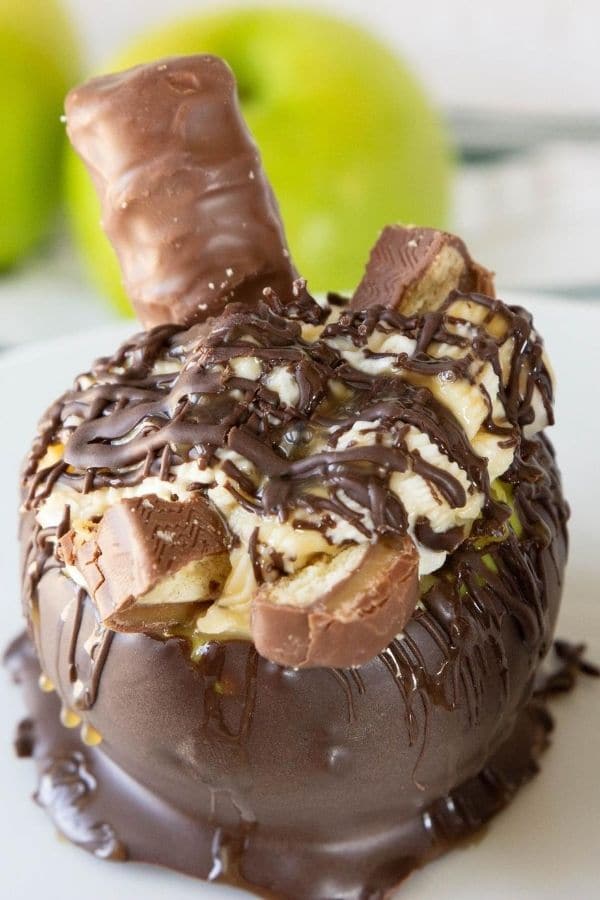 Step 4: Drizzle with melted chocolate, caramel sauce, and even top with candy bars. I did some with Snickers, Twix, and Peanut Butter Snickers!
Storing Stuffed Apples
You will store the apples in an airtight container in the fridge. These are best when eaten soon after they are made. As the apples will soften and break down a bit.
Topping Ideas
Whipped Cream
Dip in white chocolate instead of milk chocolate
chocolate chips
Top with summer fruit
Graham cracker crust
Dark chocolate shavings
Caramel Sauce
Etc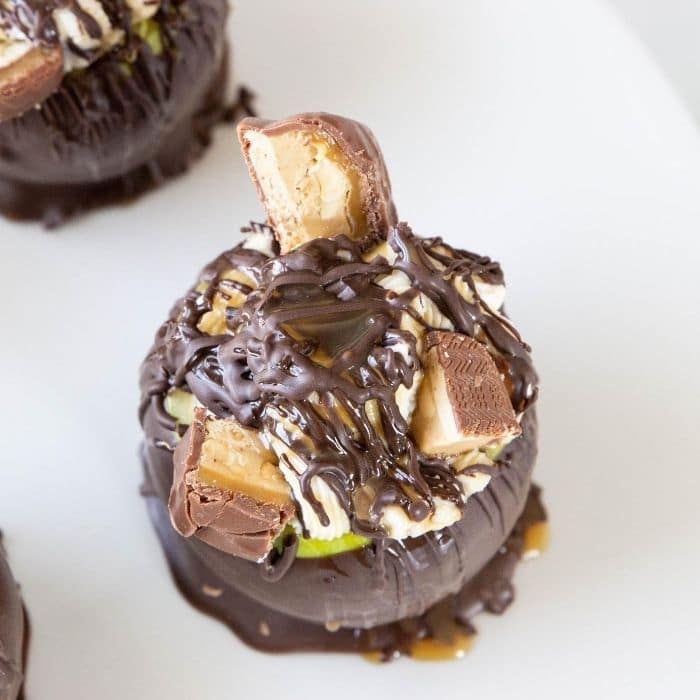 Best Apples To Use
Granny Smith apples are my preference for these. Now, you could use another variety of apple if you prefer. I love the tart served next to the sweet of the toppings.
Also, for another indulgent dessert try these fried Oreos.
What If I Don't Want To Use Melting Chocolate
So I used a chocolate almond bark for my chocolate. I did that because you want the outside of your apples to harden up nicely. If you want to use a classic chocolate chip you are welcome to.
I do recommend that you mix in 1 tablespoon of shortening. Then heat the chocolate chips up in the microwave or with a double boiler.
The shortening will help to give you a harder coating that you want for these apples!
Can I Do White Chocolate Dipped Apples
Feel free to use whatever chocolate you prefer. I wanted dark chocolate because that is what we prefer. But, if you enjoy white, go for it.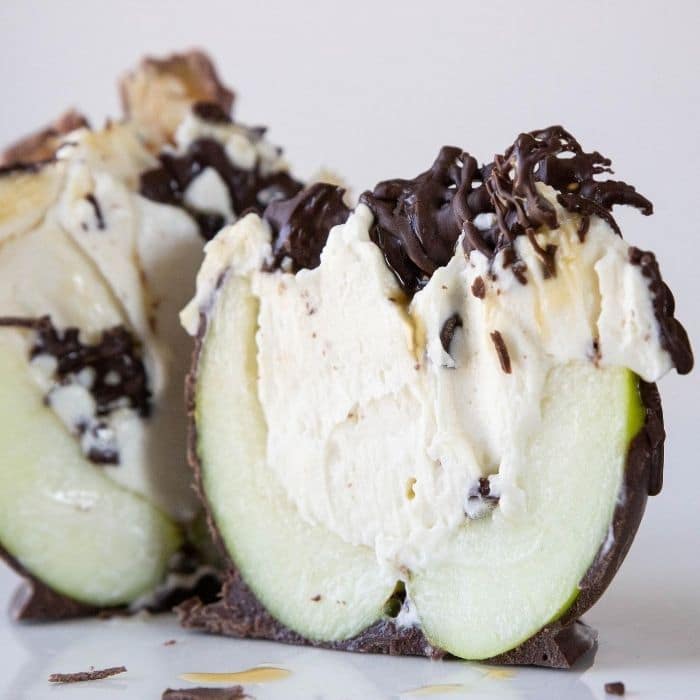 How to Store Gourmet Apples
Your apples will need to be stored in an airtight container and in the fridge. They will spoil if left on the counter. They will store for up to 48 hours in the fridge.
But as I mentioned above they are best served fresh.
Interested In More Easy Desserts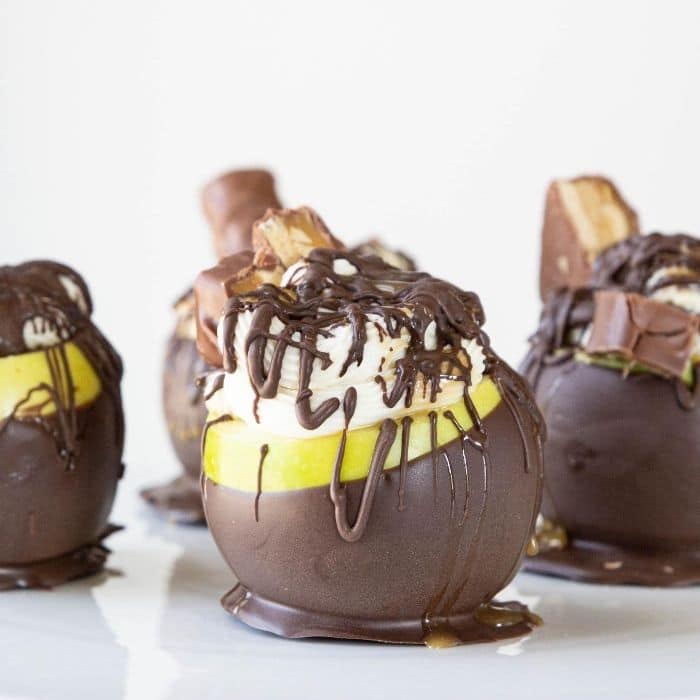 Cheesecake Stuffed Apples
Servings 6 apples
Cheesecake stuffed apples are chocolate dipped apples that are so decadent. Make up these gourmet apples for your dessert this week.
Ingredients
6 Granny Smith Apples
2 packages of cream cheese 8 ounce packages
1/2 cup powdered sugar
1/2 teaspoon vanilla
1 teaspoon lemon juice
1 1/2 cups melting chocolate almond bark or candy melts
Caramel syrup
Cut up candy bars – I used Twix Snickers, and Peanut Butter Snickers
Instructions
Start by washing your apples. Then you will cut off the top of the apple.

Use a melon scoop or spoon to hollow out the center of the apples. Use lemon juice to brush over the apple to prevent browning.

In a stand mixer add your softened cream cheese, vanilla, and powdered sugar. Mix until creamy. Spoon into a piping bag with a larger tip. Once cheesecake is ready just set aside.

In a small microwave-safe container melt your chocolate. Stir every 30 seconds, until the chocolate is fully melted.

I used a wooden skewer to poke into one side of the apple. I used that to dip into the chocolate mixture.

Move your dipped apples on parchment paper or wax paper to set up.

Use your piping bag to fill the apples with the no-bake cheesecake. Add in candy bar pieces, then drizzle with more melted chocolate and caramel sauce.

Feel free to change up the toppings on these cheesecake stuffed apples. Serve once set up, or store the dipped apples in the fridge until ready to serve.
Nutrition
Serving: 1gCalories: 622kcalCarbohydrates: 77gProtein: 8gFat: 32gSaturated Fat: 18gPolyunsaturated Fat: 9gCholesterol: 41mgSodium: 237mgFiber: 5gSugar: 64g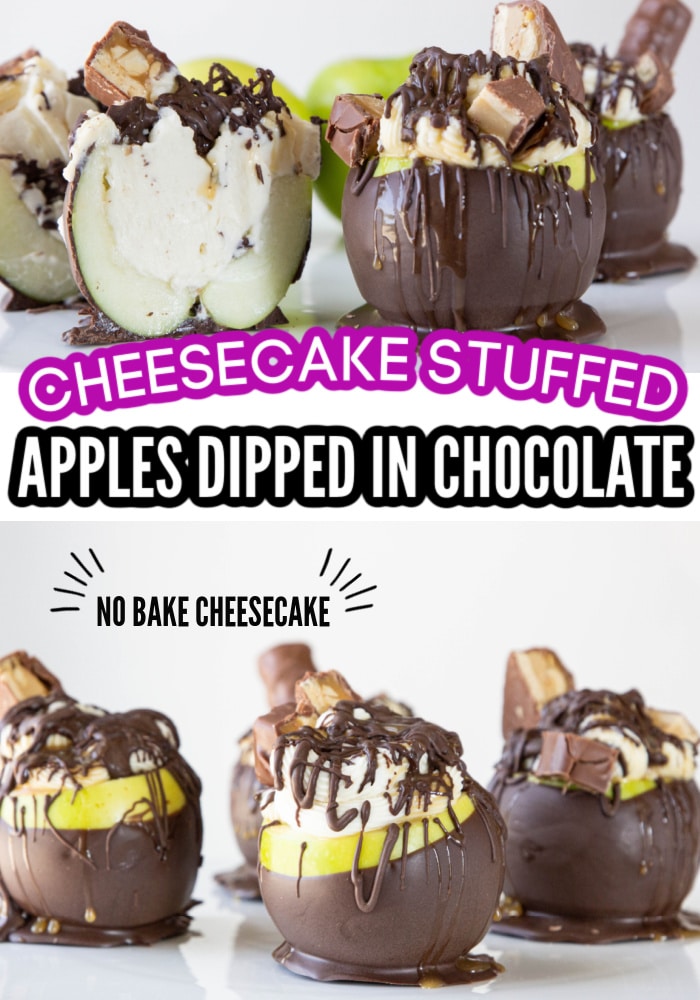 Reader Interactions