Skip hovering over at the stove and make these sheet pan pancakes with berries for breakfast, brunch, or even dinner. A light and fluffy pancake stuffed with berries. This oven pancake will win you over with one bite.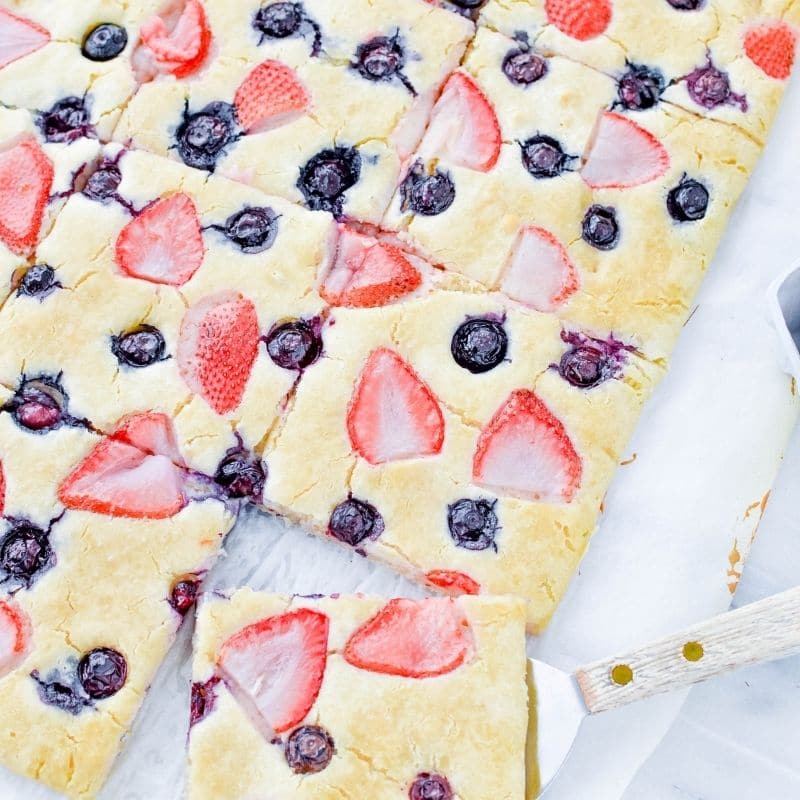 Top your pancakes with some fresh homemade butter and a drizzle of syrup or even honey! The perfect breakfast or brunch option.
Oven baked pancakes are so simple to make, and you don't have to worry about flipping the pancakes. If you want a sheet cake pancake, I think you will enjoy the ease of this recipe.
Whether you make homemade pancakes or reach for a pancake mix, this oven pancake recipe will work great.
These Sheet Pan Pancakes Are…
Simple
Quick
Can use store-bought pancake mix or make homemade pancakes
Add in fresh berries, chocolate chips, etc.
No flipping required
Feeds a crowd
Great for meal prepping
Freezer Friendly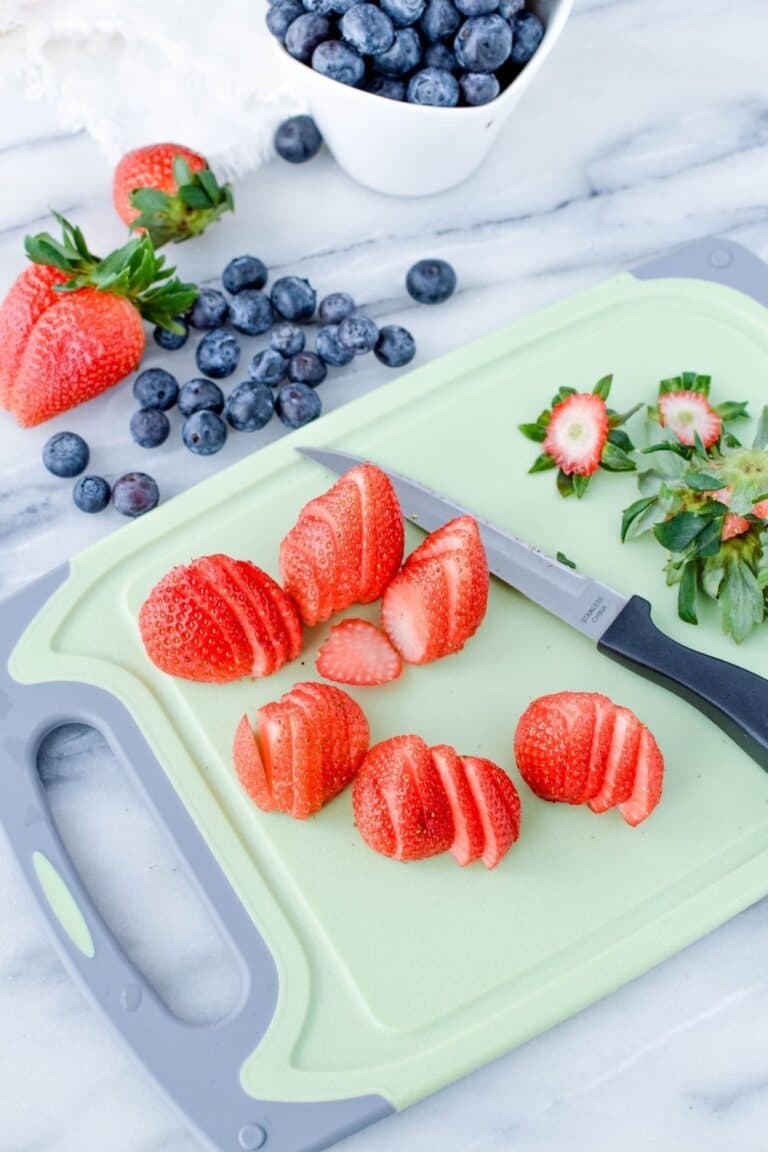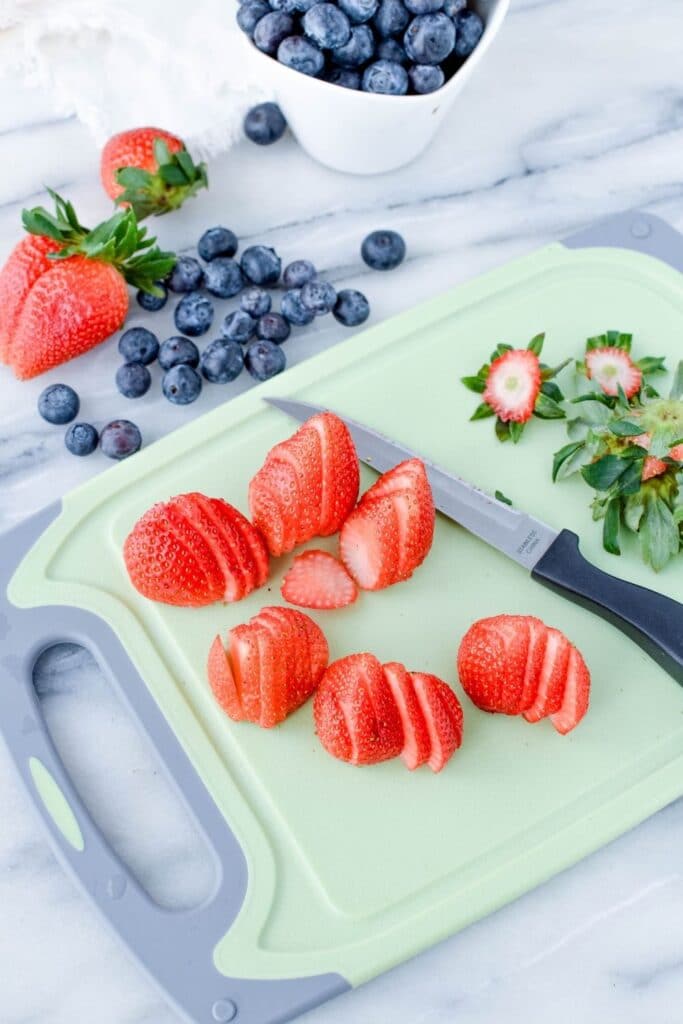 🥚 Ingredients
Eggs
Milk
Strawberries
Blueberries
🥞 How to Make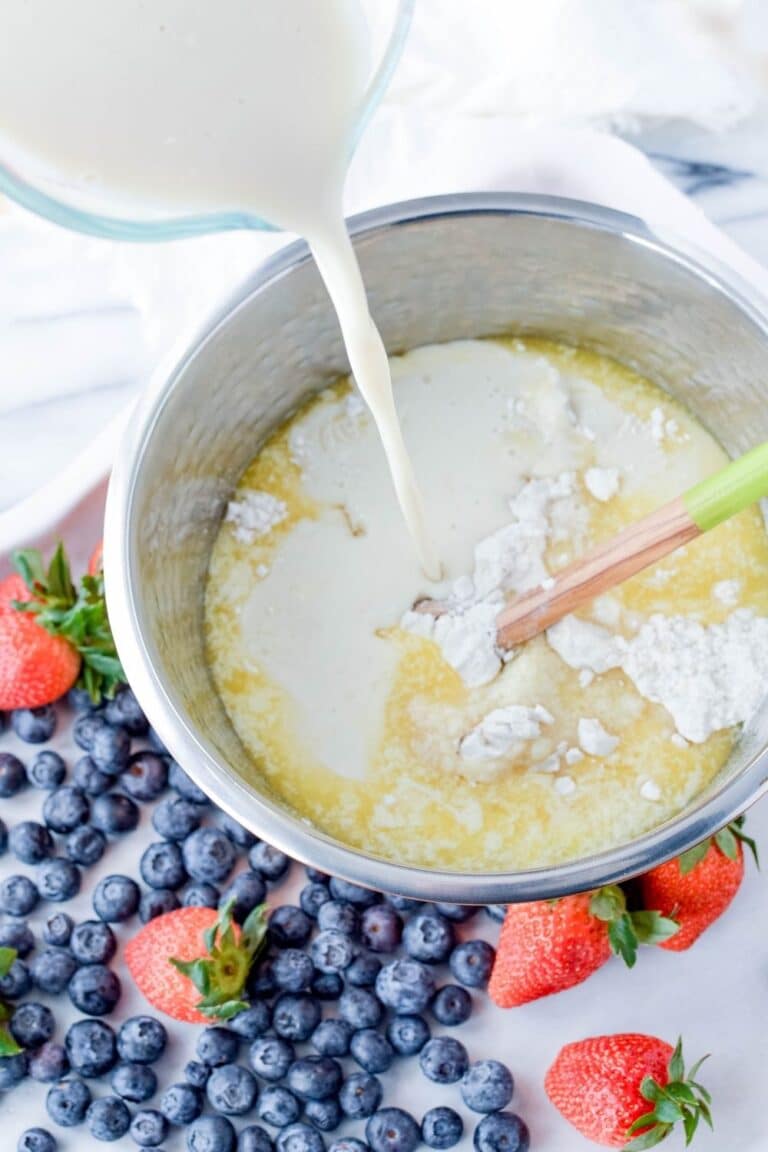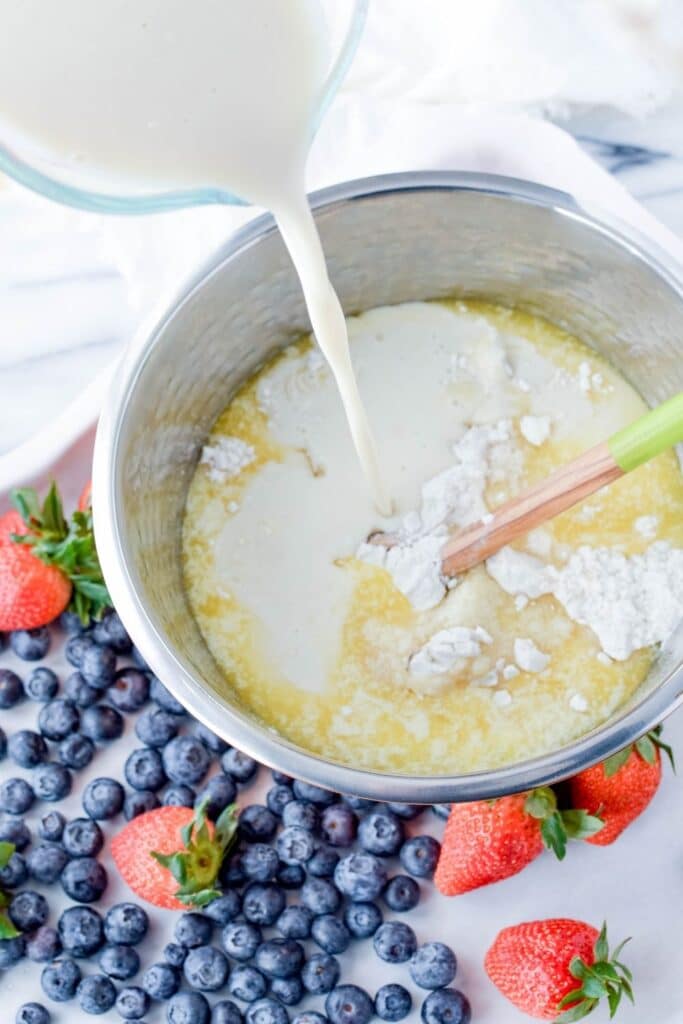 Step 1: Start by mixing up your pancake batter as directed. You can use homemade pancake mix, or use a Bisquick pancake mix or even Krusteaz.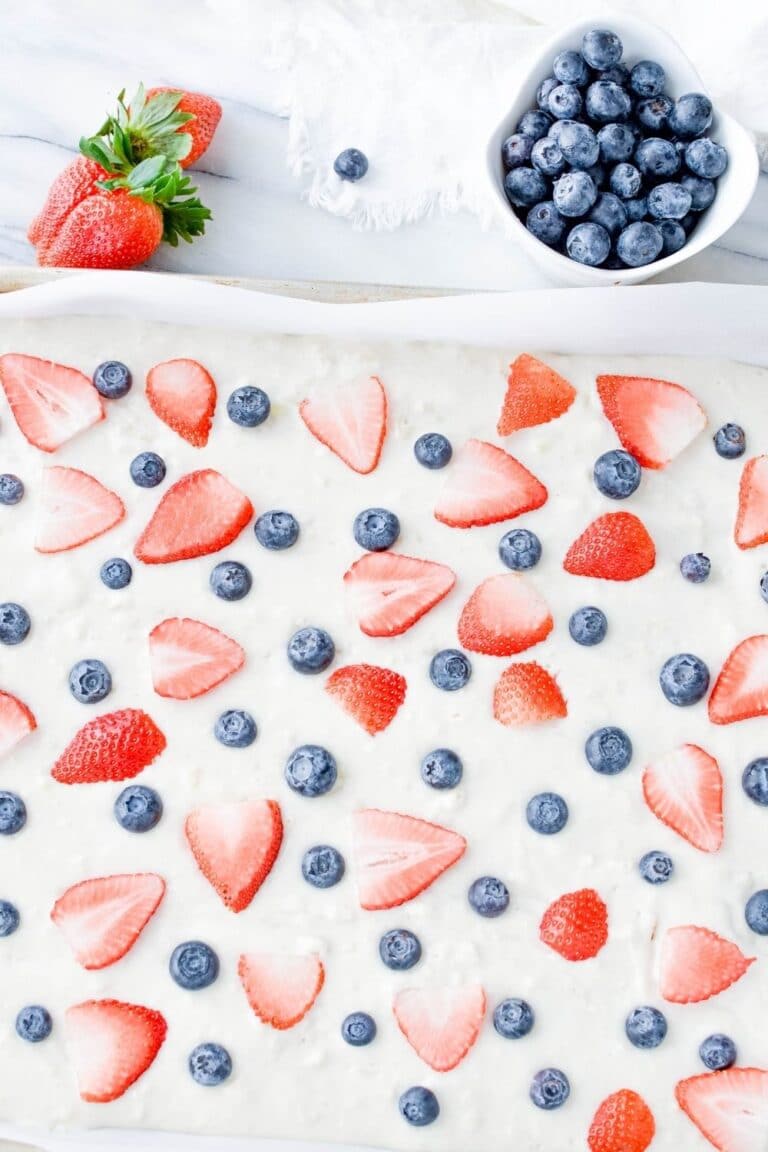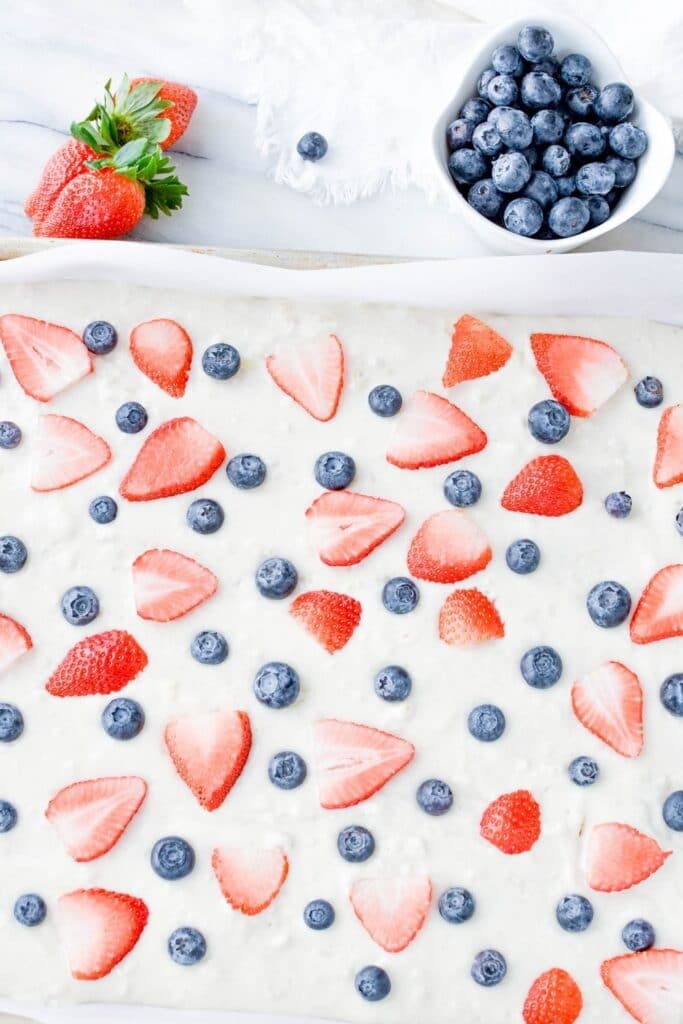 Step 2: Pour the batter onto a parchment lined baking sheet. Top your pancakes with sliced strawberries and fresh blueberries.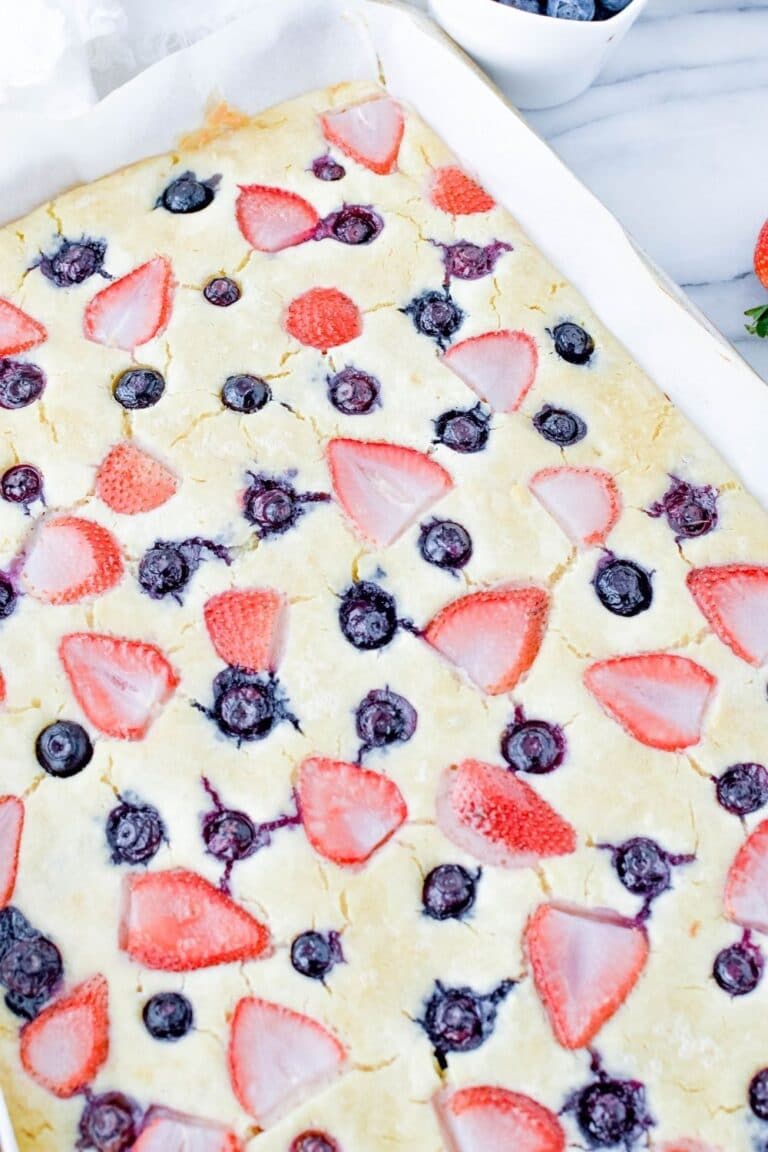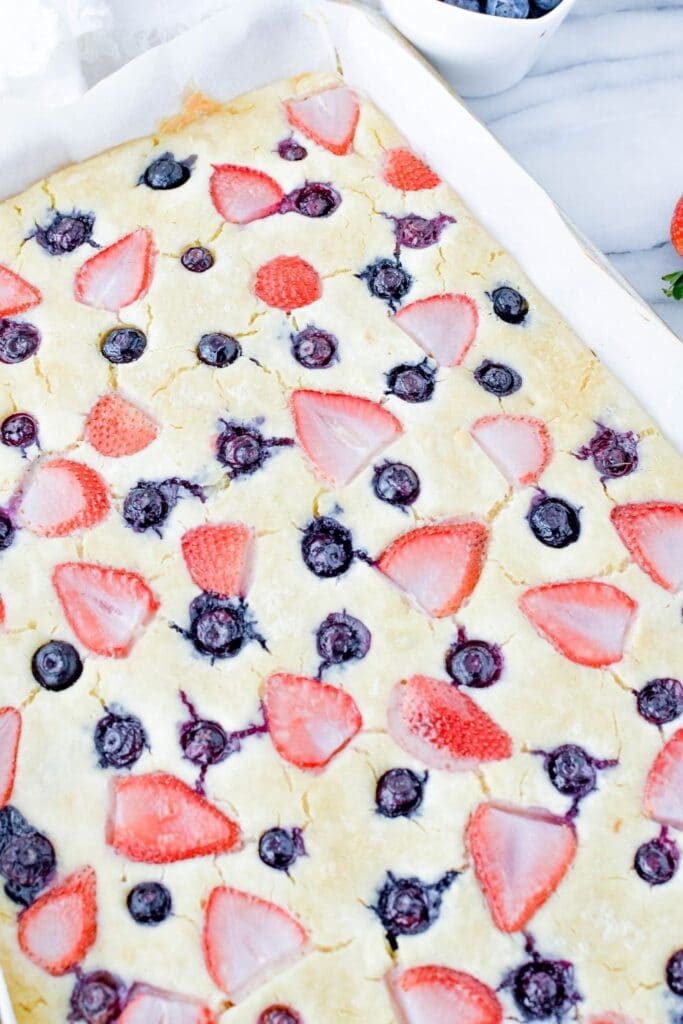 Step 3: Bake pancakes in oven as directed. Once done, remove, slice and serve up your berry pancakes.
🍓 Storage And Freezer Directions
This Bisquick pancake recipe is so easy to make. You can store any leftover pancakes in the fridge for 3-5 days. Then just toss in the microwave to reheat or even serve them up cold.
In terms of freezing, you are more than welcome to freeze the pancakes. Just allow the pancakes to cool down, and then place in a freezer container or bag. Use wax paper to place in between slices of pancakes to prevent sticking.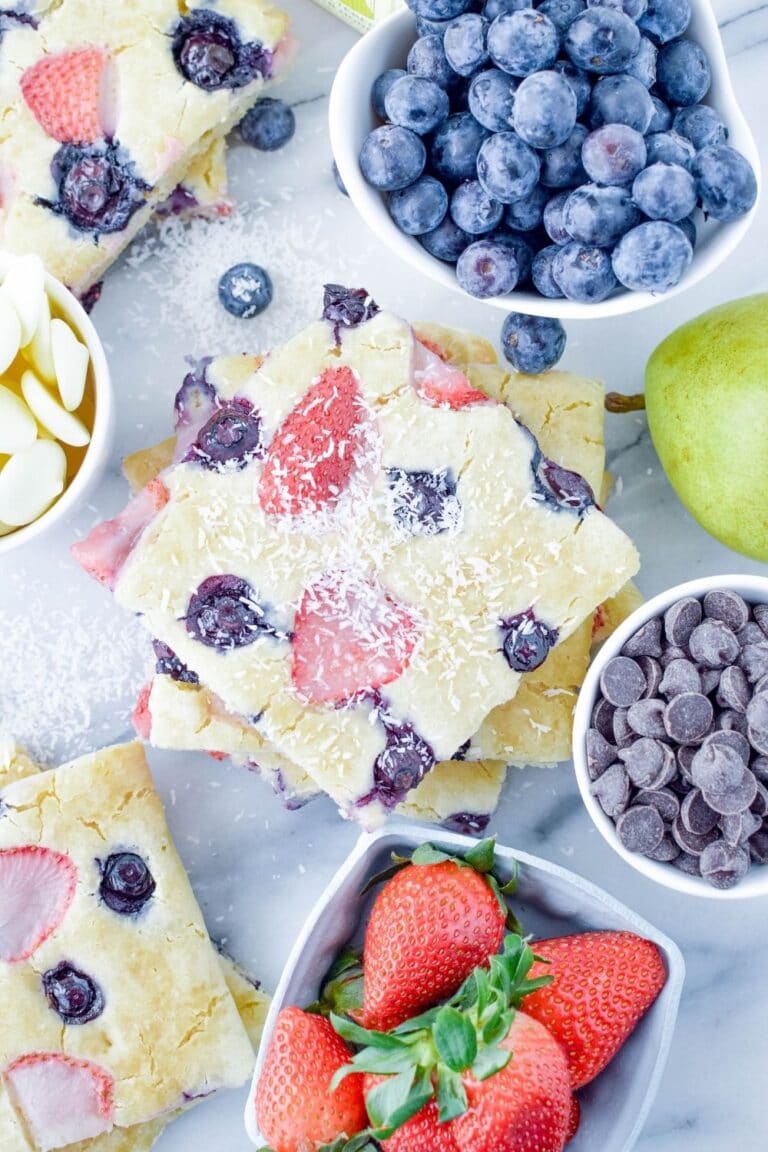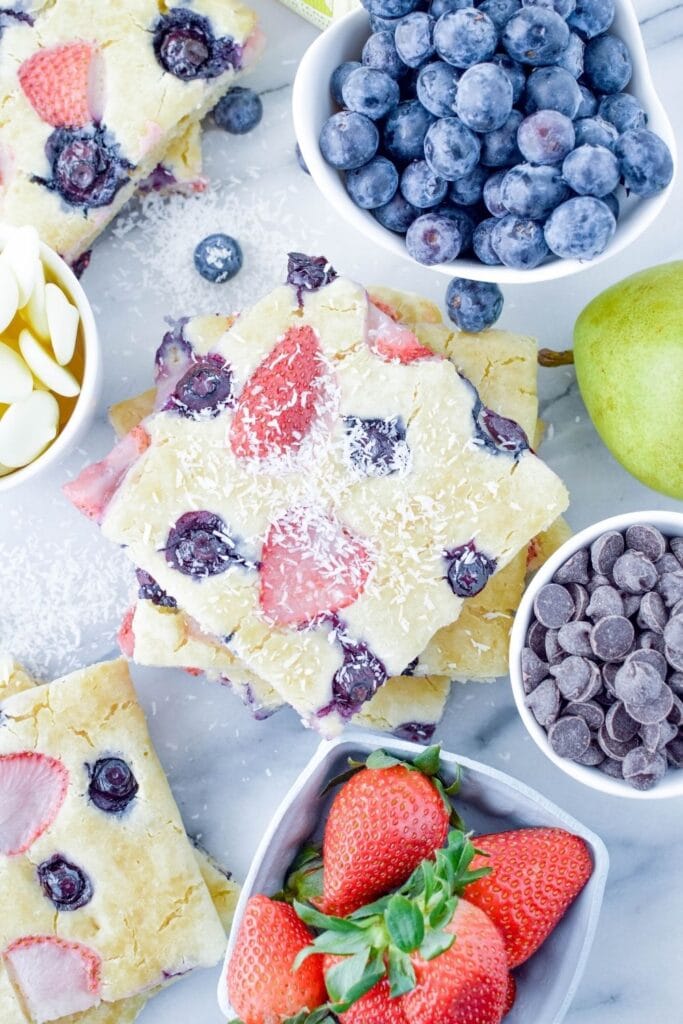 📌 Expert Tips And Variations
Mix ins | Consider swapping the fruit with chocolate chips, coconut flakes, chopped nuts, etc. Or you can serve your brunch pancakes plain with nothing.
Strawberry Syrup | Add in a little strawberry syrup to the batter to give it a strawberry flavor. This is a fun way to flavor pancakes. You can add in 1/4 cup to the batter for a strawberry flavored pancake.
Don't overmix | Make sure to not overmix your pancake batter, and watch to not overbake them as well. Pancakes will dry out if you over-cook them. So pull when the pancakes are done.
Drizzle with brown sugar, melted butter, maple syrup, honey or any other topper. This is a great recipe that keeps you away from a hot griddle flipping pancakes.
🍋 Pancake Flavor Ideas
Here are more pancake flavor topping ideas for you to consider for your sheet pan pancakes!
Banana Bacon Pancakes – Sprinkle crumbled bacon and sliced bananas
Lemon Blueberry Pancakes – add 1 tablespoon lemon to batter and 1/2 teaspoon zest. Drop on blueberries.
Chocolate Chip Pancakes – Sprinkle chocolate chips on top
Mixed Berry Pancakes – do a mix of fresh berries on top of batter
Strawberry Coconut – coconut flakes and fresh strawberries
Chocolate Pancakes with chocolate chips -add 2 tablespoons cocoa to batter then sprinkle with chocolate chips
Etc
🍽️ Recipe FAQs
How do I stop pancakes sticking to the pan?
Make sure to spray your pan with cooking spray before you pour the wet pancake batter onto it. This will prevent your delicate pancake from sticking.
What kind of pan is best for pancakes?
Cooking pancakes on the stovetop you will find cast iron skillets are great, or buy a pancake griddle. For making pancakes in the oven a cookie sheet works wonders!
Is it better to save pancake batter or pancakes?
You can store leftover pancake batter in the fridge for up to 3 days. Just whisk again and pour and cook pancakes as you would normally!
Why are my pancakes flat and rubbery?
Overmixing pancake batter will leave your pancakes flat and rubbery in texture. Mix until ingredients are combined. Resist overmixing.
How long to cook pancakes on sheet pan?
I baked my sheet pan pancakes for 15 minutes. You will bake them until they are fully cooked. Stick a toothpick in the pancake and if it comes out clean of batter they are done.
What temperature to bake pancakes in the oven?
The key to oven baked pancakes is preheat the oven to 425 degrees. Let it fully get hot, and then place your sheet pan of pancakes. Then bake until golden brown and fully cooked.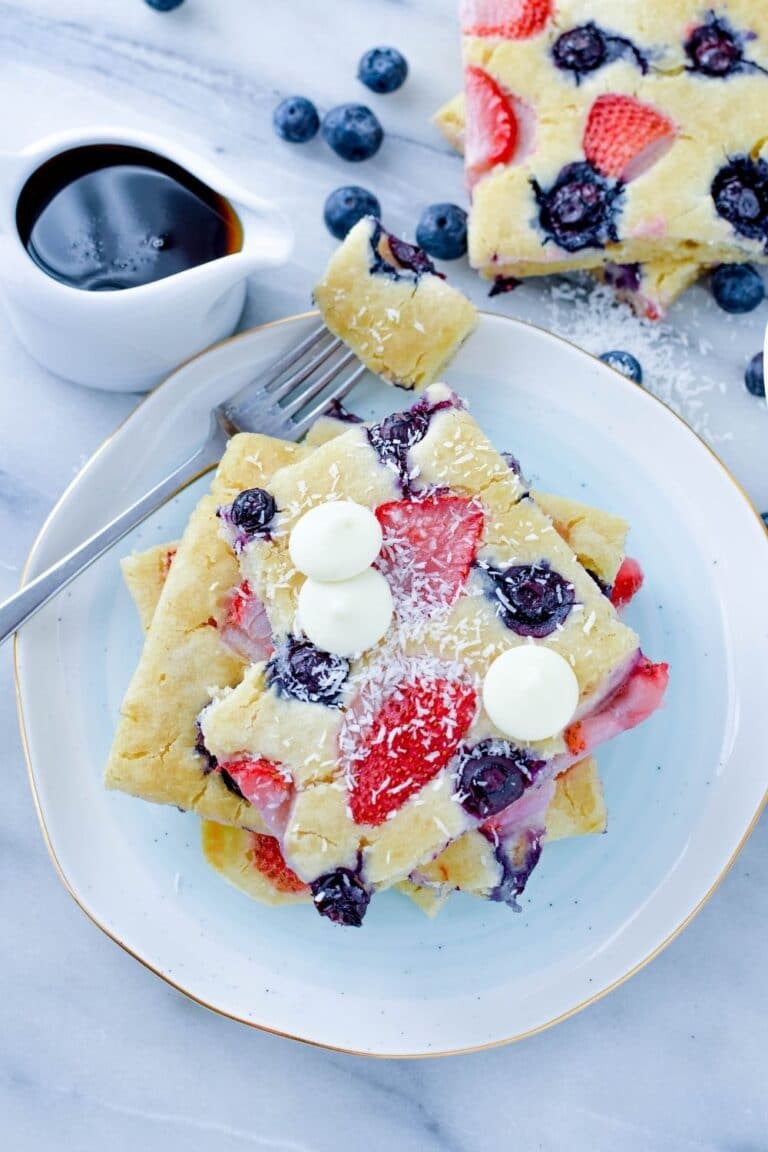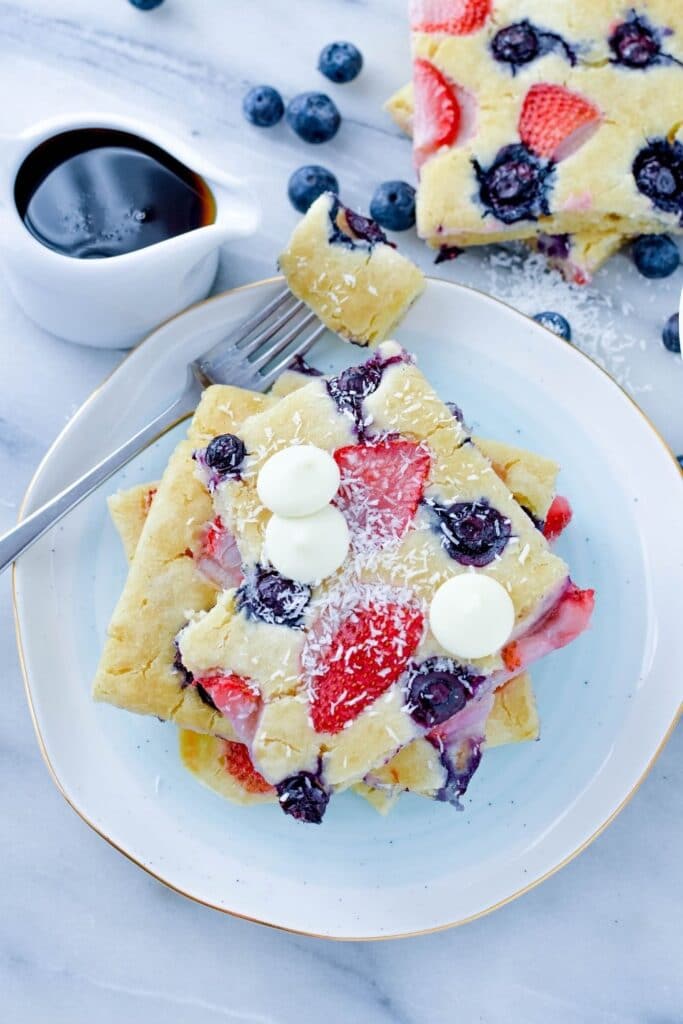 More Breakfast Recipes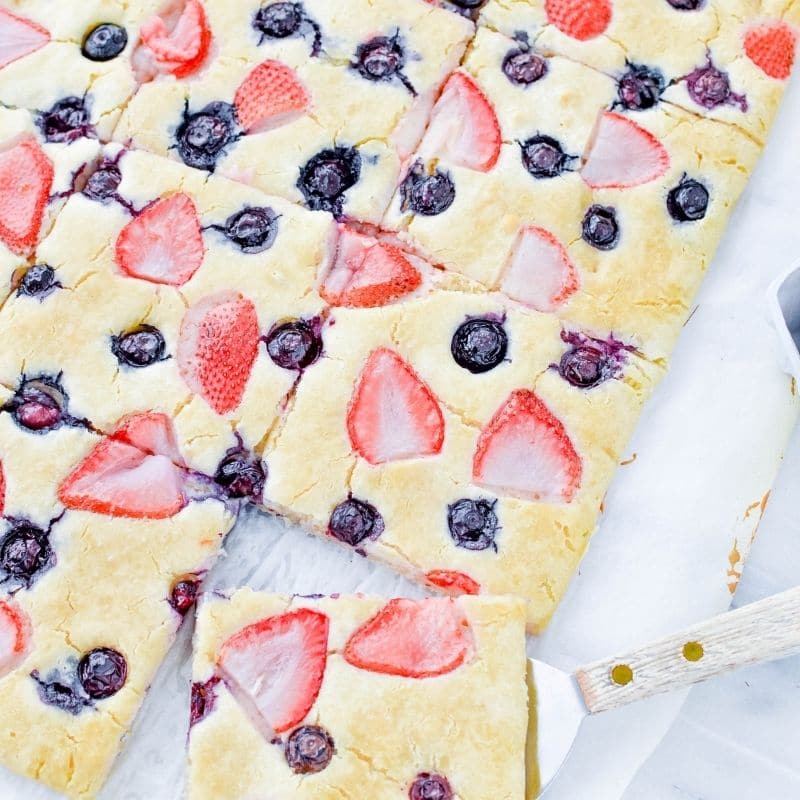 Sheet Pan Pancakes – Oven Baked Pancakes
Ingredients
Supplies
Ingredients for Sheet Pan Pancakes
4 cups Bisquick
2 cups milk
4 large eggs
1 cup strawberries
1/2 cup blueberries
Instructions
Add your Bisquick, eggs, milk to a large bowl and whisk until the batter is well mixed. Don't overmix or it will make your pancakes rubbery.

Pour the pancake mix in a half sheet baking sheet that has been greased to prevent sticking.

Slice and prep fruit then place all over the wet pancake batter.


Bake in a preheated oven at 425 degrees for 10-15 minutes or until the pancakes are cooked.
Notes
You can use a homemade pancake mix if you would like. I used Bisquick to make the prep even faster. Store your leftover pancakes in the refrigerator, and then reheat when you are ready. The leftover pancakes can be frozen for up to three months. Thaw in the fridge, or toss in the microwave for a quick reheat. Feel free to change up the toppings on the pancakes, or serve them up plain. It is up to you what you want.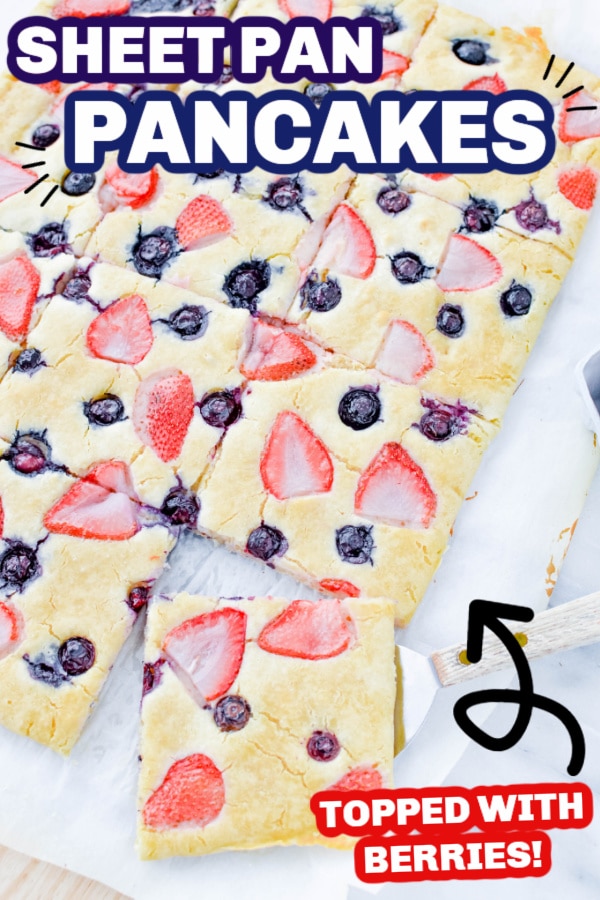 Reader Interactions