7 simple ingredients is all you need for this fried apples recipe. This is a copycat Cracker Barrel fried apples recipe, that is loaded with brown sugar, cinnamon, tender apples, and more. Dive in fork first to an incredible dessert.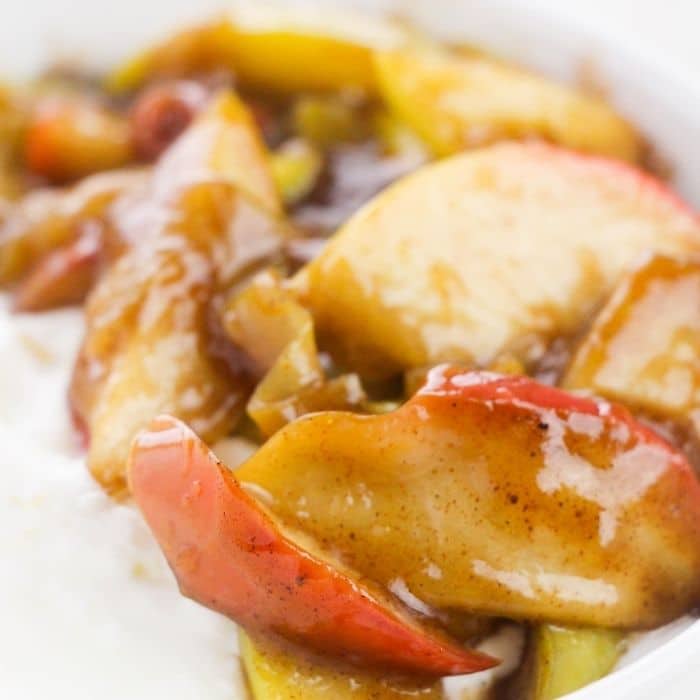 Spiced apples are paired with apple pie spice, brown sugar, white sugar, butter, apple cider, and cornstarch. Simple, but delicious.
This pan fried apples cinnamon spiced apples is a Cracker Barrel apples recipe that you will want to make over and over. Give this cinnamon apples a try.
🍏 Why To Make This Recipe
Apples are tender and flavorful
Perfect for topping French Toast
Pair with Vanilla Ice Cream
Eat as a dessert
Uses a mix of apples for optimal flavor
So simple to make
Quick cook time
Kid friendly
🥄 Ingredients Needed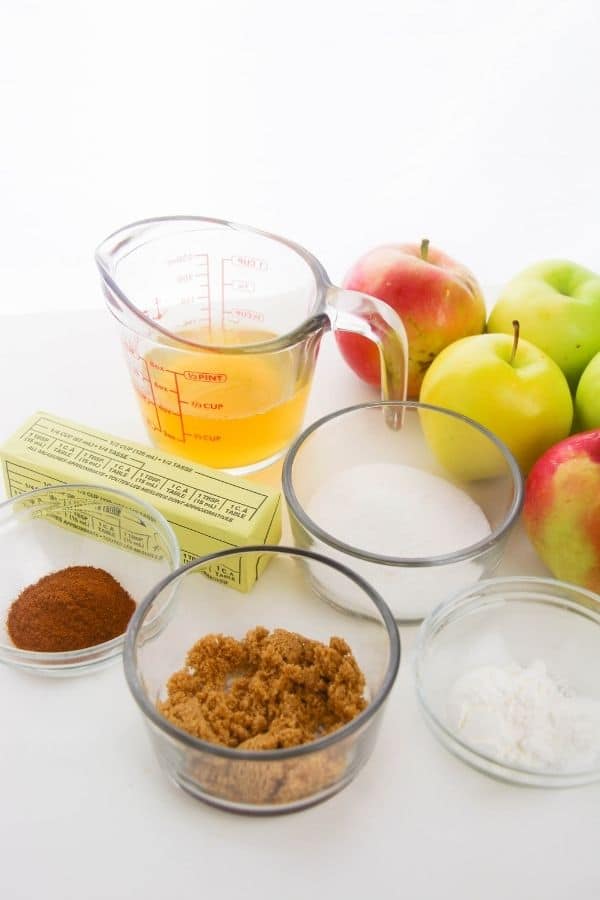 Apples
Brown sugar
Granulated Sugar
Apple cider or Apple Juice
Butter
Cornstarch
🍎 How to Make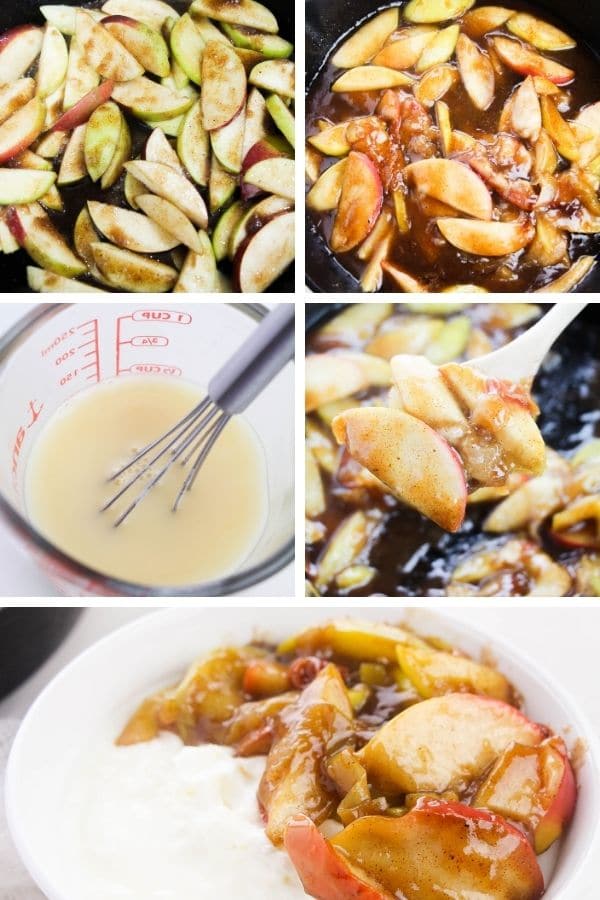 Full directions and measurements are in the printable recipe below. Scroll down to see.
Slice and prep your apples. Place them in a bowl and mix with brown sugar, white sugar, and apple pie spice.
Add butter to skillet and melt, and then add in your apples.
Cook until apples are softened.
Whisk the cornstarch and apple cider and stir into the skillet.
Allow to thicken, then serve and enjoy.
🧈Storing
This spiced apple recipe is best when served fresh! They can be stored in the refrigerator for up to 2-3 days. You will find the baked apples will soften even more as they are stored in the refrigerator.
🍽️Expert Tips
Use a mix of baking apples to add in layers of flavor to your apples.
You can use cinnamon and nutmeg in replace of apple pie spice seasoning.
Peel the apples if you want to have a more tender texture.
Granny smiths are a great apple to offer tartness.
Cortlands or Fugi are great for adding sweetness.
Serve as a side dish, dessert, or even breakfast option.
Add a splash of lemon juice if you want.
Great to make in a cast iron skillet or even a classic pan.
Recipe FAQs
What are the best apples for fried apples?
You are more than welcome to use one variety or mix it up. Granny Smith, Golden Delicious, Fuji, Cortland, Pink Lady, Honeycrisp, etc. All are great apples.
How to thicken fried apples?
The cornstarch mixed with cold apple cider is what will thicken. The cornstarch is the thickening agent. Once you mix with apple cider and pour into pan stir occasionally to help the mixture thicken. It will take just minutes.
What to serve with fried apples?
Waffles, French toast, pancakes, ice cream, whipped cream, etc. All of these items are great contenders, or eat your fried apples plain.
Can I freeze apples?
You are more than welcome to freeze your apples if you need. You will find that apples that are frozen are best cooked in pies, fried, etc.
More Apple Recipes
Tried this recipe? Make sure to rate ⭐️⭐️⭐️⭐️⭐️ and leave a comment to let me know how you like it! Plus get more Instant Pot Recipes or Home Cooked Recipes Facebook Page on my Facebook. Stay up to date and Follow Me On Pinterest!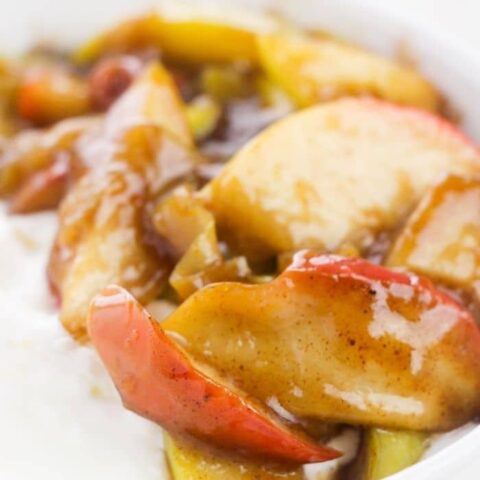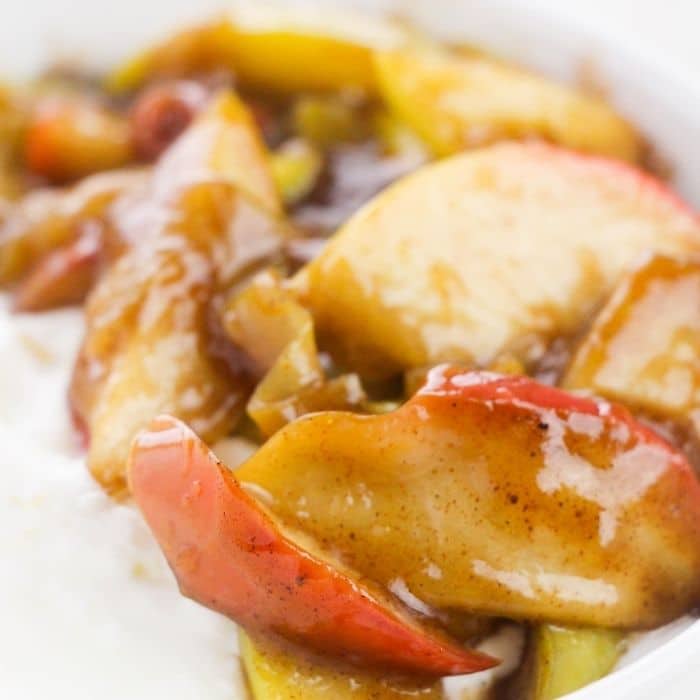 Fried Apples
Fried apples are a simple cinnamon apple that is loaded with flavor. 7 ingredients is all it takes to make this Cracker Barrel fried apples recipe.
Ingredients
1/4 cup butter
1 tablespoon apple pie spice
3 apples, mixture of sweet and tart (we used Cortland and Golden Delicious)
1/4 cup white sugar
2 Tablespoons brown sugar
1/2 cup apple cider, or more as needed
1 Tablespoon cornstarch
Instructions
Wash and slice your apples. If you want you can peel the apples. In a bowl, you will add your apple pie spice, brown sugar, granulated sugar, and sliced apples.
In a skillet or cast iron add butter to the pan. Heat on medium. Once butter is melted add apples.
Cook your apples in the mixture for a few minutes until your apples begin to soften. This all depends on how thick or thin you slice the apples.
Now you will add apple cider in a cup and then pour in the cornstarch. Stir well then pour into the apple mixture, until thickened.
Once apples reach the desired consistency serve and enjoy. This fried apple recipe is so simple.
Notes
I recommend using a tart than sweet apple so you get dimension.
If you don't want to use apple pie spice you can use just cinnamon and nutmeg to mix.
Double the recipe if you would like to serve a larger crowd.
Store leftover fried apples in the fridge for a few days. Know they will soften in texture once reheated.
Serve your fried apples alone, with ice cream, waffles, pancakes, etc.
Recommended Products
As an Amazon Associate and member of other affiliate programs, I earn from qualifying purchases.