Apple pie filling made in the Instant Pot. Homemade Apple Pie Filling full of warm spices and incredible flavor. A homemade apple pie filling made in your pressure cooker.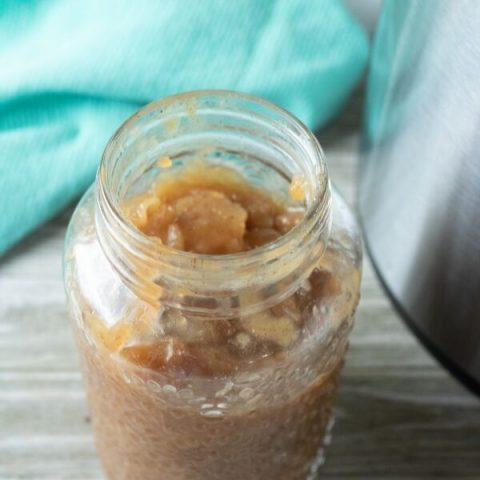 Instant Pot Apple Pie Filling was an incredible treat to make this week. I will share how to make apple pie filling in the Instant Pot! This is a super easy apple pie filling recipe you can make and enjoy it.
Use for apple pie filling for a pie, or consider topping with ice cream or whipped cream for a mid-day snack. It is so easy, gives you all the flavors of fall, and more. Try my cheesecake in a jar recipe that features apple pie filling.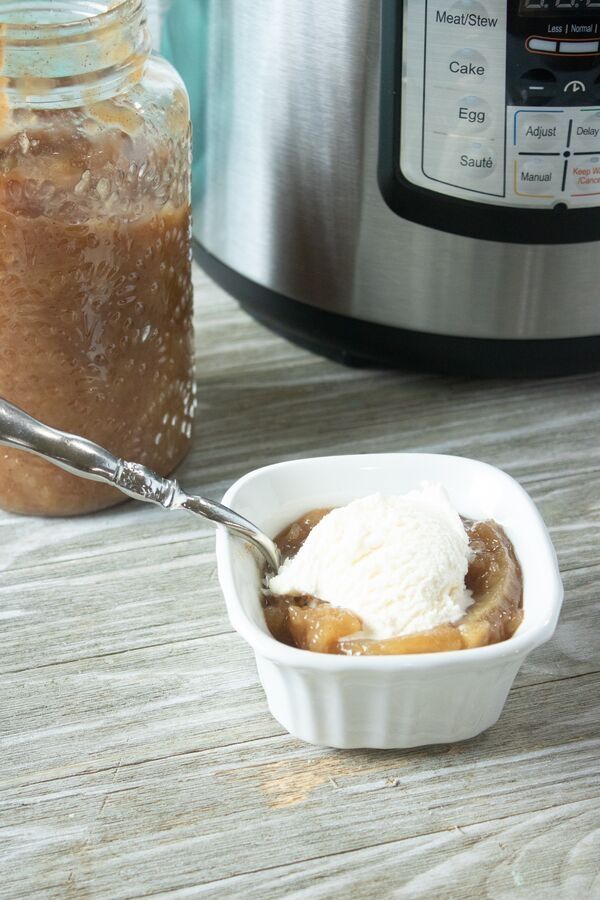 If you have ever tried a homemade apple filling you will know it tastes way different than store-bought canned. It has a fresher and pure taste to it. This recipe gives you that with warm spices like cinnamon and nutmeg.
Looking for more fall recipes
Why Make Homemade Pie Filing
Easy – This recipe is so easy to make and you will love the warm spiced flavor of this apple pie filling. This is a great way to fully control the ingredients you use for the recipe.
Use Fresh Apples – If you go to an apple orchard or own a few apple trees, this is a great way to use up your apples from the harvest.
Versatile Uses – Use to pour in for baking a pie, making hand pies, pairing with ice cream for a dessert, top oatmeal, and so much more. The possibilities are endless with this recipe.
Ingredients Needed
Apples – Feel free to use any variety of baking apples. You can even do a mix of say some Granny Smith and Gala. This will add so much variety to the pie filling recipe.
Brown Sugar – The brown sugar adds a nice richness to the pie filling.
Spices – Cinnamon and nutmeg are what I used for this filling. You could swap with an apple pie spice if you prefer.
Cornstarch and Water – Cornstarch and water will be the thickening agent to the pie filling.
Salt – Enhances the flavor of the apples, and spices.

What Are The Best Apples To Use For Homemade Apple Pie Filling
I love using a variety. I reach for Granny Smith and Honeycrisp apples. This blend gives you more depth and flavor to the filling. You have the sweet from the Honeycrisp and a tang from the Granny Smith, they compliment each other really well.
Granny Smith Apples | These apples are great for pie making and filling. They will give you a tarter flavor with mild sweetness.
Jonathon Apples | Another tart apple with a mild sweetness to it. This hardy apple will hold up well as it cooks.
Honeycrisp | A sweeter apple that is juicy and firm. This is a great one to use alone or blend with other apple varieties.
Fuji | A very popular variety when it comes to baking pies. A sweet apple that will give you a nice subtle sweetness to your filling.
Braeburn | Gives you a sweet and tart mixture to your pie. A very well-known apple for making pies that you will truly enjoy.
There are so many other varieties of apples that are great. Just make sure it is a firmer apple that will hold up as it cooks and breaks down.
Storage
Refrigerate: This pie filling will last 3-4 days in the fridge when stored in an airtight container. You will need to use your best judgment in terms of quality and when you feel you need to toss it out if you don't eat it fast enough.
Freeze: You can place in an airtight container or sealable freezer bag and store in the freezer for up to two to three months. Thaw in the fridge the night before you plan to use it. This is a great apple pie filling to freeze for later.
How Do You Thicken Apple Pie Filling
You will remove 1/2 cup of liquid from the cooked apples, and mix in the cornstarch. Once it is blended, stir it in the rest of the filling and it will begin to thicken. The filling will thicken within a minute or two.

FAQs
Ways To Use Apple Pie Filling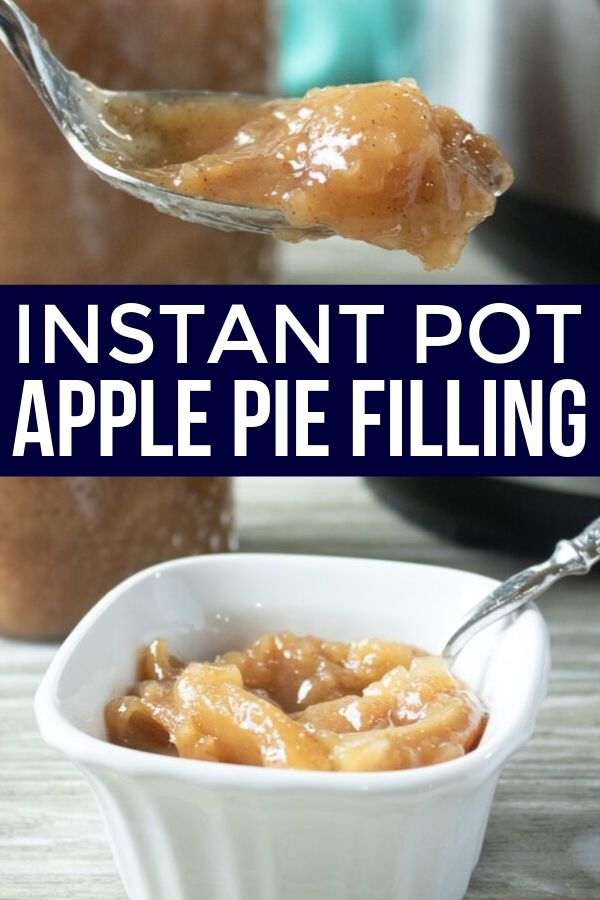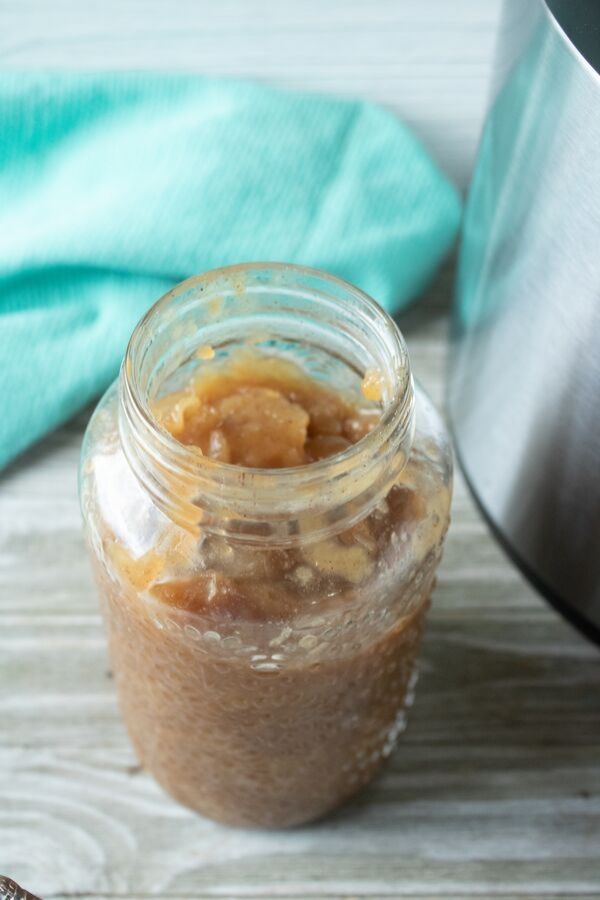 Instant Pot Apple Pie Filling
Apple pie filling made in the Instant Pot. Homemade Apple Pie Filling full of warm spices and incredible flavor. A homemade apple pie filling made in your pressure cooker.
Ingredients
5 cups peeled and sliced apples
1 cup brown sugar
½ teaspoon salt
1 teaspoon ground cinnamon
½ teaspoon ground nutmeg
1 ½ cups water
¼ cup cornstarch
Instructions
First peel and slice your apples. Do larger slices of apples or they will become mushy.

Place diced apples, brown sugar, salt, cinnamon and nutmeg in Instant Pot. Pour in water, and gently stir.

Place the pressure cooker lid on, and set valve to sealing. Do a 1 minute manual high pressure cook, followed by a quick release. Or for firmer apples do a 0 minute cook time.

Release pressure once cook time is up, and then remove 1/2 cup of the liquid. Mix in the cornstarch to the liquid.

Turn the Instant Pot to saute, and pour in the liquid with cornstarch, and stir until the mixture thickens. This will take 1-2 minutes.

Once thickened, turn off the saute feature, and remove the apple pie filling. Then use as you would like.
Notes
Firmer Apple Cook Time: If you want a thicker apple, do 0 minute cook time with quick release. If you want apples a bit more broken down then stick to the 1 minute cook time. Types of Apples: Use any baking apple you would like. You will find doing a variety of apples or two different kinds will bring tons of flavor to the pie filling. Storage: You will want to store your pie filling in the fridge for 3-4 days. Or you can freeze the pie filling in a proper freezer friendly container. Ways to Use: You can use the pie filling for baking pies, topping oatmeal, pairing with yogurt, topping with granola. Pair your pie filling with ice cream as a treat. There are so many ways besides making a pie you can enjoy this apple pie filling.
Nutrition
Serving: 1gCalories: 142kcalCarbohydrates: 36gSodium: 141mgFiber: 2gSugar: 30g
Have you ever made apple pie filling?
Reader Interactions