Pumpkin Cheesecake Cake is a pumpkin cake with a layer of cheesecake in the center and topped with a maple cream cheese frosting. This pumpkin cake recipe with a no-bake cheesecake layer is heavenly!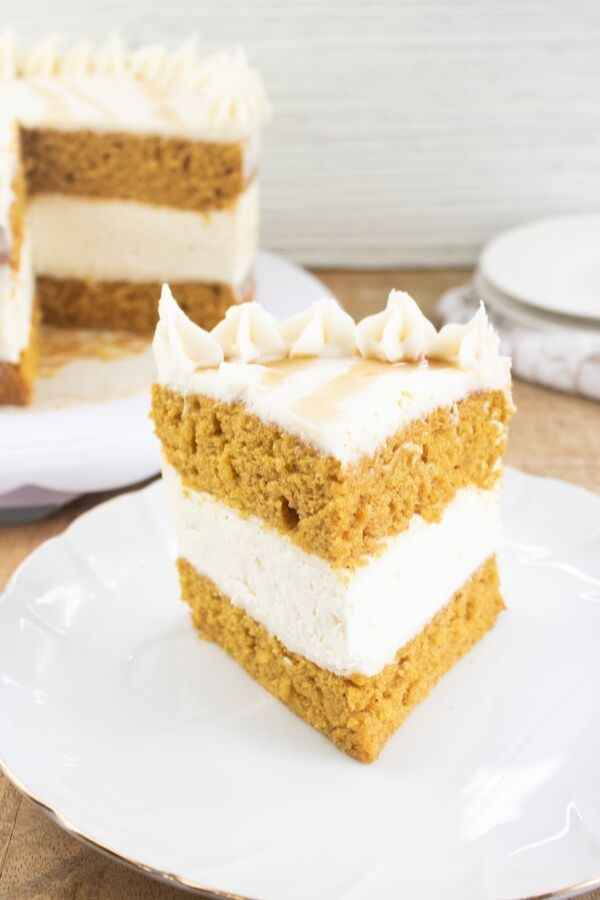 If you are looking for a delicious pumpkin cake recipe that will stand out from the rest, This is your recipe! Try pumpkin carrot muffin recipe for a sweet treat as well. Or try this chocolate pumpkin cheesecake cake for an option as well.
Pumpkin Cheesecake Cake
If it has pumpkin I am all about it! I love pumpkin in sweet and savory recipes. There is no doubt pumpkin or pumpkin spice I have to try it! This fall cake recipe is one I make for any occasion. Try my sweet potato cheesecake for a sweet treat as well.

What is A Cheesecake Cake
Cheesecake Cake is one of my favorite kinds of cakes! It is a no-bake cheesecake that is sandwiched in between two layers of cake and then frosted.
To me, it offers the ultimate layer cake effect! And as hard as it sounds it's easy to do! Try my Carrot Cake Cheesecake Cake!

How to Make A Cheesecake Cake
The first thing you will do is work on creating your cake. For this recipe I did a pumpkin spice cake. You pour and bake in round cake pans. Once done place on cooling racks and allow to fully cool.
As your cakes are baking work on your cheesecake layer. You are going to make a crustless cheesecake for the cheesecake layer. The bottom layer of the cake will mimic the crust.
Once the cheesecake is done place in the fridge for a few hours to overnight. Then once the cheesecake layer has firmed up and cake has cooled you can assemble your cake!
Now you can decorate the pumpkin cheesecake cake as elaborate or simple as you would like. Slice and serve and enjoy the pairing!
Could I Do A Baked Cheesecake Layer
Absolutely you could do a baked cheesecake layer in a cheesecake cake recipe. Simply make a crustless cheesecake in your oven and allow it to chill and firm up.
Then assemble and frost. The only difference is how you cook or don't cook the cheesecake.

How to Make Maple Cream Cheese Frosting
Maple cream cheese frosting is going to elevate your cake to a whole new level. Make sure you use real maple syrup for this step. Imitation syrup will not give you the flavor you want.
If you don't have real maple syrup I would recommend making a simple cream cheese frosting and leave out the syrup. Add a teaspoon of pumpkin spice into the frosting if you want more flavor.
How To Frost A Layered Cake
Assemble your cake and cheesecake layers so they are stacked on each other. I add a dab of frosting on the bottom layer to prevent it from moving around. Start with cake, followed by cheesecake, topped with the last layer of cake.

Brush away any crumbs from the cake you may see.

Add on 1 cup of frosting give or take. Use an offset spatula to spread. Start in the center of the cake and spread evenly to the edges of the top of the cake.

Now work in quarter sections adding a layer of frosting around the cake.

Once frosted you can then go in and smooth up the cake, and decorate if you will. You can use a bench scraper to smooth the edges.
I am not a great cake decorator. But it doesn't have to be perfect. Just do your best and the flavor of the cake will stand out!
Love pumpkin as much as me? Check out these pumpkin recipes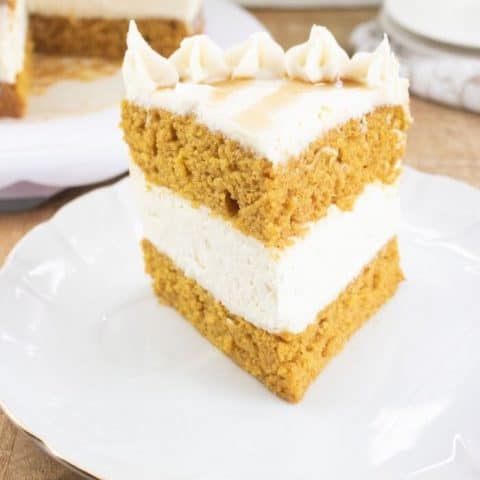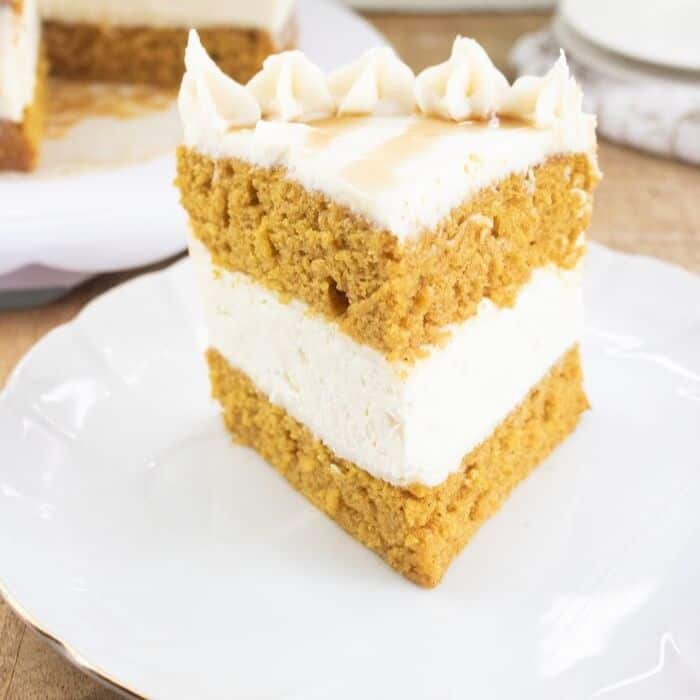 Incredible Pumpkin Cheesecake Cake Recipe
Total Time:
2 hours
45 minutes
Pumpkin Cheesecake Cake is a homemade pumpkin cake with a cheesecake layer. Add on maple cream cheese frosting for one decadent dessert.
Ingredients
Cake
• 1 ½ cups granulated sugar
• 1 cup vegetable oil
• 15 ounce can pumpkin puree
• 4 eggs
• 2 teaspoons vanilla extract
• 2 cups all-purpose flour
• 2 teaspoons baking powder
• 1 teaspoon baking soda
• 1 ½ teaspoon ground cinnamon
• ¼ teaspoon ground cloves
• ¼ teaspoon ground nutmeg
No-Bake Cheese Cake Layer
• 3 (8 ounce) packages cream cheese, softened
• ½ cup granulated sugar
• 2 teaspoons vanilla
• 1 cup heavy whipping cream
Maple Cream Cheese Frosting
• ½ cup unsalted butter, softened
• 8 ounces cream cheese, softened
• 4 cups powdered sugar
• 2 tablespoons pure maple syrup
Instructions
Preheat your oven to 350 degrees.
Then in a bowl you will combine the first 5 ingredients from the pumpkin cake portion of the recipe. Stir until combined. Then add the remaining cake ingredients.
Spray 2 (9 inch) pans and line the bottom with parchment paper. Then pour the cake into the pans.
Bake 25-30 minutes or until the cake is cooked and you can put a toothpick in the cake and it comes out clean.
Remove and place on a cooling rack to completely cool.
To make the cheesecake layer, cream together cream cheese and sugar
until smooth, with a hand-held mixer.
Now in a stand mixer whip your heavy cream until heavy and thick.
Stir the whipped cream and vanilla into the cream cheese mixture, and stir until blended.
Place in a 9 inch pan with cooking spray and a parchment lined bottom.
Refrigerate 2 hours to overnight until the cheesecake firms up.
Now you can make the frosting, beat butter and cream cheese in a medium bowl until smooth.
Add in the other ingredients and blend until thick and creamy.
Remove the cake layers and use a cake leveler, to ensure they are flavor.
To assemble cake, you will place your first cake layer and then top it with the cheesecake, followed by the top cake layer. Use a thin layer of frosting and apply to cake. Decorate the cake as you would like, and serve.
Recommended Products
As an Amazon Associate and member of other affiliate programs, I earn from qualifying purchases.
Nutrition Information:
Yield:

12
Serving Size:

1
Amount Per Serving:
Calories:

835
Total Fat:

46g
Saturated Fat:

17g
Trans Fat:

1g
Unsaturated Fat:

26g
Cholesterol:

136mg
Sodium:

353mg
Carbohydrates:

101g
Fiber:

2g
Sugar:

80g
Protein:

7g

How To Store Cheesecake Cake
You will want to Store your pumpkin cheesecake cake in the refrigerator. The reason being is the cheesecake layer and frosting can't last on the counter. Place in an airtight container and store 3-5 days in the fridge.
Can I Freeze Pumpkin Cheesecake Cake
You can freeze this pumpkin cake. Simply place in an airtight container
that can go in the freezer. Store up to three months in the freezer and thaw in the fridge the night before you want to serve. Then slice and enjoy like it was day one!