Sweet potato cheesecake puts a healthy twist on classic cheesecake. By adding sweet potato, you get a boost of vitamins and minerals plus some fiber. Better yet, they don't call it sweet potato for nothing!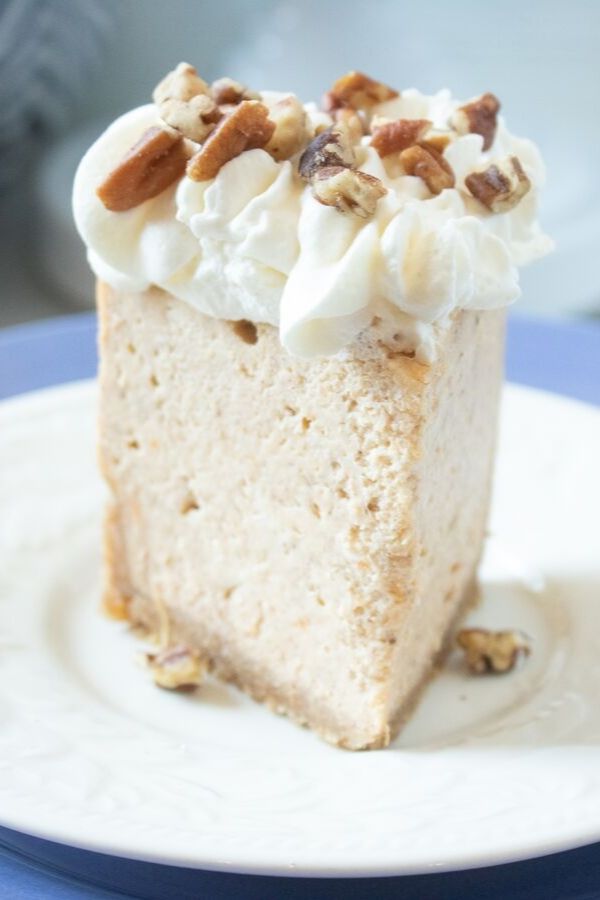 So, best of all, you don't lose any of the sweetness that makes cheesecake so delicious. Hold on, did I say best of all? It gets better yet…
Make your sweet potato cheesecake in an instant pot for super-fast results that taste every bit as good as any oven-baked cheesecake!
The Best Instant Pot Sweet Potato Cheesecake
For prep time, you are looking at about 15 minutes in total. Cook time depends on how fast your instant pot attains pressure. Generally, you are looking at about 7 minutes to come to pressure, then thirty minutes of cooking time. Finally, the natural pressure release time of about five minutes. Try my pumpkin chocolate chip bread, for another sweet treat.
What kind of sweet potato do I use?
Many people confuse sweet potatoes and yams. It isn't hard to do. They are both typically sold next to each other. Generally speaking, the sweet potatoes are the light-skinned ones. Yams usually have a darker orange flesh and light brick red skin.
For this recipe, you can use either. I prefer the sweet potatoes version here. It is sweeter, and I like the color better. Try my oatmeal pie recipe for a sweet dessert.
That being said, if you start with uncooked sweet potatoes, then, of course, that will add cooking time to prep your sweet potatoes. For that reason, if you want to keep things quick and easy, go with a puree of sweet potatoes.
You can typically find it on the canned food aisle. Sometimes you find it on the baking aisle of your grocery store. It would most likely be close to the pie-making tins and supplies. Usually close to the holidays, you find it pretty much everywhere you look.

How's the texture when you cook sweet potato cheesecake in an instant pot?
The good news is using an instant pot doesn't change the luxurious texture of the cheesecake. You get that same light, fluffy, yet creamy cheesecake bite.
Cooking with pressure doesn't mean you get a "wet and heavy" cheesecake.
However, you do need to tamp off any water droplets on top of the cake when you bring it out. Easy to remove, just apply a paper towel or clean towel very lightly to the top. The water will wick off instantly!
What makes sweet potatoes so good for you?
Sweet potato pies taste lovely. Instant Pot sweet potato cheesecake takes things to another level. Especially when you know that sweet potatoes have tons of vitamins A and C., They are also full of fiber as well as beta-carotene.
If you want to have a healthier version of a cheesecake, then sweet potato cheesecake delivers the goods… actually make that.. The greats.
What Size Pan Do You Use For This Instant Pot Cheesecake
I use a 6-inch push pan
, and this works great for your 6 quart Instant Pot. Deep push pans work perfectly in making Instant Pot cheesecake, they help give you that thick and velvety cheesecake each and every time!
Any other tasty cheesecake recipes up your sleeve?
When it comes to cheesecake, don't fool yourself. If you have seen one, you have definitely not seen them all.
I have a few other Cheesecake recipes to check out when you are in that cheesecake sort of mood.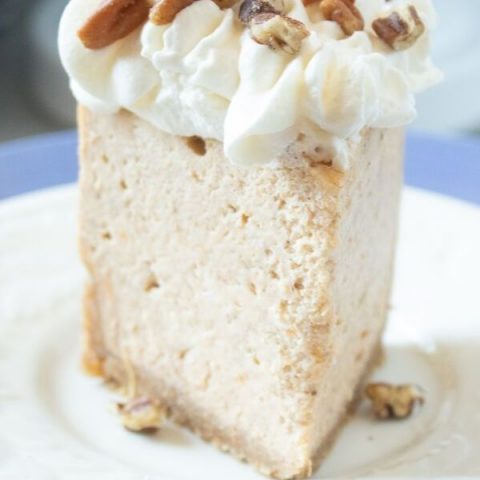 One Of A Kind Instant Pot Sweet Potato Cheesecake
Sweet Potato Cheesecake made right in the Instant Pot pressure cooker. Sweet potato cheesecake recipe that is incredibly easy.
Ingredients
• 1 cup graham cracker crumbs
• 1 tablespoon granulated sugar
• ¼ cup unsalted butter, melted
Cheesecake Filling
• 2 (8-ounce) packages cream cheese, softened
• ½ cup granulated sugar
• ¾ cup sweet potatoes, pureed
• 2 large eggs, room temperature
• 3 tablespoons all-purpose flour
• ¼ cup sour cream
• 1 teaspoon vanilla extract
• 1 teaspoon cinnamon
• ½ teaspoon ground nutmeg
• ¼ teaspoon ground cloves
Instructions
Grease the sides and bottoms of a 6-inch push pan and line the pan with a parchment round. Alternatively, you can also line the sides of the pan with parchment paper.
In a food processor, combine graham cracker crumbs, sugar and melted butter and pulse to mix ingredients. Then, press crust out on the bottom of the pan and ½ way up the sides. You can use the bottom of a glass to press down the crust.
Place pan in the freezer while making the filling. Freezing will help hold the crust together.
Mix the cream cheese and granulated sugar until nice and smooth, and then add in one egg at a time while mixing in between adding the eggs. Add in the sweet potatoes and mix in.
Then, add in the flour, sour cream, vanilla and seasonings and mix to incorporate.
Pour the filling into the push pan and tap the pan several times on the counter to remove air bubbles. You can also run a fork or knife through the cheesecake filling to remove air bubbles.
Cover the cheesecake with aluminum foil and/or a paper towel to prevent condensation from accumulating on the top of the cheesecake.
Add 1 ½ cups of water to the inner pot of the Instant Pot.
Using a sling (you can buy a sling for the Instant Pot or make one out of foil), lower the pan into the inner pot.
Close lid and set for a manual high-pressure cooking time of 30 minutes. Allow for a natural pressure release when the cooking time has finished.
Remove the cheesecake from the Instant Pot. Take the foil off of the top and gently soak up any condensation that has formed on the top of the cheesecake with a paper towel or flour sack towel.
Let the cheesecake cool on a wire rack for at least an hour before refrigerating for 12 hours or overnight.
After 12 hours, remove the cheesecake from the refrigerator and set the pan on top of a large can. Push the sides of the cake pan down, slowly.
Remove the cheesecake from the pan bottom, and set on a cake plate or serving tray.
Recommended Products
As an Amazon Associate and member of other affiliate programs, I earn from qualifying purchases.
Nutrition Information:
Yield:

8
Serving Size:

1
Amount Per Serving:
Calories:

263
Total Fat:

13g
Saturated Fat:

7g
Trans Fat:

0g
Unsaturated Fat:

5g
Cholesterol:

74mg
Sodium:

154mg
Carbohydrates:

33g
Fiber:

1g
Sugar:

22g
Protein:

4g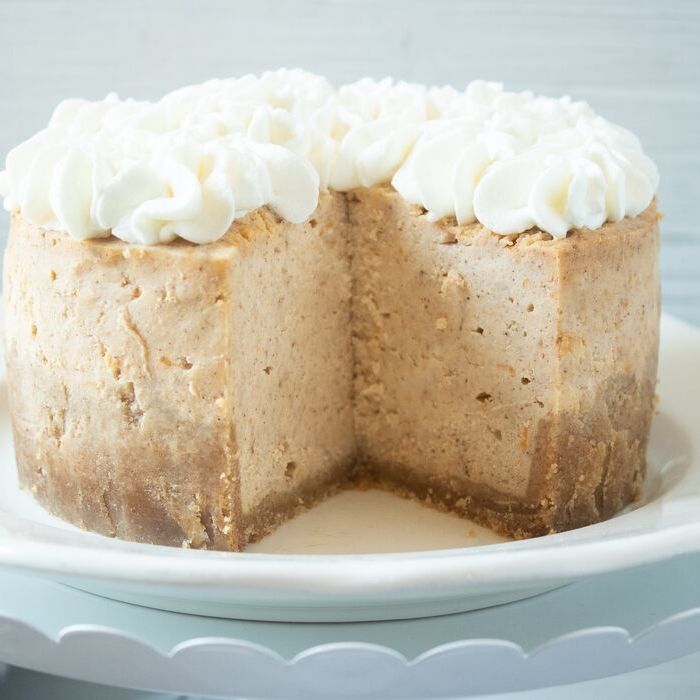 How To Store Instant Pot Cheesecake
You will want to store your cheesecake in the fridge. Place in an airtight container
or cover pan with aluminum foil. This cheesecake will store 3-5 days when stored properly.
Can You Freeze Sweet Potato Cheesecake
I haven't tried to freeze this, it gets eaten way to fast. But, I think it should freeze just fine. Place in a freezer bag or airtight container, and store up to three months in the freezer. Then when you are ready, place in the fridge to thaw, the night before.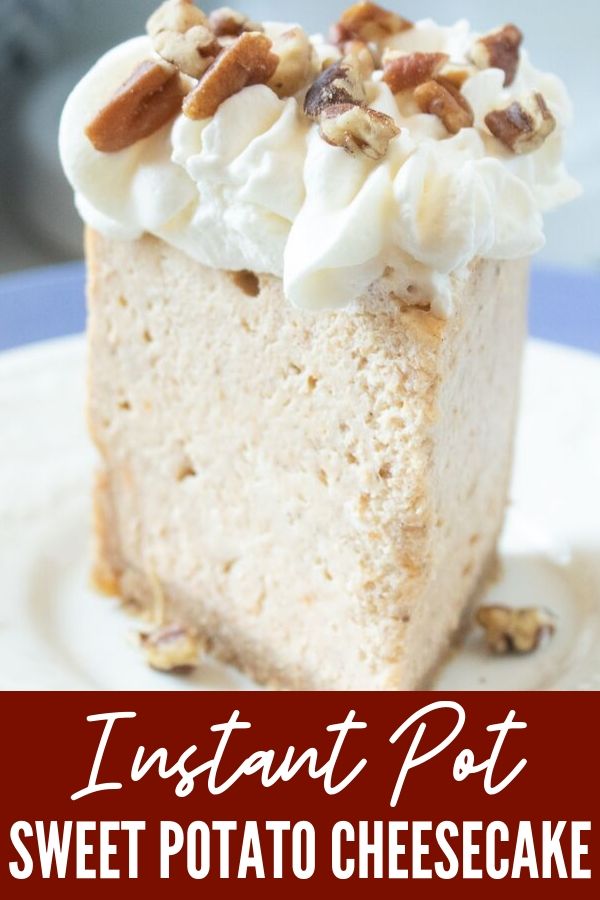 Dress up your holiday gatherings with this Thanksgiving cheesecake recipe that will stand out on the dessert table.