Carrot Cake Cheesecake Cake is going to completely transform the way you serve up carrot cake. This is a layered carrot cake recipe. A cheesecake cake recipe.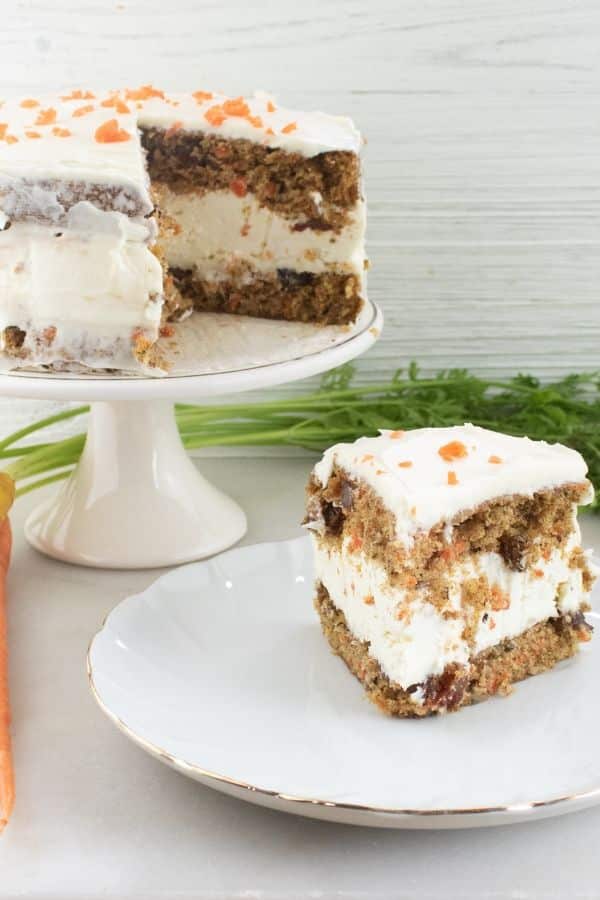 Carrot Cake Cheesecake Cake
It has two moist and spiced filled layers of carrot cake, with a thick cheesecake filling in the center. Carrot cheesecake is unbelievably delicious and easy to make.
I love me a good carrot cake. When you add in a layer of cheesecake into the mix, my heart skips a beat.
Easter Dessert Recipe
While this would make a fantastic Easter dessert recipe, I also make this all throughout the year. Summer, spring, you name it, this recipe is on my speed dial. Great for birthday parties, family gatherings, and even summer cookouts.
Carrot Cake Cheesecake Cake Recipe
Let me walk you through some tips and tricks to making the perfect carrot cake with a cheesecake layer.
This recipe might look difficult, but trust me, it is easy to make. Try these pumpkin carrot muffins if you are looking for something new.
Is The Carrot Cake Cheesecake Layer No Bake
Yes. You will make a no-bake cheesecake layer that you will refrigerate for a few hours before assembling the cake.
I find that the no-bake cheesecake center offers a really fluffy texture and pairs nicely with the carrot cake and the cream cheese frosting.
Try this chocolate pumpkin cheesecake cake, for another layered cake recipe.
What Can I Use To Replace Dates In Layered Carrot Cake Recipe
You can use raisins instead if you prefer. Or leave them out completely if you are not a fan of either. I personally love the flavor of dates in carrot cake.

Do You Have To Peel Carrots For Carrot Cake
You don't have to peel carrots when you are using them in a cake. Simply wash them really well and scrub to remove any dirt or debris on the carrots.
Then shred the unpeeled carrots if you would like. I tend to peel mine as the skin can offer a bit of a bitter taste. But, it is up to you.
How Do You Shred Carrots for Cake
You can use a classic cheese grater, rotary cheese grater or anything else you have on hand.
You just want the carrot pieces to be pretty fine, so they bake up nicely and are not overly chunky in the batter.
Tips For Making No-Bake Cheesecake
One key to making this no-bake cheesecake layer is how you mix up the recipe.
Make sure to start your cream cheese is room temperature. If it isn't room temperature you will end up with a really lumpy texture.
It can resemble cottage cheese, and that means you did not have cream cheese warm enough.
Also, make sure you really mix the batter till it becomes nice and fluffy. I use my hand mixer or stand mixer for this.
What Size Cake Pan Do You Use
I used a 9-inch cake pan for this recipe. You will need 3, one for the cheesecake layer (feel free to use a springform pan) and then two for the cake portion since you are making a layered cake.
More Easy Desserts
Is Carrot Cake Healthier Than Regular Cake
You would think since there are carrots inside the cake it would eliminate some of the bad.
Well, carrot cake isn't really healthy. It has a lot of sugar, the cheesecake layer adds a lot of sweetness, not to mention the cream cheese frosting.
You can pretend it is healthier than regular cake, but the reality is no.
How To Store Cheesecake Carrot Cake
Because of the cheesecake filling and cream cheese frosting this cake needs to be stored in the refrigerator. Just place in a container that is airtight and stores for 3-5 days.
This cake is best when served the first couple days. If you prefer the room temperature flavor, then slice and let sit on the counter a bit before you serve.
Can I Make This Cheesecake Carrot Cake Ahead of Time
You could make this cake a day in advance. Just make sure to store the cake in the fridge, and then remove and place on a platter when ready to serve.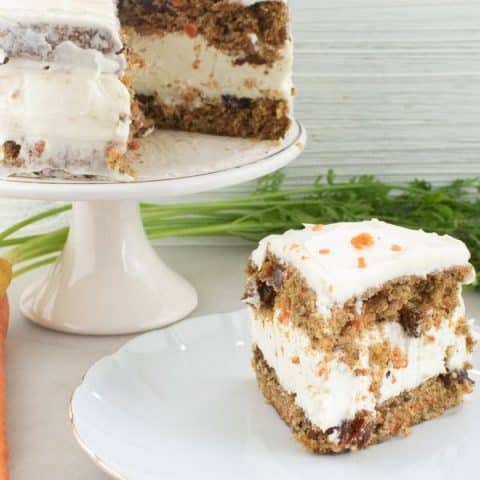 Carrot Cake Cheesecake Recipe
Additional Time:
30 minutes
Total Time:
1 hour
20 minutes
A carrot cake cheesecake cake recipe that will win over a crowd or perfect for a bake sale. A carrot cake with a layer of cream cheese in the center. This cheesecake cake recipe is one of my favorites.
Ingredients
Cake
• 1 cups granulated sugar
• 2/3 cup vegetable oil
• 1 1/2 cups carrots, diced or shredded in a food processor
• 3 eggs
• 1 teaspoons vanilla extract
• 1 1/3 cups all-purpose flour
• 1 1/2 teaspoons baking powder
• 1 teaspoon baking soda
• 1 1/2 teaspoon ground cinnamon
• ¼ teaspoon ground cloves
• ¼ teaspoon ground nutmeg
• 2/3 cup chopped walnuts
• 2/3 cup chopped dates*
Cheesecake Filling
• 3 (8 ounce) packages cream cheese, softened
• ½ cup granulated sugar
• 2 teaspoons vanilla
• 1 cup heavy whipping cream
Cream Cheese Frosting
• ½ cup unsalted butter, softened
• 8 ounces cream cheese, softened
• 4 cups powdered sugar
• 2 teaspoons vanilla
Instructions
Preheat oven to 350 degrees. Spray two 8-inch round cake pans with non-stick
cooking spray and line the bottom of each pan with a circle of parchment paper. This will prevent your cake from sticking.
Mix wet ingredients and then add all the dry ingredients and stir to combine until just mixed but smooth. Do not overmix the carrot cake batter.
Divide batter evenly between the two cake pans and bake for 20-25 minutes, or until a toothpick inserted into the middle of the cake comes out clean.
Set cake aside to let it cool in the pans for 30 minutes to an hour. Then you will take a knife and run along the edge of pan to ensure when you go to remove carrot cake it doesn't stick.
Now carefully dump the cake out onto a cooling rack or plate.
Now in a bowl Cream together cream cheese and sugar until smooth, with a hand-held
mixer. This is the start of your no-bake cheesecake.
In a stand mixer, whip heavy cream until thick, you will want to use high speed to ensure it whips up nice and thick.
Stir the whipped cream and vanilla into the cream cheese and sugar until it is incorporated and smooth.
Spray a 9-inch cake pan with non-stick spray, and insert a parchment circle on the bottom of the pan.
Scoop the cheesecake filling into the pan and press down to flatten it. You will then refrigerate for a couple of hours to overnight to firm up before assembling the cake.
To make the cream cheese frosting, beat the butter and cream cheese in a medium-sized mixing bowl until smooth. Add in the powdered sugar and mix to combine, and then mix in the vanilla.
Using a cake leveler, level both carrot cake layers so the cake layers are flat. That way you don't end up with a lop-sided cake.
To assemble the cake, place the first layer top-side down on a cake plate. Top it a small amount of icing, and then the cheesecake layer. Follow that up with another small amount of frosting, and then the final carrot cake layer, top-side down. Decorate the top of the cake with icing, as desired.
Optional toppings to add to the top of the cake: walnuts, caramel, carrots,
or strips of carrots.
Notes
Sub raisins for dates if desired.
Recommended Products
As an Amazon Associate and member of other affiliate programs, I earn from qualifying purchases.
Nutrition Information:
Yield:

12
Serving Size:

1
Amount Per Serving:
Calories:

473
Total Fat:

44g
Saturated Fat:

17g
Trans Fat:

1g
Unsaturated Fat:

24g
Cholesterol:

121mg
Sodium:

336mg
Carbohydrates:

91g
Fiber:

2g
Sugar:

75g
Protein:

7g
When To Serve This Easy Carrot Cake
Easter
Spring Events
Family Gatherings
Cookouts
Bake Sales
Summer Cookouts
Birthday Parties
And any other occasion
There is no wrong time to serve this cake in my opinion! I love an easy cake, and this layered carrot cake will win over anyone.