Marshmallow Popcorn is a treat in itself. With the hint of vanilla, you get that cake batter popcorn flavor WITHOUT flour! Have fun with this funfetti popcorn recipe.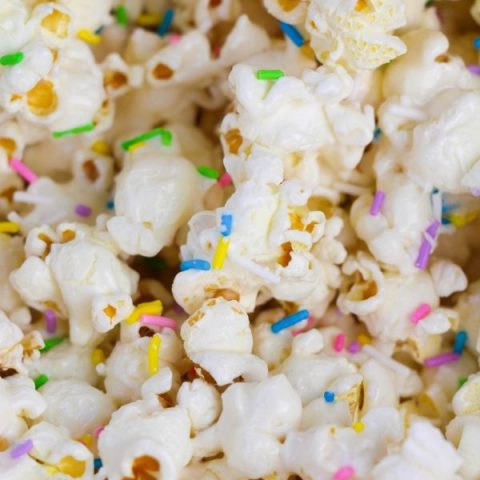 Marshmallow Popcorn is my go-to snack for my son. A cake batter popcorn without flour so you can eat it and not have one care in the world.
Marshmallow Popcorn
I will say this offers a cake batter flavor, without needing to use a cake mix. Just basic simple ingredients are needed for a rather fast funfetti popcorn that is as tasty as it is colorful! 
I love a good Rice Krispies treat. Something about that buttery marshmallow mixture makes me drool.
My mother in law makes a sweet and salty popcorn and my little boy just loves it.
I came home and added my own spin to it for a more cake batter popcorn flavor. Check out this Turkey Popcorn for Thanksgiving. 
Do You Use Butter Or Margarine for Marshmallow Popcorn
Butter. Margarine will meltdown and become oily and you will find it won't incorporate as well with marshmallow fluff.
What Is Marshmallow Fluff
Marshmallow Fluff is light, gooey, and sweet as can be. It used products like corn syrup, egg whites and more to get that marshmallowy texture and sweetness!
Can I Use Marshmallows Instead of Marshmallow Fluff
Yes. I have used a full small size bag of mini or large size marshmallows and it works too. I melt them in a pot on the stovetop with the butter.
Once melted then add in other ingredients. Stir constantly. Using bagged marshmallows over fluff with change the flavor. 
Can I Make Popcorn Balls
Of course, if you want to make this marshmallow popcorn into marshmallow popcorn balls just form into balls!
I find that greasing my hands helps to prevent the popcorn from sticking to my hands as I am shaping into balls.
Add-In Items For Marshmallow Popcorn
Chopped up candy bars
Different colored sprinkles
Food coloring to change popcorn base
Mini chocolate chips
Drizzle melted chocolate over the top
Crumbled cookies
The list goes on and on. This popcorn is versatile in what you can add!
Does Marshmallow Popcorn Set Up
When using marshmallow fluff I tend to toss in the fridge to help the process along.
If I use mini marshmallows I have found the popcorn sets up within about 2 hours of sitting out on the counter.
It will off course be a gooey treat, but with the flavor of cake batter popcorn, I think you will just lick your fingers and carry on.
When to Serve Funfetti Popcorn
With the sprinkles and marshmallow, I consider this to be a funfetti Popcorn for sure! Let me share some fun occasions where I would serve this popcorn!
Birthday parties
Holidays (swap out the color of sprinkles to fit the theme)
Weekday snack
Packing in kids lunch for a sweet treat
Gifting goodies to loved ones
Never a wrong time to make funfetti popcorn. Popcorn snacks like this work in any and every occasion.
Is Popcorn Gluten Free
Popcorn is dried corn, which is a whole grain food. Popcorn alone is gluten-free. You just need to watch what other ingredients go onto the popcorn,
This recipe made as is in the recipe box is gluten-free. 
How Do You Make Popcorn
I have a popcorn maker I use. I drizzle in a little oil, pour kernels in and let it get to work.
You could use an Air Popper or even buy bagged popcorn you make in the microwave. Just make sure it is a plain variety and not full of butter.
Sweet and Salty Marshmallow Popcorn
If you want that sweet and salty aspect to sprinkle a little salt over your popcorn once it is done popping. Or at the end, after it's sitting out to dry, a light sprinkle of salt will give you that sweet and salty marshmallow popcorn you want.
Craving More Sweet Recipes
How to Store This Popcorn Snack
After it has set up some I will break apart and stick in an airtight bag or use an airtight container. Either method works great at keeping it the right consistency.
How Long Will This Cake Batter Popcorn Last
This cake batter popcorn without flour (made so safe to consume) can be stored for 3-4 days. You will find the texture of the popcorn will lessen as you pass the days a bit.
How to Store Marshmallow Popcorn
I store my popcorn on the counter. You can store it in the fridge if you prefer. It is a personal preference on the texture you want.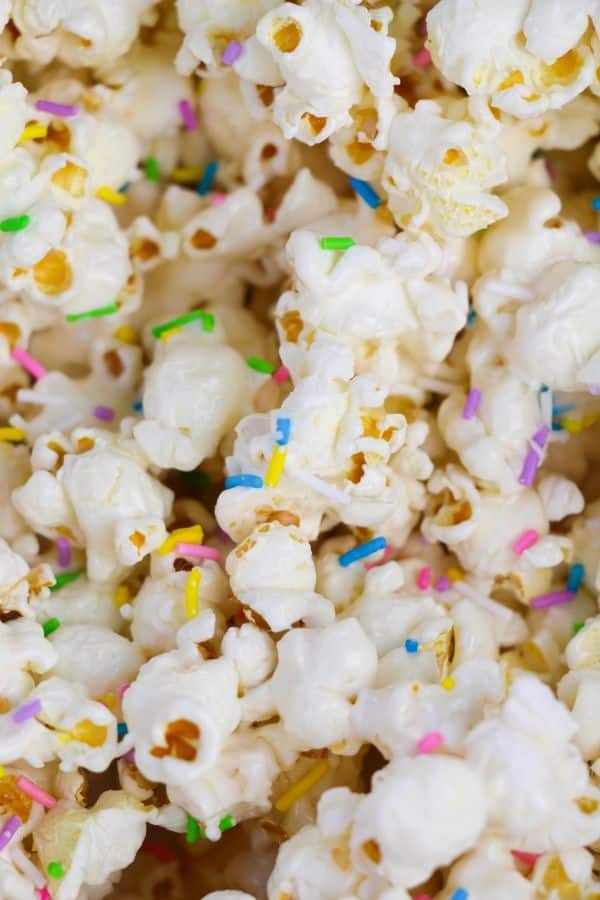 Marshmallow Popcorn Recipe With Sprinkles
Servings 6 cups popcorn
Marshmallow Popcorn is a treat in itself. With the hint of vanilla, you get that cake batter popcorn flavor WITHOUT flour! Have fun with this funfetti popcorn recipe.
Ingredients
6 cups popcorn
1 container Marshmallow Fluff
2 Tablespoons butter
1 teaspoon vanilla extract
1/4 cup sprinkles
Instructions
Start by popping your popcorn kernels, with your desired method. We use a

Stir Crazy Machine

. Once popped set aside.

Spray a 9x13 cookie sheet with cooking spray or lay a Silpat mat. This will help prevent the marshmallow popcorn from sticking to the pan.

Empty your container of Marshmallow Fluff into a large microwave-safe container. Heat for 25 seconds, stir well, then reheat again for 25 seconds. You want to repeat this process until the marshmallow fluff is fully melted.

Stir in the butter and vanilla extract until well combined.

Slowly add in the popcorn along with half the sprinkles. Use a rubber spatula to mix up the marshmallow fluff popcorn.

Spread the coated popcorn over the cookie sheet in a single layer. Add remaining sprinkles, focusing on any areas that are lacking sprinkles.

Let set in the fridge for 4 hours or overnight until no longer tacky to the touch.

Break up the marshmallow popcorn and store in an airtight container in the fridge until ready to serve.
Nutrition
Serving: 1/2 cupCalories: 122kcalCarbohydrates: 10gProtein: 1gFat: 9gSaturated Fat: 3gPolyunsaturated Fat: 5gTrans Fat: 1gCholesterol: 10mgSodium: 92mgFiber: 1gSugar: 5g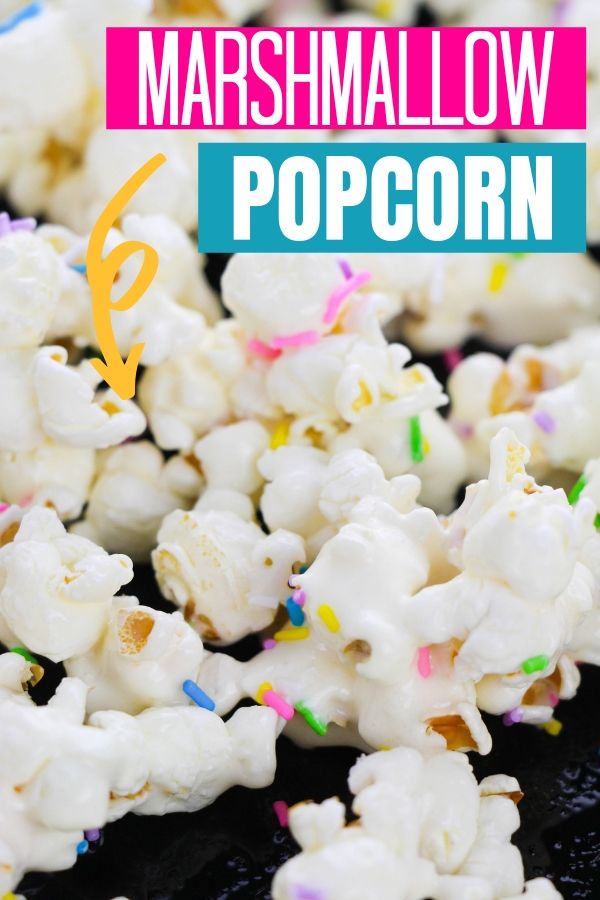 Have you ever made marshmallow Popcorn before?
Reader Interactions