Chocolate pumpkin cheesecake cake is one incredible pumpkin dessert. A homemade chocolate cake that has a layer of pumpkin cheesecake in the center. This is the most decadent chocolate cake I have ever had.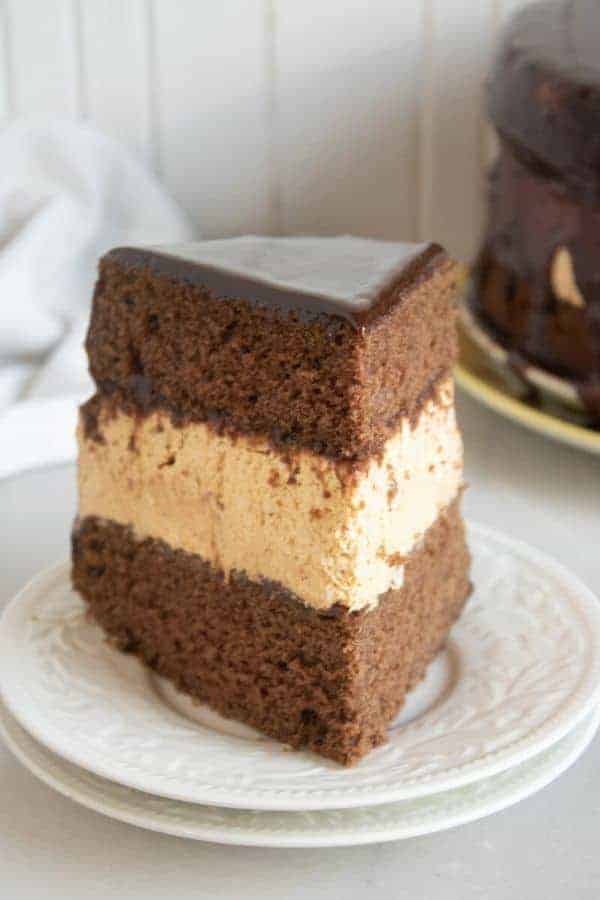 If you are a fan of pumpkin and chocolate then you will love this chocolate cake with a cheesecake layer that has pumpkin inside it.
Chocolate Pumpkin Cheesecake Cake
The combination of cake and cheesecake is unique! It gives a rich and creamy decency to this dessert that makes it outstanding. While it looks difficult, it is super simple to make.
What Type of Frosting Is On This Chocolate Cake
I used a chocolate ganache to pour over the top of the cake. It adds a nice rich glaze over the cake that is outstanding! You could very easily make a buttercream frosting if you would prefer or even a cream cheese based frosting.

No Bake Pumpkin Cheesecake Layer
This has a no-bake pumpkin cheesecake layer that you will put in the center of this chocolate cake. You will use pumpkin puree to pair with cream cheese and other ingredients, to provide a velvety-smooth cheesecake.
Searching for more cake and cheesecake combinations?
Pumpkin Cheesecake Cake Recipe | A pumpkin spice based cake with a layer of no-bake cheesecake in the center. Then smothered in a rich creamy frosting.
Carrot Cake Cheesecake Cake | Transform your carrot cake with a layer of cheesecake in the center. Then top with a cream cheese based frosting for the ultimate carrot cake recipe.
Chocolate Cake
A homemade chocolate cake that is moist, rich, decadent and rather simple to whip up. Bake in a round pan and then allow it to cool before you assemble your cake.

Pumpkin Spice Cheesecake
This cheesecake is velvety smooth, and you will whip this up ahead of time and store in the fridge until you are ready to assemble. This will allow the cheesecake to set up well.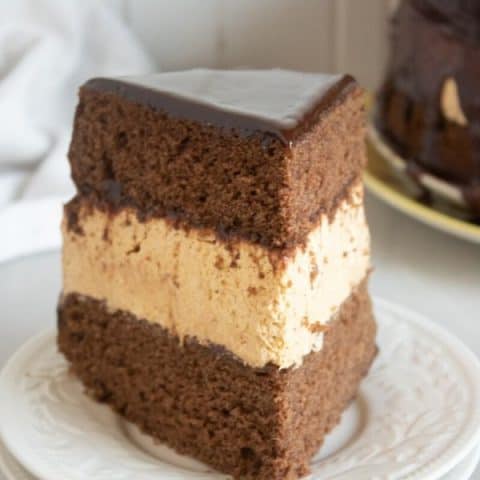 Chocolate Pumpkin Cheesecake Cake
Total Time:
4 hours
40 minutes
A chocolate cheesecake cake recipe. Chocolate pumpkin cheesecake cake that is a rich layered dessert.
Ingredients
Cake
• 2 cups granulated sugar
• 1 cup vegetable oil
• 4 eggs
• 2 teaspoons vanilla extract
• 3 cups all-purpose flour
• 1/3 cup cocoa powder
• 1 1/2 cups hot water
• 2 teaspoons baking powder
• 1 teaspoon baking soda
No-Bake Pumpkin Cheesecake Filling
• 3 (8 ounce) packages cream cheese, softened
• ½ cup granulated sugar
• 1 cup pumpkin puree
• 2 teaspoons vanilla
• 1 cup heavy whipping cream
• 2 teaspoons ground cinnamon
• ½ teaspoon ground nutmeg
• ½ teaspoon ground cloves
Chocolate Ganache (some whipped, some to pour)
• 1 cup heavy whipping cream
• 2 cups semi-sweet chocolate chips
Instructions
Preheat oven to 350 degrees. Spray 6 8-inch round cake pans with non-stick
cooking spray and line the bottom of each pan with a circle of parchment paper.
Mix wet ingredients and then add all the dry ingredients and stir to combine until just mixed but smooth. Do not overmix.
Divide batter evenly between the six cake pans and bake for 25-30 minutes,
or until a toothpick inserted into the middle of the cake comes out clean.
Set cake aside to let it cool in the pans for 30 minutes to an hour, and
then drag a knife along the outside of the cake to make sure it isn't sticking to the pan at all before removing the cake from the pan.
Level the cakes using a leveler to remove the curved top. Toss top, or use
in another recipe like cake pops or cake truffles.
Cream together cream cheese and sugar until smooth, with a hand-held
mixer. Add in pumpkin, vanilla, and spices and mix again until completely smooth.
In a standing mixer, using a separate mixing bowl, whip heavy cream until thick. Stir whipped cream into the cream cheese and sugar mixture until smooth.
Spray a 9-inch cake pan with non-stick cooking spray and place a parchment
circle on the bottom of the pan. Pour the cheesecake batter into the
pan and spread out evenly. Refrigerate the cheesecake layer for 4
hours or overnight, and then put in the freezer for 20 minutes before
assembling the cake.
To make the ganache, heat heavy whipping cream with chocolate chips
over medium heat, while stirring frequently. Remove from burner and
let cool.
To assemble the cake, start with one of the layers top side down on a
cake plate. Add a small amount of ganache over the cake layer, and then add the cheesecake layer. With a knife, scrape away any excess cheesecake layer that hangs over the cake, so it is even with the cake.
Add a small amount of ganache to the top of the cheesecake layer and
then top with the remaining cake layer, top side down, and finish by pouring ganache over the cake as desired.
Optional toppings to add to the top of the cake: walnuts, caramel, pecans,
chocolate ganache, etc.

Recommended Products
As an Amazon Associate and member of other affiliate programs, I earn from qualifying purchases.
Nutrition Information:
Yield:

12 servings
Serving Size:

1
Amount Per Serving:
Calories:

765
Total Fat:

44g
Saturated Fat:

17g
Trans Fat:

1g
Unsaturated Fat:

25g
Cholesterol:

109mg
Sodium:

235mg
Carbohydrates:

89g
Fiber:

4g
Sugar:

60g
Protein:

9g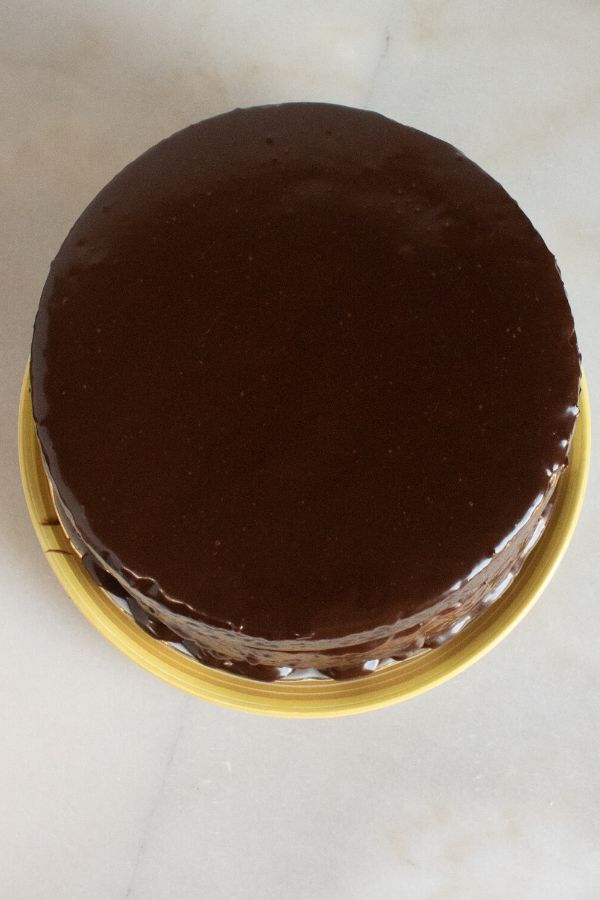 How to Store Pumpkin Cheesecake Cake
Because of the cheesecake layer, you will want to store your cake in the refrigerator. This cake will store for up to a week in the fridge. You will need to use your best judgment in terms of if the cake is still good. If in doubt toss it out.
Try this chocolate no-bake cheesecake for two if you are looking for a simple and easy dessert.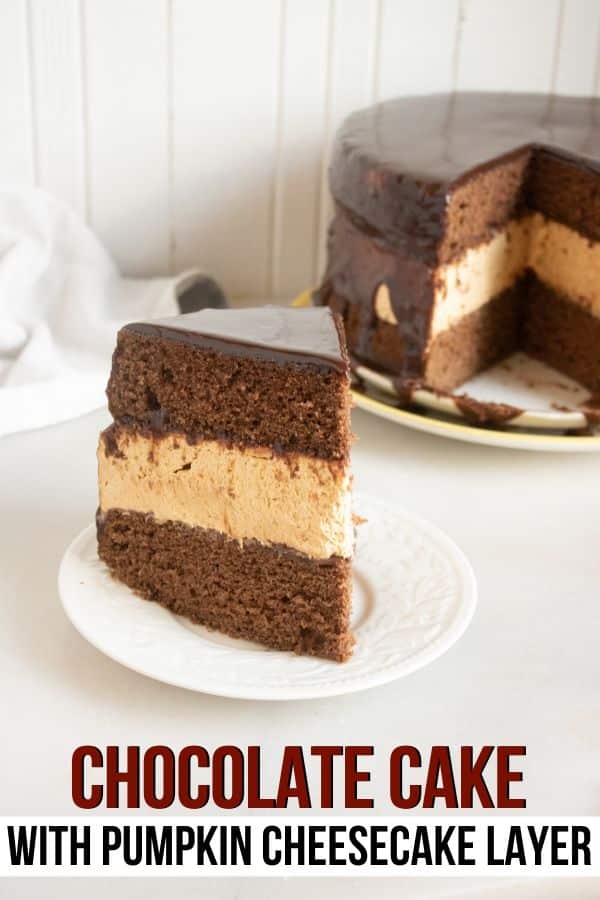 Have you ever tried a cake with a cheesecake layer in the center before?