German Chocolate Cake Balls are easy to make and so delicious. Whether for a party or holiday gathering, these cake pops are a treat. A homemade German chocolate frosting that makes these cake balls a dream.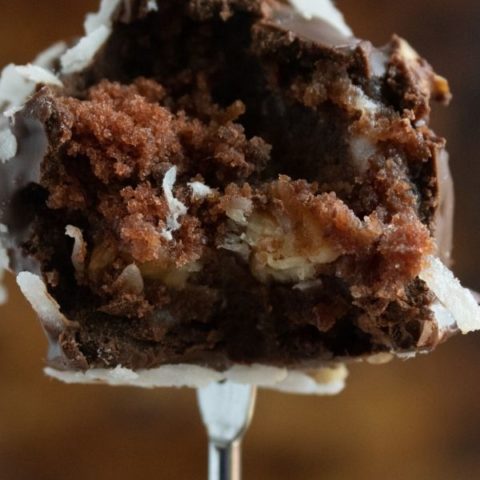 German Chocolate Cake Balls are a tasty German chocolate dessert that will win over a crowd. Whether you are making these for a birthday bash, holiday event, or a weekend treat. Learn how to make this cake truffles recipe.
I have an easy German chocolate cake pops recipe that you all will love. I made a homemade German Chocolate frosting recipe which makes these cake pops stand out.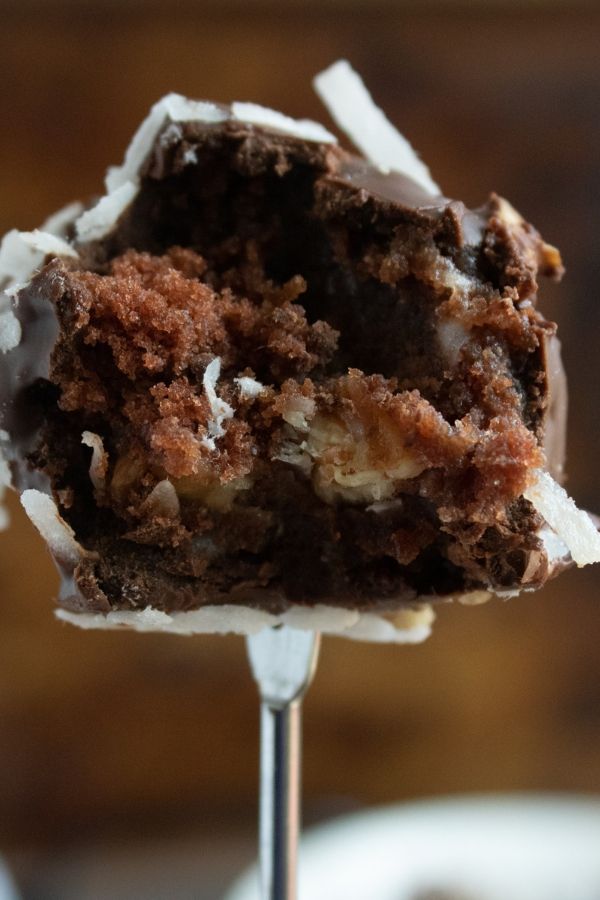 I am a huge fan of the flavors of German Chocolate! Coconut flavors, nuts, creamy base, and tender and light cake.
Whether you call these cake balls or German chocolate truffles, you will have a dessert that gets rave reviews.
Why Make These Cake Pops…
Cake pop recipe with cake mix
Easy
Quick
Homemade German chocolate cake frosting recipe
Delicious
Great to serve up for kids and adults

Ingredients Needed
Cake Mix + Ingredients on Box
Sweetened Condensed Milk
Butter
Eggs
Coconut
Pecans
Vanilla
Semi Sweet Chocolate Chips
Crisco
How to Make
Step 1: Start by baking up your cake as directed on the box. Just mix, pour and bake.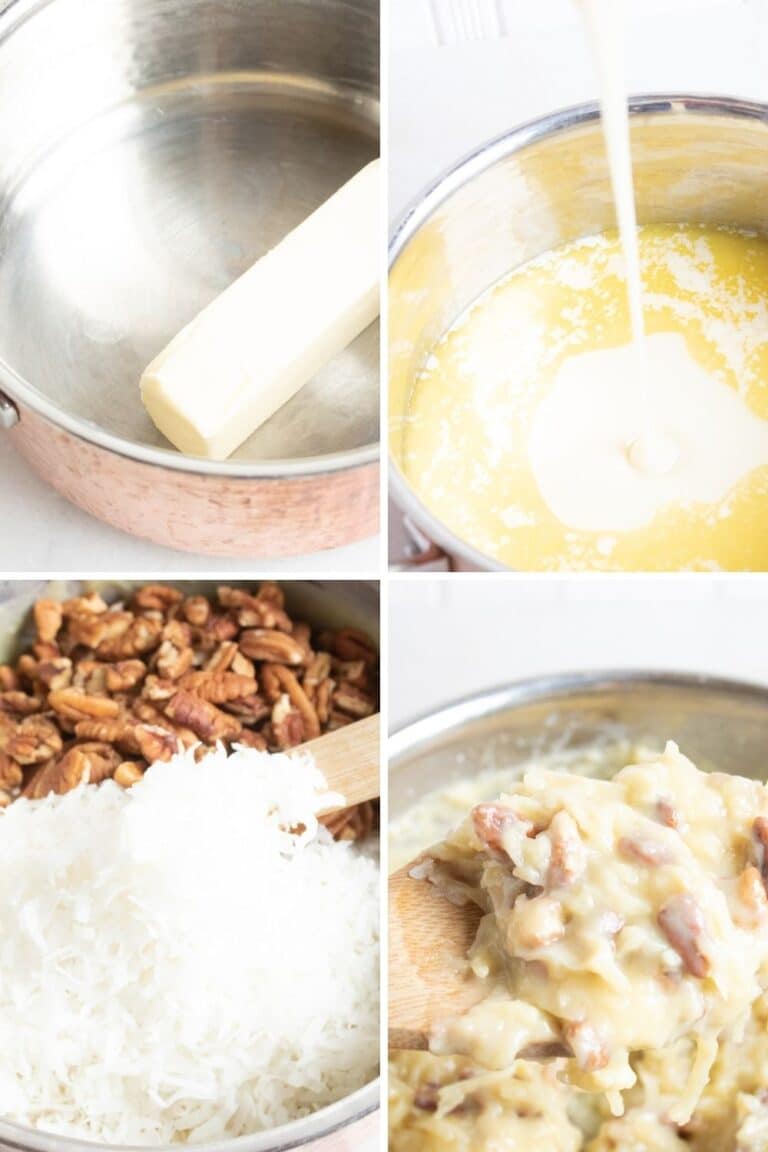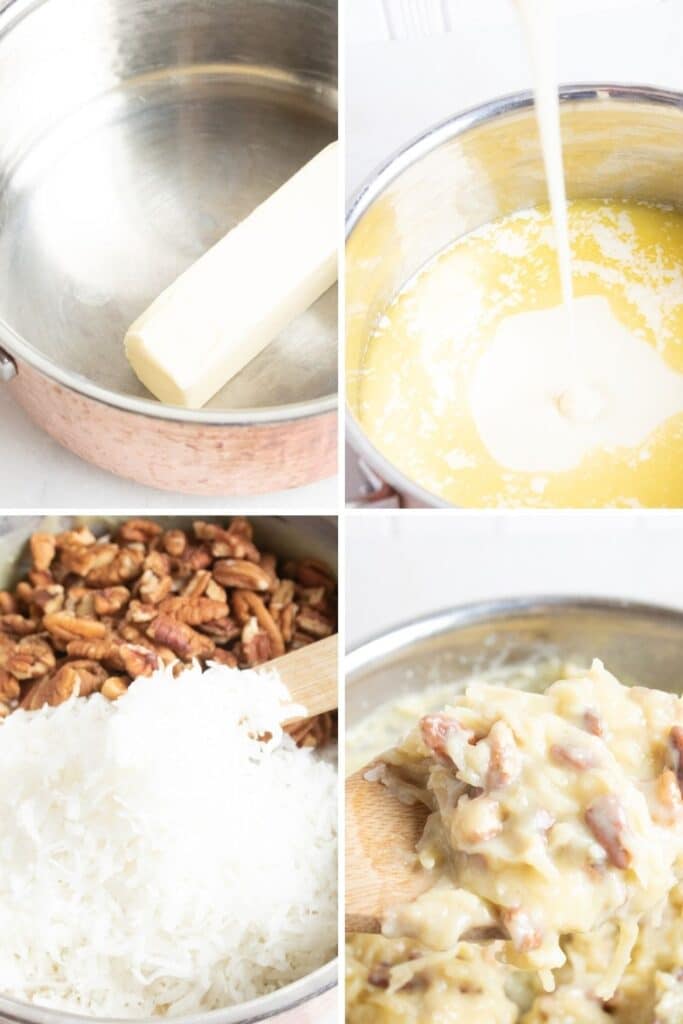 Step 2: In a saucepan on the stove you will work on making the homemade coconut pecan frosting. Add butter, condensed milk, egg yolks, and stir and cook until thickens.
Make sure to constantly stir the mixture to prevent burning.
Step 3: Once thickened remove from heat, toss in the vanilla, pecans, and coconut. Allow the frosting to cool for 30 minutes.

Step 4: Next when the cake has cooled you will crumble it all up. Then mix in the frosting you made. Once mixed well, roll into small balls and place on parchment paper.
Step 5: Mix up your coating as directed, and dip each of the balls in the chocolate. Top with coconut and pecans and let cool for the chocolate to set up.
Is It Easy To Make Coconut Pecan Frosting
Yes, the German chocolate frosting is easy. You do cook coconut pecan frosting on the stove to give it that creamy authentic German chocolate frosting. Then you mix the cake and frosting together to form that cake ball consistency you need to form the balls.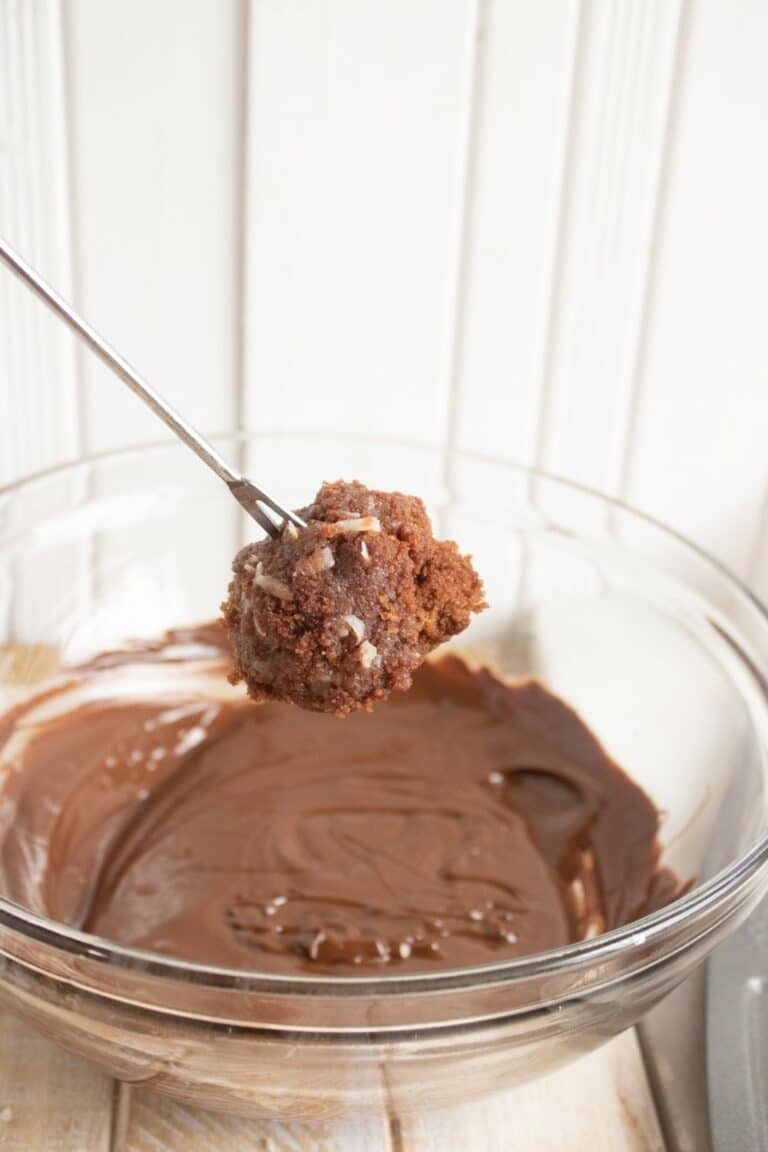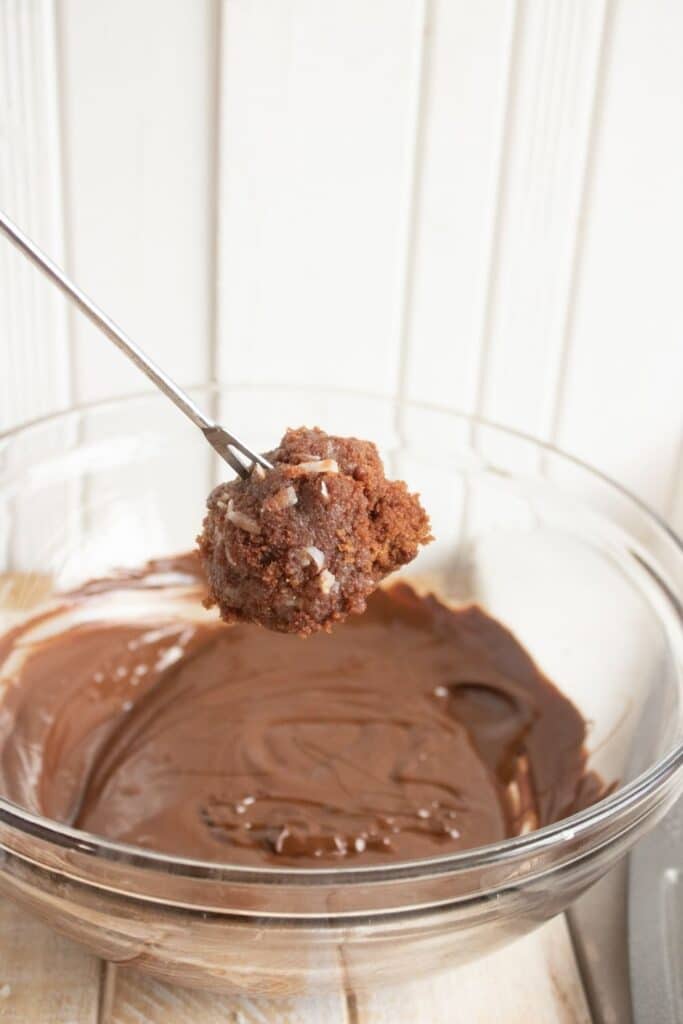 What Type of Chocolate Do You Use To Dip Cake Pops In
For some recipes, you will see almond bark used. For this recipe, I went ahead and did semi-sweet chocolate. You can use whatever you prefer, I just find the semi-sweet chocolate really added a nice flavor to the pops.
Depending on how large or small you make your cake balls will depend. I was able to get 48 cake balls in this recipe. I layed them out on wax paper or you can use parchment paper after you dip them.
Grab my Free Kitchen Conversions Printable! This shows you how many cups are in a quart, pint, etc. A great printable to keep handy for when you need to convert a recipe.
How Do You Get Even Looking Cake Pops
I use a cookie scoop. I find this is the best way to get that consistency in size. You can buy all different sizes of cookie scoops to fit your needs.
Recipe FAQs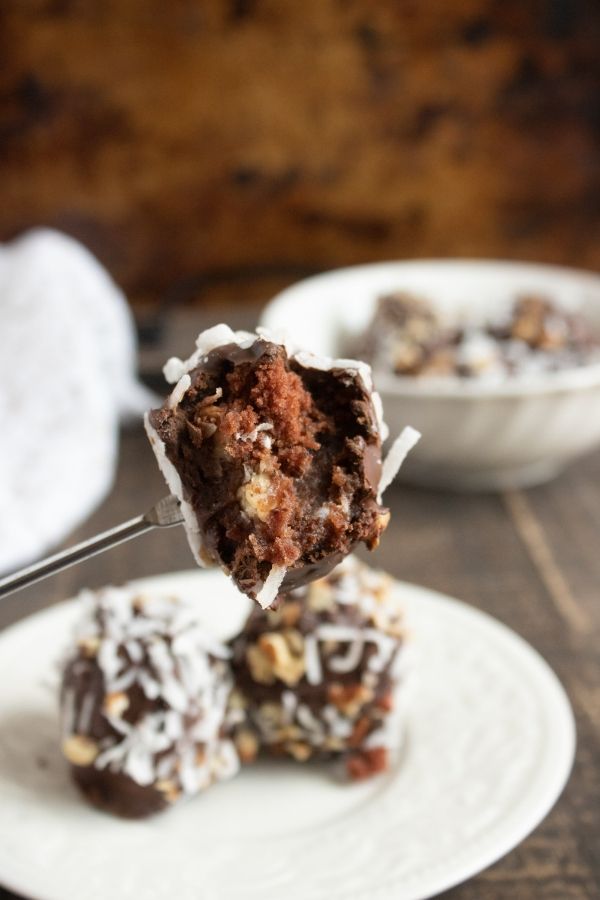 Craving More Sweet Dessert Recipes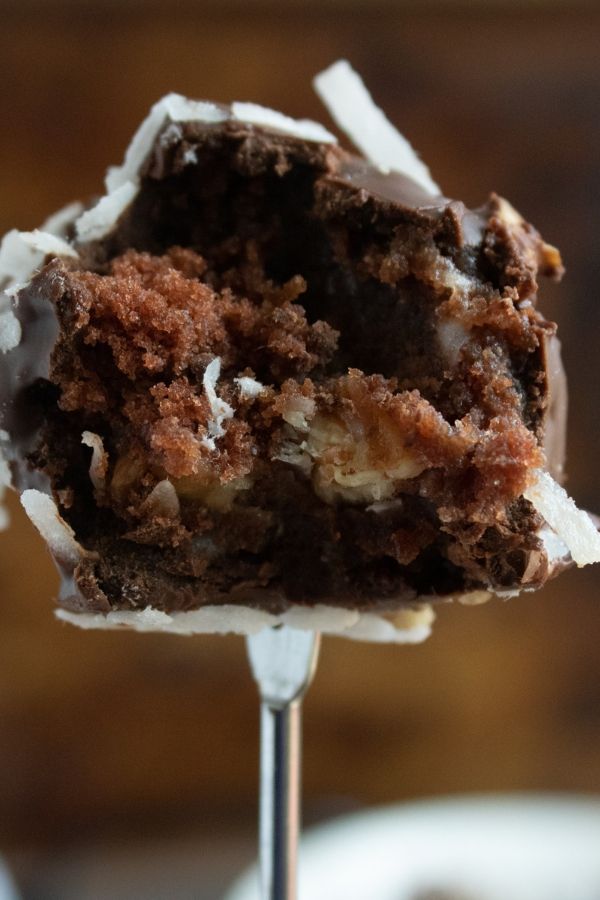 German Chocolate Cake Balls Recipe
Servings 48 cake pops
German Chocolate Cake Balls are easy to make and so delicious. Whether for a party or holiday gathering, these cake pops are a treat. A homemade German chocolate frosting that makes these cake balls a dream.
Ingredients
Cake
1 box cake mix
Plus Ingredients on Box
Coconut-Pecan Frosting
14 ounce can sweeten condensed milk
½ cup unsalted butter melted
3 egg yolks
1 ½ cup coconut
1 cup pecans chopped
2 teaspoons vanilla
Chocolate Coating
4 cup semi-sweet chocolate chips melted
½ tablespoon of Crisco
1 cup coconut unsweetened
1 cup pecans chopped
Instructions
Start by preheating the oven to 350 degrees. Prepare your cake mix as directed on the back of the box. Mix and pour into a 9x13 pan and bake, and allow to cool.

While the cake is baking you will grab a small saucepan and add in your butter, condensed milk, and egg yolks. Mix on medium heat until the mixture thickens. Make sure to stir continuously. This takes around 5-10 minutes.

Once the frosting is thickened, remove it from heat, pour in the vanilla, coconut, and pecans. Stir and then allow it to cool for 30 minutes.

Next, you will take your cooled cake and crumble it up. Then fold in the cooled German chocolate frosting. Mix well until combined.

Use a cookie scoop, and make round balls, and place on a lined baking sheet. Freeze your cake balls for 30 minutes to harden up.

Then in a small bowl, You will add your chocolate, Crisco, and heat in the microwave for 20-second increments until the mixture is melted.

Take a stick and place one cake ball on the stick and dip it into the melted chocolate. Top with pieces of coconut and pecans if you want, and sit on a baking sheet to cool and harden up.

Once set, these German chocolate cake balls can be served up as a delicious bite-size dessert.
 
Notes
You can use homemade German chocolate cake if you would like. Feel free to use candy melts to dip the balls in instead of melting chocolate chips. The shredded coconuts and pecans are optional, but they decorate the cake truffles nicely. Now I made homemade German chocolate cake frosting, but you can also reach for store bought to cut a corner.
Nutrition
Serving: 1gCalories: 244kcalCarbohydrates: 31gProtein: 3gFat: 14gSaturated Fat: 7gPolyunsaturated Fat: 6gCholesterol: 23mgSodium: 122mgFiber: 2gSugar: 23g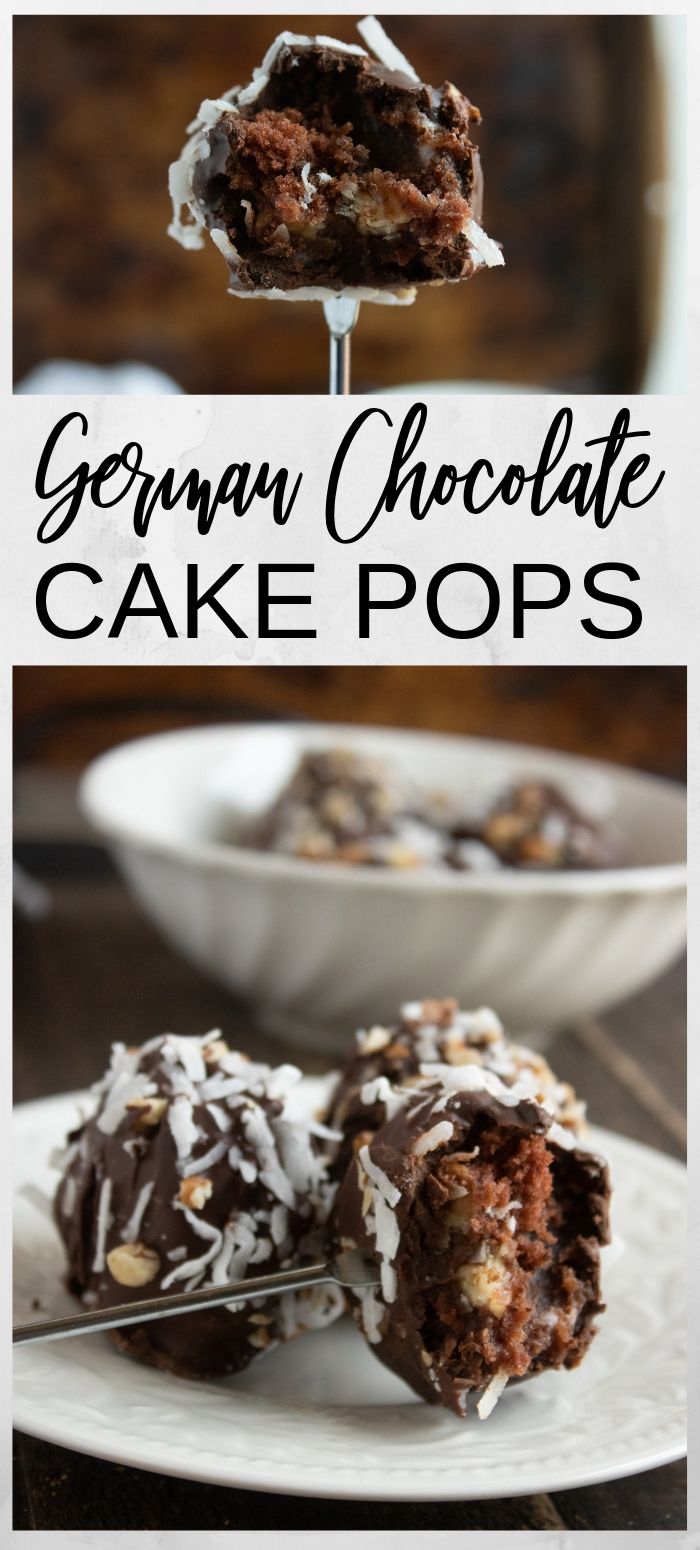 Have you ever made a German Chocolate Cake Balls Recipe Before?
Reader Interactions