Smores Brownies are a tasty way to enjoy the s'mores flavor any time of the year. No need for a campfire when you can create a homemade brownie recipe that is topped with graham crackers, chocolate chips and of course marshmallows. Brownie Smores are a tasty treat for the young and old.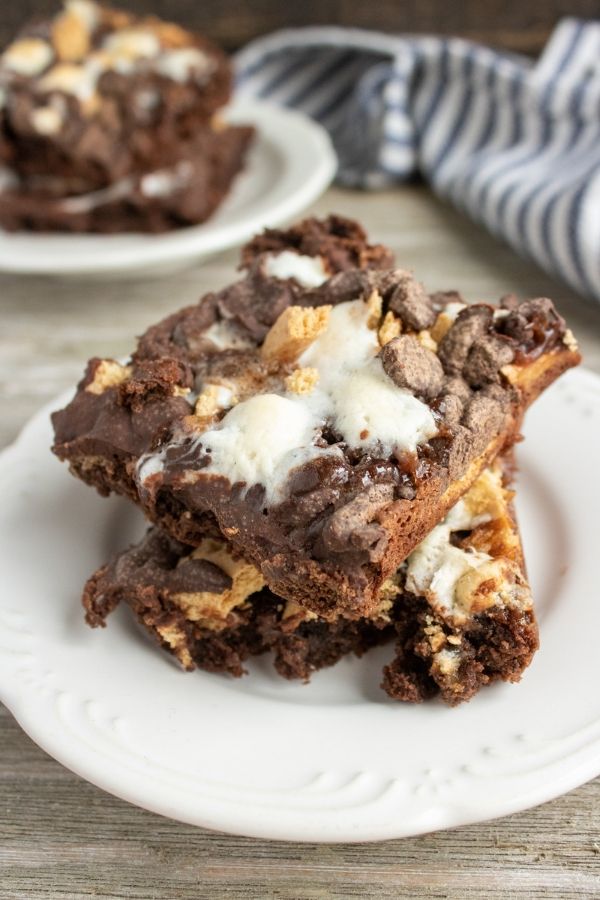 I grew up loving to go camping just for the end of the night s' mores dessert. Gooey marshmallow, melted chocolate, paired with a crisp graham cracker. What a delight! Now, I came up with this easy recipe that I can make winter, summer, spring or fall time right inside our home.
Smores Brownies
Let me walk you through tips and tricks on how to make the perfect brownie smores. This Smores brownie recipe is really easy, and I use a homemade brownie base, for that tasty homemade flavor in every bite.
How Many Smores Brownie Bars Does This Recipe Make
You use an 8×8 pan
so you will get roughly 9-12 brownie bars depending on how large or small you cut it up. I will also say using a plastic knife helps when cutting your brownies so it won't lift and tear up the top. Place the plastic knife in a pan and slide down the row, and gently lift for a smooth slice.

Can I Double This Smore Brownies Recipe
Yes. You are welcome to double to the recipe and then make it in a 9×13 pan
. I have done this in the past and it works well. Just make sure like before use a nonstick cooking spray or parchment paper to line the pan before you pour the brownie batter in. This will help them not stick to the baking pan.
What Toppings Do You Put On The Brownies

Could I Use Golden Grahams In Replace of Graham Crackers In Smore's Brownie Recipe
Yes! That would be a tasty transition of flavor. The Golden Graham cereal offers a bit of a sweeter flavor, but I know it would only elevate the flavors of these s'mores brownies. Ooey gooey, and with a nice crunch from the cereal.
Could I Use A Brownie Mix Instead of Homemade Brownies
Of course. Reach for a fudge style brownie or plain brownie that you enjoy. Follow the directions on the back of the package, and then add toppings and bake accordingly.
Craving More Sweet Recipes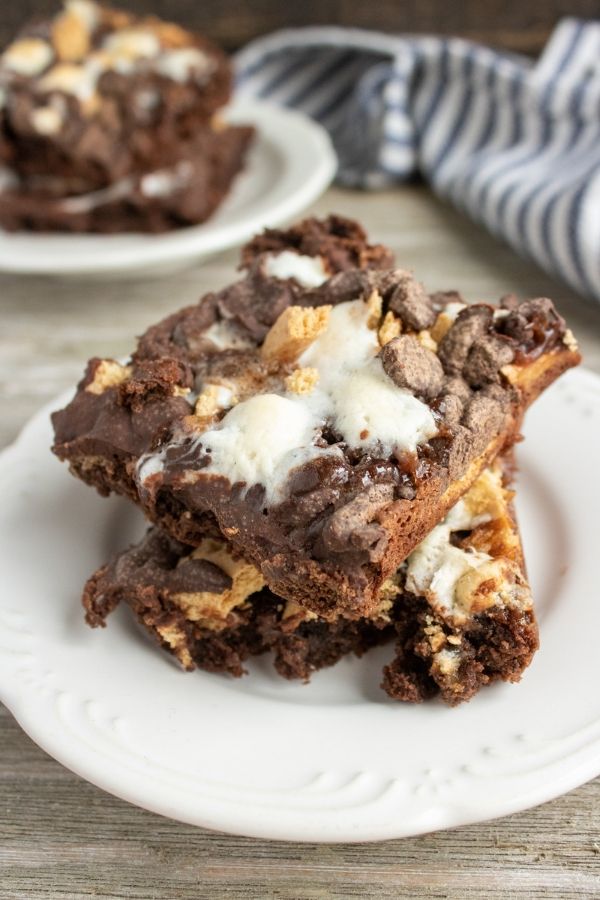 Smore Brownies Recipe
Smores Brownies Recipe is easy, and gives you all the flavors of a classic smores in a brownie form.
Ingredients
Brownies
• ½ cup unsalted butter softened
• 1 cup granulated sugar
• 2 eggs
• 1 teaspoon vanilla
• 1/3 cup unsweetened cocoa powder
• ½ cup all-purpose flour
• ¼ teaspoon baking powder
• ¼ teaspoon salt
Smores Layer
• 3/4 cup graham crackers crumbled
• 3/4 cup mini marshmallows
• ½ cup chocolate chips
Instructions
Preheat oven to 350.

Start by Creaming the butter, adding in sugar and then the sugar and vanilla until well mixed. This takes around two minutes.

Mix in the cocoa powder, flour, baking powder and salt until smooth.

Line a 8x8 baking pan with parchment paper and lightly spray the paper. Spread out brownie batter.

Bake for 25-30 minutes until set.

Remove from oven and let cool before lifting the parchment paper from the pan and slicing the brownies.
Nutrition
Serving: 1barCalories: 280kcalCarbohydrates: 38gProtein: 3gFat: 14gSaturated Fat: 7gPolyunsaturated Fat: 5gCholesterol: 55mgSodium: 117mgFiber: 1gSugar: 26g

Best Way To Store Smore Brownie Bars
I personally store these on the counter covered up. I use an airtight container and just let them stay covered for 4-6 days. Granted as each day passes they will dry out a bit more. So if you are not going to eat them right away, just know they won't last a long time.
Can You Freeze S'mores Brownies
You can freeze them, the downfall is the graham crackers could become a bit soft once it thaws from being in the freezer. If you don't mind the different texture you can for sure feel free to freeze the brownie bars. Just wrap in aluminum foil and place in a freezer bag and store up to three months. Or you can opt for an airtight container that is freezer friendly.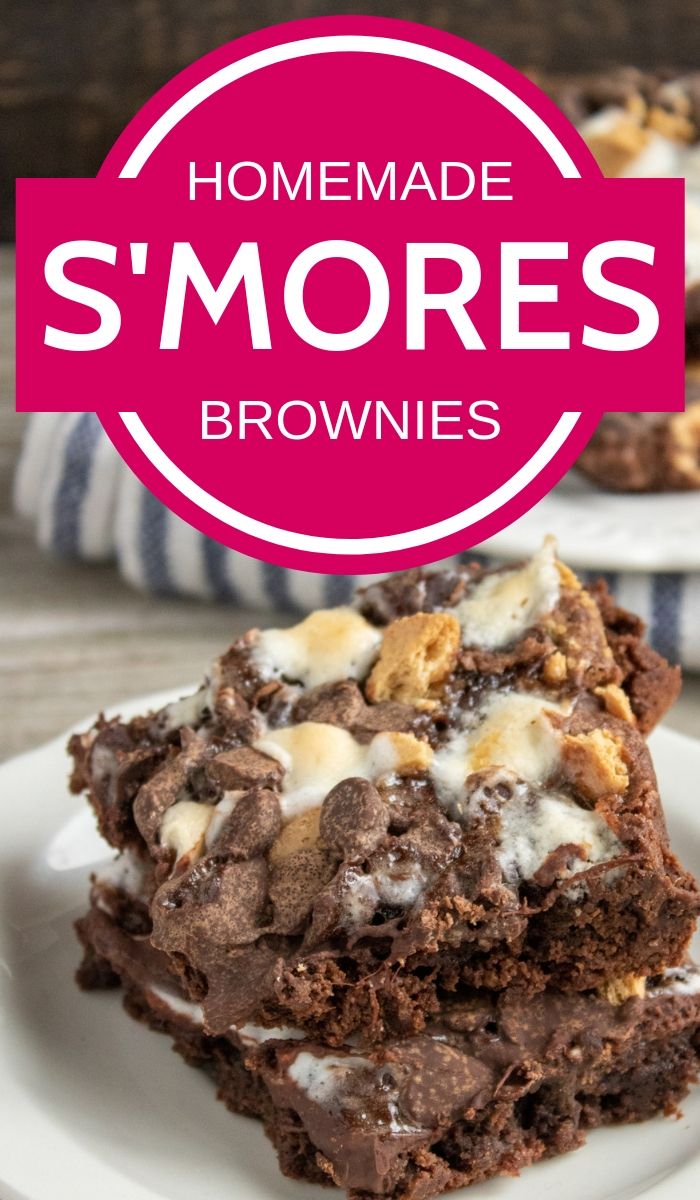 Have you ever made a smores brownie before?
Reader Interactions