Andes Mint Brownie Phyllo Bites are the perfect bite-size brownie bite! They have a phyllo shell that has a fudgy brownie on the inside and topped with whipped cream and an Andes Mint. The perfect dessert to serve your guests at any time of the year.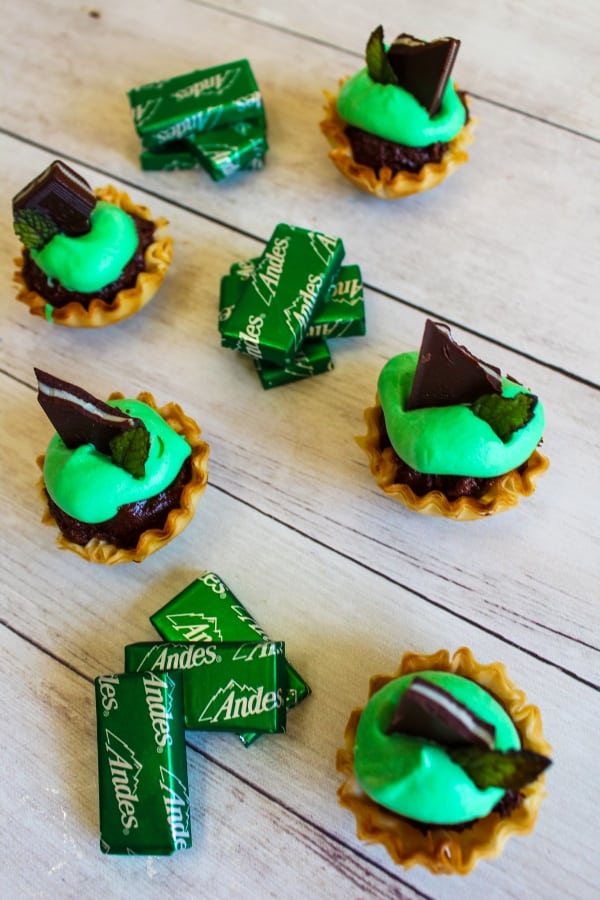 I am all about sweets, chocolate, gummies, and anything mint flavored. You can always count on me to test out any sweets offered to me. These mint brownie phyllo bites are right up my alley! These make a great dessert for Easter, Christmas, or even St. Patrick's Day! Or skip the holidays, and make them just because.
Easy Mint Brownie Phyllo Bites
Brownie tartlets, brownie phyllo bites, however, you want to name these pretty treats, go for it! I used a box of brownies with Greek yogurt as the base, stuffed in a phyllo shell. Bake and then top with whipped cream and Andes mints!
More of My Favorite Dessert Recipes
What Brownie Mix Is Best For Brownie Phyllo Bites
You are welcome to use any of your favorite brownie mixes. Whether it is Sugar-Free or regular, both will work for this recipe!
How To Make Brownie Phyllo Bites
Start by prepping your brownie batter. Mix it with the Greek Yogurt, and then pour into your phyllo cups. Bake until the brownie is cooked. Let it cool, and then mix up your cool whip and food coloring.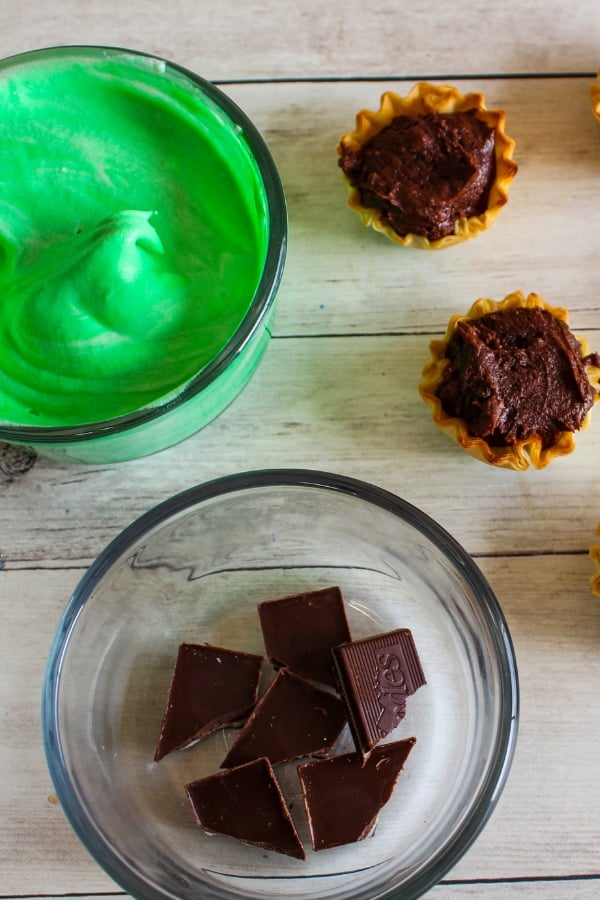 Top with a broken Andes Mint and serve up these pretty and tasty bite-size brownie bites! Serve and Enjoy!
You can buy the fillo cups online and mints if you can't find them in your store. I posted them below if you need help finding them!
Mini Fillo Dough Shells
Andes Creme De Menthe Thins
Andes Mint Brownie Phyllo Bites
Servings 30 brownie bites
EASY mint brownie phyllo bites are a must make dessert. Great for any holiday or party. Just 15 minute cook time for a sweet treat.
Ingredients
Brownie mix
5.3 oz Plain Greek yogurt
15 Andes Mints broken in half
Cool Whip
Food Coloring green
2 boxes 15 ct phyllo mini shells
Instructions
Preheat oven to 350*Mix brownie mix with Greek yogurt

Spoon a tablespoon of brownie mix into the phyllo shells and bake for 15 minutes.

Mix the food coloring with the cool whip to make it green. After the brownie bites are cooled, spoon a tablespoon on cool whip on top of the brownie.

Add half an Andes Mint to the top and garnish with a mint leaf (optional)



Notes
You can add some mint extract to the cool whip for a more minty flavor. If you do add 1/2 teaspoon, and stir well with food coloring.
Nutrition
Serving: 1gCalories: 26kcalCarbohydrates: 3gProtein: 1gFat: 1gSaturated Fat: 1gCholesterol: 1mgSodium: 6mgSugar: 1g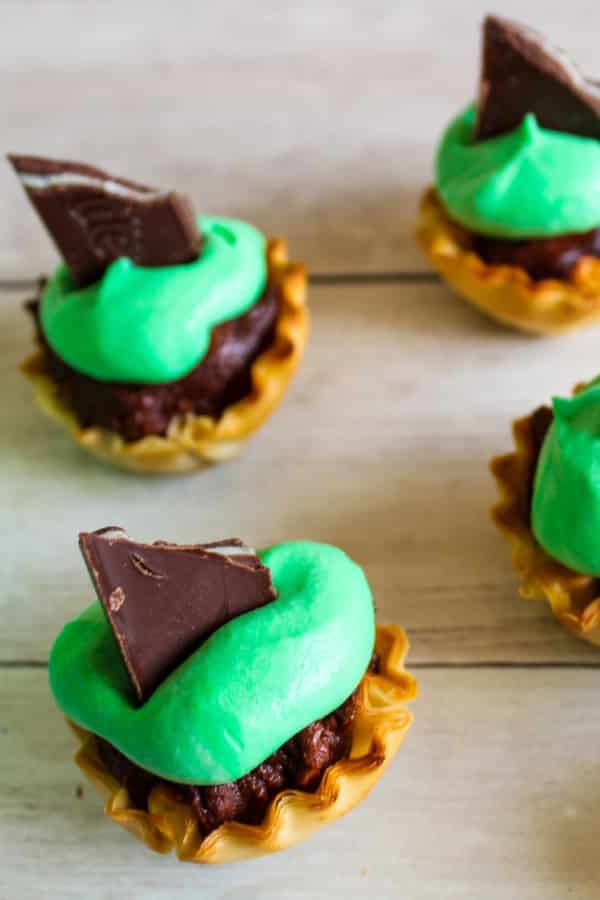 How To Store Fillo Brownie Bites
The best way to store your fillo brownie bites is in the fridge. If you don't eat them all just take what you don't use and place in an airtight container. Then leave in the fridge for 3-4 days.
Can I Make Fillo Brownie Bites Ahead Of Time
Yes! Just make the brownie portion ahead of time and then store it separately. Prep your cool whip with food coloring, and then keep in fridge. When you go to serve top with cool whip and add mint.
If you leave it in the fridge for too long with the cool whip it could melt down a bit and become soggy, so I suggest assembling right before serving.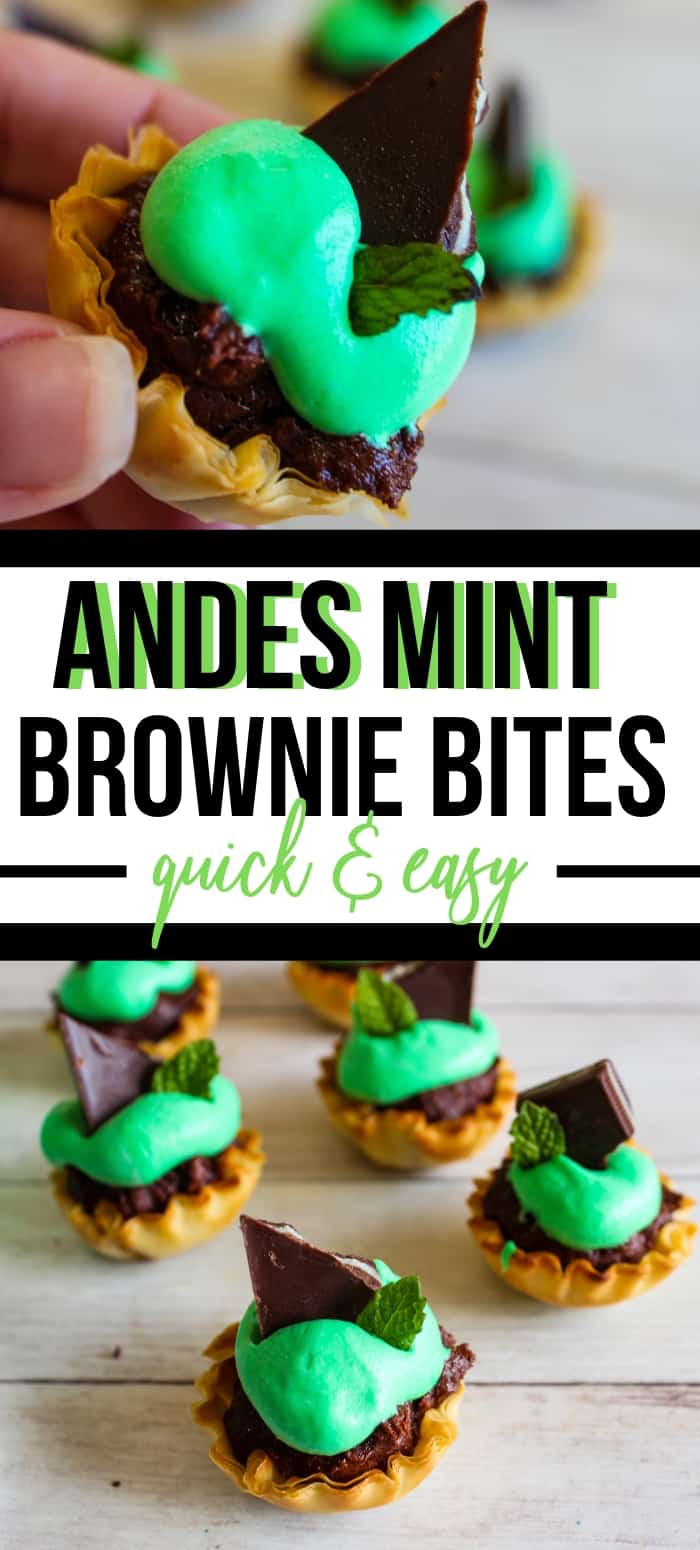 Do these brownie phyllo bites look like a tasty dessert for you?
Reader Interactions