I have an obsession with Peanut Butter Blondie Brownies! They are so moist, chewy and full of peanut butter chips and chocolate chips, for the perfect amount of sweetness in every single bite. I cook mine to where they are just done so they stay nice and soft in the center and the outside has just enough brown that it offers a bit of chew. Blondie brownies come in all flavors, and I love this mix. This recipe for blondie brownies does not require a mixer, and with simple ingredients, you can have brownies in a hurry!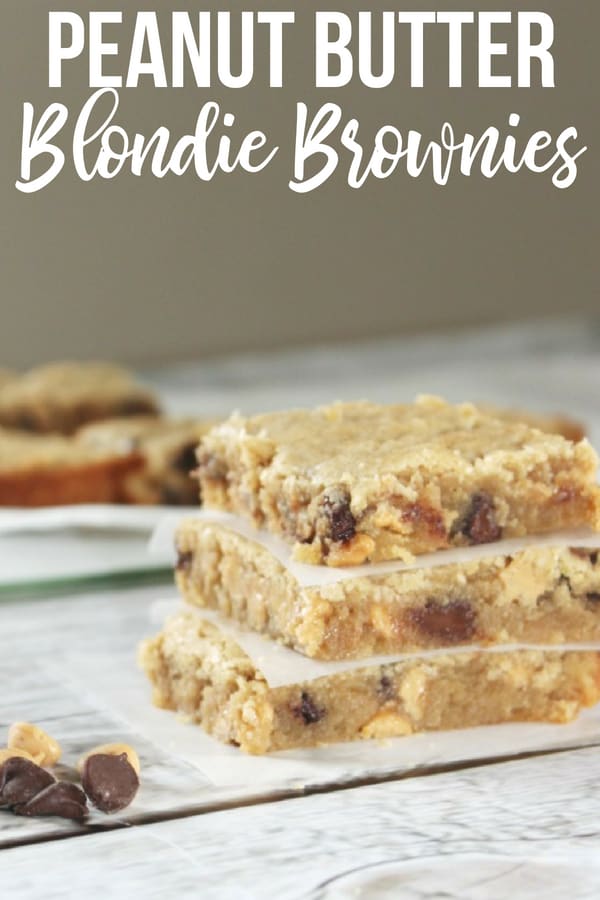 I have found that using a bowl and spoon is the key to making the perfect blondie brownies. Skip the blender and you will get light, moist, and delicious brownies each and every time. I used to use my stand mixer, and I found that it would give them a thicker more dense texture and it wasn't what I was hoping for. Then one day I didn't feel the drive to pull out my stand mixer and it was like a light bulb went off! I found great success with this route.
Tips for Making Peanut Butter Blondie Brownies
Like stated above, skip your mixer. The mixer creates a more dense brownie and if you want light and airy, grab a spoon and bowl and mix by hand. TRUST ME on this one, the results will show in the final result.
Buy some parchment paper, and use this to line your pan. Simply spray your pan with some cooking spray and then place your parchment paper into line it. This will make removing the blondie brownies so much easier, and you will have perfect brownies at every single edge. I love these parchment paper sheets, they are great for all my baking adventures.
As hard as it sounds, let the brownies cool completely before you cut! If you don't they will fall apart and become a bit of a mess. Letting them cool helps them cut so much easier!
Lastly, toss the peanut butter chips and chocolate chips into the batter and fold them in. Don't sprinkle on top. It will give your brownies the perfect texture and chips will be baked throughout. It will still give a great presentation factor having them baked into the mix.
Need to alter this recipe for other measurements? Try this free printable that shows you How Many Cups in a Quart and other valuable ways to translate while you cook.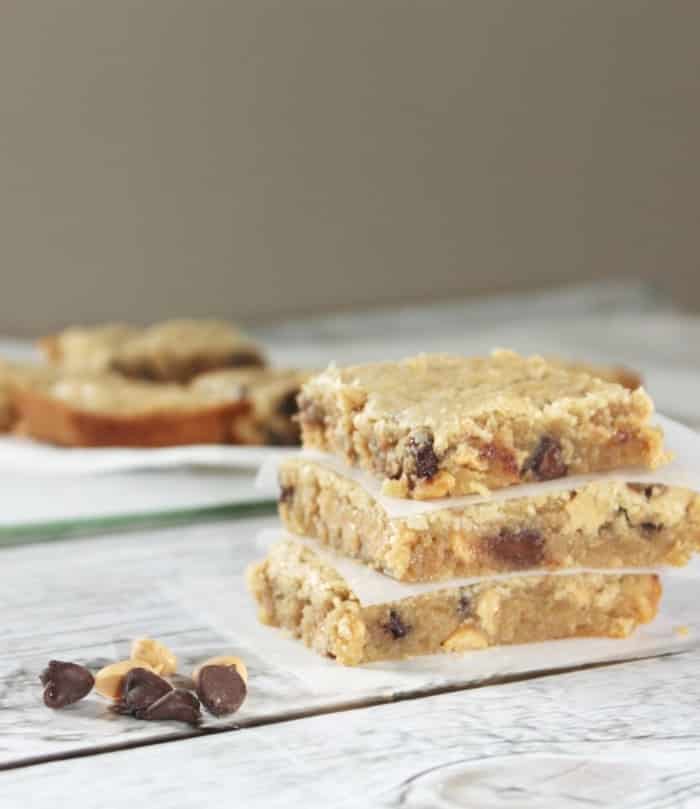 Look at how moist these blondie brownies are! I mean come on, talk about perfection! My little boy gobbled one right up and kept saying, "So good mommy!" So they are kid approved, which I didn't doubt for a second he wouldn't be a fan! Anything with peanut butter and chocolate combined you can count on him to love it. Another favorite of his is this Lemon Pound Cake!
The Easiest Blondie Brownie Recipe Ever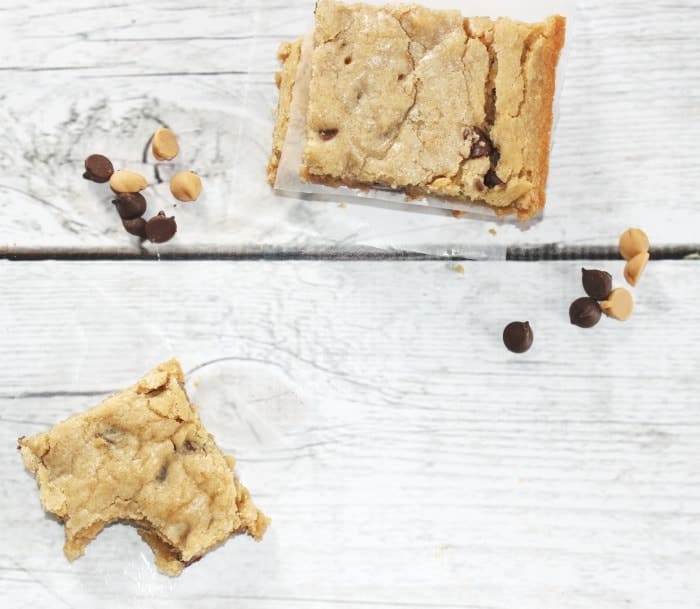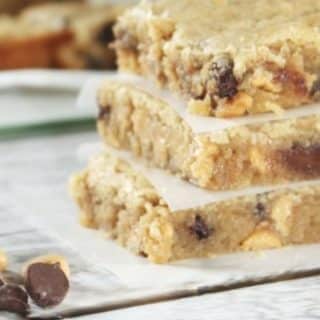 Peanut Butter Blondie Brownies
The easiest and most moist and chewy blondie brownies you will ever try. No need for a mixer, grab a bowl and spoon and mix by hand for the best peanut butter blondie brownies you will ever eat.
Ingredients
1 cup light brown sugar
1 stick butter (1/2 cup)
1 cup all-purpose flour
dash salt
1 tsp vanilla
1 large egg, room temperature
1/2 cup peanut butter chips
1/4 cup milk chocolate chips
Instructions
Preheat your oven to 350 degrees. Then in an 8x8 pan spray it lightly with cooking spray and then line with parchment paper. If you don't have parchment, you can skip that step.
Melt your butter and let it cool a bit. Then mix in your brown sugar until it is nice and creamy and no lumps.
Mix in your egg and vanilla and mix until well incorporated. Follow this by your flour and salt.
Once well mixed, gently fold in your chips so they are mixed throughout. Bake for 20-25 minutes or until you can stick a toothpick in and it comes out clean.
Allow to cool completely before slicing and serving.
Recommended Products
As an Amazon Associate and member of other affiliate programs, I earn from qualifying purchases.
Nutrition Information:
Yield:

12
Serving Size:

1 bar
Amount Per Serving:
Calories:

226
Total Fat:

11g
Saturated Fat:

7g
Trans Fat:

0g
Unsaturated Fat:

4g
Cholesterol:

37mg
Sodium:

104mg
Carbohydrates:

28g
Fiber:

1g
Sugar:

19g
Protein:

3g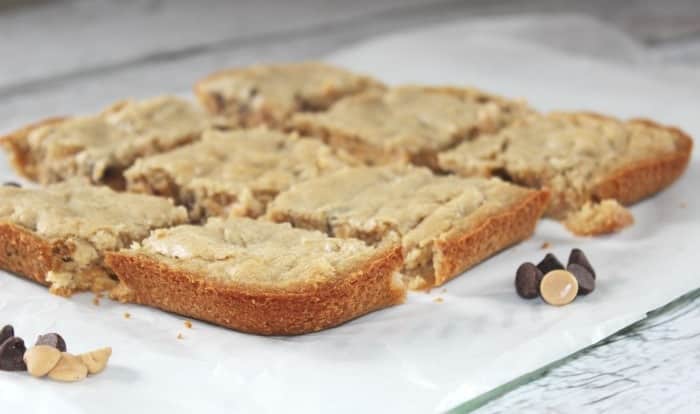 As you can see this is a very easy and straightforward recipe. Just make sure not to overcook them or they will come out dry! Serve alone or with a scoop of ice cream for a tasty dessert! Check out my Skinny strawberry shortcake bites as well, great for on the go treat!