Kick start your morning with this savory sausage egg omelets in muffin tins. You get fluffy eggs, savory sausage, bits of tomatoes and green chilis in every bite, and topped with melted cheese. The beauty of these muffin tin breakfast eggs is that you can make ahead and reheat them as you go through the week for a quick breakfast! Just 5 Freestyle Weight Watcher Points for this tasty recipe!!
I made these sausage and egg omelets in muffin tins for my husband because he is diabetic and needs a lower carb option for breakfast. If he has many carbs to start his day, he finds his blood sugar levels spike. While a basic sausage patty is great, you tend to get bored after a little while. So I took some of his favorite ingredients and put them together to create a whole new breakfast option for him. He really loved this recipe, and I actually liked it as well!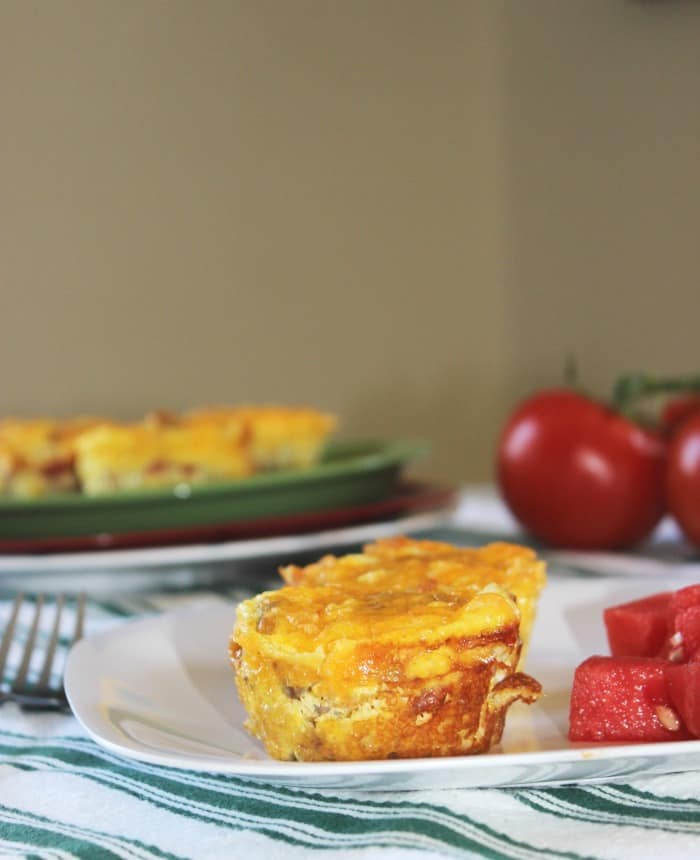 My husband gets up at 5 to get around and head to work. Having a low-carb scrambled egg muffin tin option, he can just grab however many he wants, heat it up in the microwave and enjoy a savory and protein packed breakfast. He most of the time pairs with a side of walnuts or smoked almonds. Then he can sip on his coffee and get around.
How To Make Sausage Egg Omelets In Muffin Tins
You can make as many of these eggs as you would like. I ended up making around 18 with a pound of ground sausage cooked. But, feel free to make more or less to fit your family and there needs.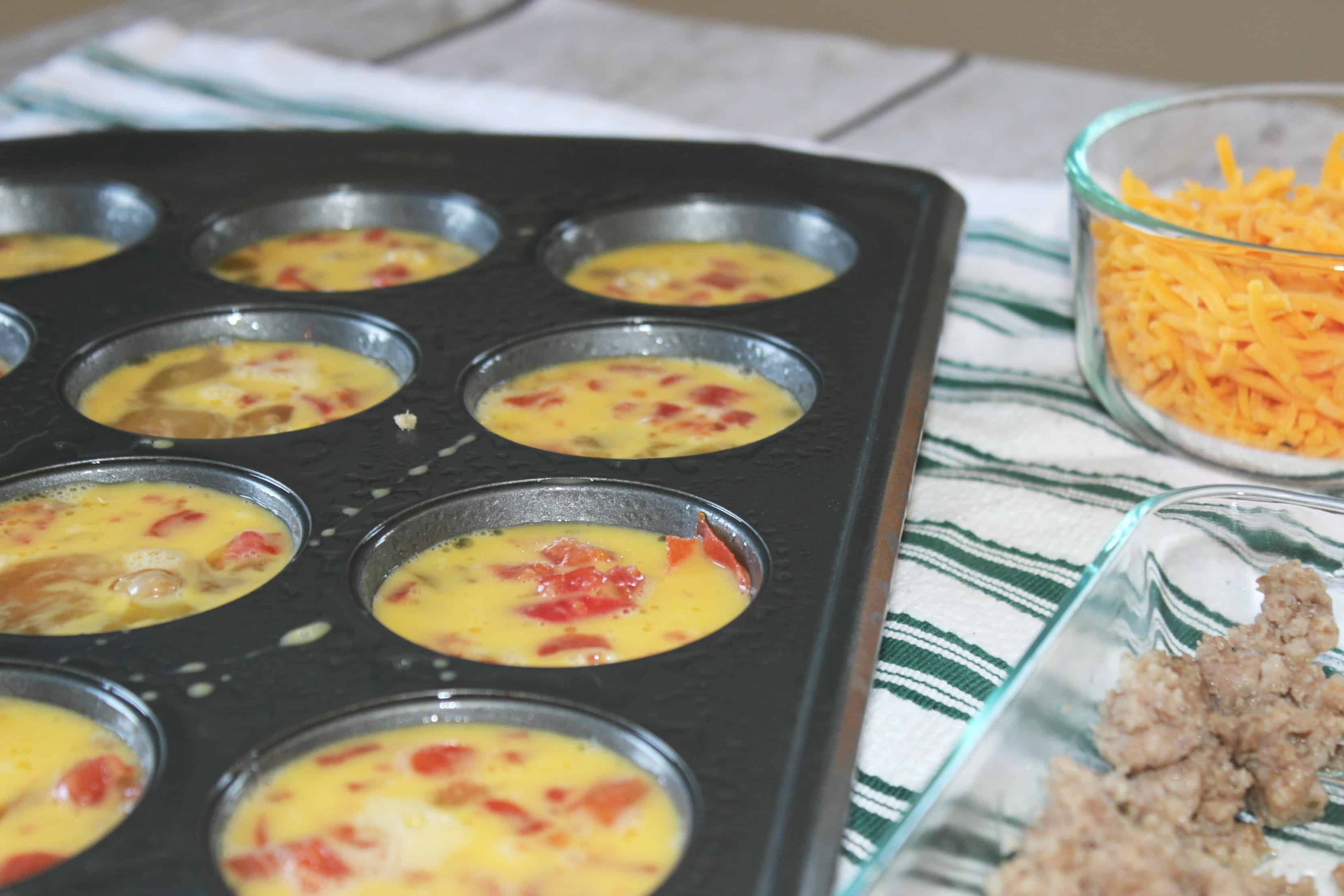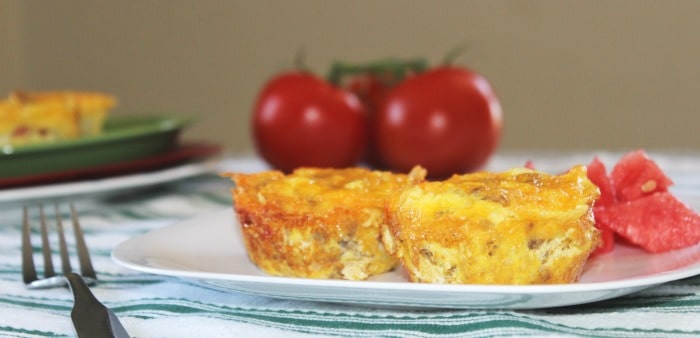 Sausage Egg Omelets In Muffin Tin Recipe
Servings 24 muffin omelets
A savory omelet made in muffin tins for a quick breakfast while on the go. Just re-heat in the microwave for a breakfast later in the week. 
Ingredients
1 pound ground sausage
8-10 large eggs
1/2 cup shredded cheese - To stay low carb use a lower fat cheese
1 can Rotel diced tomatoes with green chilis
3 tbsp milk
Instructions
Preheat your oven to 400 degrees. Start off by cooking up your sausage until it is ground and no longer pink. Set it aside and allow it to cool a bit.

In a medium-size bowl whisk your eggs and milk until they are nice and mixed. Then mix in your Rotel and mix until combined.

Grease each of your muffin tins, and then sprinkle in a layer of sausage on the bottom. Then pour the egg mixture over the top and fill almost to the top of the pan. The egg mixture will rise as it bakes so leave room.

Top with shredded cheese, and bake for 20-22 minutes or until the egg is cooked through. Remove and serve warm, or let cool and place in airtight container to re-heat for the week.
Nutrition
Serving: 2omeletsCalories: 220kcalCarbohydrates: 3gProtein: 14gFat: 17gSaturated Fat: 6gPolyunsaturated Fat: 9gCholesterol: 195mgSodium: 553mgSugar: 1g
Reheating Times for Muffin Tin Eggs
If you plan to reheat these, here are the times whether you have them in your fridge or freezer. For your fridge reheat, just nuke in the microwave for around 20-30 seconds. For the freezer, I aim for around 1 minute. Depending on how quickly your microwave heats, you might need to adjust to fit your microwave.
Protein Packed Sausage And Egg Omelets In Muffin Tins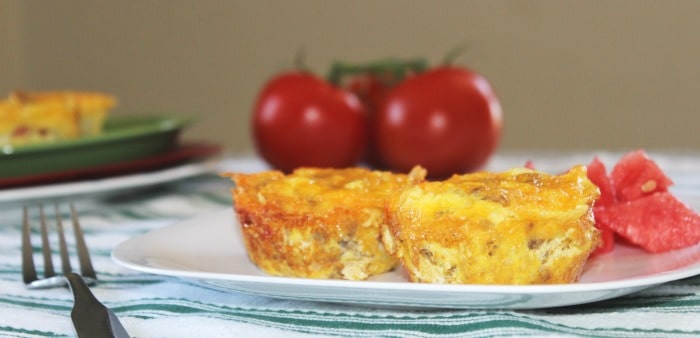 Other Variations Of Ingredients To Use
Here are a few other ingredients we replace items with from time to time. Just remember not to fill your muffin tins too full or they will spill out as they cook, I learned that the hard way!
Canadian bacon
Bacon
Onions
Peppers
Jalapenos
Egg whites only
Green Onions
What is your favorite omelet?
Reader Interactions