If you love the Wasp Superhero you will love these colorful baked donuts. Moist and flavorful, down to the last crumb.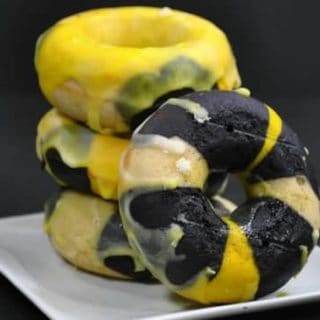 This black and yellow Wasp superhero baked cake donut recipe is anything but ordinary! These oven-baked cake donuts are something kids will go crazy over with the fun colors, and parents won't complain either. They are moist and flavorful cake donuts that will melt in your mouth. The Wasp is a superhero in the Marvel comic books! That is where the inspiration for these baked donuts came from! If your child is a lover of superheroes they will absolutely gobble these donuts up, with a big smile on their face.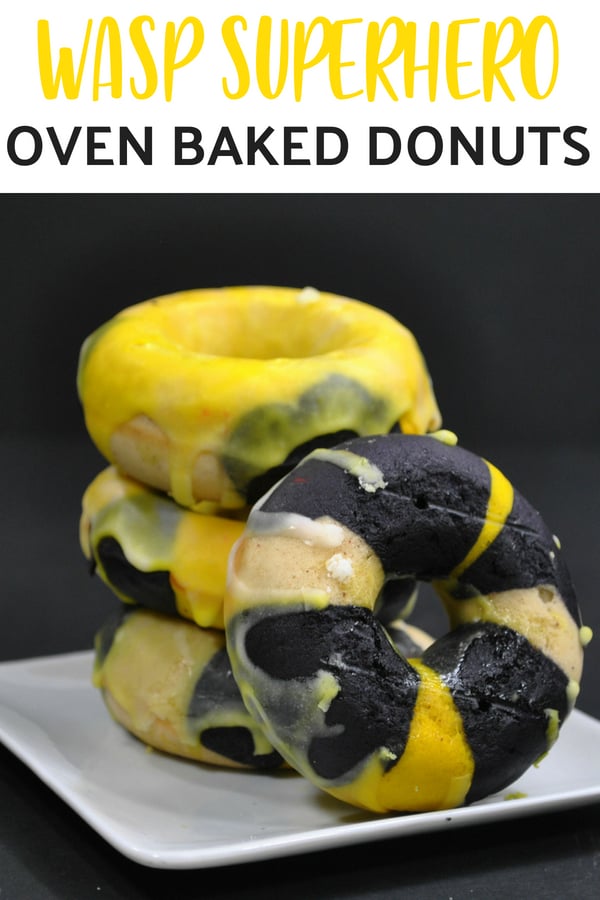 I used sour cream as an ingredient for the Wasp Superhero donuts because I love how moist it makes the cupcakes and offers great flavor paired with the cinnamon.  I am a huge fan of sour cream donuts. Then they have some vanilla icing drizzled over them to offer the perfect amount of sweetness. If you have a birthday coming up for a kiddo who loves the Wasp give this recipe a try for a great morning breakfast surprise to fit the theme!
Wasp Inspired Baked Cake Donut Recipe
I love the Wilton non-stick donut pans. They are so nice and work great at keeping your donuts from sticking and falling apart when you get them out of the oven. 
I have used these pans for years and never had any problems and I the cleanup is a breeze. I have tried the silicone style donut pans, and I think they work pretty good as well. I do find if you aren't careful you can break your donuts a lot easier with silicone, or at least I do. So I stick to what I know and these non-stick pans are the way I bake my donuts.
How to Make Baked Donuts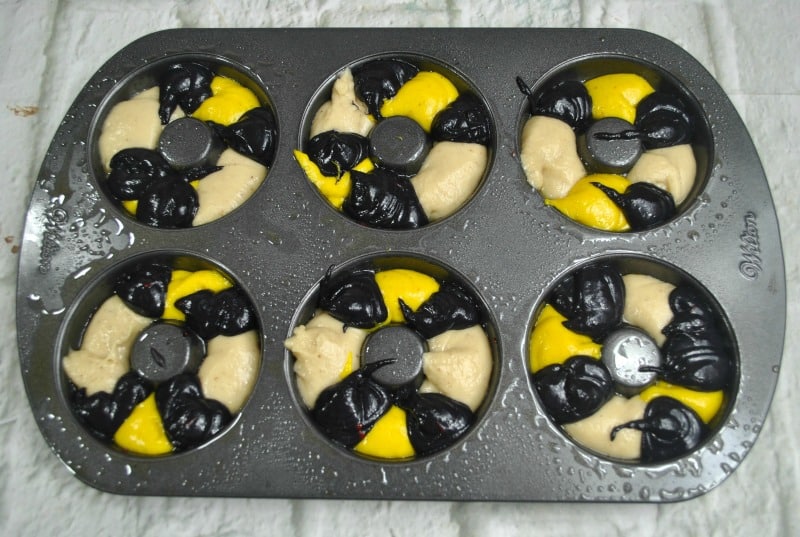 For this recipe, you prepare the batter as followed and then pour the mixture into different bowls so you can color them. I divide the batter into three different bowls and color one yellow, the other black, and the third one gets left how it is. You can add a few drops of food coloring and then add more food coloring to reach the desired color you want.
Then with a spoon, I just add a mix of colors into the mold. I do some plain, followed by yellow, then by black, and repeat. Nothing extravagant, but the end results turns out like fun and exciting donuts.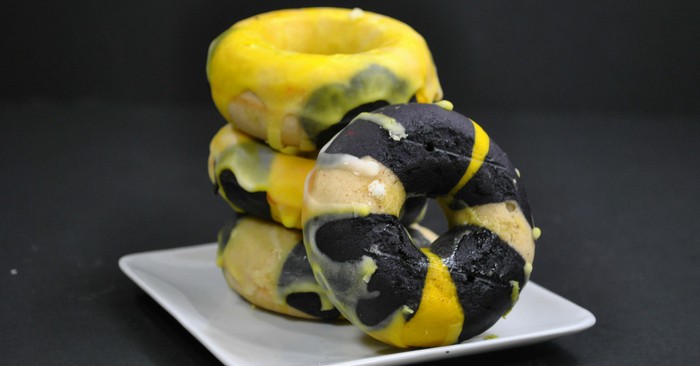 Wasp Superhero Oven Baked Donuts
Servings 12 donuts
If you love the Wasp Superhero you will love these colorful baked donuts. Moist and flavorful, down to the last crumb. 
Ingredients
2 2/3 cup flour
1 1/2 tsp baking powder
1/4 tsp baking soda
3/4 tsp salt
3/4 cup sugar
1/2 cup milk
1/4 cup melted butter
1/2 cup sour cream
2 large eggs room temperature
1/4 cup vegetable oil
yellow and black food coloring
Icing Ingredients
1/2 cup milk
2 cups powdered sugar
2 tsp vanilla extract
2 tbsp honey
1 drop yellow food coloring
Instructions
Preheat oven to 400 degrees. Use a baking spray to prep your doughnut pan, and set aside.

Whisk together the flour, baking powder, baking soda, cinnamon, salt and sugar in a large bowl.

Next, mix together the whole milk, sour cream, and eggs into a separate bowl. Then incorporate the melted butter, vegetable oil, and vanilla.

Gradually whisk in the wet ingredients into the dry ingredients and stir just until combined.

Divide the batter into three bowls. Add several drops of Yellow food coloring in the first bowl. Add several drops of Black food coloring in the first bowl. Leave the last bowl plain.

Spoon equal amounts of the 3 batters into the doughnut pan. Bake at 400 degrees for 9 minutes. Allow donuts to cool for a few minutes in pan and then transfer to cooling rack.
Icing Directions
Whisk together the milk, powder sugar and vanilla extract until smooth.

Split the icing into 2 bowls. Add yellow food coloring to one of the bowls. Then pour the yellow icing into the white icing, and do not stir.
Assembly of Donuts
Dip the donuts into the icing and turn the donut 90 degrees. Place the donut back onto the wire rack and repeat the previous steps for remaining donuts
Nutrition
Serving: 1donutCalories: 363kcalCarbohydrates: 59gProtein: 5gFat: 12gSaturated Fat: 4gPolyunsaturated Fat: 7gCholesterol: 48mgSodium: 296mgFiber: 1gSugar: 36g
You are welcome to change the food coloring out for different colors to fit the theme you want to do or leave them out altogether. This is a delicious oven baked donut recipe that I use all the time! Hope you all enjoy it.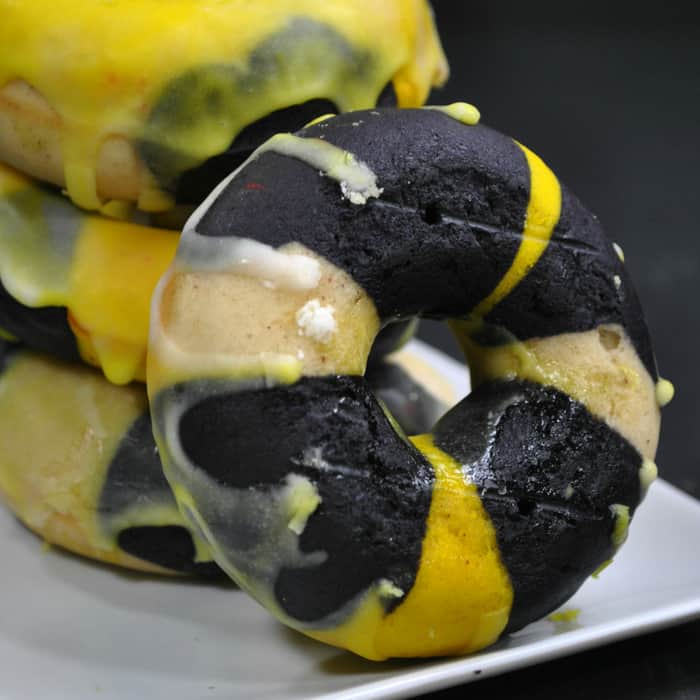 What is your favorite donut flavor?  
Reader Interactions