A perfectly moist lemon pound cake that offers that perfect sweetness and tang from the lemon. Great for entertaining and serving up to guests at any time of the year. Moist pound cake to serve up all summer long.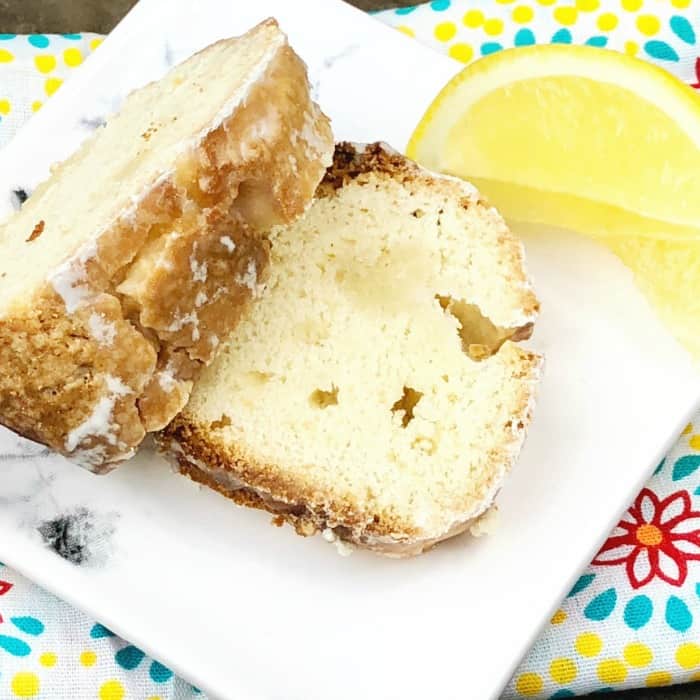 Moist Lemon Pound Cake will be your ultimate spring and summer dessert to serve up. This recipe is a perfect pound cake recipe that offers that sweet tang of lemon that makes your mouth water and keeps you reaching for another bite.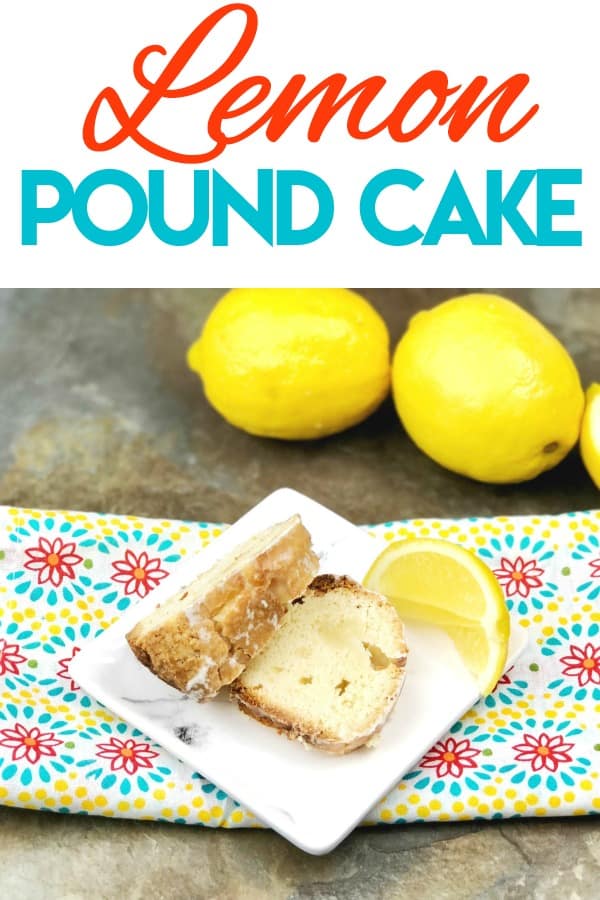 Moist Lemon Pound Cake
This lemon pound cake is by far my favorite recipe to make using lemons. It is vibrant, and perfect for summer entertaining with friends and family. A lemon pound cake bundt pan recipe.
Lemon Bundt Cake
I make this each and every year when the sun begins to shine brighter and the warmer days arrive. I seem to never get enough lemon in the spring and summer. Or try fried Oreos for a fair-food treat.
It is like I crave everything from lemonade, lemon garlic shrimp (takes 10 minutes), and of course pound cakes, lemon bars, lemon poppy seed muffins and more.
You would think I have a lemon tree growing in my back yard! The checkouts at the store probably think I am feeding a family of 10 for how many I buy!
Try my lemon blueberry muffins for a delightful way to kickstart your day!
Tips for Making Moist Pound Cake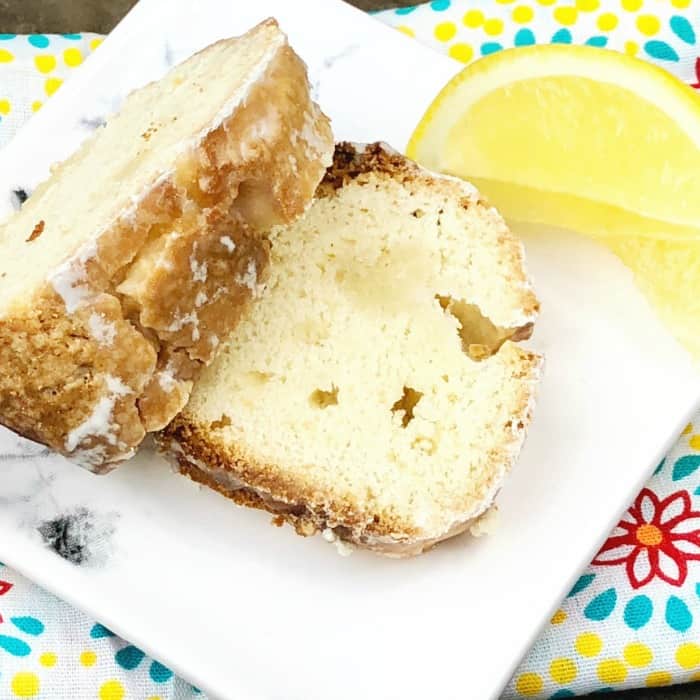 Room Temperature Ingredients Are Best
Make sure each ingredient is room temperature. It really helps incorporate better and will give you that perfect pound cake you are aiming for.
A good rule of thumb when it comes to baking is to always use room temperature ingredients when it comes to milk, eggs, etc.
Lemon Cake with Glaze
The glaze really helps lock in the moisture and adds in even more. When you pour it over your pound cake it helps soak in and gives that sweetness in each bite but also keeps it nice and moist.
What Pan To Use
I used this bundt cake pan, I love how it really dresses up the pound cake and makes for a stunning presentation.
Then there are the plates that are similar to the ones I used to serve up this gorgeous cake.
How To Store Pound Cake
You can store this in an airtight container in the fridge for up to five days. I find that storing this lemon cake in the fridge helps extend the shelf life.
If you want to eat it at room temperature just let it sit out for 30 minutes or so until it warms up. Or toss in the microwave for a quick reheat.
Can You Freeze This Summer Pound Cake
You can freeze this summer pound cake. I would recommend leaving off the glaze as it can sog up the pound cake as it thaws.
Wrap in aluminum foil or place in a freezer-friendly container. Then store in the freezer for up to 3 months.
Thaw on the counter or in the fridge overnight until it is thawed.
Have you tried the recipe? If so, please leave a star ⭐️⭐️⭐️⭐️⭐️ rating in the recipe card below or drop a comment. Also stay in touch with me through social media by following me on Facebook, Pinterest, or My Facebook Group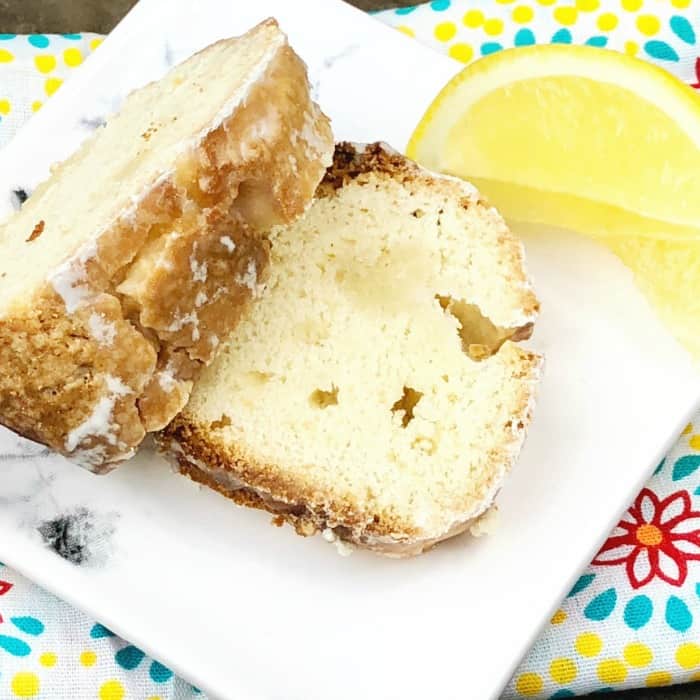 Lemon Pound Cake
Servings 12 slices
A perfectly moist lemon pound cake that offers that perfect sweetness and tang from the lemon. Great for entertaining and serving up to guests at any time of the year. Moist pound cake to serve up all summer long.
Ingredients
3/4 cups all-purpose flour
1/2 teaspoon baking powder
1/4 teaspoon salt
1/2 cup 1 stick butter softened
1 cup sugar
1 cup powdered sugar
4 tbs lemon juice
2 eggs room temperature
2 teaspoons pure vanilla extract
1/4 cup lemon juice
Instructions
Start by preheating your oven to 350 degrees. You will then grease your bundt pan, mine was a 6 cup size.

Dust with flour in the pan and shake off any excess flour in the pan.

In a bowl, you will add your flour, baking powder and salt together. Set this bowl aside.

Now in a stand mixer, you will want to cream your butter, 1 cup of granulated sugar, and mix well. This will take 2-5 minutes. Then turn the blender to low, and add in one egg at a time, followed by your vanilla.

Now alternate adding in your dry flour mix, and then a bit of the lemon juice, and repeat ending with the wet.

Once mixed well, pour into your floured pan. Bake for 30-45 minutes. This will vary on how your cake takes to cook. Stick a toothpick in and when it comes out clean you know your cake is done.

Once your cake is done you will allow to cool for a bit in the pan. Once the cake is cooled down for 30 minutes, you can take a nice and run along the lemon bundt cake edge. This will help release any cake on the sides.

Flip it over onto a baking rack or plate and release from pan.

Now in a bowl make your lemon glaze for the lemon pound cake. Mix powdered sugar, 4 tablespoons of lemon juice, just 2 tablespoons of lemon juice at a time. You might not use all the lemon juice.

Mix until it is a fully mixed and thicker consistency. Drizzle glaze on with a spoon. Slice and serve lemon pound cake.
Nutrition
Serving: 1slice
Are you a fan of lemon desserts?
Reader Interactions