Instant Pot Potato and Corn Chowder is one hearty and savory corn chowder. The perfect way to use up leftover holiday ham, or buy diced ham at the store.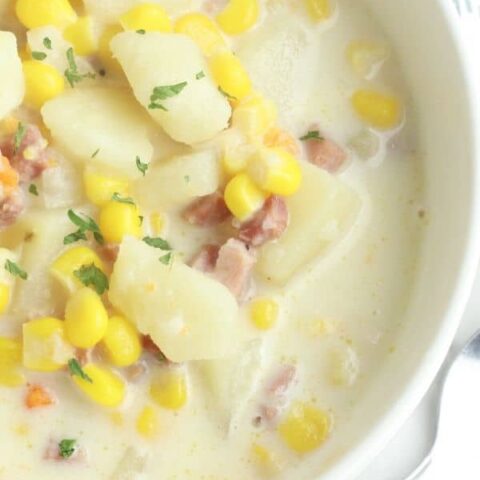 Instant Pot Potato Corn Chowder is the ultimate comfort chowder recipe. My potato corn chowder recipe gives you a slow-simmered taste that takes about 30 minutes total to make.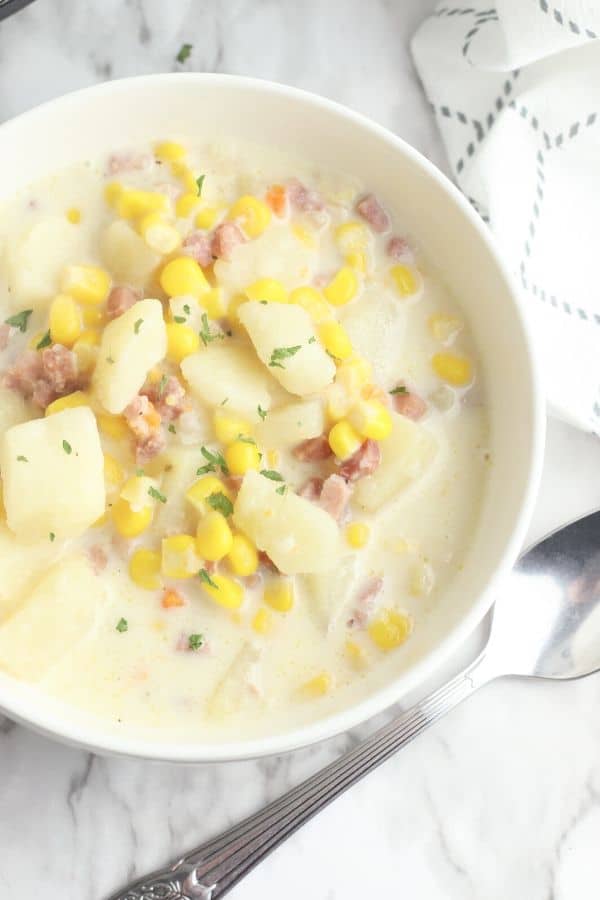 Instant Pot Potato Corn Chowder
Are you a fan of corn chowder? If so try my version. A corn chowder soup you will struggle with resisting one more bowl.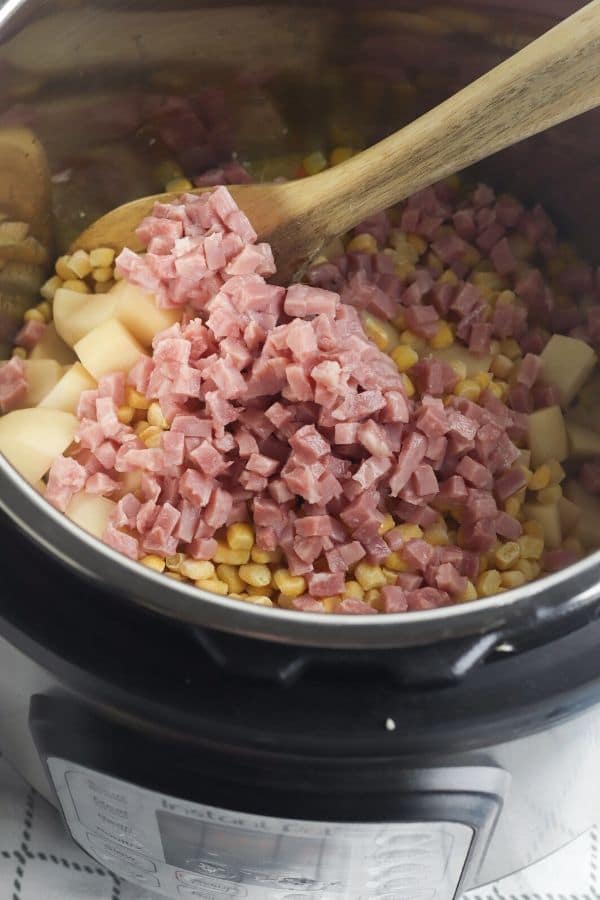 Leftover Holiday Ham Recipe
This is a fantastic way to cook up holiday ham leftovers! You can use your ham to toss right into the chowder soup.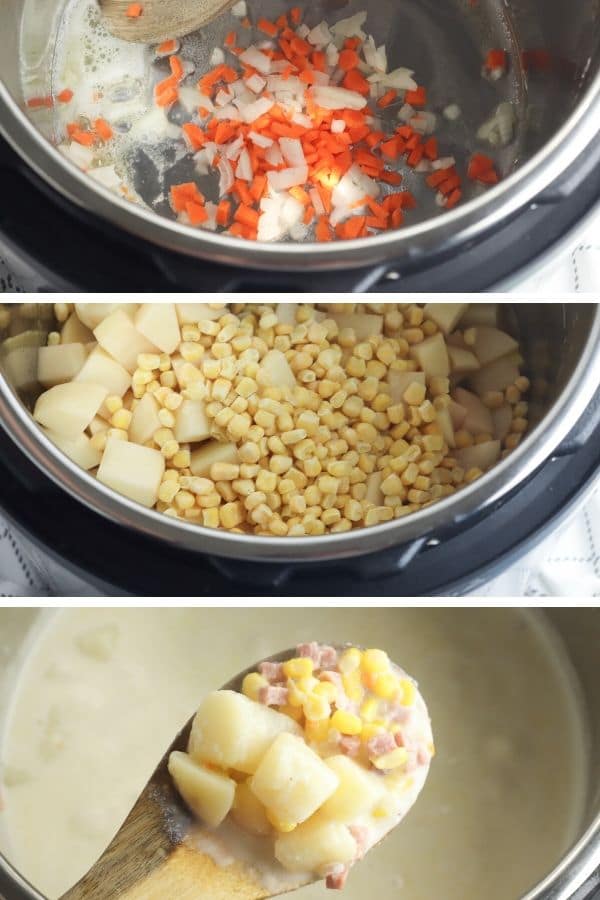 How To Make Instant Pot Potato Corn Chowder
Making soup in your Instant Pot is one of the quickest and easiest ways to make a one-pot meal. There are only four simple steps to making chowder in your Instant Pot:
Sauté the onion and carrot. Start by sautéing your vegetables to add some extra flavor to your soup base. Set the Instant Pot to sauté mode and add some butter. When the butter has melted, add the onion and carrot. When the vegetables begin to become translucent, add the garlic and sauté for a few more minutes, then turn off the Instant Pot.
Deglaze the pot. To ensure you don't get a burn message while your Instant Pot is cooking, it's always a good idea to deglaze your pot after you have sautéed anything in the Instant Pot. To deglaze the pot, add the chicken broth and use a wooden spatula to scrape off stuck-on bits of onion and garlic from the bottom of the pan.
Pressure cook the chowder. After deglazing, add the water, salt, pepper, potatoes, corn, and ham. Set the pot to pressure cook on high for five minutes. When the cook time is up, do a natural release for 10 minutes, then do a quick release to remove any leftover pressure.
Thicken the chowder. When the pressure has been released from the pot, remove the lid and pour in the milk, heavy cream, and cornstarch slurry. Stir to incorporate all the ingredients, then set the pot to sauté again. Allow the chowder to simmer for five minutes, stirring occasionally. When the soup begins to thicken, turn off the Instant Pot and serve immediately.
What Is The Best Corn To Use For Corn Chowder
Are you wondering if you use fresh corn on the cob or frozen for this chowder recipe? Well, the answer is either!
I love fresh corn on the cob, but let's face it, sometimes you can't find it. When I can't find it in stores I reach for a bag of frozen corn.
Works just as good and minimally changes the overall flavor and texture of soup.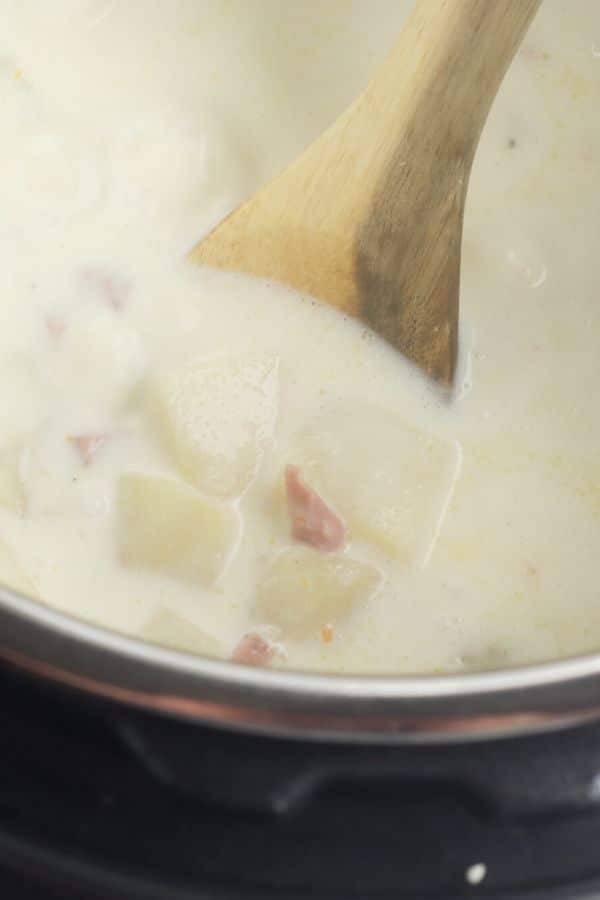 How to Thicken Instant Pot Chowder
To thicken once you are done pressure cooking, you will reach for cornstarch!
Making a cornstarch slurry is a tried and true way to thicken your recipe without altering the flavor.
Ensure you use cold water that you mix with water, the cornstarch. Then when you pour it into your hot bubbly corn chowder it will thicken as you stir.
Can I Use Bacon Instead of Ham
Absolutely! You are welcome to use bacon instead of ham. Just cook your chopped bacon first, and then stir in the crispy bacon.
That way you get the right texture in this homemade chowder.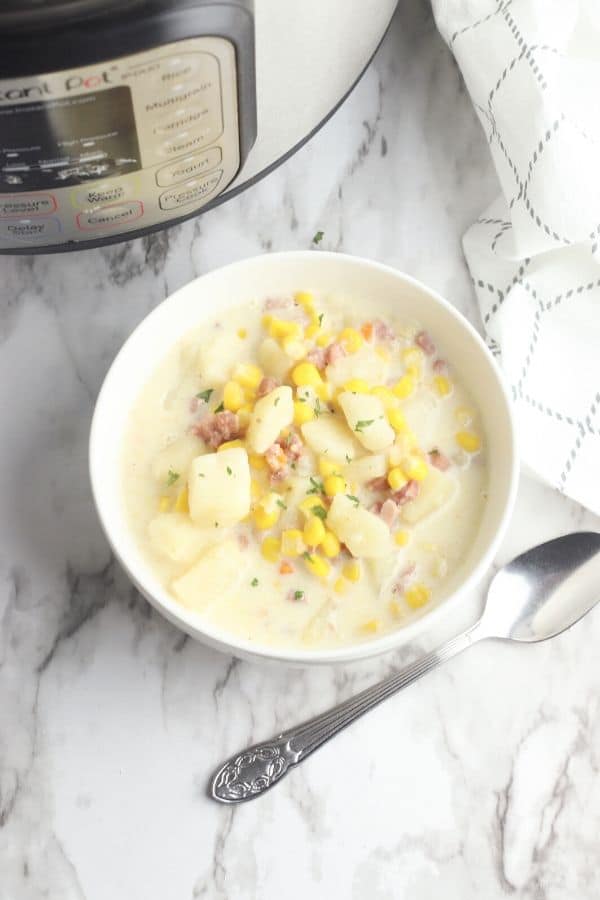 Variations To Instant Pot Corn Chowder
Add in a splash of your favorite hot sauce for added spice and heat factor.
Toss in different veggies you have on hand. You will find it will add more flavor and texture to your chowder.
Smoked paprika is a great spice to stir in, it will give it a mild smokey flavor that helps add depth. I would 1/2 a teaspoon.
Top with some pepper jack cheese, Monterey jack or even a sharp cheddar cheese. It will add tons of flavor.
Even a dollop of sour cream on top will add even more creamy texture to your potatoes, corn kernels, ham, and other ingredients.
New to The Instant Pot
Best Way To Store Ham and Potato Chowder
You can store your ham and potato chowder in the fridge for up to three days. If you stretch it and store a few days more you need to use your best judgment in terms of quality.
You don't want to end up sick from eating spoiled food. This ham corn and potato soup is so good.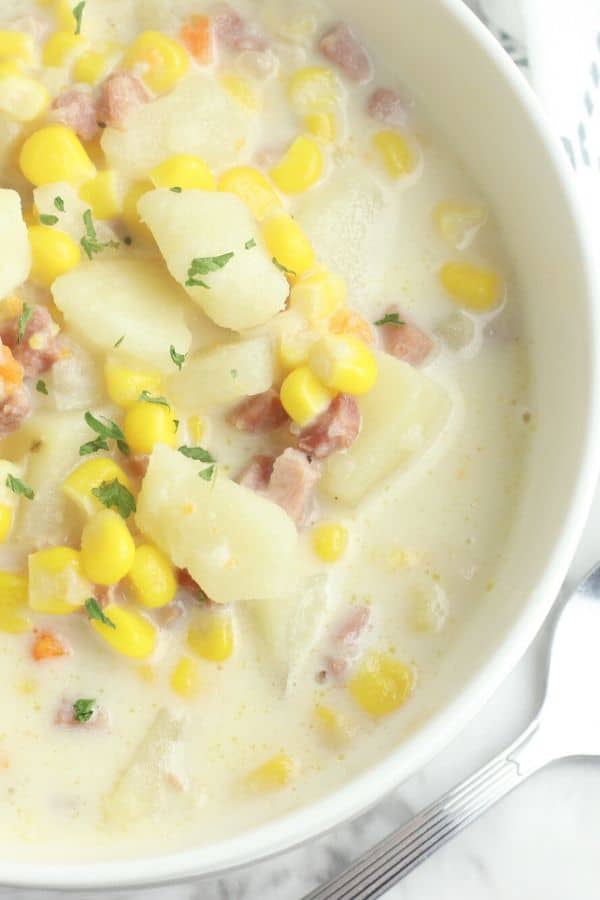 Can You Freeze Chowder
Unfortunately, chowder doesn't freeze that great. The potatoes will breakdown quite a bit and become grainy. Also, the heavy cream will separate a bit.
So I recommend not freezing this Instant Pot soup.
Looking for More Pressure Cooker Soups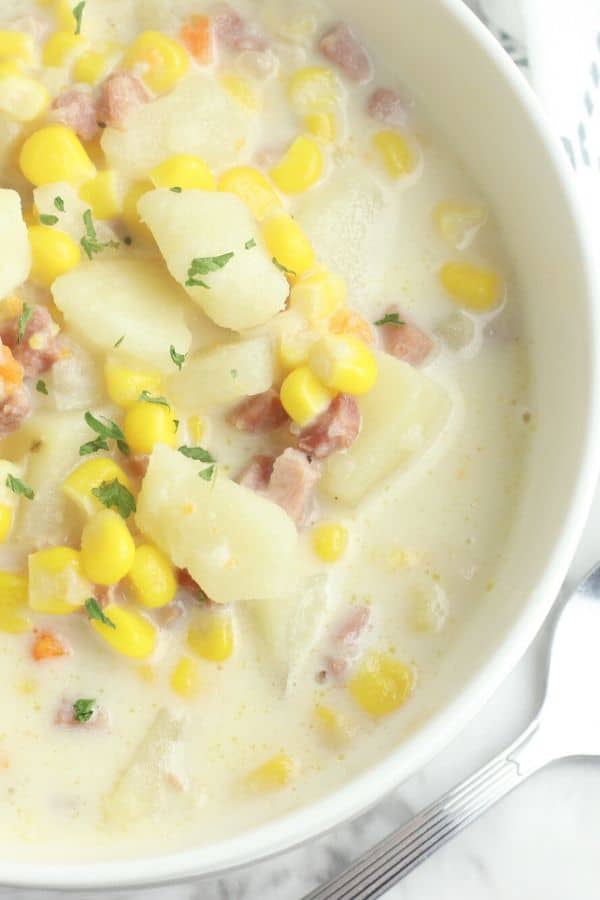 Instant Pot Potato Corn Chowder
Servings 6 servings
Instant Pot Potato and Corn Chowder is one hearty and savory corn chowder. The perfect way to use up leftover holiday ham, or buy diced ham at the store.
Ingredients
1 tablespoon butter unsalted
1 small onion chopped
2 cloves garlic minced
1 regular size carrot chopped
2 cups chicken broth or chicken bone broth
1 cup water
1 teaspoon salt
1 teaspoon pepper
1 package frozen corn 12 ounces or 2 cups fresh corn off cob
2.5 pounds potatoes peeled and diced small
2 cups diced ham
1 cup heavy cream
1 cup milk
2 tablespoons cornstach mixed with 2 tablespoons cold water
Instructions
Start by turning your Instant Pot to saute feature. You will add in the butter and let it melt. Then toss in your diced onions and diced carrots. Cook on the saute feature for 4-5 minutes.

Now toss in your garlic and cook for 2 minutes to allow it to become fragrant.

Pour your chicken broth in, and use a wooden spoon to scrape bottom of pot to deglaze and remove any stuck on food. This will help prevent the burn notice.

Now add in your diced potatoes, corn, and ham, along with salt and pepper. Stir, and then seal your lead, and ensure vent is closed.

Cook your corn chowder on high pressure for 5 minutes. Allow to naturally release pressure for 10 minutes.

Now, remove any leftover pressure, and remove the lid. Now stir in your milk, cream and cornstarch slurry. You can turn the saute feature back on and stir and allow the potato corn chowder to thicken. If you need, repeat the cornstarch and water mixture to help it thicken even more.

It will take about 5 minutes on saute feature before your chowder to begin to thicken.

Once done, spoon up your comforting corn chowder and potatoes.
Nutrition
Serving: 1gCalories: 479kcalCarbohydrates: 57gProtein: 21gFat: 21gSaturated Fat: 11gPolyunsaturated Fat: 7gCholesterol: 84mgSodium: 1236mgFiber: 6gSugar: 7g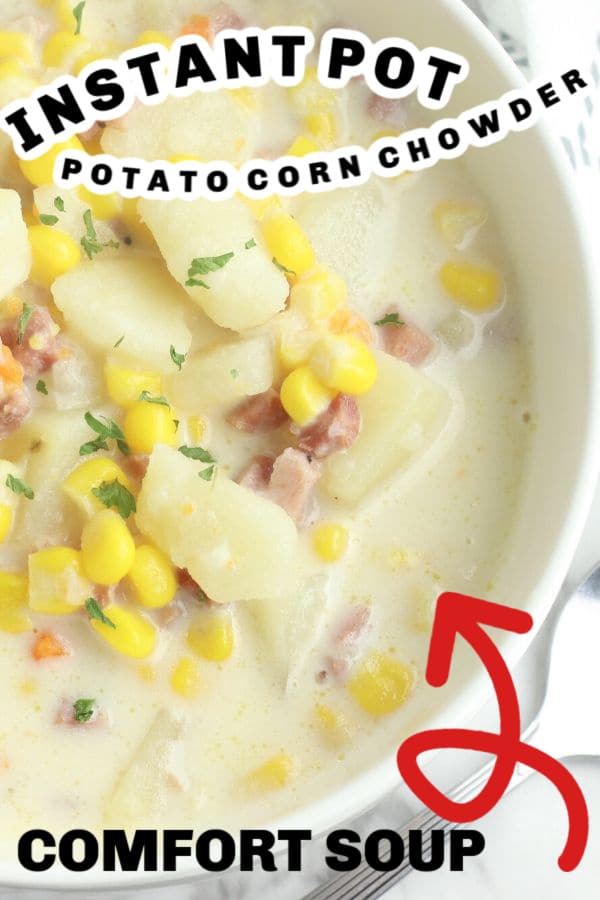 Reader Interactions