Instant Pot Ham is a quick and easy way to make your ham in Instant Pot. I use brown sugar and honey to offer that sweet and savory ham. Learn how to cool ham in the Instant Pot.
A boneless ham will cook up in a hurry in your pressure cooker. A sweet honey sauce you can drizzle onto the baked ham. This is also a Ninja Foodi ham recipe as well. Use the pressure cooker lid.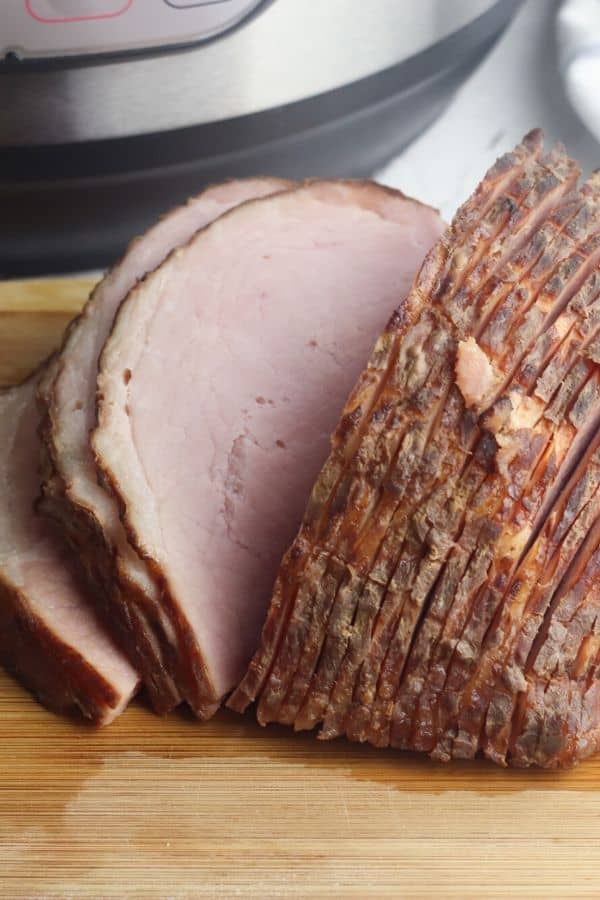 Serve your ham with a sweet potato casserole, coleslaw, roasted potatoes, or any other of your favorite side dish recipes.
This can be a weeknight dinner or a great holiday ham recipe for Christmas, Thanksgiving, Easter, and more. Also check out my Instant Pot turkey breast recipe as well if you don't want to make ham.
Why This Recipe Works
Spiral Ham – If you have a spiral ham, and not sure how to cook it. This Instant Pot spiral ham recipe is a breeze. A hands off approach!
Simple Ingredients – This is a slightly sweet spiral ham you cook in the pressure cooker. Feel free to alter ingredients to create any flavor components you want.
Boneless Ham Recipe – So you can use bone-in ham but you need to adjust the cook time. This is an Instant Pot boneless ham that truly cooks itself!
Weeknight Dinner or Holiday – Serve up for weeknight meal, or a holiday. This ham recipe is so versatile.
Stores Well – If you don't eat all your ham, save it! Store in the fridge or freeze leftover ham for a meal later on down the line.
Grab my Free Kitchen Conversions Printable! This shows you how many cups are in a quart, pint, etc. A great printable to keep handy for when you need to convert a recipe.
Ingredients For Honey Baked Ham
Spiral Ham | I used around a 2-3 pound ham. You can use a bit larger as long as it will fit in your pressure cooker.
Honey | This will give sweetness to your ham and help keep your ham moist as it cooks.
Brown Sugar | This is going to add a nice rich buttery flavor to your ham. You can add a lot or a little to affect the sweetness level of your ham.
How To Cook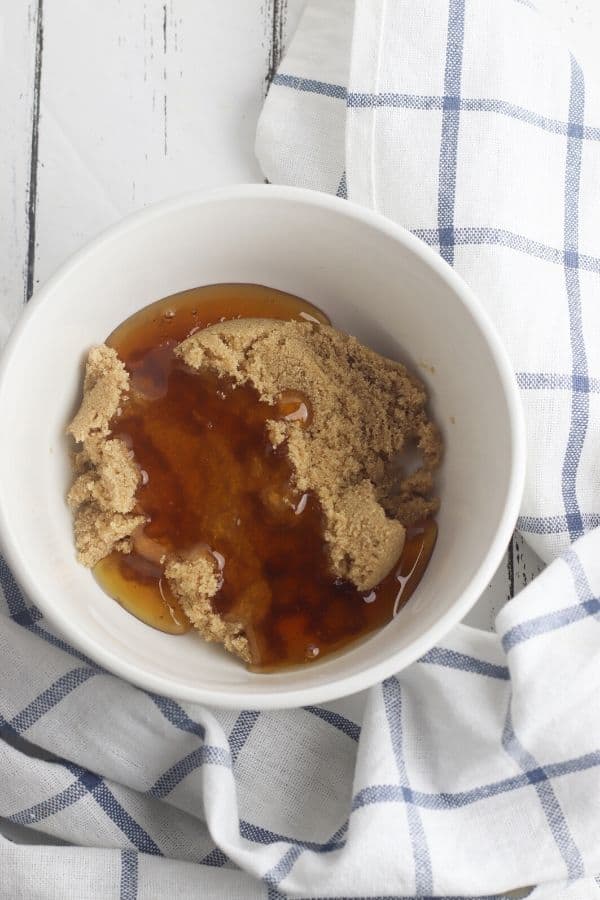 Step 1: Add your water into the Instant Pot and sit down the trivet.
Step 2: Mix up your glaze. Make sure to mix it well so it is incorporated.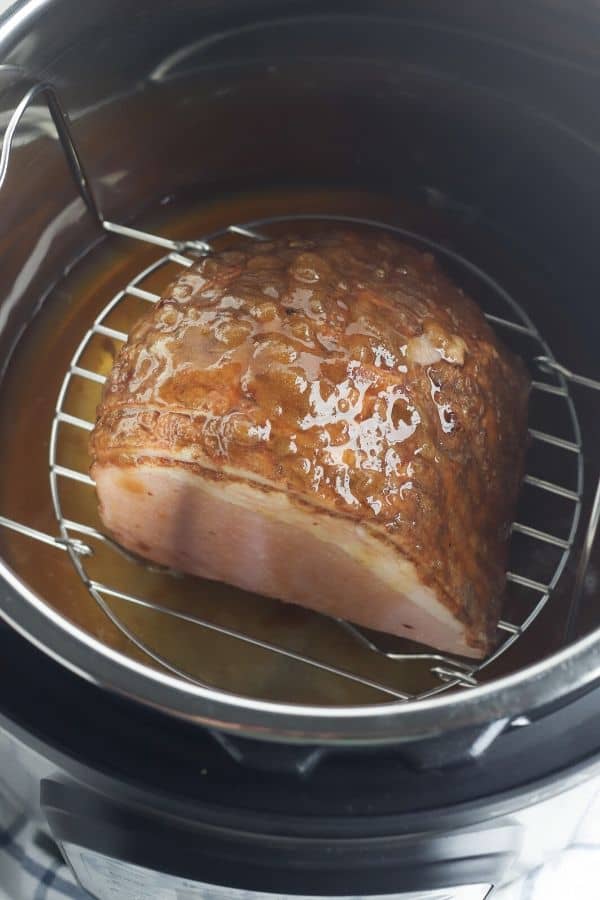 Step 3: Place ham in the Instant Pot on a trivet, spread the glaze over the ham.
Step 4: Then seal the lid and close the vent and cook for 7 minutes, followed by a quick release.
New To The Instant Pot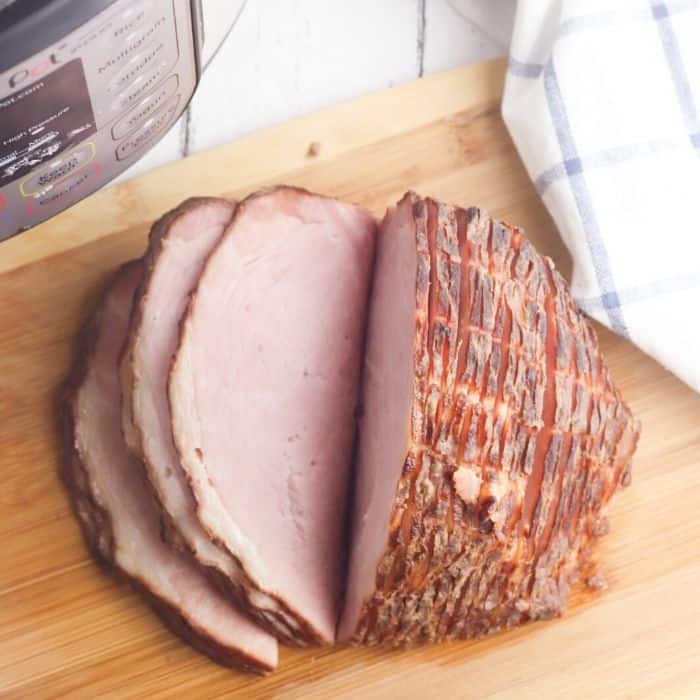 Suggestions For Size of Ham
2-3 pounds – 7 minutes
4-5 pounds – 8 minutes
5-7 pounds – 9-11 minutes
8 pounds – 10-12 minutes
This cooking times list is for a boneless ham, bone-in hams will require longer cook times.
Storing
Refrigerate – You can store your ham in the fridge in an airtight container for up to three days. Anything after that you will want to use your best judgment.
Freezer Friendly – You will be able to freeze any leftovers you have. Just place in an airtight container or use a vacuum sealer system to extender the freezer life of your ham.
If you freeze in a regular container or bag, it will store for 3-4 months.
Expert Tips and Variations
Any type of ham works in this recipe. If you use bone-in you will need to cook the ham longer. Boneless hams that aren't spiraled work as well.
If you make a larger ham, feel free to double the glaze to ensure it fully coats the ham.
Adjust cooking time depending on the size of your ham, you will be using.
Leftover ham is great, I love making this ham salad with leftovers.
FAQs
How long do you cook Instant Pot Ham?
I cooked my smaller sized ham for 7 minutes. Now if you have a larger ham you might find you need a bit longer to ensure it fully warms the ham up.
If you cook a larger ham, you can also wrap aluminum foil all around the ham so that it doesn't dry out as it cooks in the Instant Pot.
I share how long I recommend cooking ham in the pressure cooker.
Can I cook frozen ham in the Instant Pot?
You can cook frozen ham in the Instant pot. Follow the same directions, and then cook for the same amount of time. It will take longer for the Instant Pot to come to pressure, as it will thaw the ham before it begins pressure cooking.
How long does it take instant pot to come to pressure?
It can take anywhere from 5-20 minutes for a pressure cooker to come to pressure. It all depends on what is inside. Frozen foods, larger cuts of meat, etc. all will take longer to come to pressure.
Looking for Easy Instant Pot Recipes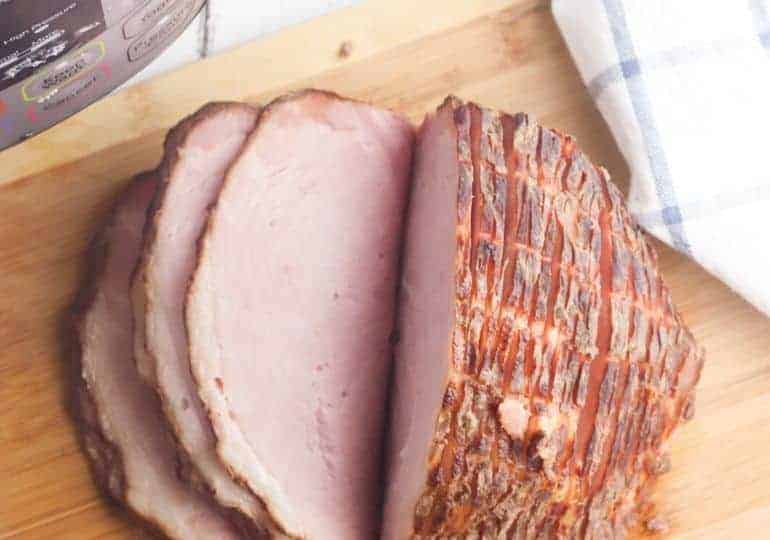 Instant Pot Ham
Servings 6 -10 servings
Instant Pot Ham is a quick and easy way to make a honey ham in your pressure cooker. Try this honey ham recipe today. A delicious Instant Pot spiral ham that is perfect for a weeknight dinner or holiday ham recipe.
Ingredients
2 to 3 pound boneless ham
½ cup brown sugar
¼ cup honey
2 tablespoons plus one cup water
Instructions
Pour one cup of water into the bowl of the Instant Pot. Add the trivet and
place the spiral ham on top.

In a small bowl, whisk together the brown sugar, honey, and two tablespoons of water. This will be the ham honey glaze. Spread the mixture over the top of the ham.

Place the lid on the Instant Pot and seal the vent. Set to cook on high
pressure for 7 minutes. When the cook time is up, do a quick release.

Then carefully remove your ham, and cover with light aluminum foil to help keep in the moisture until you are ready to serve.

You can spoon some of the liquid over the honey baked ham to help add moisture before you serve as well.

Notes
Suggestions For Size of Ham
2-3 pounds – 7 minutes
4-5 pounds – 8 minutes
5-7 pounds – 9-11 minutes
8 pounds – 10-12 minutes
Flavoring: Feel free to flavor your ham any way you want. This was a simple glaze I made and used ,but change it up if you want.
Dry Ham – If you are worried about dry ham, you can place foil around your ham and pour the glaze in, then leave it kind of open at the top. This can help lock in more moisture.
Storing – If you have leftover ham store for 3-4 days in the fridge.
Freezer Directions – Freeze for up to 3 months. Then warm in the microwave, on the stove, etc.
Nutrition
Serving: 1gCalories: 250kcalCarbohydrates: 17gProtein: 30gFat: 7gSaturated Fat: 1gPolyunsaturated Fat: 3gCholesterol: 87mgSodium: 1334mgSugar: 17g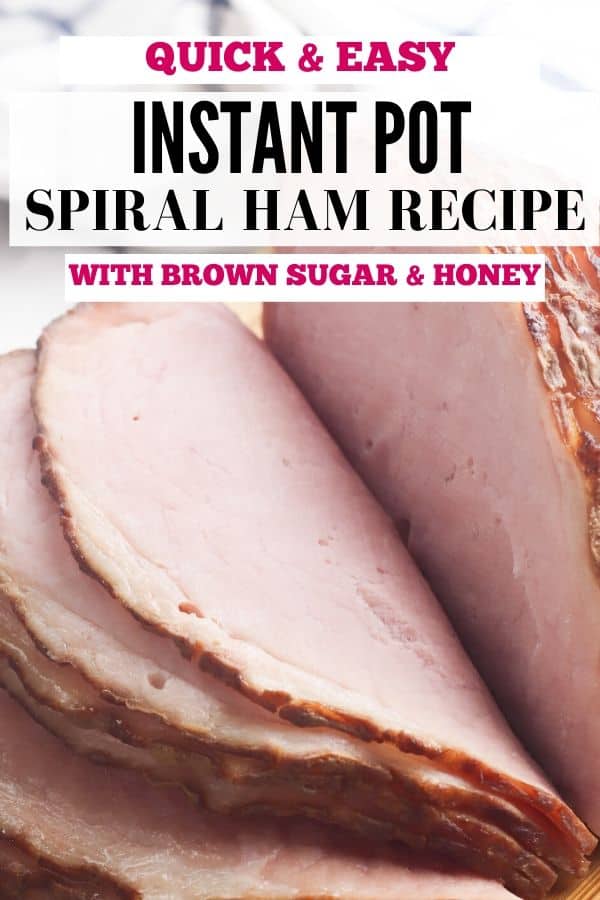 Reader Interactions