Instant Pot Duo Crisp Air Fryer Roasted Potatoes With Pesto is one crazy simple savory side dish. Roasted potatoes are always welcome, and when you add a homemade pesto it elevates the flavor.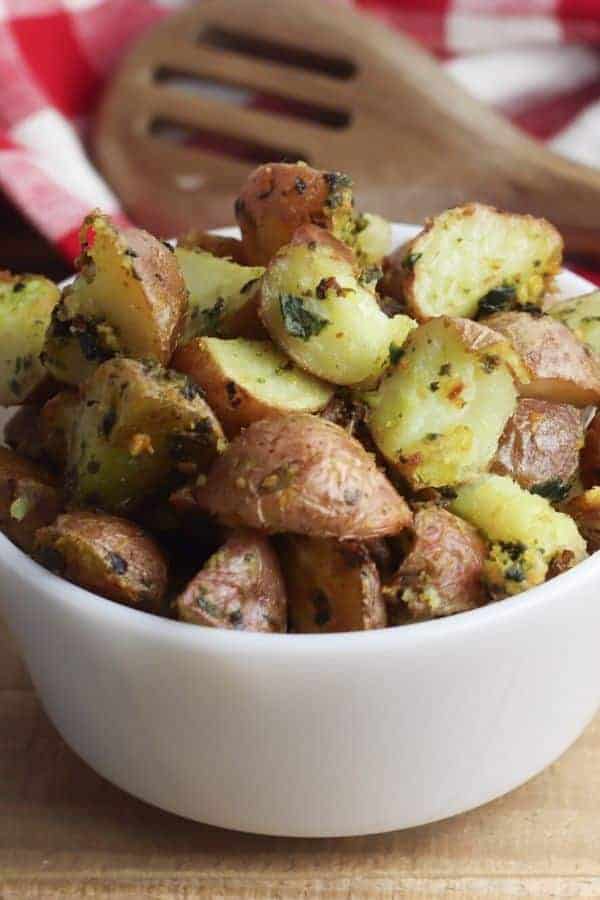 Whether you have the new Duo Crisp Instant Pot or a classic Air Fryer or Ninja Foodi you can make these pesto potatoes.
Instant Pot Duo Crisp Air Fryer Roasted Potatoes
Air fryer side dish that you can use with the new Duo Crisp Lid from Instant Pot. It is a crisping lid that works like an air fryer. You can buy the Instant Pot Duo Crisp
or buy the attachment Duo Crisp Lid
that works with the Instant Pot you have now.
Can I Make These Pesto Red Potatoes In A Regular Air Fryer
You bet! If you have a Ninja Foodi
or even a classic air fryer
or air fryer oven this recipe works as well. Just assemble as directed and cook accordingly! I also have the air fryer oven and I love it as well!
Can I Make Peso Potatoes In The Oven
Yes, I share the directions for these pesto oven-roasted potatoes in the printable recipe card below. You will lay the potatoes out on a baking sheet and cook them in the oven until roasted to perfect. You can use a sheet pan as well.
Ingredients for Pesto Red Potatoes
Red Potatoes
Olive Oil
Salt and Pepper
Parmesan Cheese
Garlic
Fresh Basil
Prep your ingredients, toss to coat and then put potatoes in the air fryer, or oven to cook accordingly. I cut the potatoes into 4 pieces, and they were a perfect size.
What To Serve With Roasted Red Potatoes
Meatloaf
Pork Chops
Hamburger Steaks


Roasted red potatoes go with almost anything. I love pesto potatoes with chicken but it does work with any protein!
What Kind Of Potatoes To Use For Roasting
You can use any type of potato you would like! I have done all types of baby potatoes, Yukons, russets, and even sweet potatoes.
The best part about roasting potatoes is that you don't have to peel them. The skins crisp up really nice and add fantastic texture to the potatoes. Of course with each variety of potatoes, it will vary in cook time.
To know your potatoes are done they will be fork tender when you poke at them. Then serve warm and enjoy.
How Long To Air Fry Roasted Potatoes
For me, I find that a higher temperature is key. It helps to crisp up the skins of the potatoes while leaving the inside nice and fluffy and tender. I went for a higher temp but if you want you are more than welcome to do 375 or even 350 and adjust the cooking time.
This is one of my favorite red potato recipes we make in our home. Air fryer red potatoes with pesto are so simple to make in the Duo Crisp.
Want More Instant Pot Duo Crisp Recipes
Can You Freeze Instant Pot Duo Crisp Red Potatoes
These potatoes will freeze nicely. You just allow them to cool down and place in a freezer bag or container. Then store in the freezer for up to three months. Lay them out on a baking sheet and cook in the oven to warm up or zap in the microwave.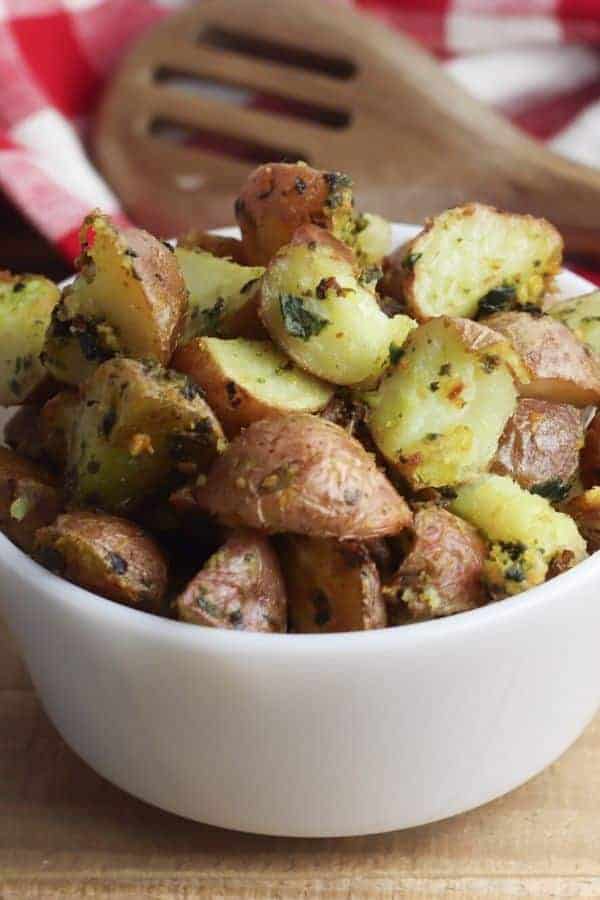 Instant Pot Duo Crisp Air Fryer Roasted Potatoes With Pesto
Servings 4 servings
Instant Pot Duo Crisp Air Fryer Roasted Red Potatoes with Pesto is a simple and easy red potato side dish. Homemade pesto for the ultimate flavor.
Ingredients
2 pounds petite red potatoes diced in 4 pieces
2 tablespoons olive oil or canola
2 tablespoons fresh basil finely chopped
4 cloves garlic minced
1 teaspoon salt
1 teaspoon pepper
2 tablespoons grated parmesan cheese
Instructions
In a large bowl add in your washed and diced potatoes. Then add in all the other ingredients in and stir to ensure it is fully coated.

Lay potatoes in an even layer and cook at 400 degrees (Air Fryer Setting) for 8 minutes. After 8 minutes remove lid and stir, then cook 4-7 more minutes or until the potatoes are fully cooked.
Notes
If you don't have enough room to cook at once without potatoes touching, just batch cook the potatoes. Then you can turn oven to 200 degrees and toss in the cooked potatoes to stay warm while the next batch is cooking. OVEN DIRECTIONS: Prep potatoes the same way and mix. Then pour potatoes on a baking sheet in an even layer. Then bake at 350 degrees for 30 minutes. Flip the potatoes once during the baking process.
Nutrition
Serving: 1gSodium: 607mgSugar: 3gFiber: 4gCholesterol: 2mgCalories: 279kcalPolyunsaturated Fat: 6gSaturated Fat: 1gFat: 8gProtein: 6gCarbohydrates: 46g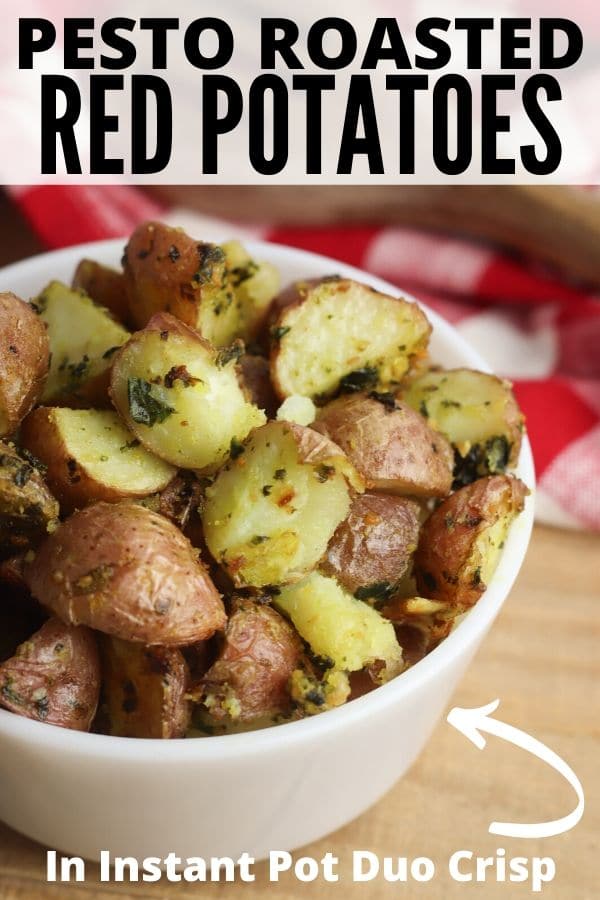 Reader Interactions